Enterprise environments are notoriously challenging when it comes to deploying employee-facing digital signage. There are hundreds of moving parts, and dozens of different use cases and goals to consider – often spanning multiple teams, and demanding cross-functional consensus and collaboration. 
For organizations with deskless and/or mobile workforces, sprawling physical spaces and geographically distributed fleets of devices may present additional hurdles. 
How do IT professionals and network managers find a digital signage partner that's 'the one' – not only the best tool for the job, but a driver of digital transformation? 
It's worth taking the time and doing the homework to look for a robust, reliable and sophisticated digital signage solution that matches the scope and scale of your technical or organizational needs; now and in the future. 
The return-on-investment of effective digital signage is significant; saving you time and money, improving your digital employee experience, and enabling your organization to reap the benefits of an engaged workforce. 
On the other hand, choosing a solution best-suited for smaller businesses, or lacking the features required to deliver on your goals, can be costly and frustrating. Even worse, if security isn't the priority it should be; your organization may land itself in hot water.
Introducing digital signage to a larger business is a fairly sizeable investment. If you've had a disappointing experience with a previous or current vendor, it may be a good idea to revisit your list of requirements. 
Completely new to this? No problem – this article will provide you with a solid understanding of the capabilities and features your organization needs to succeed with digital signage. 
10 must-have features for enterprise digital signage
Cloud-based ☁️
With on-premise or self-hosted digital signage, you purchase individual licences and run the solution on your own equipment (usually the backend and database servers, and media player software). 
Cloud-based digital signage or SaaS is software delivered as a service and billed monthly or annually. 
92% of IT leaders prefer the Cloud to on-prem. Apptio.
The benefits are many and varied: organizations save money and reduce CAPEX by avoiding the cost of buying and maintaining servers. There's no need to worry about downtime because your data always gets backed up. You're able to scale up and down as required – fast. Finally, teams can access and manage content from any device at any time. 
While you still may need to purchase the actual screens or TVs, your digital signage network is managed, monitored and updated remotely, via a cloud-based content management system. 
ScreenCloud Studio is an example of a cloud-based CMS, giving you the flexibility, scalability and configurability most on-prem solutions do not. 
Hardware that makes it easy 🖥️
It's wise to pick a digital signage software that supports a broad range of hardware, and to carefully consider what your hardware requirements may be. For example: 
Are you planning on installing screens in environments that are very humid/damp, or very hot or cold? You may need  'weather-proof' screens and media players
Will you be showing content for less than 8 hours a day? A consumer-grade display may be suitable. If you're playing content 24/7, a professional display will go the distance
If you wish to divide your digital signage display into multiple sections that show different types of content, does your device support advanced apps or zoning?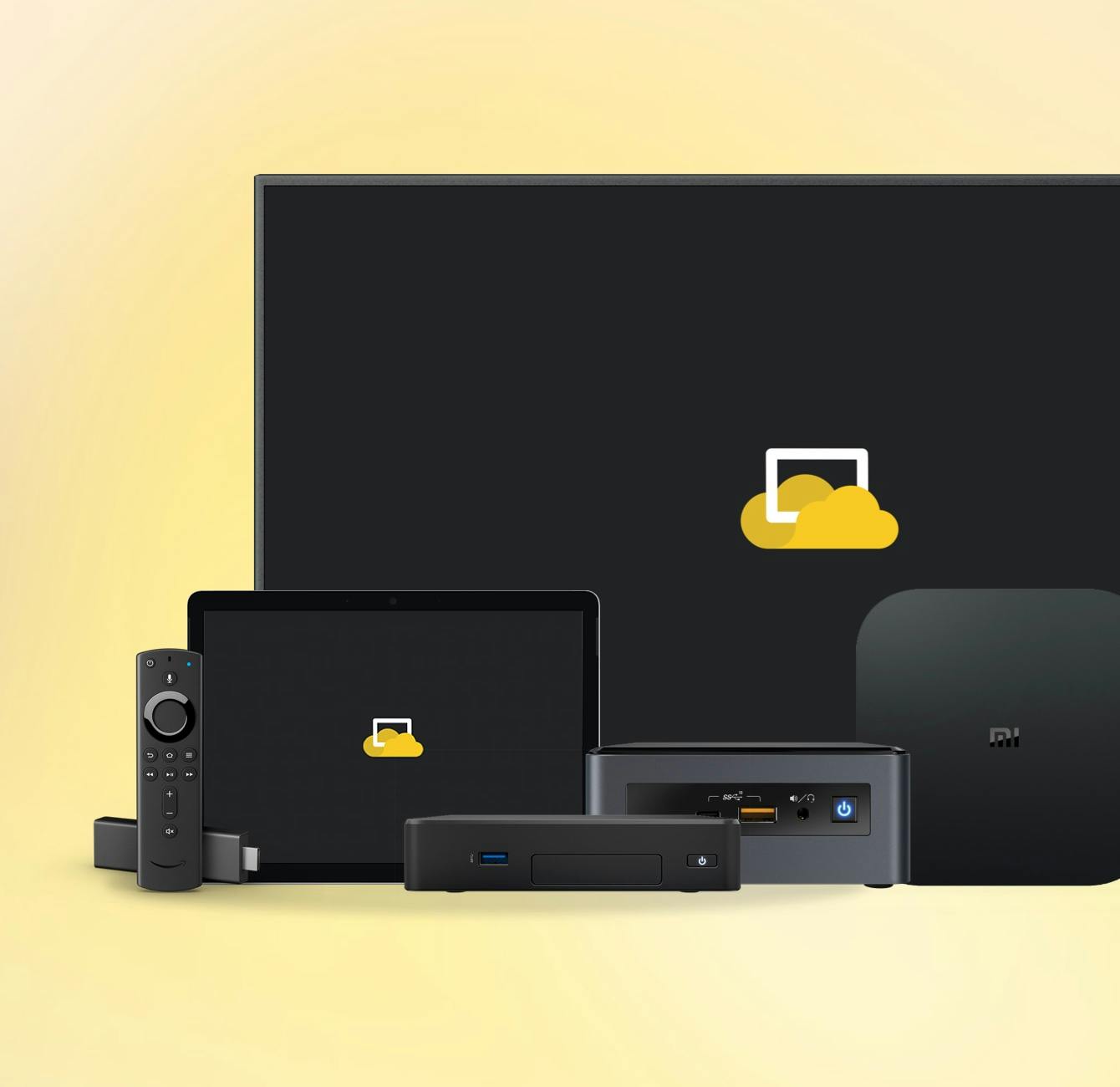 Check out our comprehensive buyers' guide to digital signage hardware to learn more.               
For enterprise IT teams wanting a performant, high-specification option at an affordable price; we recommend ScreenCloud OS. ScreenCloud's proprietary operating system and media player is a custom Linux-based platform purpose-built for digital signage.  
While other media players with comparable features and capabilities start from $300-350 USD, ScreenCloud OS is priced at $200.
Want the first scoop on the new and improved ScreenCloud OS? Register to attend our exclusive online launch event: Meet ScreenCloud OS: The Missing Operating System For Screens 🖥️
Remote control 📱
Enterprise digital signage usually consists of a large, dispersed network of digital signage displays broadcasting an even larger amount of dynamic content. 
It's a lot to keep track of, and can demand plenty of administrative and IT hours. That's why the ability to manage your network of screens and content in one centralized place – from the top down – is business-critical. 
Being able to take actions remotely, like rebooting a device, changing your network settings, or viewing a device's status; is particularly important when things go wrong. It can prevent organizations from having to send a technician to troubleshoot devices in the field, which is expensive and adds up over time. 
The average technician field visit costs an IT team $800 USD. Forbes. 
ScreenCloud OS offers excellent 'remote control' opportunities via its Remote Device Management Dashboard. The dashboard makes it quick and easy to remotely manage your fleet of devices, and is especially valuable for organizations with geographically distributed fleets. 
Single Sign-On (SSO) 🖊️
SSO is an authentication process that allows employees to securely access a variety of applications and websites using the same log-in credentials every time.
This feature is a gamechanger because it eliminates the need for large organizations to store huge amounts of passwords, cuts down on the time IT teams need to spend on login troubleshooting requests, minimizes the damage a hack or phishing scam can cause, and boosts worker productivity by streamlining the log-in process.
Plus, logging into a system via SSO is on average 5-15 seconds faster than using a traditional log-in strategy. 
Password resets cost organizations upwards of $70 USD per fix. Forrester. 
Enterprise digital signage is usually managed by multiple business units and teams (IT, Operations, HR, Marketing) and a large group of administrators and content creators. Simple and secure log-in procedures are key. 
ScreenCloud's SSO and SAML support enables you to access the CMS and manage user-level access via your existing user directory.
Advanced user permissions 🧑‍🤝‍🧑
Any halfway decent digital signage software will give your business the ability to control account permissions with a high level of granularity. 
This means you'll be able to create custom user groups and give them access to control certain displays throughout your digital signage network. That way, teams in your building or on your site can focus on launching content that is relevant and useful for only the screens they're responsible for.
ScreenCloud Studio enables organizations to create different teams and manage permissions remotely. Users can belong to multiple 'spaces',  with their own set of features, controls and access. 
Admins may also enable certain users to have privileged access to data or information, and create custom roles with granular controls.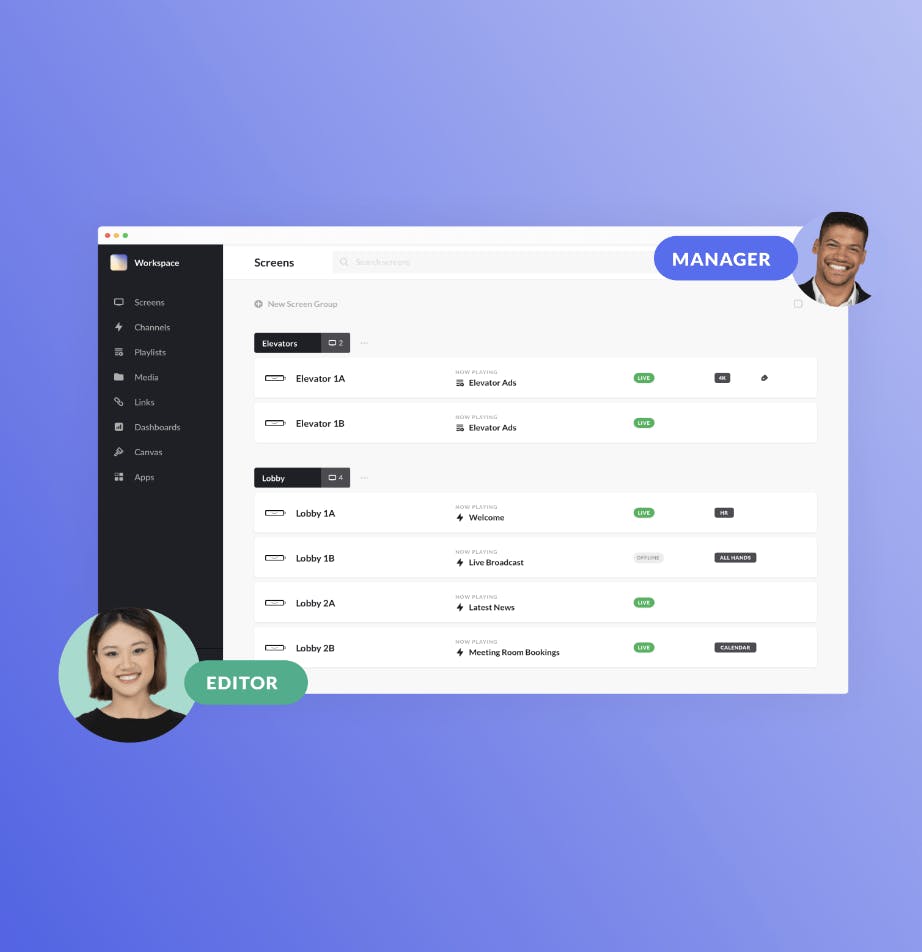 Security by design 🔒
Needless to say, security is top-of-mind for enterprise IT professionals. Even if your systems and processes are watertight, it's important to not create vulnerabilities within your organization via third-party cyber risk. 
The average cost of a data breach was $4.24 million USD in 2021. The financial harm of these events is amplified in third-party data breaches, reaching an average cost of $4.33 million USD. IBM. 
Don't become a statistic. Choose a digital signage vendor that takes security, privacy and compliance as seriously as you do. 
ScreenCloud understands how fundamental a requirement security is for today's businesses, which is why we're SOC 2, Type 2 accredited. 
Your content is encrypted and any sensitive information is stored safely – with endpoint security in place and granular content roles to allow you to practice 'least privilege'. We automate patches, and conduct regular pen tests, threat modelling and security training. 
IT teams can confidently approve ScreenCloud for multiple business units knowing their data is secure, user data is private, and our internal processes meet rigorous, proven standards.
ScreenCloud OS also presents minimal security risks, due to its enterprise network options and an interface that is locked down by design. Less  'OS surface area' exposed means there is no possibility of unauthorized personnel accessing your device.  
Check out Security at ScreenCloud to learn more.
User-friendly CMS 🎨
IT teams typically inherit hours and hours of extra work as they become content proxies, or often unwilling owners of content publishing systems.
For the use case of employee-facing screens, digital signage should 'belong' to marketing, HR, Internal Communications, or even Operations functions – the teams who create and execute your organization's digital signage content strategy. 
ScreenCloud Studio is designed to ensure content owners are empowered to create and share impactful, visually appealing content without going through design or technical teams. 
Studio includes an easy-to-use design editor, Canvas, with 150+ editable templates that can be customized to your brand, and 70+ free apps that automatically optimize content for screen performance and aesthetic. 
On software comparison site G2, 96% of ScreenCloud users recommend Studio for its 'ease of use' – translating to fewer requests and tickets for IT!
Useful integrations and extensibility 🔌
Digital signage that integrates with your tech stack and workflows is not only easier to set up, but more likely to be adopted across the business and deliver ROI. 
Choosing a vendor which fits into your 'digital ecosystem' is key. ScreenCloud integrates with thousands of tools and apps enterprise teams use every day – including Microsoft Power BI, Tableau, Google Suite, Salesforce, and many, many more.
In addition to supporting a wide range of integrations, ScreenCloud was built to be an extensible platform. IT teams have multiple options when seeking to integrate other platforms or tools.  
Playgrounds is our onboard code editor which enables users to create their own app in ScreenCloud by working in a familiar HTML, CSS and Javascript editor environment.  
Stepping up from Playgrounds, the ScreenCloud SDK enables IT teams to build ScreenCloud apps using Firebase and React, while the ScreenCloud API, organized around GraphQL, enables programmatic access to ScreenCloud functionality. 
Support that follows the sun 🌞
Your digital signage partner should offer technical and user support in your timezone, so help is on hand when you need it. 
ScreenCloud provides 24/5 professional support, with trained teams strategically located around the world. Enterprise customers are paired with a dedicated Customer Success Manager from day one. 
Our Professional Services team – digital signage veterans – provides higher-touch support, useful for complex deployments or when your teams need some extra help with onboarding, training, creative services, and more. 
In addition, our support and product teams are committed to making ScreenCloud work for you, and very receptive to feedback and ideas – both technical and non-technical. 
"We've thoroughly enjoyed working with ScreenCloud. Our combined development has been a breeze; from the initial conversation to the ongoing development, ScreenCloud has been able to adapt and always deliver on our ever-moving goalposts." Nathan Thomas, Digital Product & Software Engineering Lead, Ricoh UK Products Limited.
Enterprise-ready digital signage
The ScreenCloud team and solution is well-equipped to manage the complexities of securely scaling a large screen network across multiple locations. See ScreenCloud for enterprise.