Publish content to your screens directly from Microsoft Teams
Learn More


Office communication comes in many shapes and sizes. From a high-five (remember those?) to a post-it note left on the desk, these in-office methods have long been the foundation of fostering work culture; communicating with your colleagues doesn't always have to be limited to incessant emails and meetings. 
And this raises two points: 1) an over-saturation of communication methods, and 2) how can you foster a company culture via a global internal communications strategy (that doesn't give in to point #1)?
With the aid of communication tools like Slack, Zoom, Google Docs etc., it's easier than ever to communicate on a global scale.
However, just because you can send a simple Slack message to your colleague on the other side of the world doesn't always mean it's the best way to communicate. For many organizations, bridging the gap between offices is one of the many challenges faced in their internal communication strategy. From engaging remote workers to sending out a message to all offices at the same time, global communication can be tricky.
In this guide we're going to walk you through the politics surrounding a global workforce, and the communication strategies we believe can help solve them.
What is global workforce communication?
Global workforce communication is exactly what it sounds like. But that's as simple as it gets. Sharing ideas, managing projects and internal communication requires planning and having solid processes in place; you can't just peer over your colleague's shoulder to check that they're saving your shared doc in the right place.
Problems associated with global workforce communication
IBM – a pioneer of remote working – made headlines in 2017: it axed remote working policies for 2600 marketing employees. According to IBM's then-chief marketing officer, getting marketing employees back into core hubs and working shoulder-to-shoulder would increase collaboration and allow the company to work more agile.
Which, even though this was less than five years ago, feels incredibly outdated.Now, employees may be more likely to send a Slack message than to communicate face-to-face with colleagues – even if they're sat next to them.
This has led to some experts calling out the distracting nature of online global workforce communication tools. In a post titled "Slack, I'm breaking up with you"; onboarding expert Samuel Hulick outlines how he believes Slack is more distracting and actually increases the number of messages than his pre-Slack email inbox. Calling Slack:
"A conversational melting pot that is neither fully real time, nor fully asynchronous".
With so many ways to communicate, from email to instant-messaging tools, company intranets to video-conferencing, this poses the question: just how many communication tools are too many?
How to improve global workforce communication
In our guide to corporate communication tools we talk about tools which improve communication, but also the tools that you may not need. Shock: more tools don't = greater efficiency.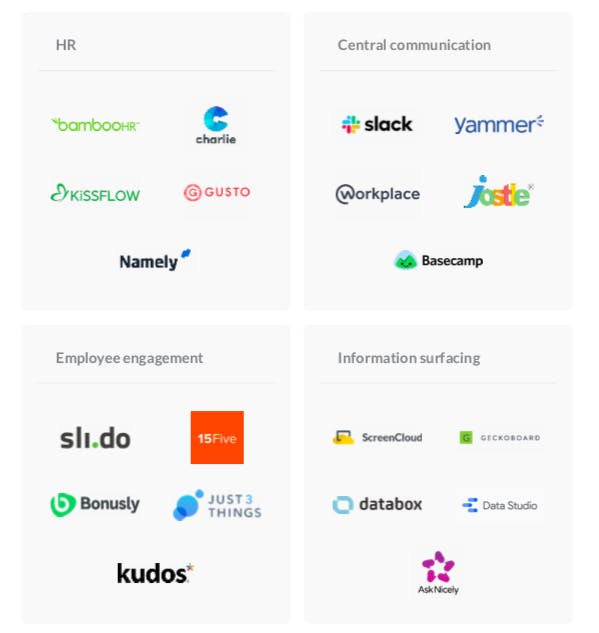 Just some of the corporate communication tools we looked at in our ebook.
In order to improve interoffice / global communication you need to look at minimizing all areas rather than adding more layers. You can figure this out by asking your organization:
What are the least amount of tools we can employ to support communication?
What is our communication etiquette and what should people not do? (Buffer's guide to its internal use of Slack is a great example of this).
Can you make everyone into Slack power users? (Read more about turning your teams into power users.)
How can we reduce the distraction of communication during deep work, but make communicating during collaborative periods more effective?
What's the most effective way of broadcasting messages one-to-many?
Benefits of digital signage for global communication
When it comes to employee communications, we believe digital signage is key to engaging employees and helping to get important messages seen. A strategic approach can help cut through the noise of mass communication so that your content has 100% impact.
The benefit for distributed and global teams is that all screens can be managed from anywhere – and from a central location. For Enterprise and franchise customers, there is a slightly different approach.
Some of the ways digital signage benefits interoffice communication specifically include:
You only have to look at digital signage statistics to see that when it comes to digital screens, information gets seen; it has a recall rate of 83%. Instead of important messages getting lost in amongst an overflowing inbox, presenting them on a screen increases its impact as your team is more likely to see it as they will be exposed to the content but multiple times throughout the day or week.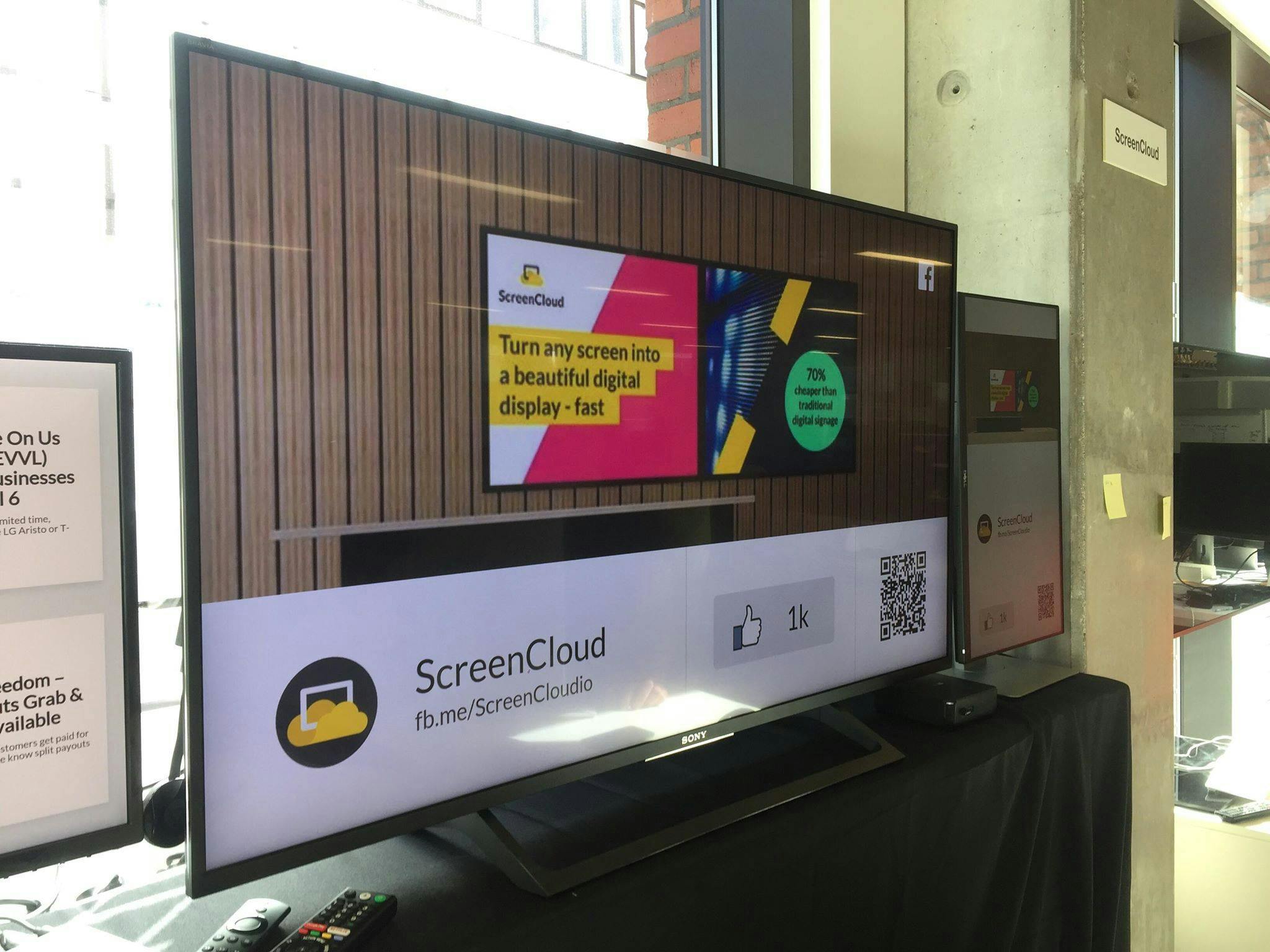 From new global safety measures to birthday announcements, treat your digital signage as a real-time digital notice board and get that message noticed, without waiting for everyone to open their email. Controlled by a central CMS, these global announcements can be created and scheduled in accordance with varying time zones to show up during office hours.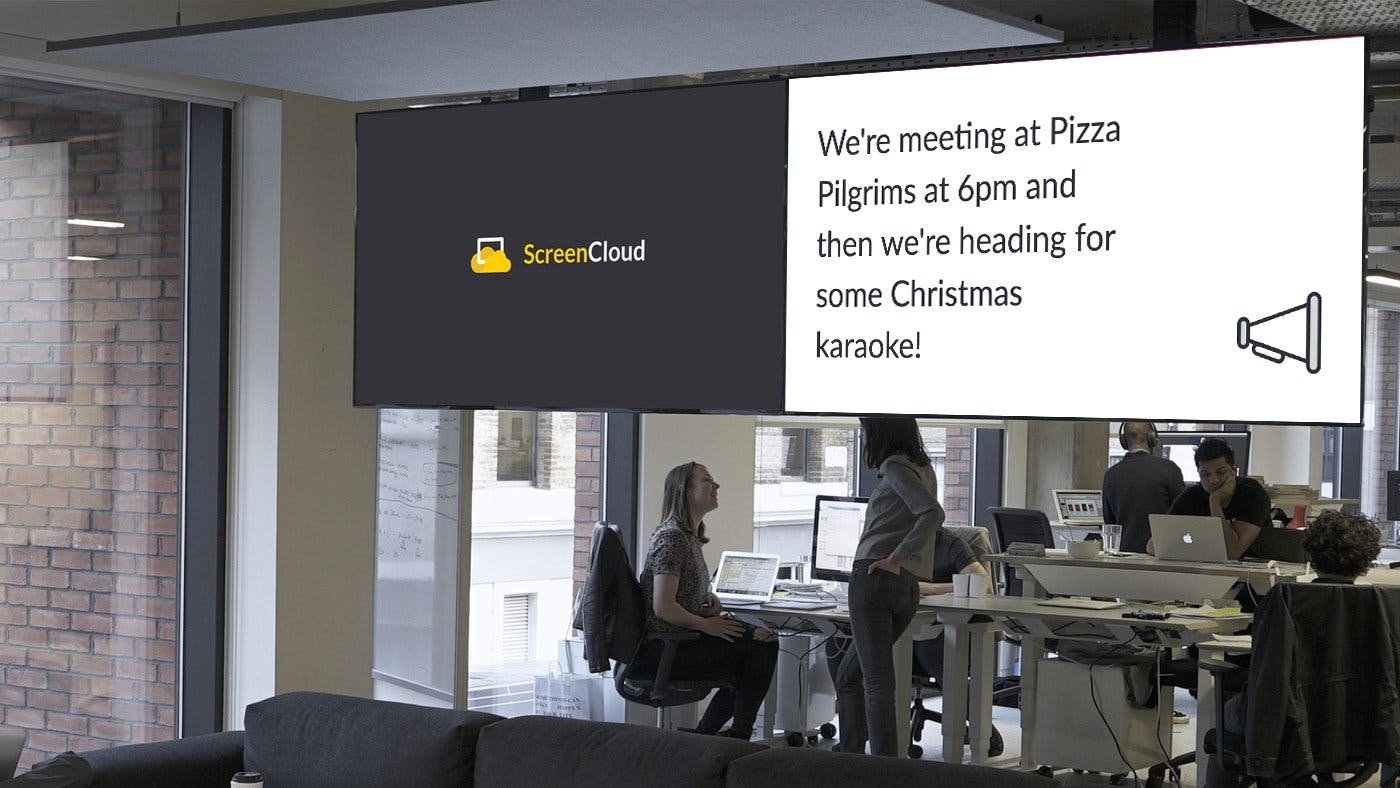 Live broadcasting of company events
With a quick "Cast to screens" command, every screen, in every office, can be showing a live feed of what's happening. This can be used for Head Office broadcasts, company events and even singing happy birthday in LA to your colleague in Japan.
More unity within a global workforce
Often, global workforces struggle to build empathy with their interoffice colleagues because they don't know anything about them, other than their email addresses. And it can be hard to foster company culture. Digital signage is an open canvas where teams can paint a picture of who they are behind the avatars. Show social media posts, run a photo competition or broadcast a yoga class.
Three global workforce communication case studies
Seeing examples of digital signage in use for internal communication helps to spark new ideas about how you can use digital screen networks to challenge and improve your traditional interoffice communication flow. Here are a couple of examples:
1. ScreenCloud's plan to "Meet the Team"
When I first started planning out our company digital signage channel one piece of feedback came up time and time again: we want to know the rest of the team. With four key hubs, across three continents and around 15 team members working remotely, our team didn't feel like they were getting to know everyone in the team.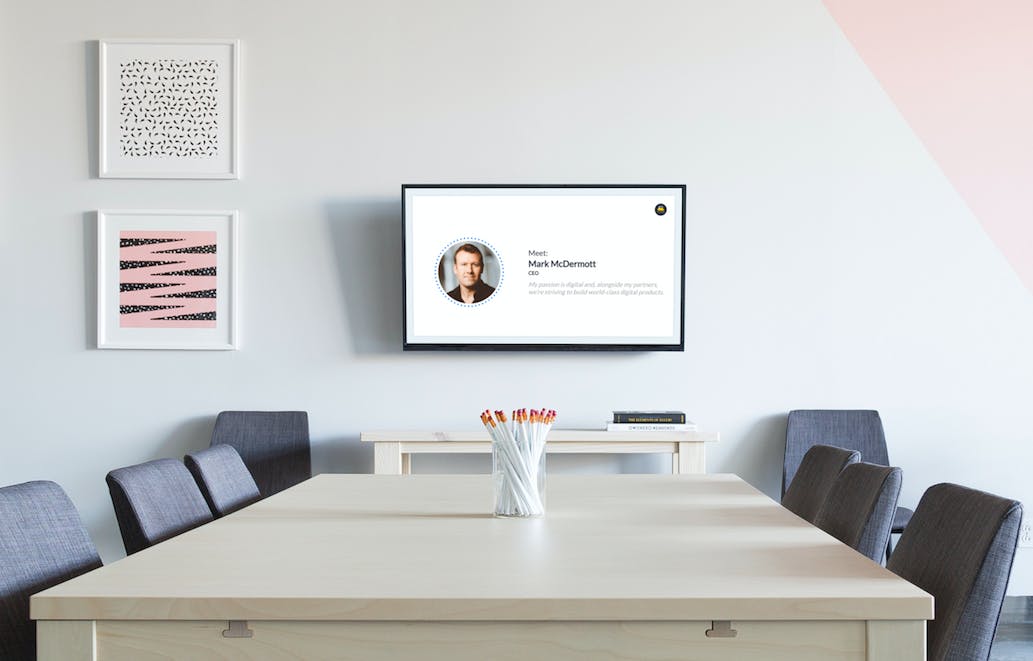 They wanted to know what the team in Bangkok were working on, the details of life in LA, who our new marketing people were. Basically, more about the people behind the email address. So we came up with a few different strategies. Using Meet the Team app we dedicated a portion of our digital signage to surfacing photos and job titles of every person in the team.
We also created a deck in Google Slides that introduced our development team in Bangkok and their specific relation to a big product update we were tackling.
A Dropbox Gallery folder of images then contributed to a more fun view of who are team are. People doing yoga in the office, team pets, our Head of Finance swimming with sharks… you get the picture.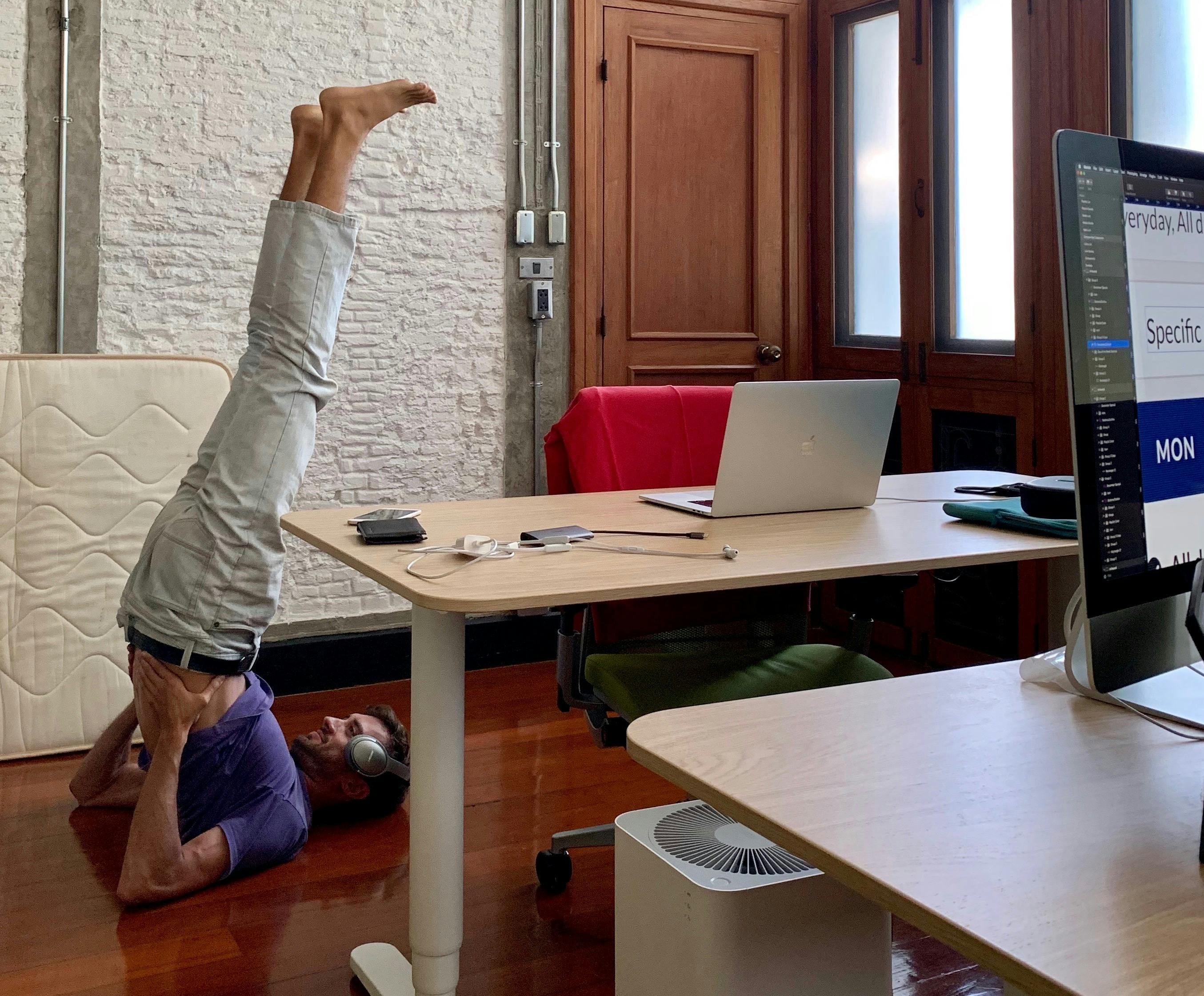 Morning yoga in Bangkok!
2. Communicating training information to various locations
For Granger Waste Services, communicating well to its employees is a key consideration, given that it has four different locations and that some of the associates are only onsite for around 10 minutes each morning before they head out to serve customers.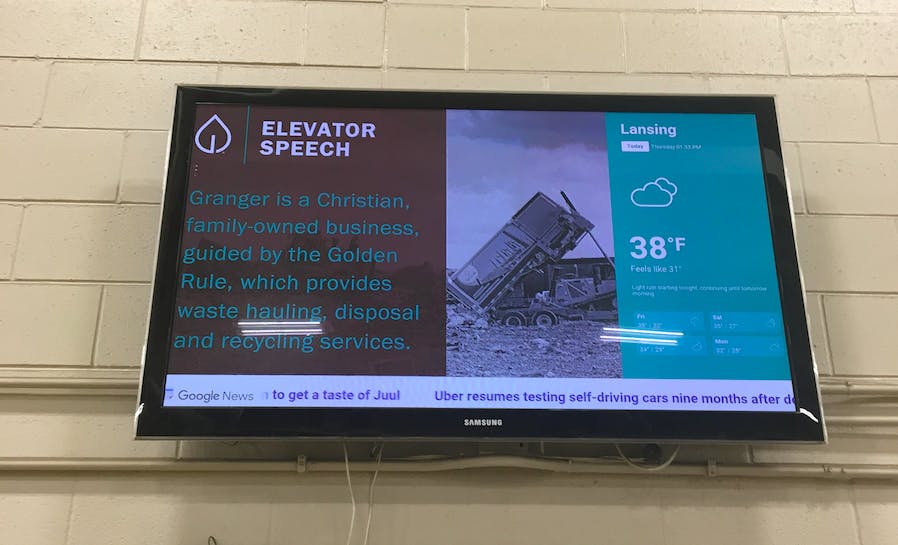 By putting up digital screens in break rooms and throughout each of its four locations, Granger makes use of the key times its employees are in the office. Sharing training videos, company announcements and customer feedback through scheduled content.
3. Surfacing information when inboxes are too full
3M recognized that employees already had an abundance of communication methods – but that the key announcements weren't getting through. This led them to creating a strategic digital signage journey. With internal updates happening all of the time, they began using digital screens located throughout their 150 offices to surface the stuff that was most important.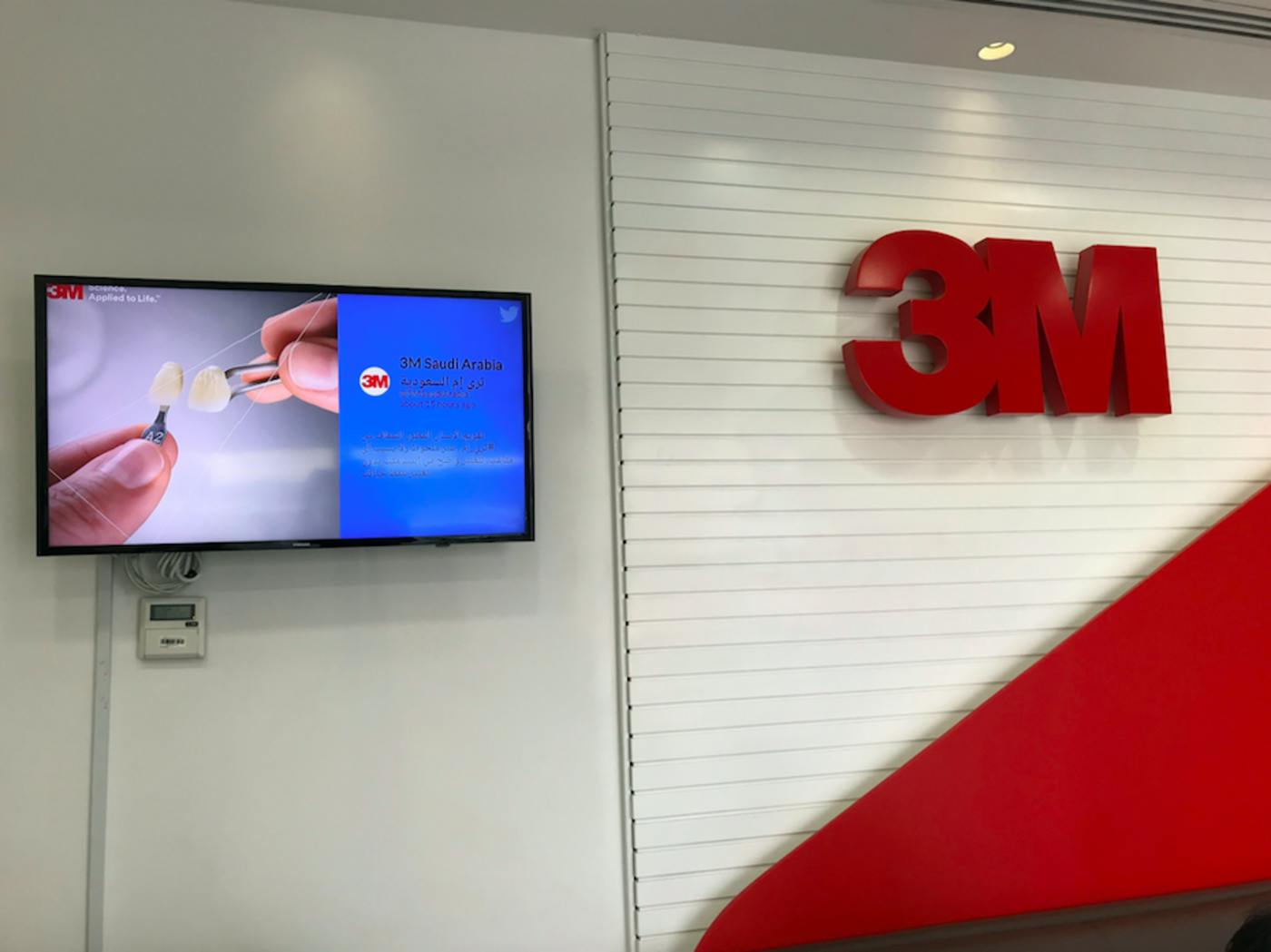 3M also pioneers using the digital network to share photos and snapshots of its team and events that are happening locally, and reports that its team loves seeing this type of personal content.
Start communicating with your global workforce today
Get cracking with our 14-day free trial of ScreenCloud. You don't need to enter any card details. Or have a screen for that matter. Otherwise, book yourself in for a demo here.
Ready to get your organization connected?
Connect your first screen today with our 14-day free trial
workplace