One of the benefits of using cloud-based digital signage is that you don't have to be anywhere near the screen in order to manage it. This throws up many other benefits too. Like when you want to assign different departments to manage different screens. Or when you want different school districts even, to take control of their own digital signage displays.
Having one central management system where you can look after all of your screens is great. Having one system where you can set different users and teams to manage different screens, is even better.
How to set up users and teams with ScreenCloud
Within ScreenCloud Signage you can invite multiple users to join your ScreenCloud Signage organization and split them up into teams. The permissions, and abilities, that each user has is determined by which team they belong to, and what their given role is.
Screens can only belong to one team, however they can be transferred from team to team if required. Content, playlists and schedules can be copied and shared between teams for use on different screens.
Here's a step-by-step breakdown on how that works.
Create a team
Once you've created a ScreenCloud account and organization, you can then set up different teams within that organization.
1. Visit https://signage.screen.cloud and log in to your account.
2. In the sidebar on the left hand side you will see your organization's name, in this case "Exhibition Demos". Click on this to open your account settings.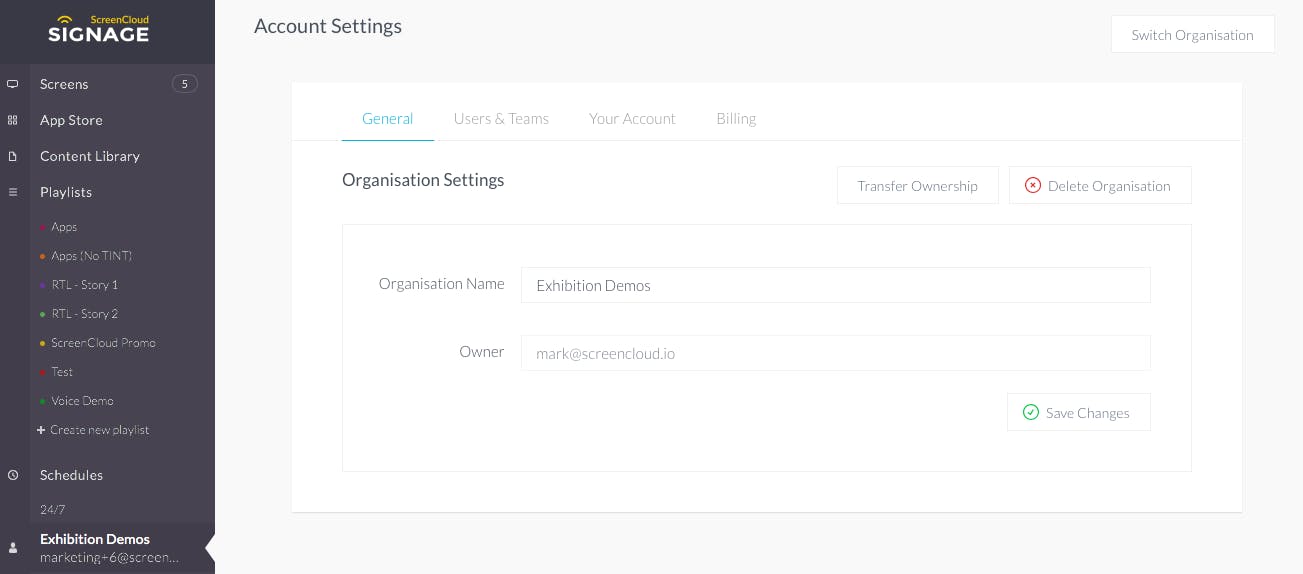 3. Select "Users & Teams" in the sub menu. Here, you will see the option to "Invite New User" or under "More" the option to "Create Team". If you add a new user they will be added to the current team and organization. If you want them to be part of a new team click "Create Team" first.
4. Once you have selected "Create Team" your new team will appear and you can edit the name by clicking on "New Team" and typing in a name of your choice.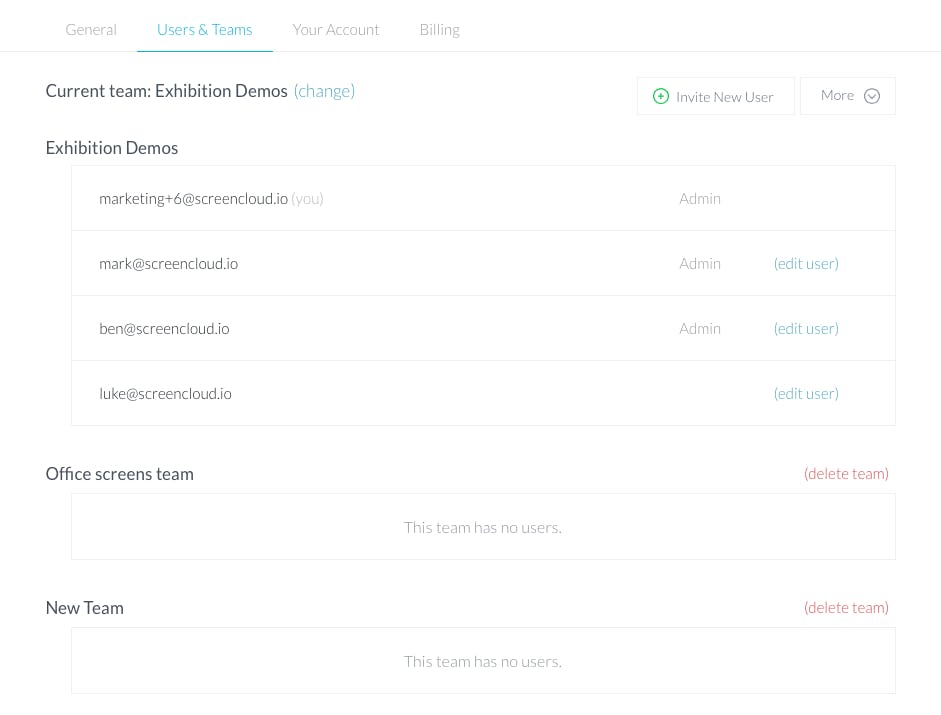 Add a new user to a team
1. Now, you can add new users to your team. Click "Invite New User", type in the email address of the person you want to invite and then select the team you want to add them to from the dropdown.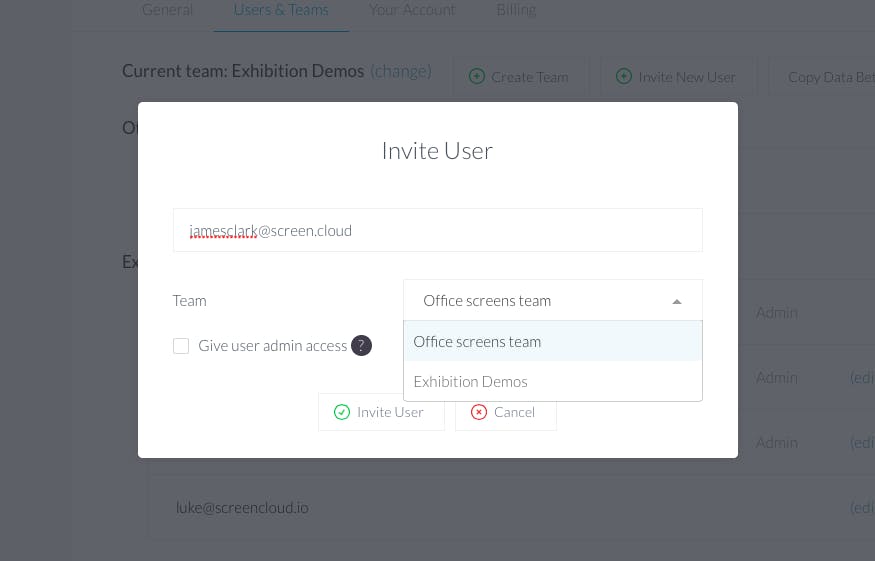 2. Choose whether you would like them to be a "user" or an "admin". A user has access and can add or edit all of the screens, content and playlists within a team. An admin can access all of the aforementioned, plus they have access to billing and general settings such as inviting or editing other users.
Tick "Give user admin access" to invite them as an admin, or leave blank to invite them as a user. Then click "Invite User".
3. The new user will receive an email invitation. If they accept the invitation, they will be added to the team as a new user.
Transfer a screen to another team
To change ownership of a specific screen you can use the "Move Screens Between Teams" feature. 
1. In settings select "Users & Teams" from the sub menu and then select "More" where you will see the option "Move Screen Between Teams".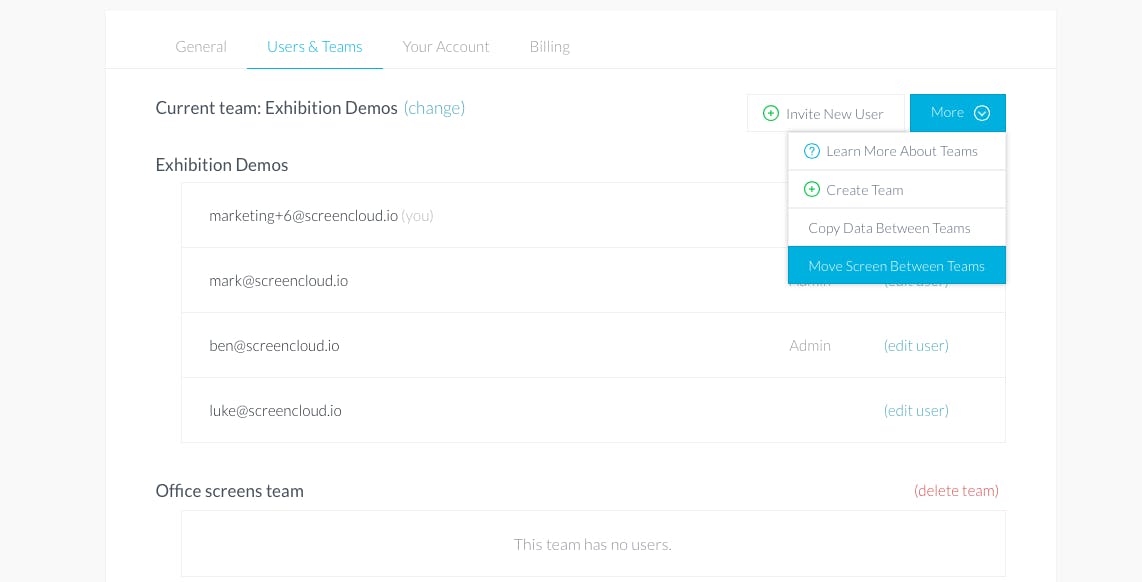 2. Now you will see the option to select a screen from the dropdown and a new team to transfer it to. Please note: the content playing on the screen will reset and play from the beginning when a screen is moved to a new team.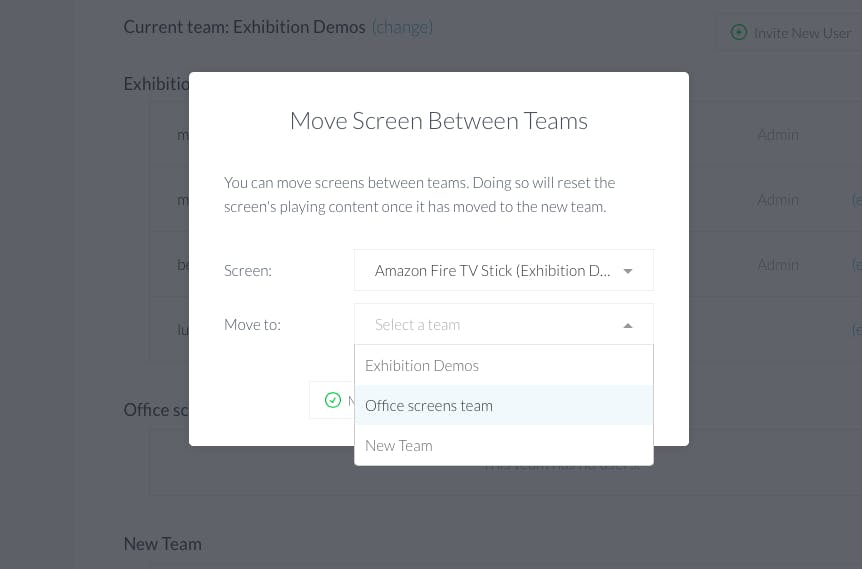 Copy data between teams
To duplicate content, playlists and schedules between teams you can use the "Copy Data Between Teams" feature.
1. Select "Copy Data Between Teams". Choose which team you want to copy the data from and which to copy it to.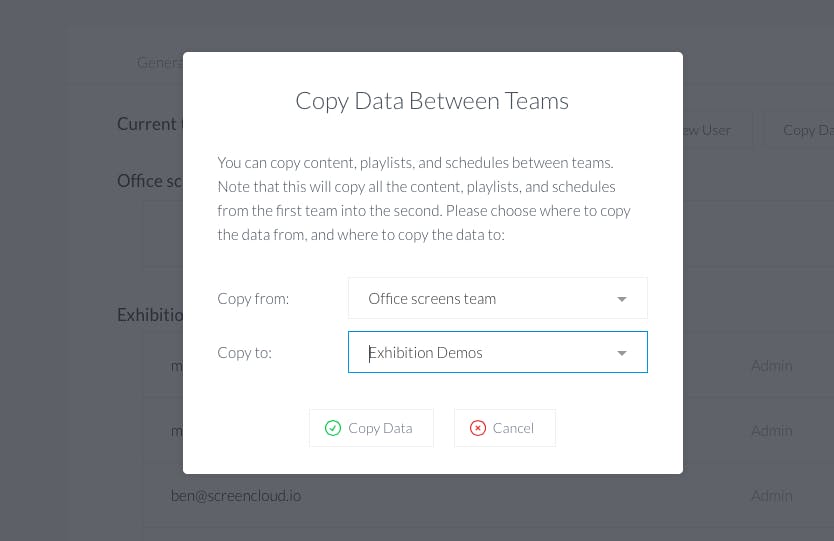 2. Select "Copy Data" and all playlists, schedules and content will be copied to the chosen team's account.
Frequently asked questions
Who has access to billing information?
Only admin users have permission to billing.
Is it possible to copy only one playlist from one team to another?
At current you can only copy all data from one team to another - this would include all playlists, pieces of content and schedules.
For further questions, please contact support@screen.cloud with details.