Publish content to your screens directly from Microsoft Teams
Learn More


Product
ScreenCloud Dashboards Set Up Guide
Display your private dashboards, webpages, and login-required data securely to your digital screens.
What is most important to you when choosing a service? No matter if it's retail, hospitality, manufacturing, marketplaces, digital services, or SaaS - consumers usually find themselves looking for qualities such as brand recognition, good customer service, product consistency, and even security. Though, a critical checkbox for using online services in 2021 is the development and investment for enhanced security solutions.
Cybersecurity is a pivotal focus for many businesses and enterprise organizations. As this trend continues to rise while the workforce and companies transition towards emerging opportunities for remote-based employment, keeping your company data secure from threats or vulnerabilities is key. ScreenCloud offers a solution to help keep your data protection top of mind using ScreenCloud Dashboards.
ScreenCloud Dashboards is a cloud offering that allows you to display private or password-protected web pages to your digital screens in minutes, using a secure service to keep your data safe at all times. ScreenCloud Dashboards work by taking a snapshot of your data in real-time to display it live. This feature is useful to:
Display dashboards and webpages with basic authentication (user ID/password) 
Show content past a login, such as graphics, notices, or data hosted on a webpage
Use private or sensitive information without any hassle securing your company data
Minimize data risks or regulatory impacts with a GDPR and policy-compliant system
Please follow the setup guide below for information and setup instructions for ScreenCloud Dashboards. This feature is an add-on and must be activated to your ScreenCloud account, please visit the following form to submit a request to use ScreenCloud Dashboards.
1. What is the "ScreenCloud Dashboards" feature?
ScreenCloud Dashboards simply allow you to add password-protected or iframe-restricted websites behind credentials to display on your digital screens. This is done on the back-end of our ScreenCloud service using an extension that captures the data in real-time to display your webpage. This extension can be downloaded to a Google Chrome web browser called "ScreenCloud - ScreenCloud Dashboards Recorder". 
For instance, if you wanted to display a private dashboard from a service such as Trello, you can use the ScreenCloud Dashboards Recorder extension on your browser. This tool records your steps and the webpage can display to your digital screens without storing your browser data. Please note, the tool is not required for public or non-private web pages which can be added using the "Links" section of your account.
2. Which services are currently supported?
ScreenCloud Dashboards currently supports the following services:
We encourage you to try your private dashboard or link, if you have any challenges connecting your service then please reach out to support@screencloud.com with information regarding your company and the webpage link you would like to display on your digital screens. Our team can help check if the page is compatible with our ScreenCloud Dashboards feature, or can be explored as a supported service.
3. How do I set up a dashboard or secure site?
To get started, ScreenCloud Dashboards must be activated on your ScreenCloud account to see the "Dashboards" section from the left-hand navigation. If you're unable to access this or have not activated the feature, please visit the ScreenCloud Dashboard request form here.
ScreenCloud Dashboards are a premium add-on feature that allows you to display sites with iFrame restrictions, or requires a login. You can trial the feature during a fourteen-day period and can learn more about ScreenCloud's pricing tiers by clicking here.
3.1. Download the ScreenCloud Dashboard Recorder to a Chrome Browser
This feature requires the use of a Google Chrome Web browser. Please visit here to download the Chrome browser to your desktop or PC. Please note that your Google Chrome browser must at least be version 87.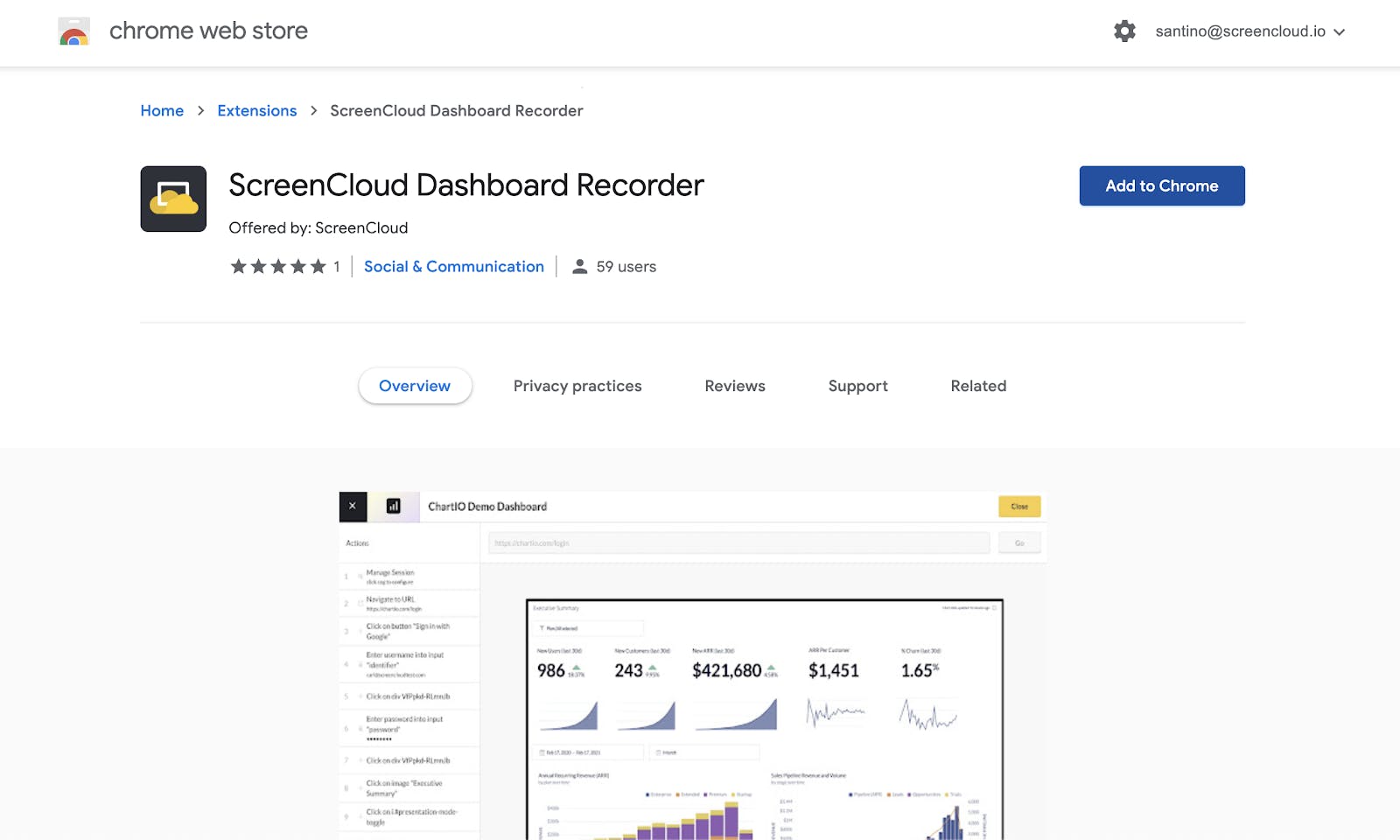 3.2. Once you've installed Google Chrome, please open the browser and visit the Chrome Extension Web Store.
3.3. It is required to download the ScreenCloud Dashboards recorder for this feature. You can search for this in the Chrome Store, or click here to add ScreenCloud ScreenCloud Dashboards recorder on your Google Chrome browser.

3.4. Verify and add the extension to your browser. You'll receive a confirmation message once the extension is successfully installed as shown below. Please note, if your browser is locked-down due to work or private restrictions you may need to contact your administrator to help allow access to the extension (i.e. if you're using a work-based Google account that does not have the ability to manage or download extensions).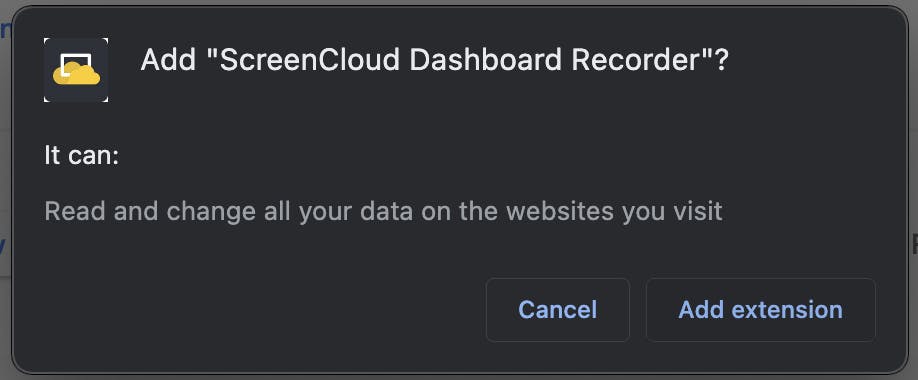 3.5. After the extension is installed to your browser, you can visit your ScreenCloud account and select the "Dashboards" option from your left-hand navigation.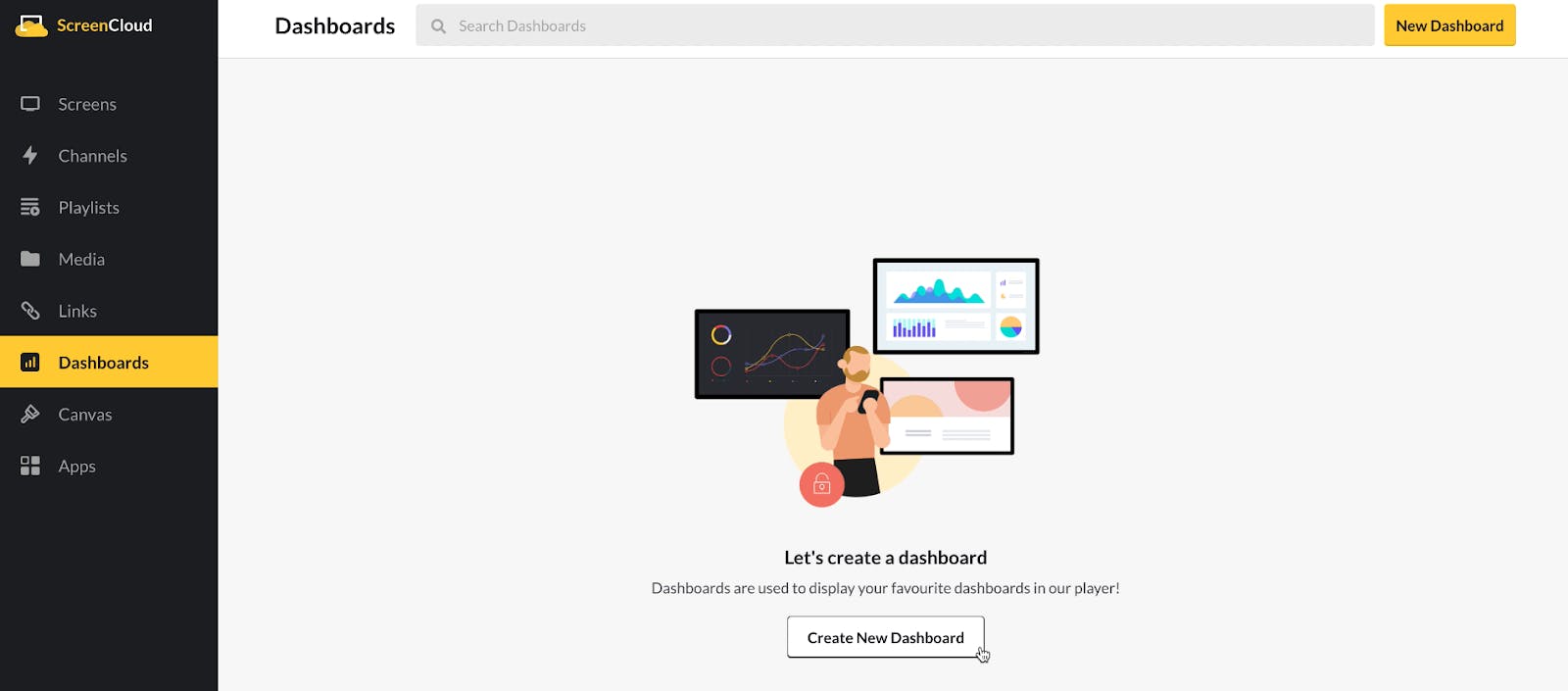 3.6. Next, get started by clicking "Create New Dashboard".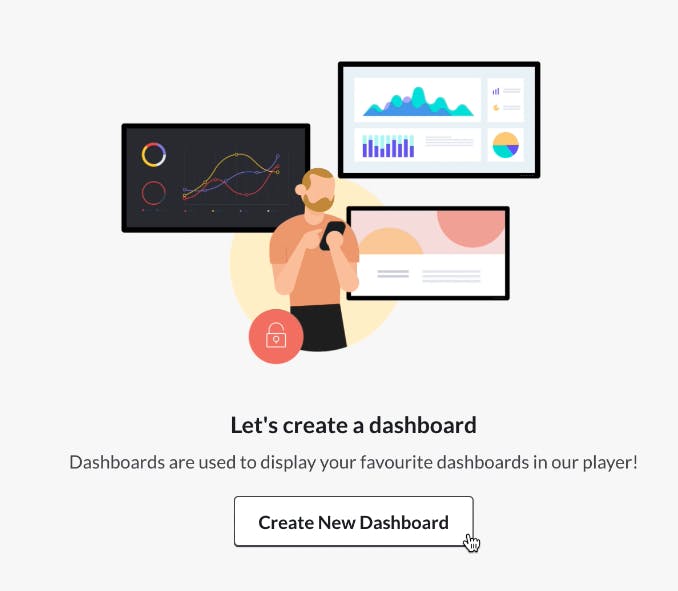 You will be reminded and prompted to download the ScreenCloud Dashboard chrome extension if you have not yet added this to your browser.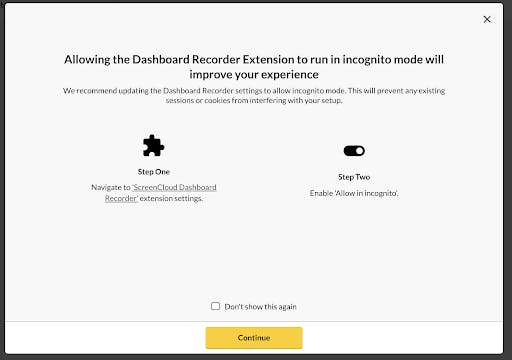 3.7. Enable "Allow in Incognito Mode"
Next, a pop-up window will display with instructions for getting started with ScreenCloud Dashboards. This requires the installation of the Chrome Web Browser Extension and ScreenCloud also advises you to use "Incognito Mode" as it prevents existing sessions, cookies, or settings from altering your journey in any way. As advised, you can click on the link to open your ScreenCloud Dashboard recorder settings and enable it to run on in Incognito Mode.

Once you're done selecting this setting, you can return to the setup window and select "Don't show this again" if you prefer to no longer see the reminder. Click "Continue".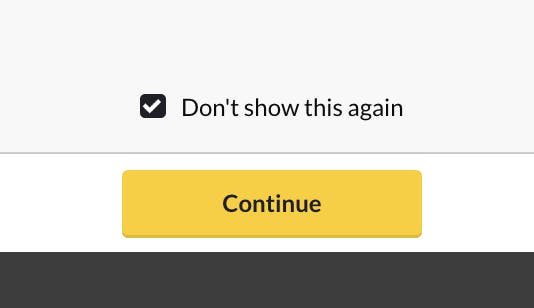 3.8. Begin your Dashboard setup journey
You can now get started with setting up your dashboard or the secure site in ScreenCloud. For this example, below we are going to use a private dashboard from the service ChartIO.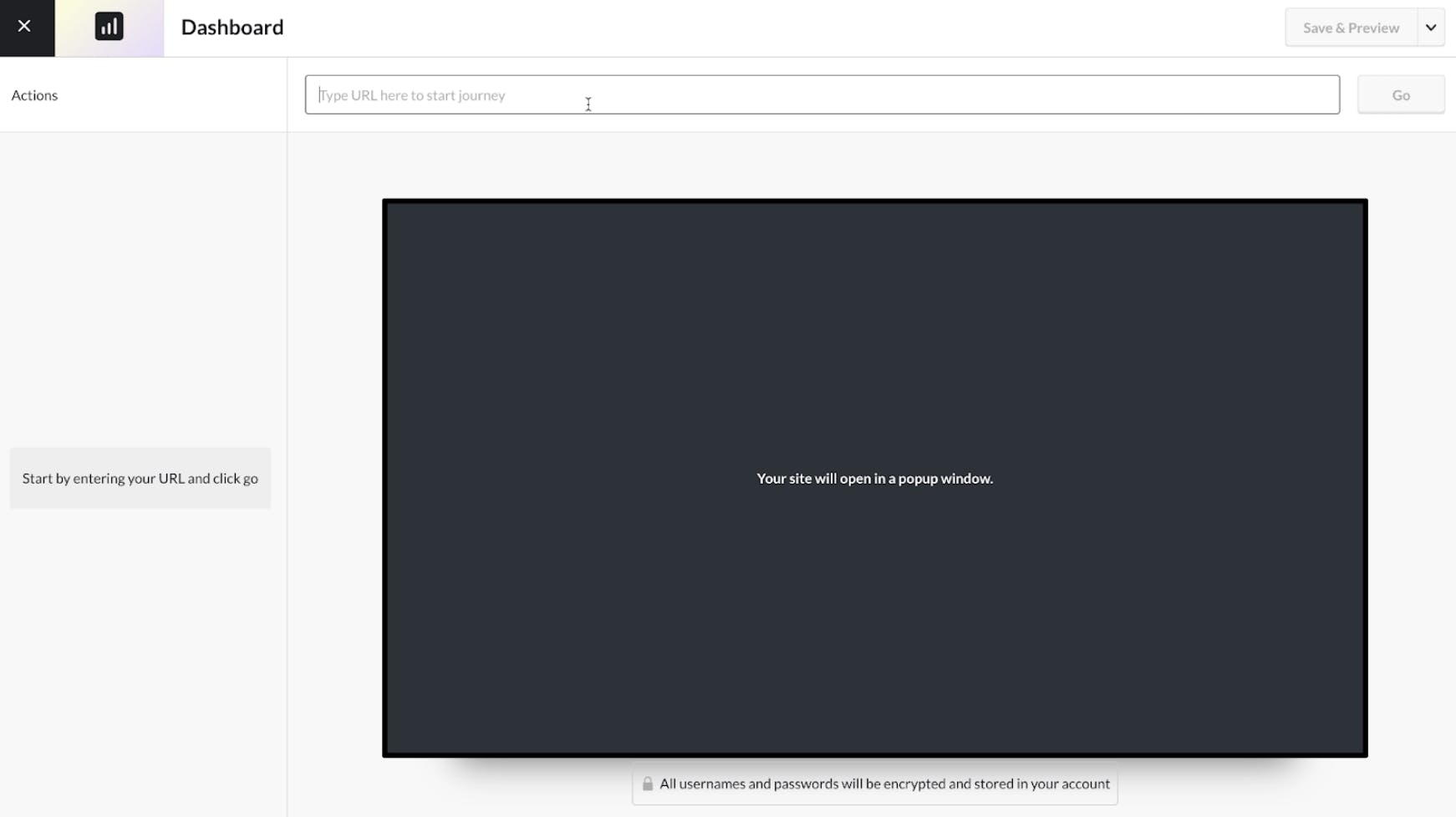 i) Type or enter your URL: begin by adding the website or service you would like to capture the dashboard or data from. In the example below, we are using https://chartio.com/login. Once you have typed in the website, click "Go".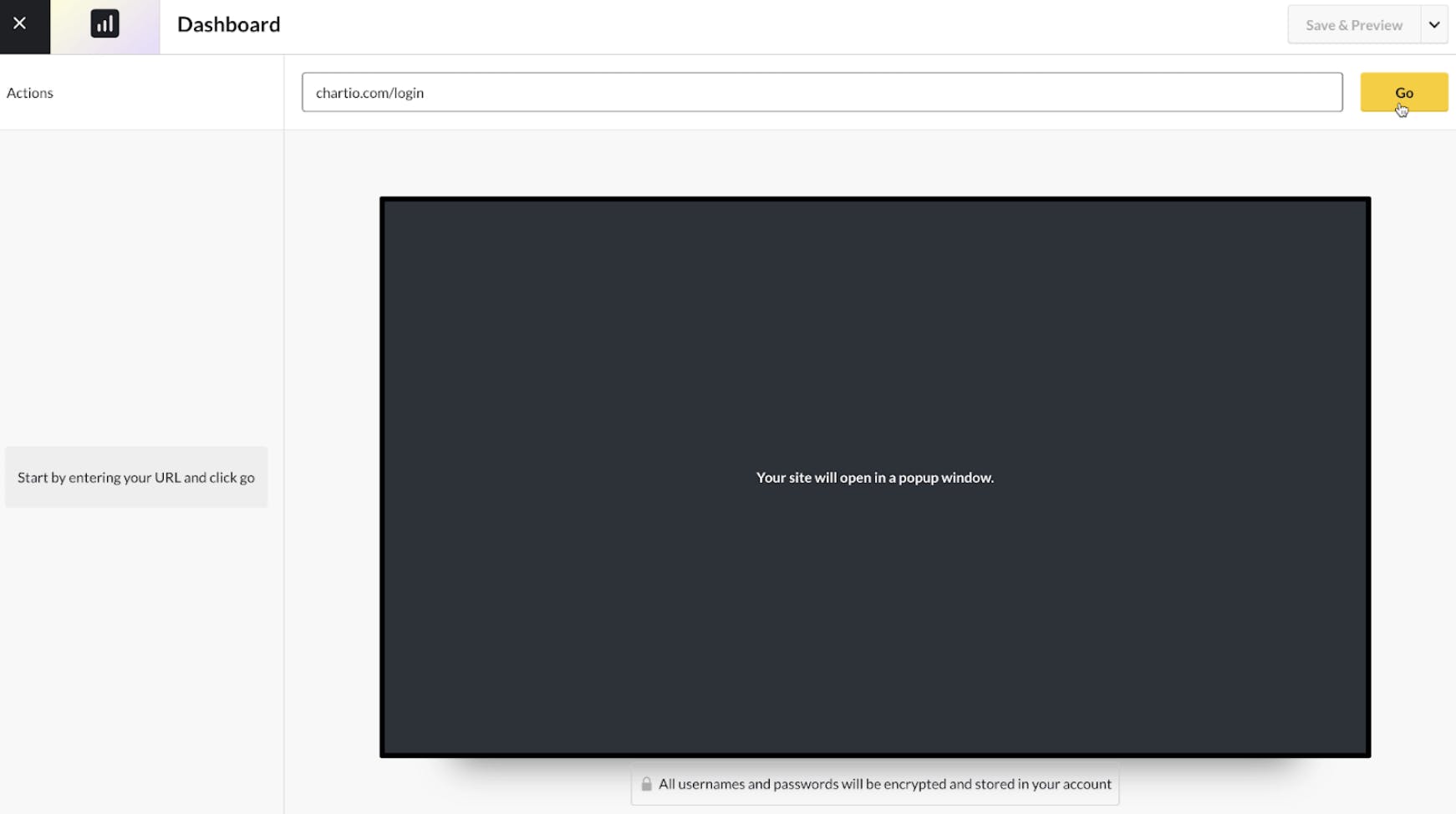 ii) Sign in to your account: A pop-up window will appear which prompts you to log into the service you'd like to use. Please note, ScreenCloud currently supports basic login, Google authentication, and token-based multi-factor authentication (i.e. ScreenCloud does not support SMS text or email authentication) for our supported services highlighted in the previous Section 2 of this guide.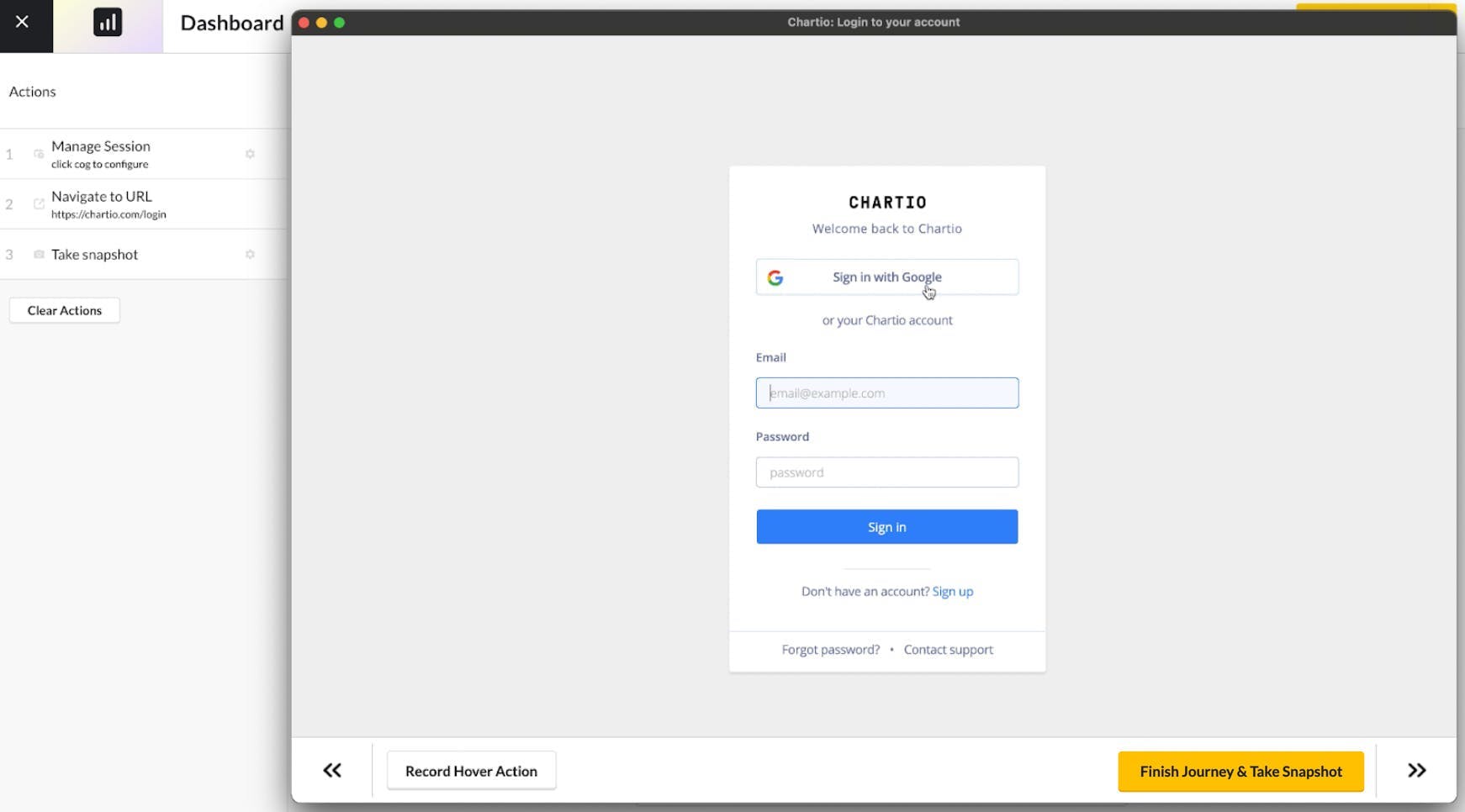 For instructions on how to set up two-factor, or multi-factor, authentication please click here for ScreenCloud's guide for configuring two-factor authentication.
iii) Navigate to your dashboard: once you're signed in to your service, you can browse through and select the exact dashboard, web page, or data you'd like to show from within your account. To the left of this, you will notice that the "Actions" bar will automatically log a chronological history of your steps taken throughout the process.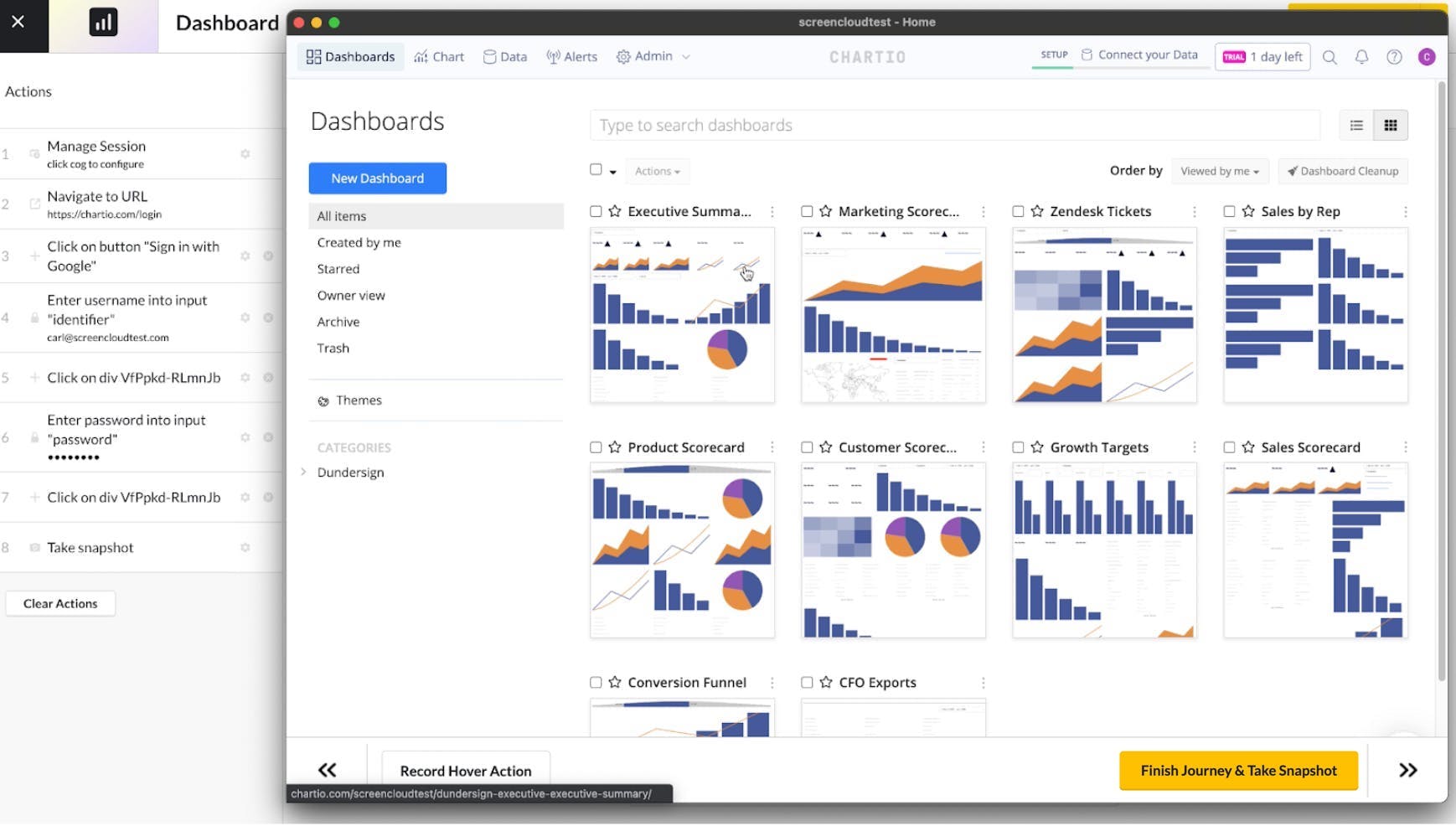 iv) Finish Journey: when you have reached the final destination you would like to display - ScreenCloud advises you to ensure the dashboard or graph is in full-screen mode to have the most optimized display performance. Select the "Finish Journey & Take Snapshot" button and this will bring you back to the ScreenCloud Dashboard window.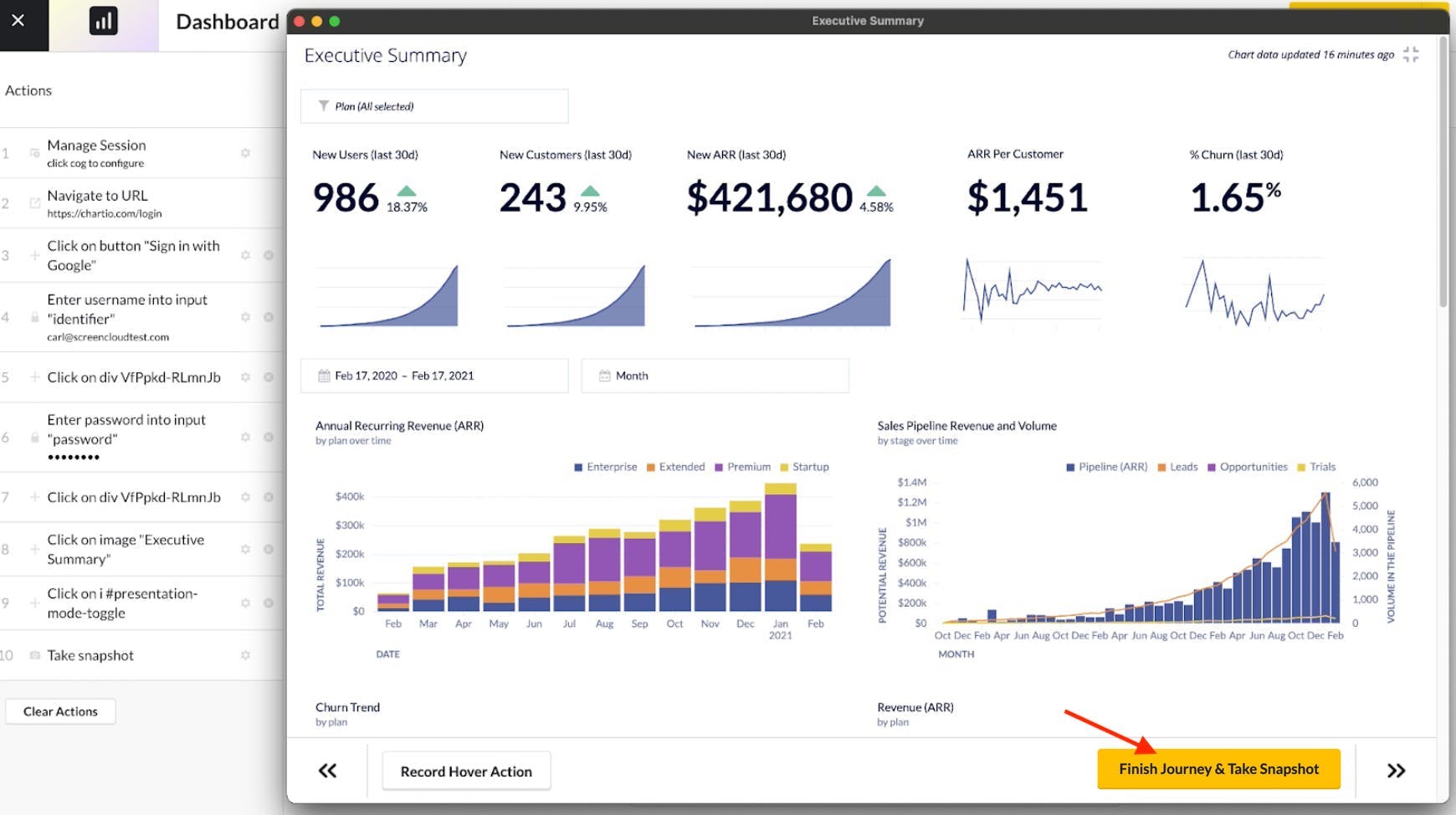 v) Name your dashboard: give your dashboard a unique name to find or reference it easily in your ScreenCloud account at a later time. You can do this by selecting the text editor in the upper-toolbar to change it to anything you'd like.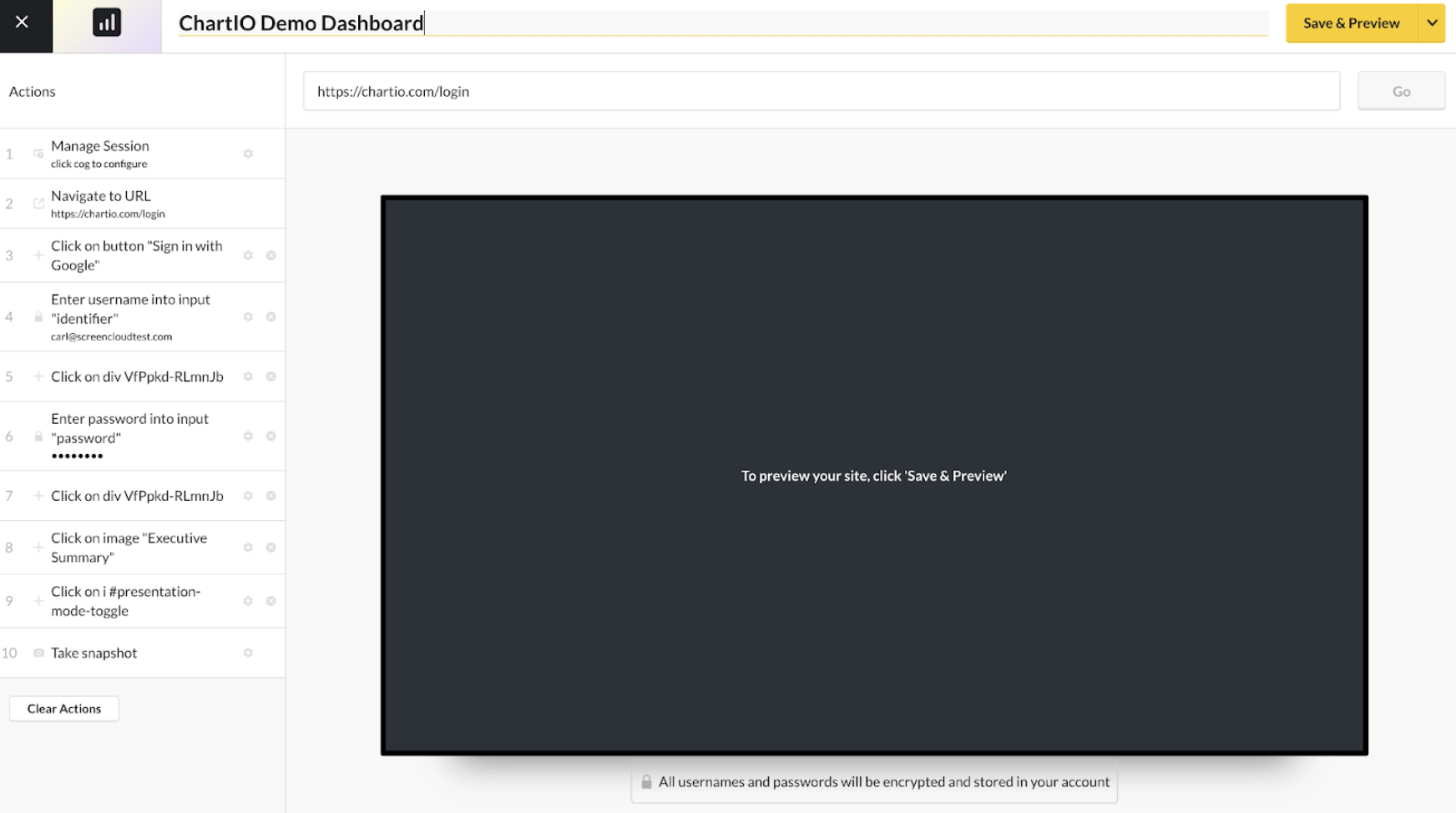 3.9. Save & Preview your Dashboard: select the "Save & Preview" button in the upper-right hand corner. This will prompt a message for you to confirm that the setup has been completed for the dashboard. Select "Confirm".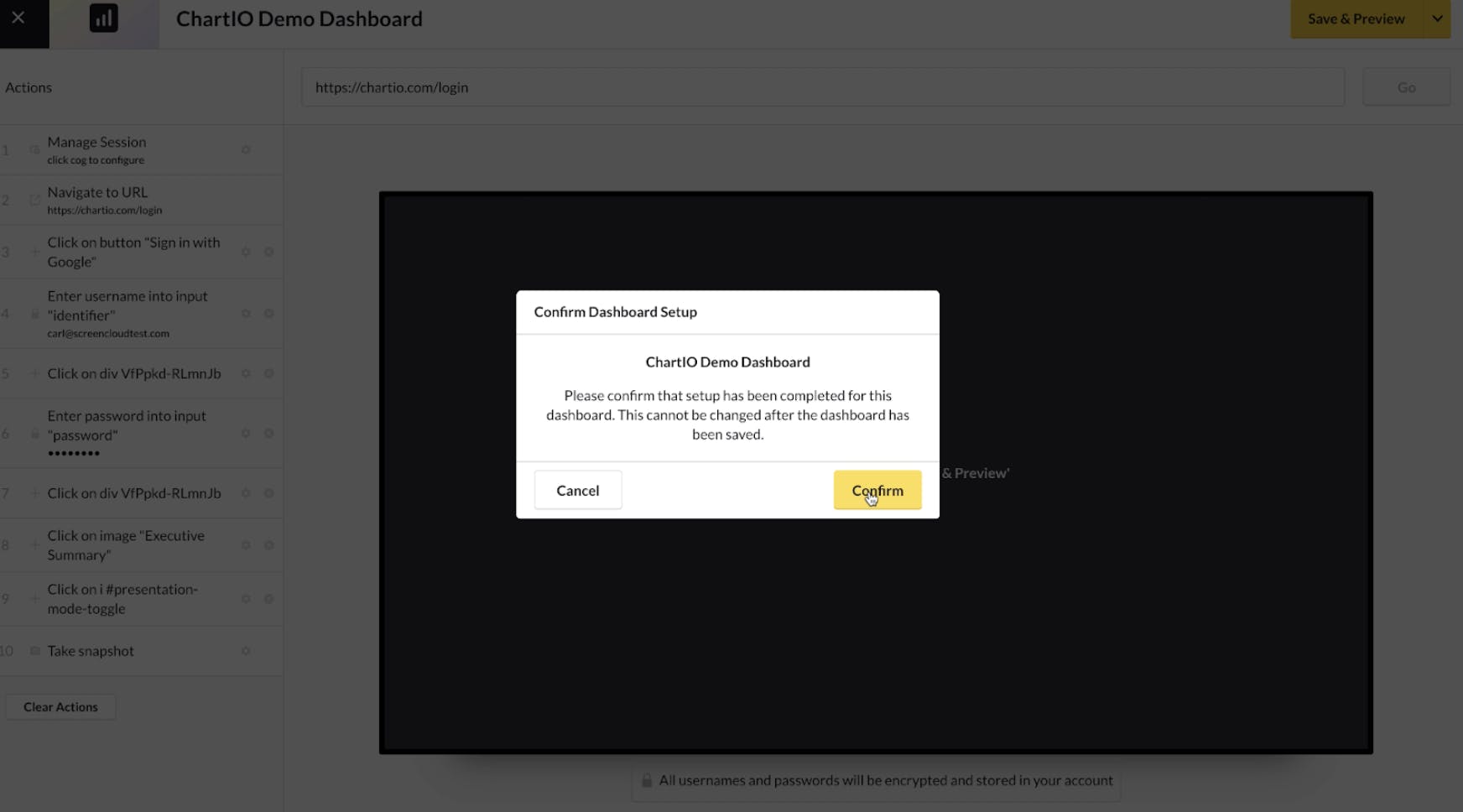 You will now see that your dashboard service will load and render the data. Please note, the preview may take several minutes to load depending on the service or data.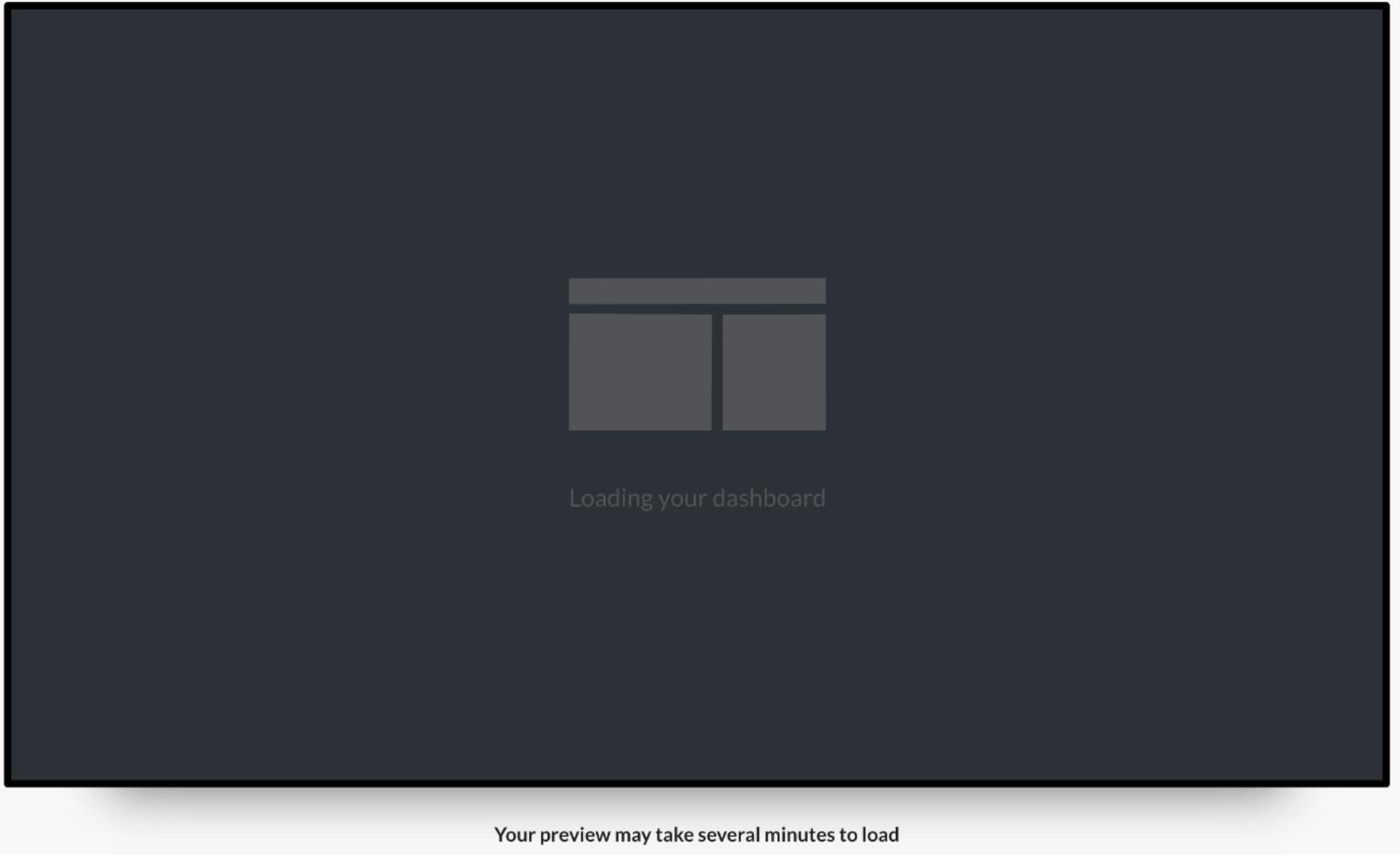 Once the dashboard has fully rendered, it will display and you can close the app. You may now use this ScreenCloud Dashboard on your screens.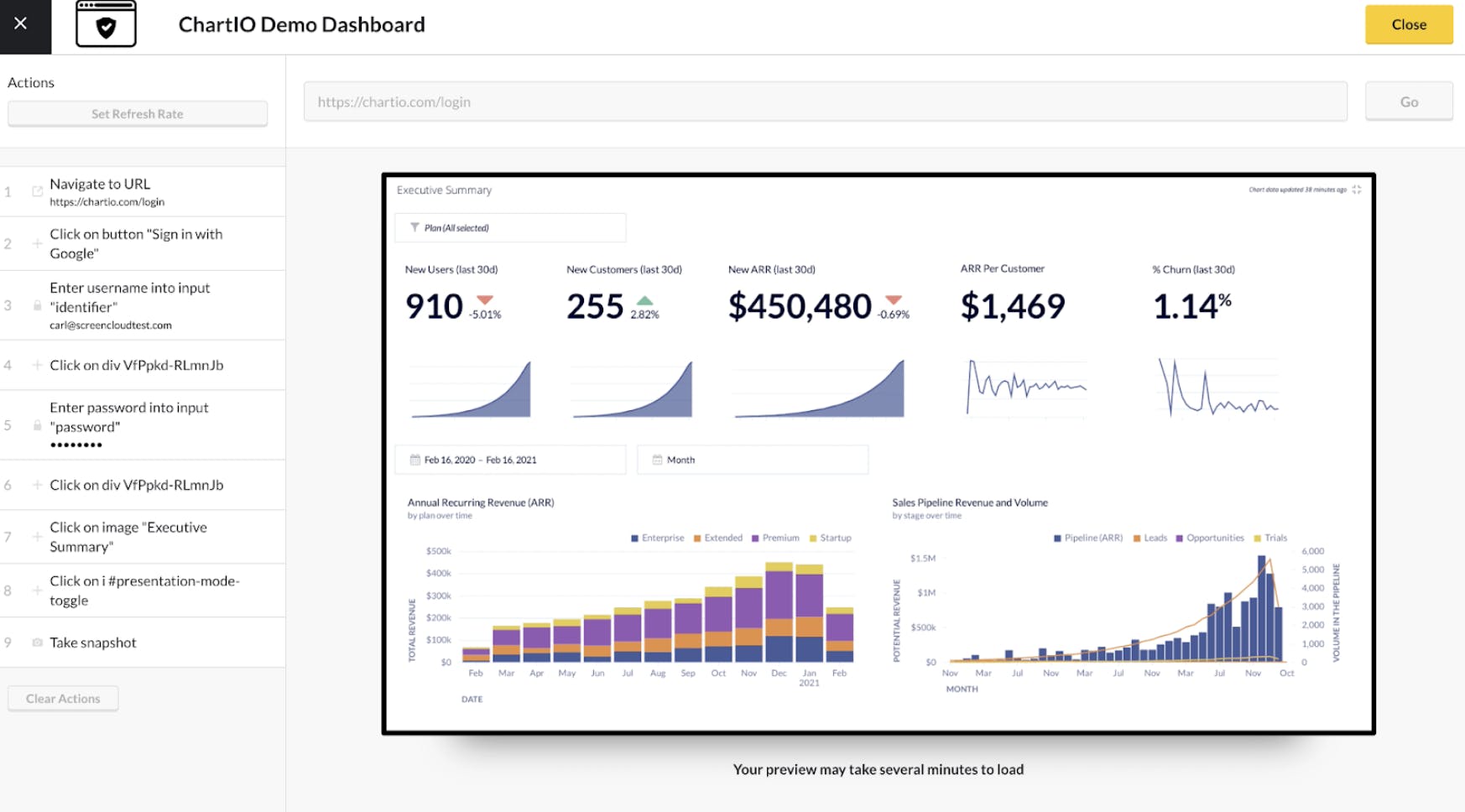 3.10. Display your ScreenCloud Dashboard to your digital screens
You can now manage and display the site using any of ScreenCloud's features available to set content on your digital screens.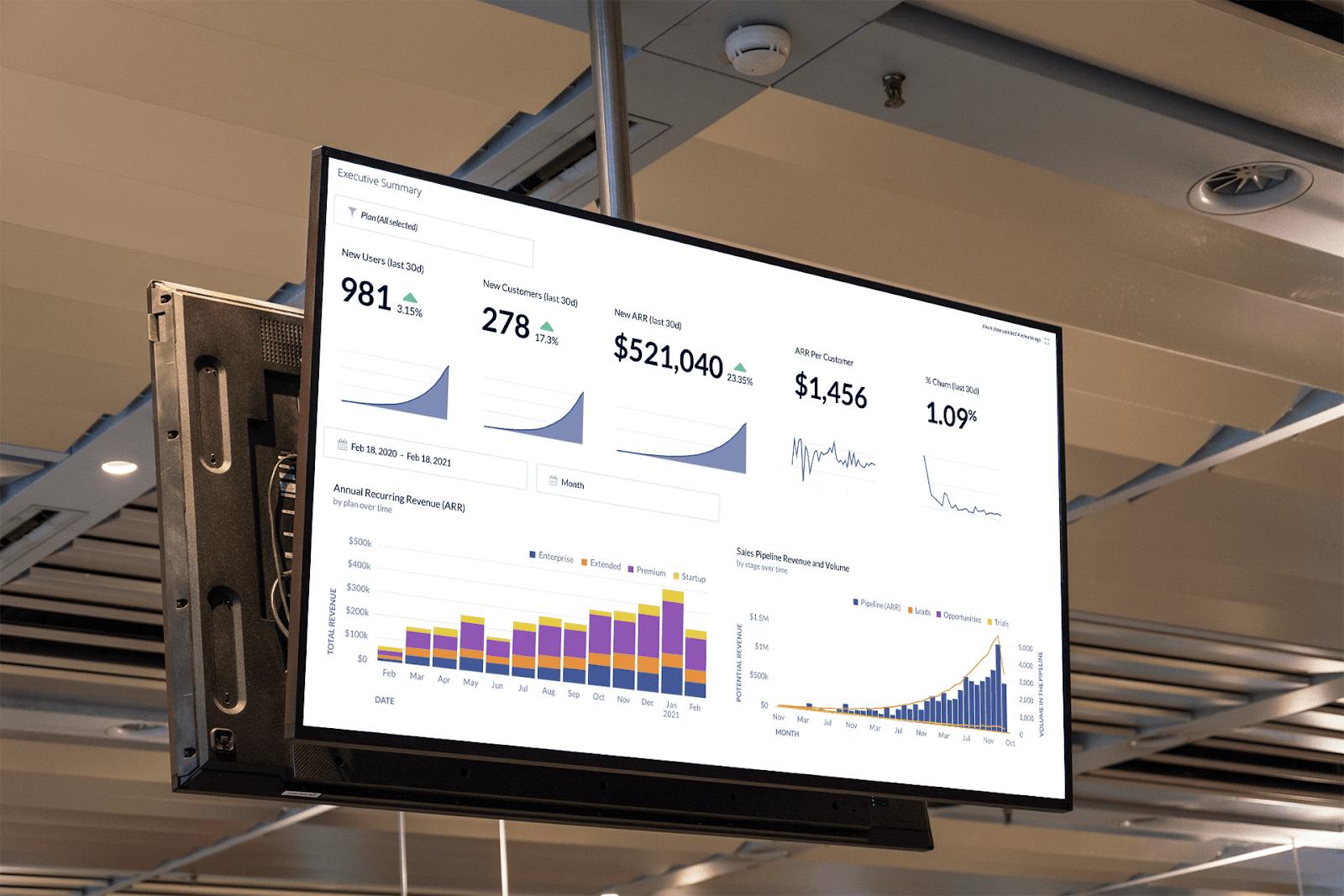 4. Frequently asked questions
Please see the Dashboards FAQ section in our help center for common troubleshooting questions and answers.
Ready to get your organization connected?
Connect your first screen today with our 14-day free trial