Laptops, PCs and screens may be the crux of traditional presentations and digital signs but iPads are quickly joining the line-up. Familiar and with a wealth of benefits that come with being connected to the Apple App Store, the iPad is a strong contender for your digital signage display. Fix it in place with a tool such as a Bouncepad and you have a powerful digital sign within your store, bar, hospital or school.
Using iPads for digital signage
The first thing people ask about using an iPad as a digital sign: is an iPad commercially reliable? The truth is, traditional digital signage displays stick to what are called "commercial grade" devices. These are (expensive) screens specifically built to be used within a commercial setting such as in a retail store window, or as an advertising platform. The benefit of commercial grade is that the technology is built for an "always on" environment with longer manufacturer warranties and a higher tolerance for dust, heat, cold and the like. However, whilst traditional Apple iPads aren't build for commercial use, they still can do the job very well.
It's important to note however, that although the iPad can be a good digital signage option, we do recommend purchasing an Android tablet over an iOS tablet if you have the choice, as Android tablets are much more customizable and have a more reliable long-term performance. If you need help choosing an Android device, head over here for our latest recommendations.
Benefits of using iPads in digital signage
As mentioned above, iPads aren't traditionally built for public use but pair them with a third-party mount or enclosure and you can easily protect against theft and damage. Bouncepad and other units can fix the iPad securely to the wall or a point of your choice, keeping it secure and away from tampering fingers
iPads are much cheaper than commercial grade screens or tablets and can usually be picked up from your local department store. They come in a range of colours, sizes and memory capacities so you tailor for your own design and usually for less than $500!
The Retina screen of an iPad makes content look amazing and super sharp! The smaller screen also draws attention. People are used to seeing large screens everyday, but the iPad is still somewhat of a novelty and you'll find visitors can't take their eyes off them.
Small screens such as iPads are great at counters where people are queuing such as a bar or till as they allow the customer to be right up close to the action.
iPads combine WiFi, the App Store, touchscreen display and operating system all within one device with no external software needed
Using an iPad as a digital sign is incredibly convenient! It can be setup anywhere, carried around and is familiar to all. It's also incredible intimate so ideal for presentations or one-on-ones
Disadvantages of using iPads for digital signage
Non commercial grade - you already know where we're going with this
The iPad doesn't fully support offline mode. It only has media caching capability, which means that if the connection drops, only images and video will show up. Any apps you've chosen from our App Store (Twitter, Weather etc.) will show as black on screen.
The iPad battery life only lasts for so long and this decreases over time and use so you may need to consider setting up a charging point for overnight, or wire them in as part of your fixture
Lower viewing distance - due to the smaller screen size your audience will need to be right on top of your iPad in order to view the messaging.
Now I know what you're thinking. This sounds great and I can live with the cons, but how do we connect our content with the iPad? Where's the HDMI plug in? Can I add a VGA? I'm going to need an adaptor at least.
Not on our watch.
With ScreenCloud you can get your iPad showing your content without any wires required. Turning your iPad into a digital sign couldn't be easier. All you need is the ScreenCloud iOS app, your iPad and a little creativity for your content. Here are three quick steps to getting set up:
How to set up your iPad as a digital sign
1. Download the ScreenCloud app
Open up the app store on your iPad and search 'ScreenCloud'. Once you see our lovely app icon you're ready to download.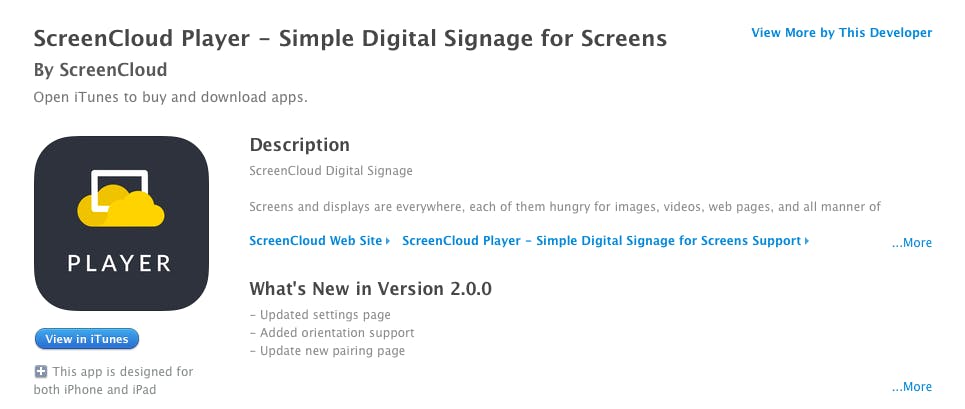 2. Pair your screens
Launch the app on your iPad and you'll immediately see a six-digit pairing code that looks like the below.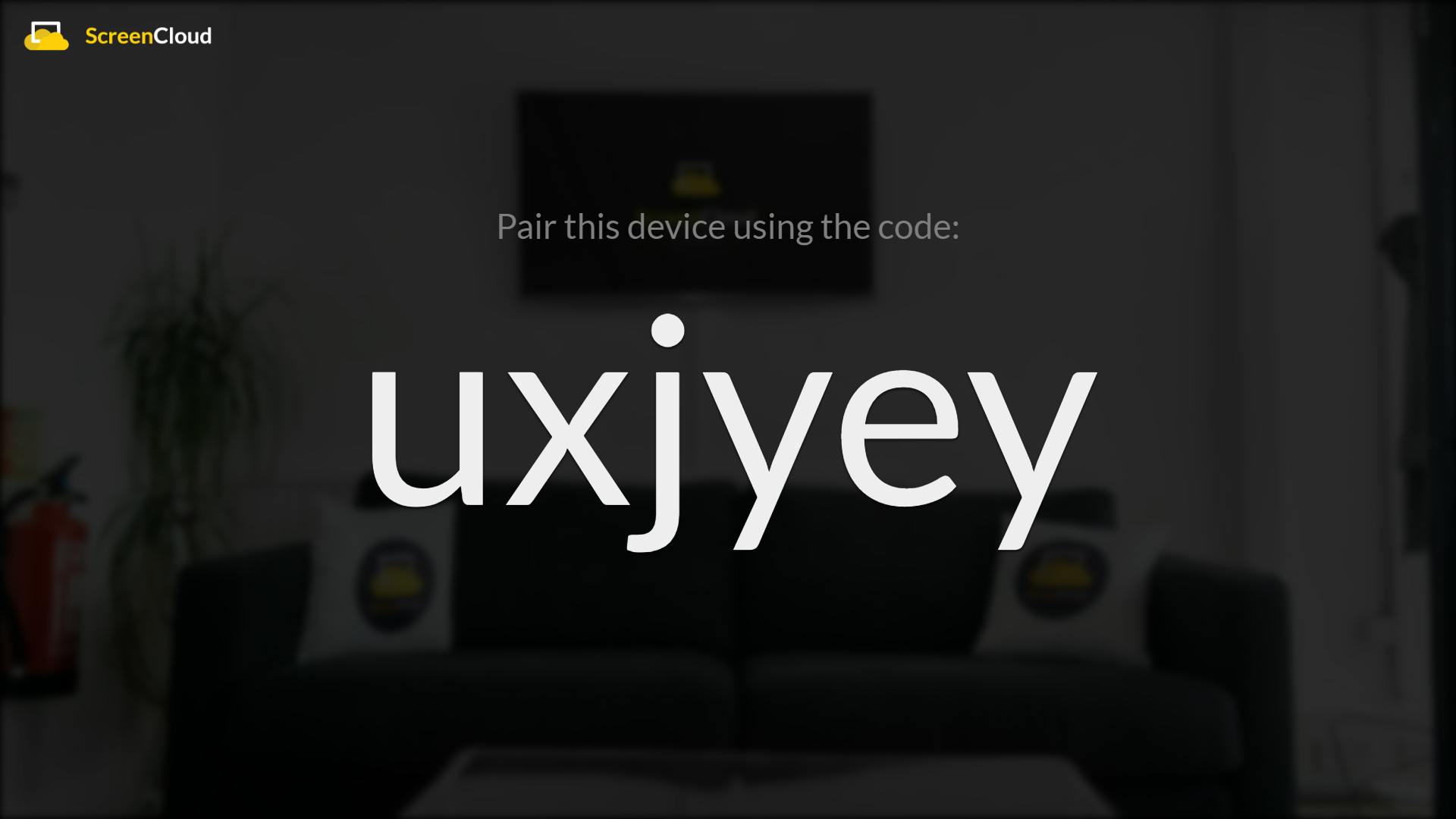 Next, head over to screencloud.com/getstarted and sign up for a free trial (or log in if you already have an account). Once logged in, you'll be able to run through the onboarding steps and then click "New Screen" to add your iPad to your account. This is where you'll enter the pairing code and voilà! your iPad is being controlled from your laptop allowing you to change and add content whenever you like!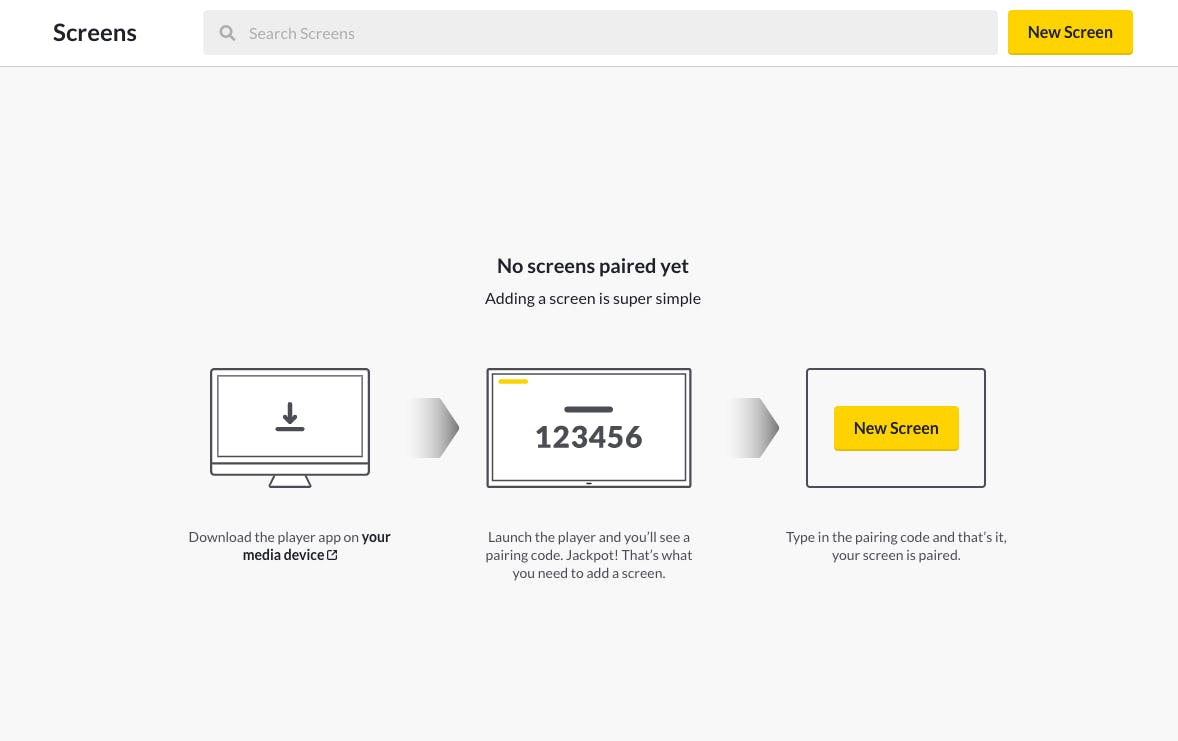 3. Create content for your iPad
Once you're paired it's time to get creative with content! Here you have a choice of what to upload, including:
Images
Videos
Websites
Apps - Social Media Feeds, Rss, News, Weather etc.
PDFs and documents
Once you've uploaded any content you want to display there are a myriad of options that you can choose from, including how long to show each piece of content for, where to show it and what time you want your content schedule to run. All of which, can be managed from within your Channel or Playlist as it gets set to screen. There's even a handy Preview that lets you scroll through content so you can see, from a distance, exactly what your audience is viewing on screen.
4. Configure your iPad
If you want to change the settings of your screen, for example to change the name of your screen, or the screen orientation, simply press and hold down on your iPad screen and you'll access the settings panel which looks like the below.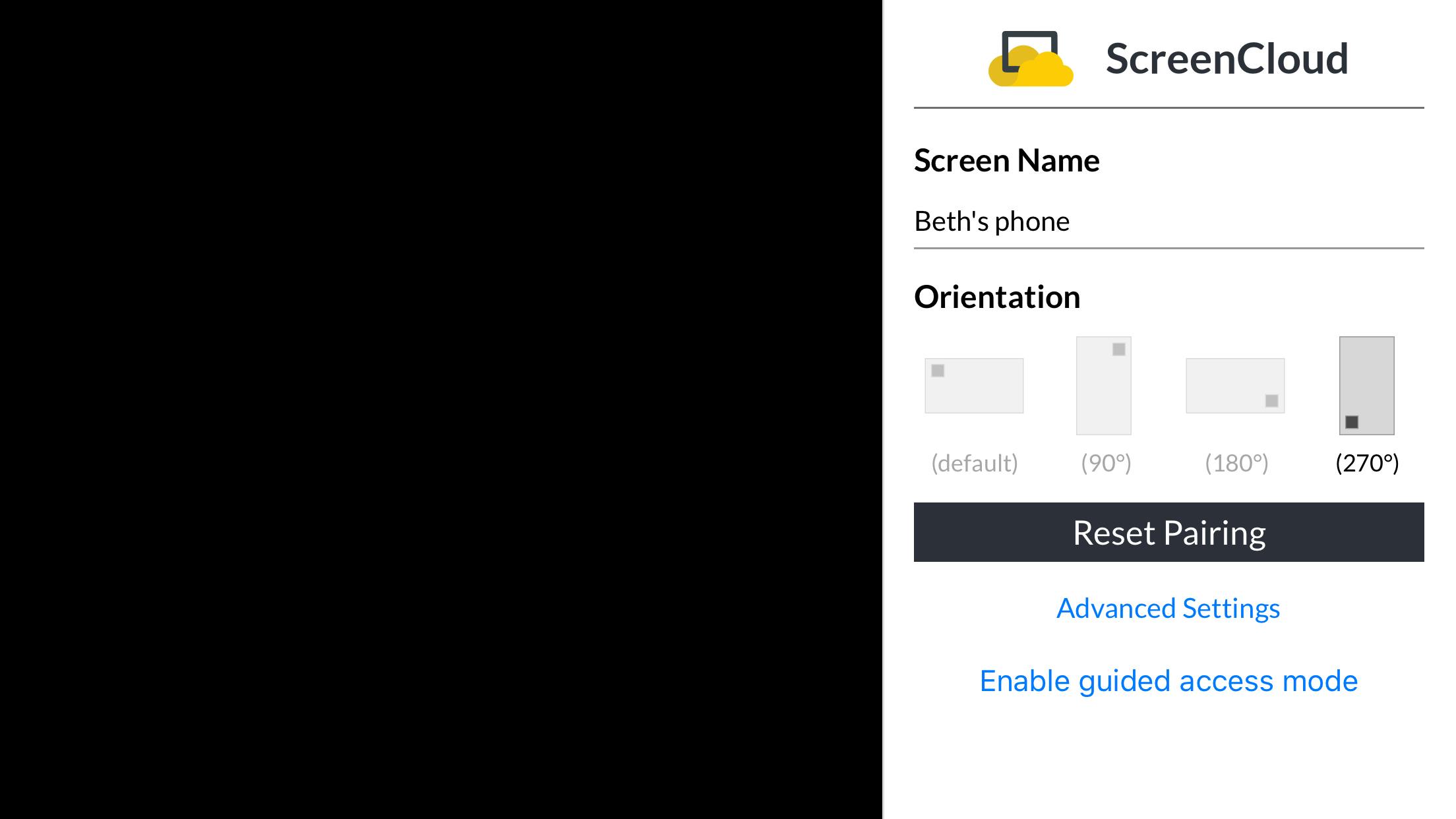 If you want to set your iPad up for longer term use you can use the iPad settings panel to enable guided access mode. This allows your iPad to stay on task and will ensure that only ScreenCloud is able to run while you're using your iPad as a digital sign. This is great if you're using your iPad to display content in a fixed setting as you won't have Twitter notifications popping up every five minutes. It also means that the hardware buttons become disabled so anyone wanting to change the screen display will need to enter a password - great for prying fingers that may be itching to mess with your display.
5. AirPlay Mirroring
If you want to use your iPad to control your TV screen (still running ScreenCloud) you might want to use AirPlay Mirroring. AirPlay Mirroring allows you to clone the entire home screen on an iPhone and iPad to your TV screen. To set this up with ScreenCloud, simply start ScreenCloud on your iPad then turn on AirPlay mirroring.
(Or you can simply pair your TV screen straight to ScreenCloud to miss out a step but who are we to question different methods!).
Get Started Today
Here's a tip you weren't expecting. You can use the exact same process to turn your iPhone into a digital sign too! In fact, any iOS device you can lay your hands on can easily become a digital signage display using the iOS ScreenCloud app.
Ready to get started? Dust off your iPad, iPhone or iPod and head over here to start your free trial