When it comes to digital signage you can use any screen to get started. No investment in fancy hardware or expensive specs needed. If you already have an Android TV, great. You're ready to get started instantly by downloading ScreenCloud from the Google Play App Store.
If you don't have an Android TV but you'd like to still run the Android operating system (OS) on your standard TV screen, that's where a device like the Android TV Box comes in.
What is an Android TV Box?
An Android TV Box, or Android Box, is a device that runs the Android operating system. It's pretty useless on its own, but when paired with a piece of hardware (like a screen) you get access to the same system that currently runs Android phones, tablets, screens and computers around the world.
Just like any other "set box" like a Sky box, a Kodi box or a set TV box, it makes any dumb screen smart. Without the cost of investing in an Android TV.
The benefit in digital signage is that you can buy an Android TV Box and plug it into any regular screen. Once hooked up, your screen becomes smart and you can use the Google Play store to download a digital signage app like ScreenCloud in a few simple clicks. Whereas an Android TV may cost you a few thousand dollars, an Android TV Box could be less than $50.
We recommend purchasing the Chromecast with Google TV for digital signage use. This Android TV box running Android 10 makes for a powerful and affordable device for digital signage with great value for money. It can handle even demanding content with ease and it's easy to cast to your device with its Chromecast features. To learn more about how to use the Chromecast with Google TV with digital signage, check out this article here for more information. 
The Chromecast with Google TV is a great device for home use and basic digital signage, but if you're a medium to large business with screens in multiple locations looking to purchase a more digital signage ready device, a good way to get started is our ScreenCloud OS device, the Station P1 Pro. To learn more about how to use the Station P1 Pro device with digital signage, check out this article here for more information. 
In this guide, we'll walk you through how to set up your Android TV device and get rich digital content showing in mere minutes.
How to setup ScreenCloud on your Android TV Box
1. Connect your Android TV Box to your digital screen
Use a HDMI cable to connect your Android TV Box to the back of your digital screen. Plug in the power cable to your Android Box and plug the other end into the mains.
2. Turn on your Android Box and set WiFi up
Turn on your Android TV Box and connect your TV to WiFi. This should come up automatically and allow you to choose your network.
3. Download the ScreenCloud app from Google Play
Open Google Play from the homescreen of your TV. This will either look like the shopping bag with the colored triangle (as shown below) or the newer triangle on its own.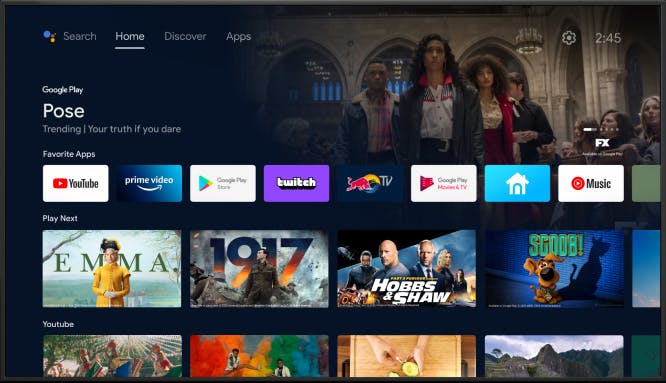 Then search "ScreenCloud" and download the ScreenCloud Signage Player app for Android.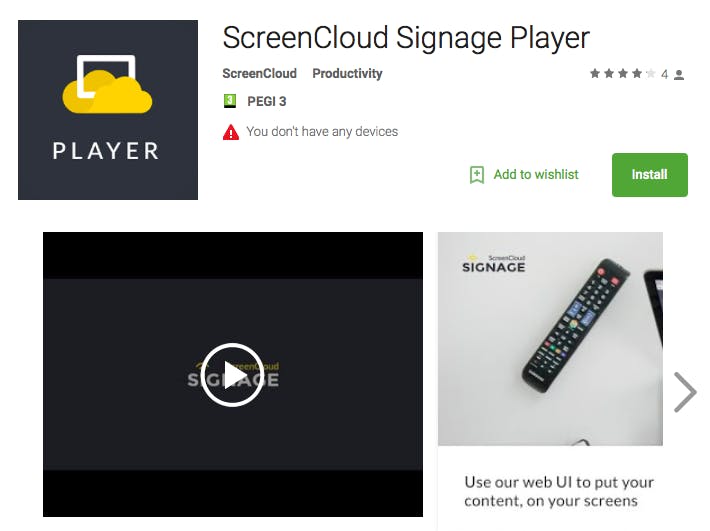 4. Pair your Android TV Box with ScreenCloud
Once downloaded, launch the app on your TV and make a note of the pairing code that comes up. This is what you'll use to match up your Android Box and your web-based ScreenCloud account.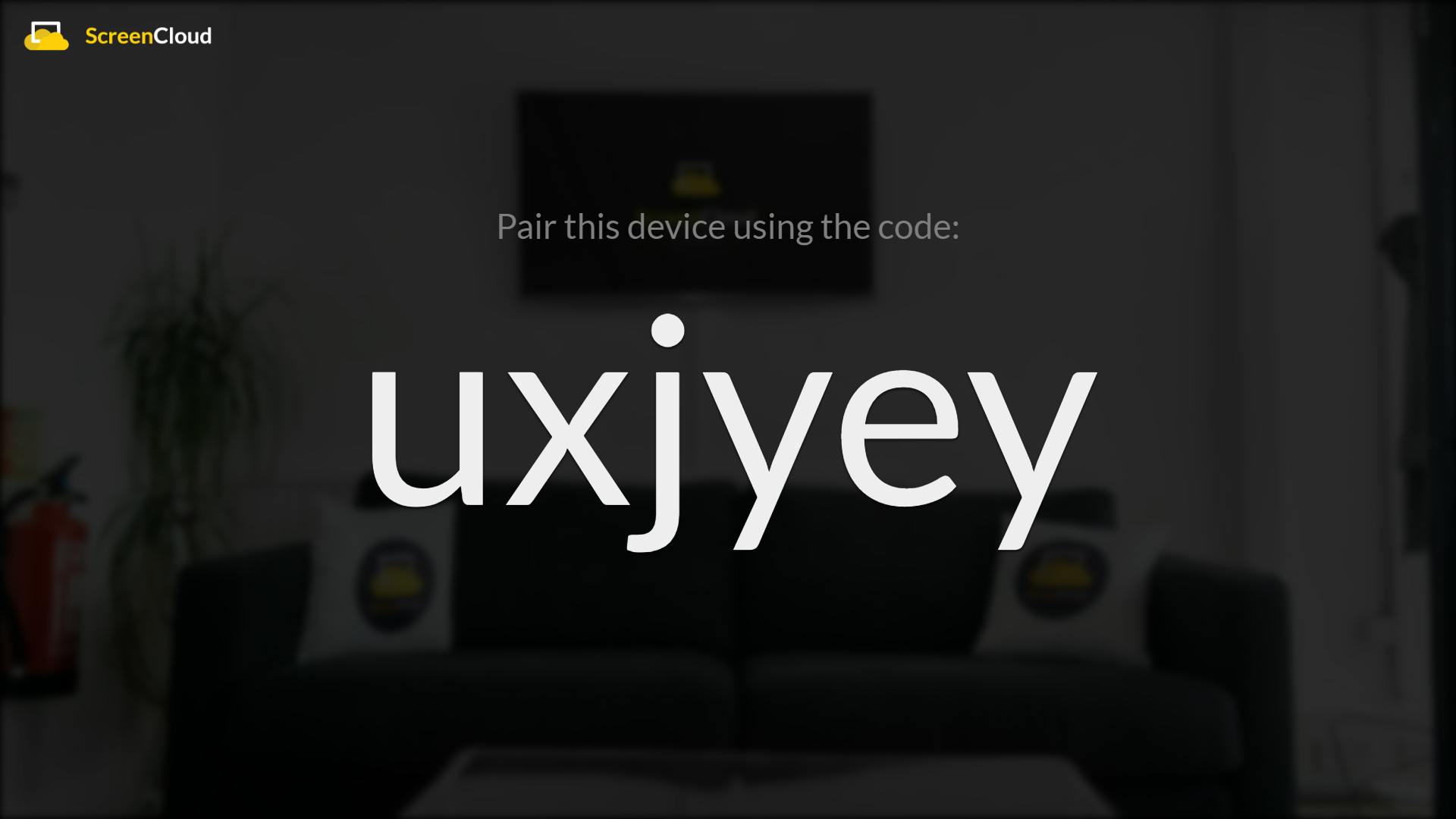 You'll only need to do this once per screen and you can add as many TV monitors as you like to your one account.
5. Set up your ScreenCloud account
Once you have your pairing code you're ready to go to screencloud.com/getstarted on your laptop or PC and sign up for a free trial. If you already have a ScreenCloud account you can log in now.
Once you're in, navigate to the "Screens" section. This is where you'll enter the pairing code to connect your TV screen (and Android TV Box) to the account where you'll manage your content.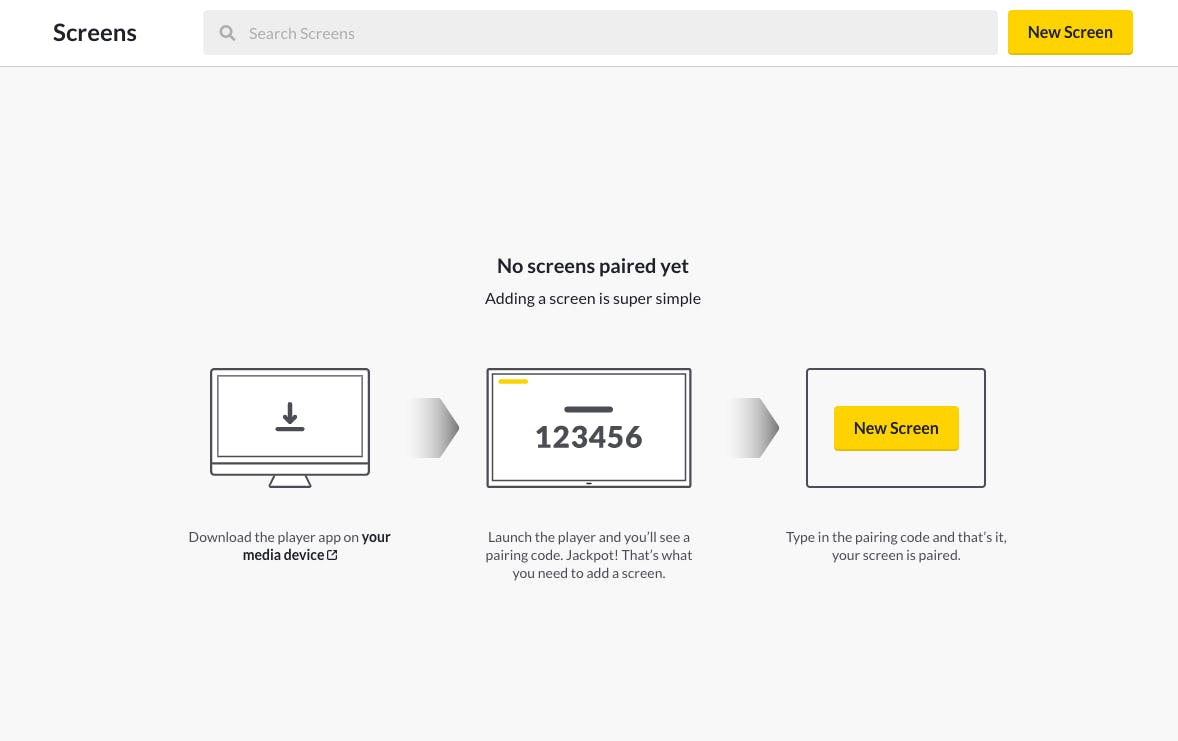 Once this has been entered that's it! You're synced up and able to use your Android TV Box to control your TV screen quickly and easily.
Digital signage and your Android TV Box = simple!
Has it ever been that simple to make a regular ol' TV smart? We don't think so.
Here are a few additional tips and tricks that may also help:
Connecting and organizing multiple screens with ScreenCloud
If you have more than one TV that you'd like to show digital signage on, you can follow exactly the same steps within the same ScreenCloud account. By naming each screen and adding them to groups, it's easy to segment different content for different screens, plus set content to play on screen from various different options.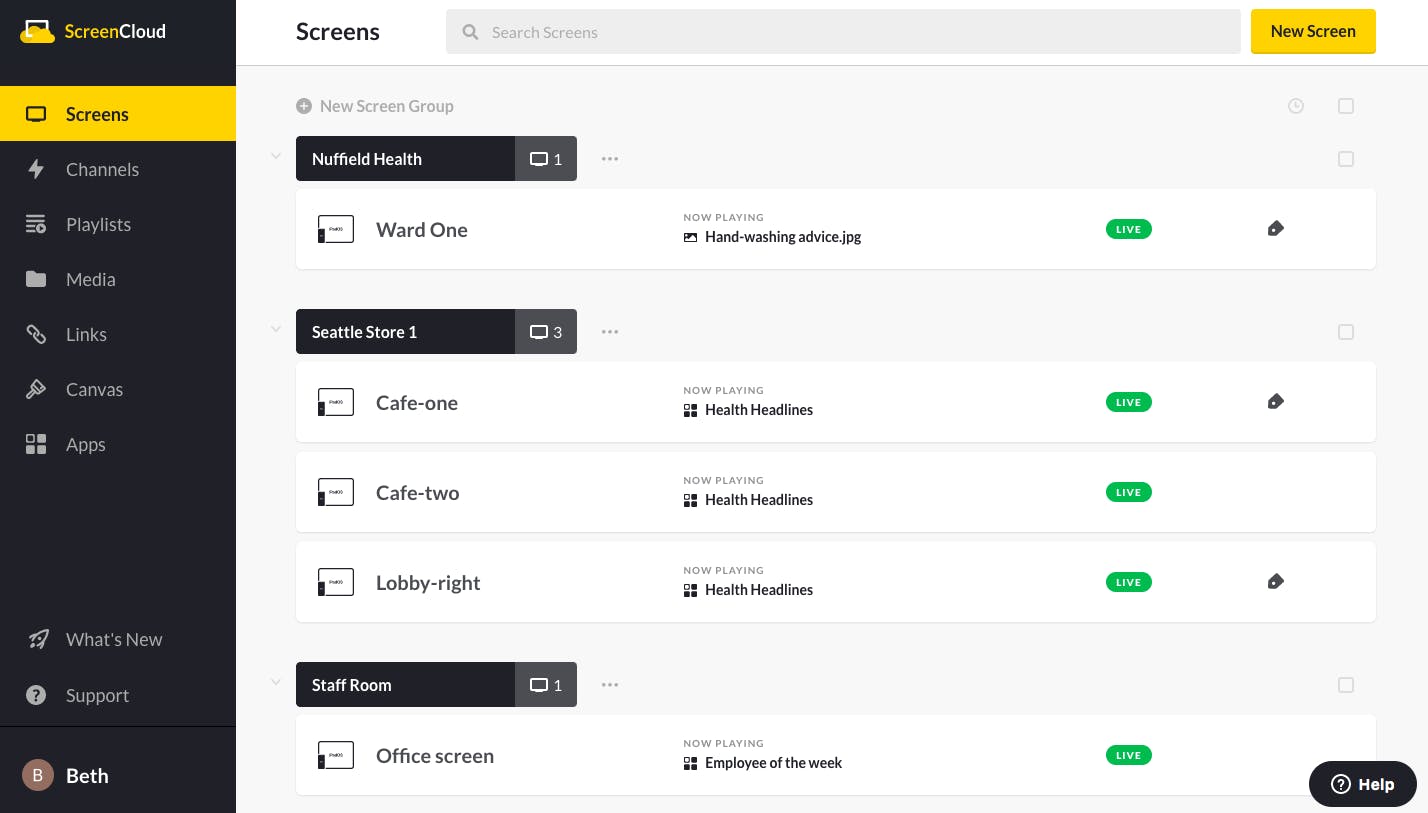 Selecting content
When it comes to creating content you have a ton of choices. You can upload your own content including PDFs, images and videos, or you can head over to our App Store and choose from more than 60 apps. This makes it super simple to add social media, news feeds, live traffic information, presentations and more.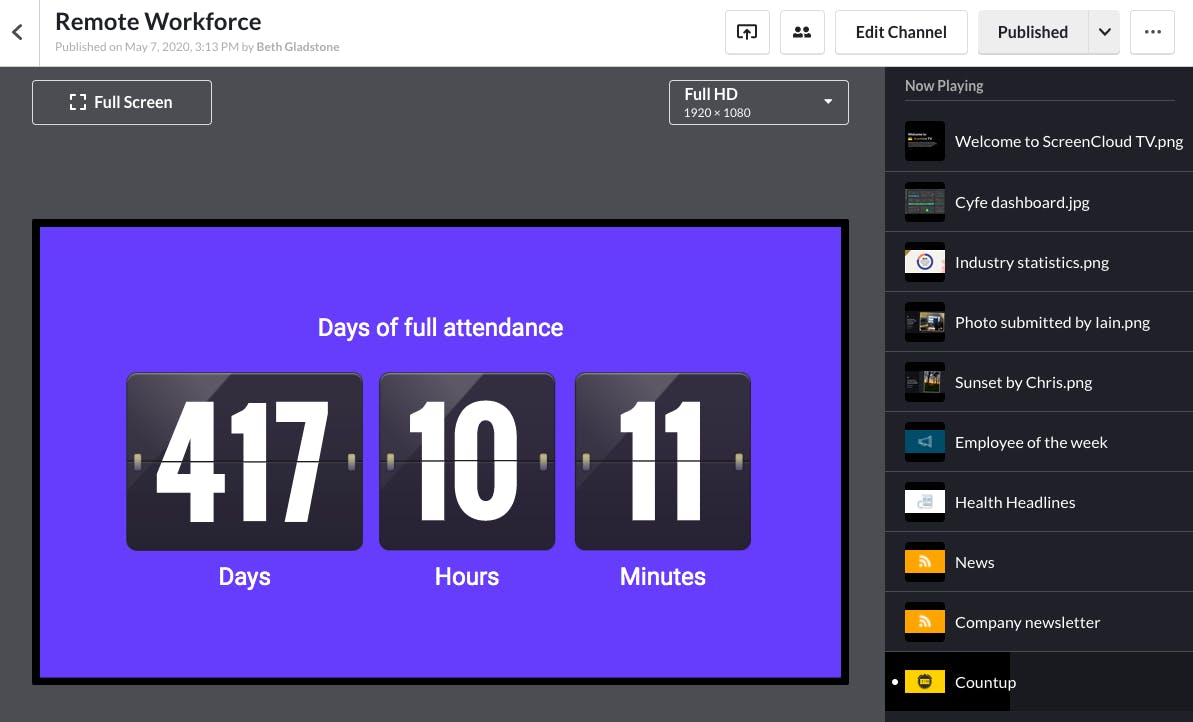 Preset content to play in advance
Once you've hand-selected your content it's time to choose what content plays, and when. With advanced scheduling you can choose when each piece of content plays, and when it expires.
This makes it really easy to schedule campaigns, seasonal promotions or timely notices so that they play to the right audience, at the right time.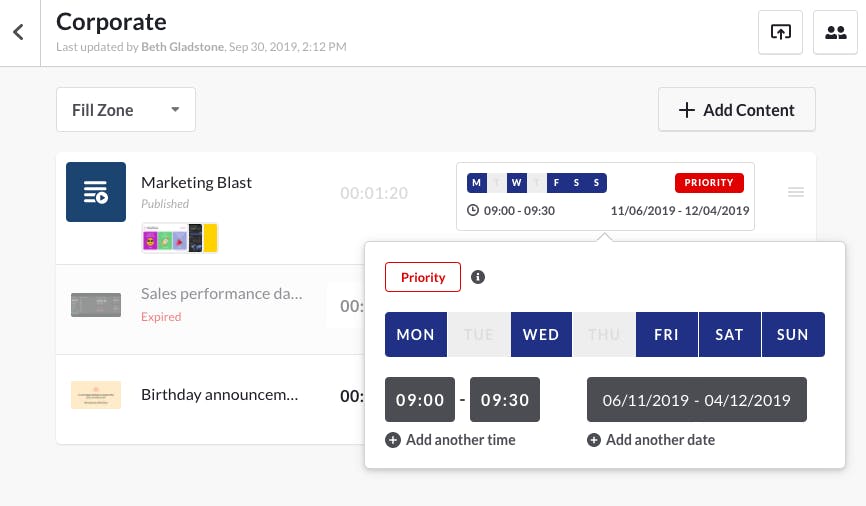 It really is that easy to power up your TV using your Android TV Box as a powerful digital signage display.
Ready to get started? Grab your Android TV Box and get started today.