tl:dr
(too long didn't read version)
For digital signage that requires a lot of video or live streaming, or to game, the Fire TV Box is a better option than the Fire TV Stick.
If you don't have a 4K screen and you aren't doing any of the above, the cheaper Fire TV Stick 4K is a perfect option.
The Amazon Fire TV Cube sports much the same hardware and capabilities as the earlier Fire TV Box, but with the addition of eight far-field microphones that let you direct the Cube by voice.
For digital signage purposes, we only recommend purchasing the Amazon Fire TV Stick 4K. If this is not available in your region, take a look at some of our recommendations for similar devices here.
Here at ScreenCloud we get unusually excited when we hear that a new device has been released. Particularly, when it's one our customers can use to power up their digital signage screens. So when news reached us that the Amazon Fire TV Cube was about to be released, we were pretty excited. Aside from making our pre-order, ready to jump right in and begin testing, we also wanted to get down to business on the features it did and didn't have and what more it could offer than the usual Fire Stick or Box.
Then we thought; you know who else might like this discussion? Our ScreenCloud customers. So without further ado, we give you the comparative guide to the three core Amazon Fire devices.
Amazon Fire TV Box vs Amazon Fire TV Stick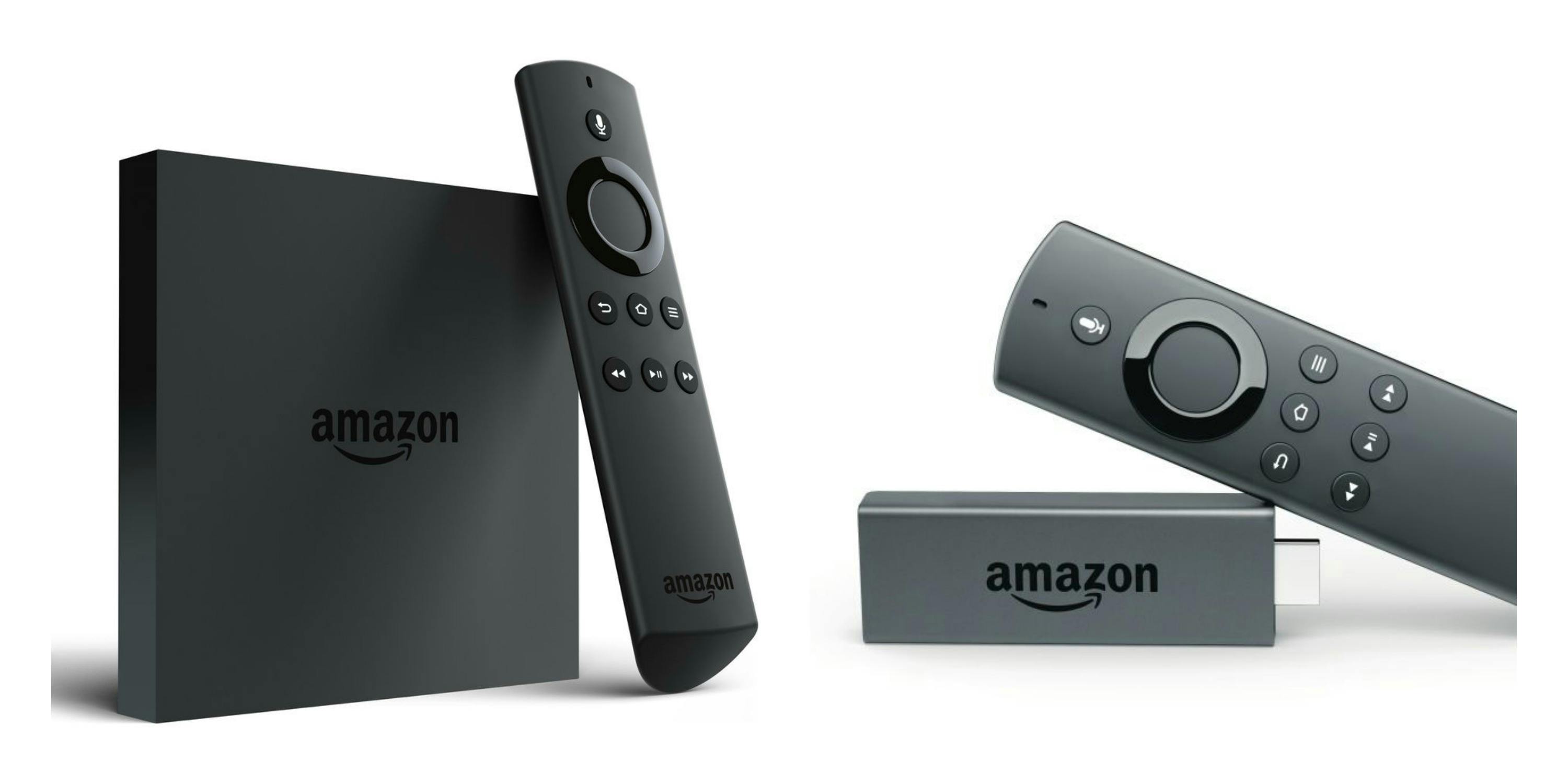 The Amazon Fire TV is a media player developed by Amazon in 2014. Like your traditional set box, it attaches to a TV in order to make it "smart". Back in 2014 this might have been one of the first devices we used to get our Netflix fix, or to play games, listen to music and do anything else that requires you to have internet on your TV. Since then, Amazon has released a more upgraded version of the Fire TV box in 2015, and then again in 2017. This has features like double the processing power, 4K ultra-high definition and enhanced video codec components.
The Amazon Fire TV Stick 4K, released in 2018, is a similar yet smaller device. It plugs directly into the back of your screen to give you access to the internet, but is perhaps more portable and able to be used "on the go" due to its small size and light weight.
Both devices are very "plug and play" in that you put them into an HDMI port on your TV, use the remote to set up and connect to WiFi and voila, you have a working smart screen.
The Fire TV Box is slightly more expensive than the Amazon Fire TV Stick 4K but not as expensive as the newly launched Fire TV Cube, which of course, has some swanky new features that both earlier devices are missing (more on this below). You're usually looking at $70 for the Fire TV Box which includes ultra HD 4K viewing and an Alexa voice remote, with the Fire TV Stick 4K being around $20 cheaper at $49.99.
As it's slightly larger size would suggest, the main benefit of the Fire TV over the Fire TV Stick is that it has more memory, is faster and supports higher quality audio. To compare technically between the latest models (that's the Fire TV Stick 2nd generation and the Fire TV 3rd generation), it goes as thus: The Fire TV has an additional 1GB of RAM, runs the slightly later Fire OS 6 and is 0.2 GHz faster.
Trying to decide which to buy? One distinction we like is that for gaming, showing off lots of video or live streaming content, you'll want the more powerful Fire TV over it's little brother the Fire TV Stick. But, if you aren't streaming anything too heavy and you don't have a 4K TV, the Fire TV Box is overkill and you might as well save yourself $30 and go for the TV Stick instead.
Amazon Fire TV Cube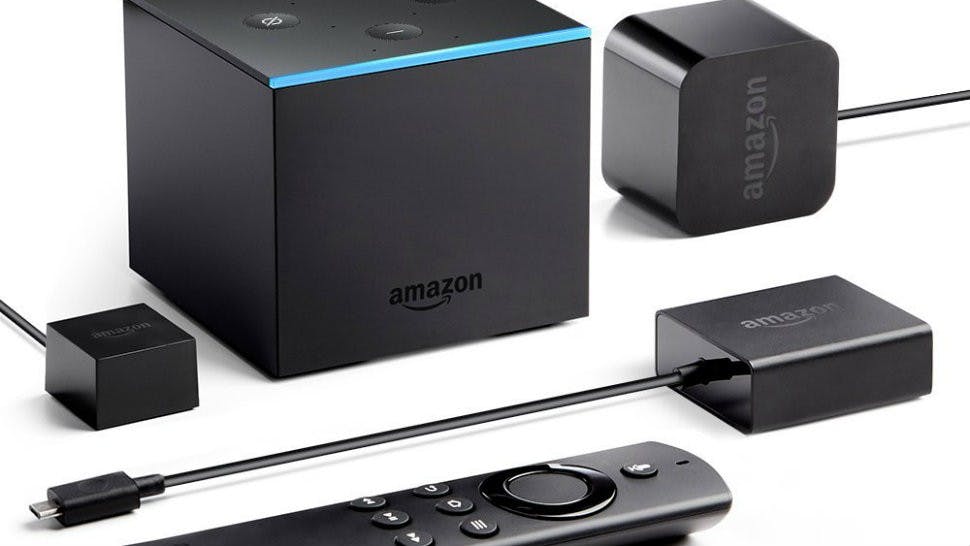 The latest arrival on the Amazon scene is the Fire TV Cube, released in 2019. Shipping into the US on June 21st it comes in at $120 (although cheaper for Amazon Prime customers, of course). As of yet, there's no word on when it might be available in the UK *sob*.
The big addition to the Cube over the Box or Stick (kudos on the simple name choices Amazon), is that it has Alexa voice-control built in. Of course, you do have voice-activation on devices like the latest Amazon Fire Stick, but you have to press a button first.
On the Cube, Alexa is always listening meaning you don't have to hunt for your remote first.
If you think of it like this, the Fire TV Cube is a mash-up of your regular media device and the type of voice-control we're more used to having on our smartphones. This takes it outside of the realm of just being a box that makes your TV smart, to being a smart device in its own right.
As well as powering your TV, it could be used to check the weather, to play a specific song while you're entertaining or even to control another smart item in your home, like a fridge or thermostat.
Right now, its main potential is to control your TV, stream content and answer Alexa queries. In the future however, there's potential for it to be the master of an entire IoT-driven home ecosystem.
In terms of technical capability, it's much the same as the Fire TV Box, including a 1.5GHz ARM chip, 16GB of storage and 2GB of RAM.
What does this mean for digital signage?
As you might expect, ScreenCloud supports all three of the Amazon Fire family. Simply navigate to the Amazon App Store on your device, search "ScreenCloud" and you can get paired, whether through voice, remote or otherwise.
Of course, the Cube may be a bit bulky physically to be hidden behind a screen, so for digital signage right now, we suggest going traditional and grabbing a Fire TV Stick 4K. However, like Amazon, we are working on voice-activation as a big part of the future of how we use screens. As you'll see in the video below, this could mean asking your screen to surface a piece of content in a meeting, or changing what your screen's showing simply by asking. The Fire TV Cube, with its innate voice features, could play a huge part in this.