The original Intel Compute Stick, launched in early 2015 by Intel, was said to be limited in design and capability. One USB port and fairly slow processing meant that the job it was supposed to do (turn anything with a HDMI port into a computer), came with some limitations.
Fast forward to the end of 2015 and a second-generation Compute Stick was released with faster processing and more USB ports (plus other benefits) which means it's now back on the market as a go to media device.
In this guide we take you through what the Intel Compute Stick is, how to set it up and what you can do with it.
NB: To reduce any confusion, we wanted to highlight that we don't recommend buying the Intel Compute Stick if you're looking for a digital signage device and this is why. There are plenty of devices out there which are a similar price to the Intel Compute Stick and do a better job such as the Azulle Access 4, the Chromecast with Google TV or the Amazon Fire TV Stick 4K. If you would prefer a more business ready device, we recommend our ScreenCloud OS device, the Station P1 Pro. But if you're looking for an introduction into the Intel Compute Stick, its spec or uses, then by all means read ahead.
What is the Intel Compute Stick?
The Intel Compute Stick is a small media device that can be connected to a HDMI port to turn a screen monitor or TV into a smart device.
The benefit, is that the Compute Stick is tiny and affordable. So rather than having to invest in an expensive screen or TV, you can take the cheap screen or TV you already have, plug in the Compute Stick and get all of the benefits (plus more) of a Smart TV.
The benefit of the Intel Compute Stick over other cheap media devices is that most devices are made for web browsing. With the Intel Stick, you can access the web but it also has enough processing power to download files, stream music and videos and do a few different things at once while still retaining a useable speed.
It's also as small and lightweight as a USB stick - perfect to pop in your pocket and take with you wherever you go.
The Intel Compute Stick specification guide
There are various versions of the Intel Compute Stick, but two of the most noted (version 1 and version 2) fall into the below specifications and differences: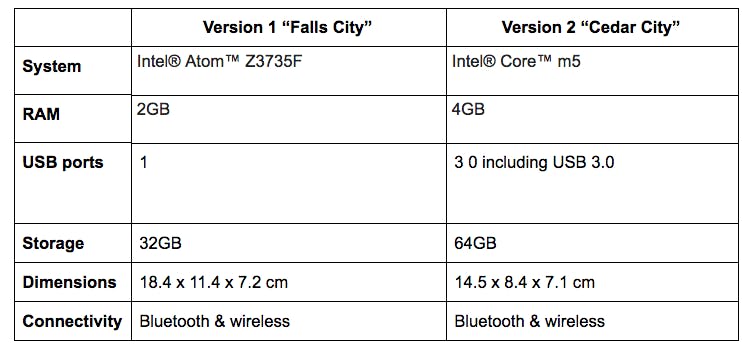 Uses for the Intel Compute Stick
Browse the internet of any monitor or TV screen
Ability to work anywhere with access to a HDMI port
Check emails, access social media and stream videos
Download movies
Watch Netflix, or another TV streaming system
Gaming (although use is reported to be limited)
Benefits of the Intel Compute Stick
Some of the key benefits of the Intel Compute Stick over similar media devices include:
Ready out of the box. The Intel Compute Stick is "plug and play" so you can have it set up and ready to use within 10 minutes.
More benefits than a regular Smart TV. The Compute Stick runs Windows, so you have access to a larger set of apps and browsers than if you were just using a Smart TV alone.
Depending on model, you have the option to plug into the TV screen for power, or into the wall.
Supports both Windows and Linux operating systems.
Any downsides?
Very little storage, so installing apps or downloading movies is difficult
No keyboard or mouse - you'll need to add your own to use it as a personal computer.
With the Intel Compute Stick you can't use both Bluetooth and WiFi simultaneously. So if you're looking to browse the internet using a Bluetooth-enabled mouse and keyboard, you may be in trouble.
It won't mirror your phone like Chromecast or Apple TV.
Low processing power, not suitable for demanding environments for digital signage (see alternative options here)
How to set up an Intel Compute Stick
1. Plug your Compute Stick into the TV
Even though the Compute Stick may look like a USB, it actually has a HDMI connector.
This goes into the HDMI port on the back of your TV screen. If there isn't enough room between your TV and the wall, you can use the included extension cable.
Next, add power by plugging your Compute Stick into the adaptor and into the wall, or using the USB port to connect it to your TV. Press the power button on the device and check it's working.
Please note: Intel Compute Sticks are designed to use up to 10 W of power. If you are trying to power your Stick from the TV rather than a plug this may affect use and/or device speed.
2. Add a keyboard and mouse
Next, you may want to add a keyboard and mouse to your monitor and Compute Stick, so as you can navigate the screen or work from it. You can connect a USB wireless keyboard and mouse, using a USB dongle or a wired mouse and keyboard using the USB port on the Intel Compute Stick.
If you want to use a Bluetooth device, you may run into some issues as the Compute Stick doesn't automatically search for Bluetooth devices and the Wi-Fi seems to be affected by Bluetooth use. Some users suggest setting up a wired mouse and keyboard to help the device search for the wireless mouse and keyboard you want to use.
View Intel's guide for further details.
3. Set up Windows
Depending on which model you use, the Intel Compute Stick will then take you through Windows setup.
This is like setting up a new PC; connect to WiFi, choose your Time and Date settings and so on.
4. Get started
Now your device is set up you're ready to begin streaming TV shows, playing music, setting up apps and basically using your screen as a smart device.
What can you do with an Intel Compute Stick?
Not sure what to do with your Compute Stick? Here are a few ideas and use cases:
1. Set up home entertainment
The Intel Compute Stick can turn your screen into a home entertainment centre. It connects any "dumb" TV monitor to the internet, so you can access apps such as Netflix and YouTube.
2. Use it anywhere
The Intel Compute Stick has been dubbed as "the most mini, mini-PC" around which means you can take it anywhere. Use it at home to turn your TV into a smart TV, use it in the office to work from any monitor or take it to a hotel to listen to Spotify or watch YouTube.
3. Set up digital signage
The Intel Compute Stick enables you to turn a screen in your office, restaurant, store or hotel into a powerful digital signage screen, powered by an app like ScreenCloud. This gives you the ability to schedule content, create playlists and share company information such as social media feeds and presentations to your screen. To learn how, check out this guide.
4. Stream games
While the Intel Compute Stick does have less streaming ability than a regular PC, users report that you can stream games from something like an Xbox one to your TV through the Compute Stick. There may some latency, but it's good enough for some out-of-home gaming time.
5. Carry documents and give presentations
The Intel Compute Stick is a useful way to carry documents and presentations securely, ready to present them on a bigger screen or monitor at any moment. This means you don't have to carry around a PC to meetings. Just remember the limitations if where you're going has no mouse or keyboard.
Intel Compute Stick question buster
What are some Intel Compute Stick alternatives?
There are a ton of "in your pocket" media devices like the Intel Compute Stick. Two of the most closely aligned (although perhaps slightly less powerful for everyday use) are the Amazon Fire TV Stick 4K and the Azulle Access 4.
Can the Intel Compute Stick play 4K shows?
Many report that the Compute Stick's processor becomes maxed out when attempting to play 4K shows, so for now at least, you may want to stick to 1080.
Got a question to add? Email us: hello@screencloud.com.