Publish content to your screens directly from Microsoft Teams
Learn More


Product
Everything you need to know about the Google Chromebit
Google Chromebits aren't the best for digital signage—but they were briefly popular ways to put Chrome on your TV. Here's everything about them, and our recommendations for better digital signage devices today.
Updated July 2023
Ever wanted a way to turn a spare monitor or TV into, essentially, an oversized Chromebook? That's what the Chromebit was designed to do. Released in 2015 for just under a hundred dollars, a Chromebit looks like a USB drive but includes an ARM CPU, 2GB of Ram, 16GB of storage—and Google's ChromeOS browser-based operating system.
Today, the Chromebit is rather outdated. It hasn't received updates since 2020, and many of today's smart TVs come with more computing power than the Chromebit provides.
We do not recommend buying a new Chromebit, today, for digital signage or as a way to run a browser on a spare screen. The best Chromebit alternatives today are the Amazon Fire TV Stick 4K, the Chromecast with Google TV, a Chromebox for ChromeOS on a TV, or a Windows-powered Azulle Access Pro 4.
Or, for digital signage specifically, ScreenCloud runs best on the Station P1 Pro. For $95—similar to the Chromebit's price—you'll get a device with ScreenCloud pre-installed that's designed to power 4k digital signage in a kiosk mode, reducing the possibility of tampering or hacking.
But if you've already purchased the Google Chromebit and are looking for a deeper dive, here's everything you need to know about Google's discontinued ChromeOS device.
What is a Google Chromebit and what does it do?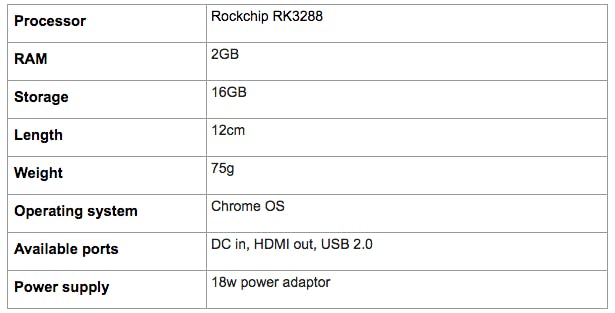 Google Chromebit is a powerful—by 2015 standards—HDMI stick running Google ChromeOS and made by ASUS. The Chromebit weighs in at just 75 grams, but when you connect it to a TV or monitor's HDMI port, the Chromebit turns that screen into a basic computer running ChromeOS.
A Chromebit essentially turns any screen into a desktop version of the Chromebook laptop.
Why is this useful? Well firstly, it makes a dumb screen or TV monitor smart. So rather than splurging on an Android or Smart TV, or an actual laptop, you can simply buy a cheap TV monitor, then use the $85 Chromebit device and a bluetooth keyboard and mouse to get a full computer for a fraction of the price.
The Chromebit looks similar to the earlier Chromecast. However, there are many differences between the two. The Chromecast is primarily used for streaming video and photos from your phone to your TV—and today often comes as a built-in feature on newer smart TVs, or you can buy a Chromecast for $30. The Chromebit, on the other hand, is a self-contained computer offering much wider functionality. Anything you could do in Chrome on a computer, you could do with a Chromebit.
Today, though, the Chromebit is fairly outdated. It hasn't received security or feature updates in several years, and doesn't reliably display current websites. For digital signage—or just for a cheap way to turn any screen into a smart TV, we today recommend the Firestick 4k. Check out our Chromebit vs Firestick comparison for more details.
If you do have a Chromebit already, though, here's how to get more out of it.
How to set up a Google Chromebit
The Google Chromebit was one of the easiest "plug and play" media devices on the market. All you need to carry with you to set it up is the Chromebit itself and its power adaptor. Plug it into a TV's HDMI port, log in, and you're ready to go.
Here's how that works:
1. Add power
Plug the power adaptor into your Chromebit and plug the other end into a power outlet. The Chromebit doesn't have a power button so it's always on until you unplug it.
2. Attach to your TV's HDMI port
Plug the Chromebit into the HDMI port on the back of your TV, or use a HDMI extender if you don't want it plugged directly into the screen.
Navigate to the corresponding HDMI channel on your TV screen with your TV's remote.
3. Connect to WiFi
Select your WiFi network on screen and enter the password.
4. Log in to Google
You'll need a Google account to use the Chromebit, so enter your log in here (or create a new one).
5. Pair with a keyboard and mouse
The Chromebit only contains one USB port so if you want to add a keyboard and mouse, it's best to go to Bluetooth. On setup, the Asus Chromebit will offer you the option to pair with any devices you have ready and switched on. Alternately, use a USB keyboard and keyboard shortcuts to complete setup, then add a bluetooth mouse later.
Using Chromebit kiosk mode
The Chromebit also includes kiosk mode which can be really useful for certain use cases. For example, if you want to set up a digital signage display using your Chromebit, this allows you to bypass the Chrome Device Management Console, to work directly with apps such as ScreenCloud without any additional fees.
Read our full guide for details on how to set up kiosk mode.
How to reset a Chromebit device
If you've bought a second-hand Chromebit, or are swapping one between accounts, you may need to wipe the settings from the device. You can do this using the steps below:
1. Turn off the Chromebit by removing the power cord.
Remember - the Chromebit doesn't have an on/off button so the only way to shut it down is to fully remove the cord.
2. Press the recovery button
Put a paperclip or something small into the recovery button hole and simultaneously reattach the power cord to turn on the Chromebit at the same time. The recovery button is the small hole located on the left-hand side of the back of the device.
3. Press Ctrl + D
If you are using a laptop or PC, press Ctrl + D. If you are using a TV screen, you may need to set up a keyboard before trying to wipe your device (see how to do this above in setup).
4. Press the recover button
Once again, put a paperclip or something small into the recovery button hole. The device should now reboot and you should see a red exclamation point.
5. Press Ctrl + D
Press Ctrl + D again. The Chromebit should now reboot, clearing all local data. This can take up to 10 minutes.
What can you do with your Asus Chromebit?
Need some inspiration on what to do with your Asus Chromebit once setup? Here are a few use cases:
1. Work from anywhere
The Chromebit is a great way to set up shop from wherever you are. If you work online, through cloud-based systems, you can effectively log onto any screen and use it as a PC. Just remember, the Chromebit does have limited capabilities so if you're a ten-tab kind of person, you may find things slow.
2. Listen to music
There are a few different ways to listen to music via the Chromebit. You can download apps such as Spotify from the Chrome Web Store. Chromebit also gives you access to any webpage, so you can type in youtube.com and have your favorite playlists playing in seconds.
3. Setup Chromebit signage
As aforementioned, we do not recommend purchasing this device for digital signage. However if you already have one, no problem! You could use ScreenCloud's Web Player to display digital signage from your Chromebit-powered screen. Check out our full guide to using the Chromebit for digital signage.
4. View photos
The Chromebit gives you access to Google photos, so providing this is where you have your images saved, you can easily pull them up onto the big screen.
5. Stream videos
The Chromebit allows you to stream videos and download movies from Google Play Movies & TV.
Google Chromebit FAQs
Does the Google Chromebit have to be plugged in to work?
Yes: the Google Chromebit needs to be plugged into a screen or device to work, and requires the power adapter to work at full potential.
Does the Chromebit have Bluetooth?
Yes: the Chromebit is Bluetooth enabled. Read the Asus guide to learn how to use Bluetooth to pair a wireless mouse and/or keyboard to your screen to use alongside the Chromebit.
Got a question to add? Email us: hello@screencloud.com
Turn your TV into Digital Signage

Want to do more with your existing TVs and leftover monitors? Whether you use an existing Chromebit, or buy a newer Amazon Firestick, Google Chromebox, or a ScreenCloud OS device, you can turn those screens into tools that will keep your team up-to-date on everything that's happening in your company.
ScreenCloud includes dozens of built-in apps and digital signages integrations to put your team's events, HR updates, reviews, and more on the big screen. ScreenCloud Dashboards and Playgrounds let you put any number on any screen to share sales figures, marketing stats, project status, and more throughout your company. And with a bit of tweaking, you can customize ScreenCloud to build smart signage powered by AI, and even use Siri or Google Assistant with digital signage to update your team in real-time.
It's the best way to build a modern, automated office. Try out a free 14-day ScreenCloud trial and start building your first digital signage today.
Ready to get your organization connected?
Connect your first screen today with our 14-day free trial