An important note to begin with. Although the Google Chromebit is a great, affordable and easy to set up device, we do not recommend buying it for digital signage for a few reasons and the main one being the Google Chromebit will no longer be receiving software updates. This means it'll be outdated with any modern apps or software and may not be able to run them at all in the future. A good alternative would be the the Amazon Fire TV Stick 4K, the Chromecast with Google TV, or a Windows powered Azulle Access 4.
If you prefer more of a business ready device that has commercial-grade ​​components, then we recommend our ScreenCloud OS device, the Station P1 Pro. The Station P1 Pro device comes with ScreenCloud's software pre-installed and uses a ScreenCloud OS provisioning USB flash drive to configure your network settings allowing devices to be set up and ready to go in just a few minutes. It also comes with minimized risk as the device operates in a kiosk mode, reducing the possibility of tampering or hacking.
But if you've already purchased the Google Chromebit and are looking for a deeper dive? Then here's everything you need to know.
What is a Google Chromebit and what does it do?
Google Chromebit is a powerful HDMI stick running Google ChromeOS and made by ASUS. Despite its small size (the Chromebit weighs in at just 75 grams), when placed in the HDMI port of a device such as a TV, the Chromebit turns that screen into a personal computer.
In actual fact, the Chromebit turns the device into a desktop version of the Chromebook laptop.
Why is this useful? Well firstly, it makes a dumb screen or TV monitor smart. So rather than splurging on an Android or Smart TV, or an actual laptop, you can simply buy a cheap TV monitor, then use the $85 Chromebit device and what do you know, you get a full computer for a fraction of the price.
The Chromebit was developed in 2015 and looks a little like the earlier Chromecast. However, there are many differences between the two. While the Chromecast is primarily used for sharing images and video files to screens, the Chromebit is a self-contained computer offering much wider functionality.
Specification of the Google Chromebit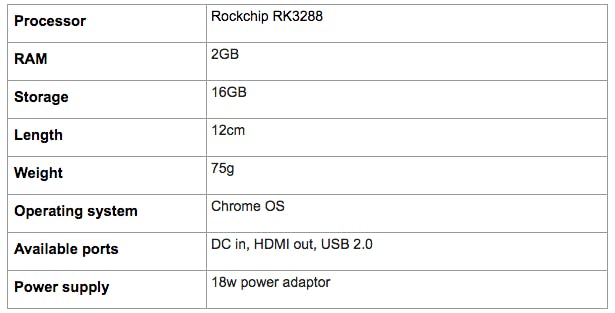 Uses for the Google Chromebit:
Share presentations to screen
Listen to music through an app like Spotify
Share photos to a TV screen
Access emails
Play games
Benefits of the Google Chromebit
Some of the key benefits of the Google Chromebit over similar media devices include:
Ability to connect to the internet over Wi-Fi
Ability to connect to a keyboard and mouse over Bluetooth (giving you a true "computer" setup wherever you are)
Access to the Chrome Web Store where you can download a ton of useful apps for working or entertainment
Each Chromebit comes with 100GB of Google Drive space for documents, photos, and other files, which means you can easily access your files through it
How to set up a Google Chromebit
The Google Chromebit is one of the easiest "plug and play" media devices on the market. All you need to carry with you to set it up is the Chromebit itself and its power adaptor. This means once you plug in and log in, you're ready to go.
Here's how that works:
1. Add power
Plug the power adaptor into your Chromebit and plug the other end into a power outlet. The Chromebit doesn't have a power button so it's always on until you unplug it.
2. Attach to your TV's HDMI port
Plug the Chromebit into the HDMI port on the back of your TV, or use a HDMI extender if you don't want it plugged directly into the screen.
Navigate to the corresponding HDMI channel on your TV screen.
3. Connect to WiFi
Select your WiFi network on screen and enter the password.
4. Log in to Google
You'll need a Google account to use the Chromebit, so enter your log in here (or create a new one).
5. Pair with a keyboard and mouse
The Chromebit only contains one USB port so if you want to add a keyboard and mouse, it's best to go to Bluetooth. On setup the Asus Chromebit will offer you the option to pair with any devices you have ready and switched on.
Using Chromebit kiosk mode
The Chromebit offers access to kiosk mode which can be really useful for certain use cases. For example, if you want to set up a digital signage display using your Chromebit this allows you to bypass the Chrome Device Management Console, to work directly with apps such as ScreenCloud without any additional fees.
Read our full guide for details on how to set up kiosk mode.
How to reset a Chromebit device
If you've bought a second-hand Chromebit, or are swapping the use of your one, you may need to wipe the settings from the device. You can do this using the steps below:
1. Turn off the Chromebit by removing the power cord.
Remember - the Chromebit doesn't have an on/off button so the only way to shut it down is to fully remove the cord.
2. Press the recovery button
Put a paperclip or something small into the recovery button hole and simultaneously reattach the power cord to turn on the Chromebit at the same time. The recovery button is the small hole located on the left-hand side of the back of the device.
3. Press Ctrl + D
If you are using a laptop or PC, press Ctrl + D. If you are using a TV screen, you may need to set up a keyboard before trying to wipe your device (see how to do this above in setup).
4. Press the recover button
Once again, put a paperclip or something small into the recovery button hole. The device should now reboot and you should see a red exclamation point.
5. Press Ctrl + D
Press Ctrl + D again. The Chromebit should now reboot, clearing all local data. This can take up to 10 minutes.
What can you do with your Asus Chromebit?
Need some inspiration on what to do with your Asus Chromebit once setup? Here are a few use cases:
1. Work from anywhere
The Chromebit is a great way to set up shop from wherever you are. If you work online, through cloud-based systems, you can effectively log onto any screen and use it as a PC. Just remember, the Chromebit does have limited capabilities so if you're a ten-tab kind of person, you may find things slow.
2. Listen to music
There are a few different ways to listen to music via the Chromebit. You can download apps such as Spotify from the Chrome Web Store. Chromebit also gives you access to any webpage, so you can type in youtube.com and have your favorite playlists playing in seconds.
3. Setup Chromebit signage
As aforementioned, we do not recommend purchasing this device for digital signage. However if you already have one, no problem! Check out our full guide to using the Chromebit for digital signage.
4. View photos
The Chromebit gives you access to Google photos, so providing this is where you have your images saved, you can easily pull them up onto the big screen.
5. Stream videos
The Chromebit allows you to stream videos and download movies from Google Play Movies & TV.
Google Chromebit question buster
Does the Google Chromebit have to be plugged in to work?
You the Google Chromebit needs to be plugged into a screen or device to work and requires the power adaptor to work at full potential.
Does the Chromebit have Bluetooth?
Yes, the Chromebit is Bluetooth enabled. Read the Asus guide to learn how to use Bluetooth to pair a wireless mouse and/or keyboard to your screen to use alongside the Chromebit.
Got a question to add? Email us: hello@screencloud.com