Behind every piece of content you share to a screen, there's always an outcome you want to achieve. However, it's difficult to attribute the impact this content is making. Screen engagement is tricky to measure, especially with large or distributed workforces or screen networks.
Lets look at 3 examples from a recent workshop we co-hosted with a customer, exploring what their recent internal communications and the desired outcome they hoped the on-screen content would drive:
Example One
Content: Executive messages or strategic priorities for the company
Outcome: We want to raise employee awareness and to adjust behaviour
Example Two
Content: Communicate upcoming Town Hall meetings
Outcome: We want employees to participate and join the session
Example Three
Content: Communicate that there is a new employee survey to complete
Outcome: We want people to take the survey
These all sound fairly straight forward when you break them down, but the question remains - how can you tell that the displayed content is helping you achieve the desired outcomes?
This is where the QR code service and Metrics within ScreenCloud come in. You now have the ability to include QR codes in content directly, and within ScreenCloud.
Once the content is up on-screen, check out the Metrics tab to see how many people are interacting with it (measured via scans). You'll not only be able to see the volume of scans, but which location or screens are the most highly engaged with.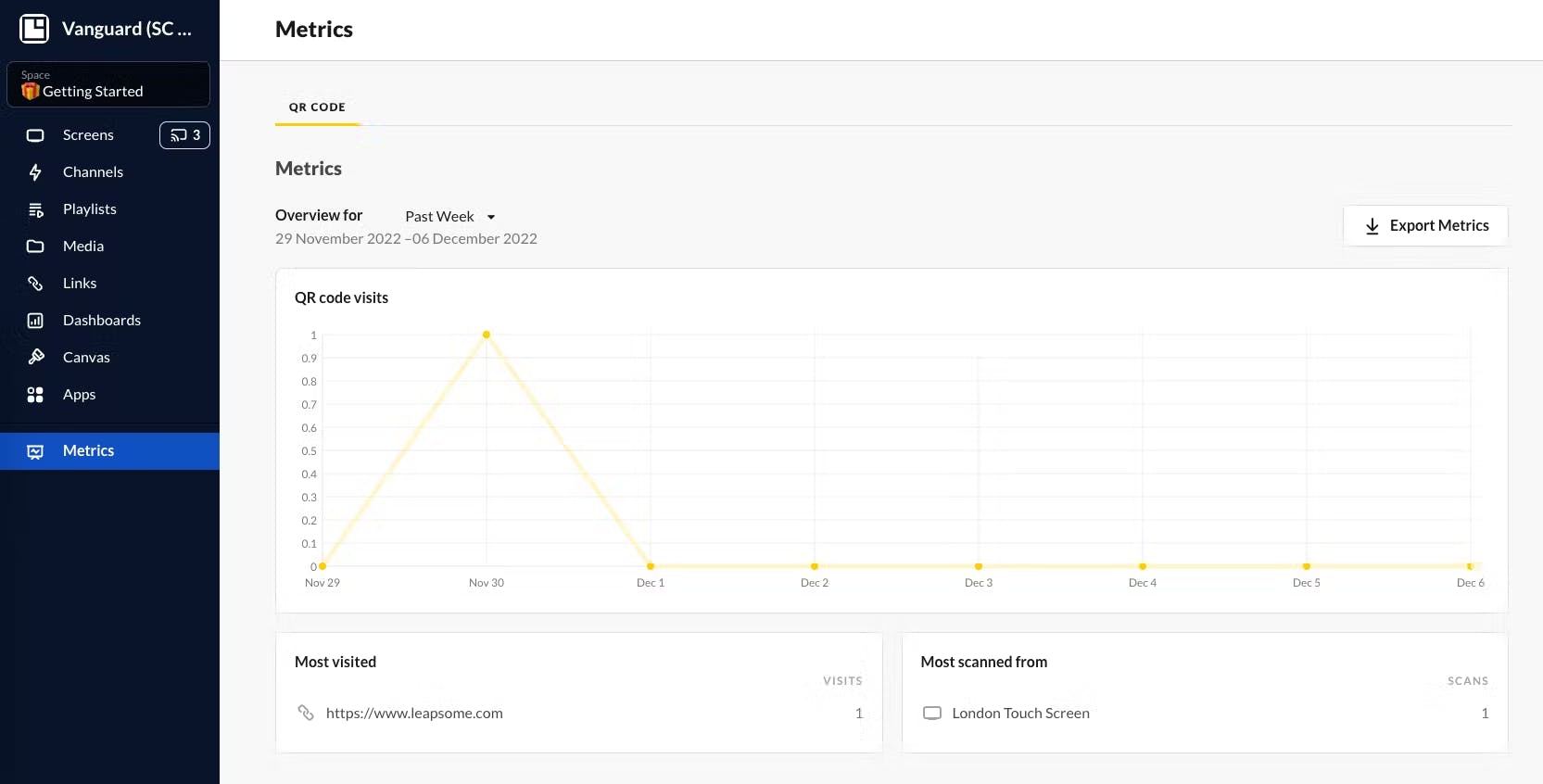 Circling back to the examples above – instead of simply advertising the Town Hall, why not encourage them to RSVP via a QR code? Or, instead of just announcing a new survey, provide them with a QR code to download the survey to complete there and then. You'll likely see more responses too.

We'd love to hear your feedback!
How have you been using QR codes? Or, do you need some help getting started with either QR codes or Metrics? Chat with us.
This feature currently sits on our Pro Plan, so if you're a customer already but can't see it in your account, please reach out to your Customer Success Manager or Support at support@screencloud.com and we'll get you sorted.
Alternatively, if you're not yet a ScreenCloud customer but would like to discuss the merits of digital signage for your organization, get in touch with Sales here: https://screencloud.com/contact