Which is the "go-to" media device for your digital signage displays? It's a question we get asked a lot. There are so many great hardware choices out there that it can be difficult for the average consumer browsing online to know which one they should add to their shopping basket. Here, we've taken two of our favorite devices at ScreenCloud—the Amazon Fire TV 4K Stick and the Mi Box S— and compared all of their pros, cons, and superpowers to give you a rounded view.
Amazon Fire TV Stick
We wrote an in-depth guide to the Amazon Fire TV Stick, including what it is and how it works. An Amazon Fire TV Stick is a small HDMI device that, when plugged into a TV or computer, makes the device smart by connecting it to the internet.
You can buy the Fire Stick for around $40 on sites such as Amazon (go figure) and in stores such as Target, Best Buy, and Currys.
Xiaomi Mi Box 
The Xiaomi Mi Box is powered by Android TV and makes for a robust and affordable device for digital signage, with great value for money. It can handle demanding content with ease and is easy to cast to your device with Chromecast built-in. Xiaomi released a new version of the Mi Box—The Mi Box S—which shares the same hardware as its predecessor, the Mi Box 3, except it now runs on Android 8.1 Oreo. Although for digital signage purposes, we recommended purchasing the Chromecast with Google TV ($50). This is another great Android TV device that runs on the latest Android 10 operating system and has benefits, one is that it can easily fit behind your TV.
Which is better for Digital Signage?
We like both devices here at ScreenCloud as they're compatible with our software. There are some small differences in features between the two streaming devices, and your decision simply boils down to your preference for using Google Assistant or Amazon Alexa.
But for digital signage purposes we recommend the Amazon Fire TV Stick 4K or the Chromecast with Google TV. If you are looking into a more business ready device, then we suggest our ScreenCloud OS device.
If you're still wondering which device to buy, here's a digital signage-led comparison of the two.
Setup
Both devices are "plug and play" which means they're both pretty easy to install. To use, you'll need to plug the device into the HDMI port of your screen, plug in the power adaptor, and connect to WiFi. One difference to consider is that the Amazon Fire TV 4K stick can accept power and be supported directly from your TV's USB port, whereas the Xiaomi Mi Box needs to be supported through its standard charger. 
As you'd expect, you need an Amazon account to set up the Amazon Fire TV Stick and a Google account to set up the Mi Box S.
The Amazon TV Stick also has Alexa built into its latest version, so if you're into voice control, this can be a great addition. In contrast, the Mi Box S comes with a built-in Chromecast Ultra, allowing you to issue commands using Google Assistant. 
When launching or rebooting the screen, both devices will load either the Amazon Home screen or the Android TV home screen first before automatically loading ScreenCloud. Both streaming devices can push 4K content. However, since the Mi Box S is affiliated with Google and runs on Android TV, you'll be able to take full advantage of Android TV's ecosystem of apps, which can be more appealing than the Amazon Play store. 
Price
The Amazon TV stick ($45) is slightly cheaper than the Mi Box S ($54) and undoubtedly the cheapest commercial-grade media player—an ideal option if you're budget-conscious. If you wait until Prime Day, you can also get various discounts on the TV stick, making bulk buying a dream. However, the Amazon Fire TV 4K stick is only available in certain regions, so if you're unable to purchase it, the Amazon Fire TV Basic Edition will do just fine.
Power
The Amazon Fire TV Stick runs well with ScreenCloud, but it isn't as powerful as the Mi Box S. As you'll see below, the Mi Box S has more processing power and RAM available than the Fire TV Stick. 
Tech spec of the Mi Box S vs the Amazon Fire TV Stick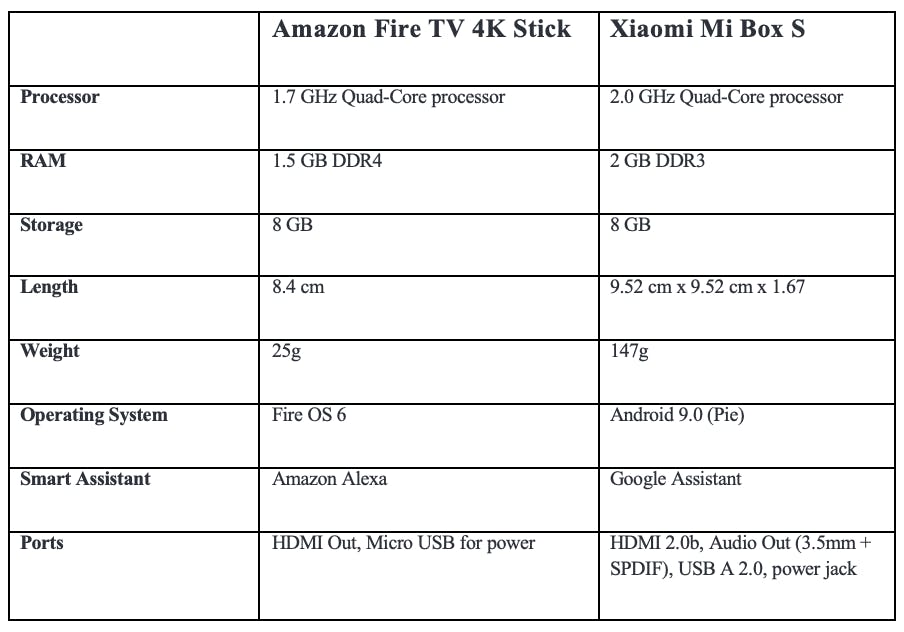 Usage
If your digital signage setup is limited and you have space constraints, perhaps the Amazon Fire TV Stick is the better option. As mentioned before, you can simply power your stick through your TV, whereas you'd need an outlet to use the Mi Box S. 
Secondly, although both streaming devices support HDR content, the Fire TV Stick has a slight advantage in this area as it also supports Dolby Vision. On the other hand, the Amazon Fire TV Stick doesn't support proxy networks, except via sideloading, which isn't intuitive. 
When it comes to screen mirroring, Amazon has completely removed this option in the latest Fire TV Stick 4K. Hence, if this is a feature you need, we suggest going with the old Fire TV Stick Gen 2. As mentioned earlier, since the Amazon Fire TV Stick 4K is only available in certain regions, if you're unable to purchase it but still prefer this type of setup, the Fire TV Stick Gen 2 Basic Edition should do the job.
Summary - which device is for you?
To summarize, here are the key benefits of each device: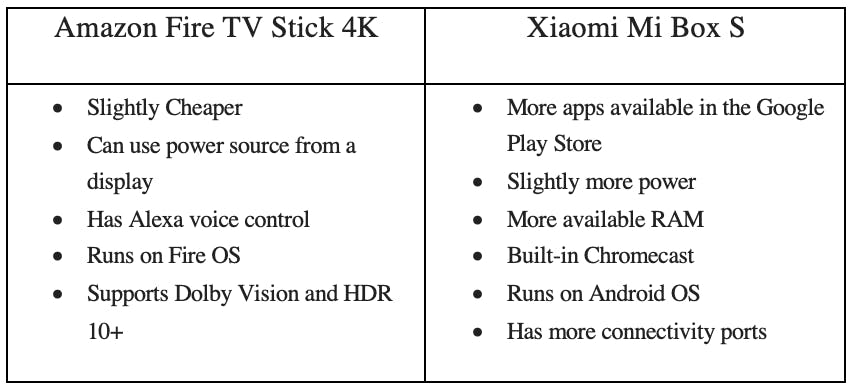 For further questions on the two devices, contact our knowledgeable team on support@screencloud.com.