Before we kick things off: although the Google Chromebit is a great, affordable and easy to set up device, we do not recommend buying it for digital signage for a few reasons. The main one: the Google Chromebit will no longer be receiving software updates. This means it'll be outdated with any modern apps or software and may not be able to run them at all in the future.
But if you've already purchased the Google Chromebit and are looking to see how the Amazon Fire TV Stick 4K compares to the Chromebit? Then here's everything you need to know.
Digital Signage Hardware: The Amazon Fire TV Stick & Google Chromebit
Which is the "go to" media device for your digital signage displays? It's a question we get asked a lot. There are now so many great hardware choices out there, that it can be difficult for the average person, browsing online, to know which one they should Add to basket. Here, we've taken two of our favorite devices at ScreenCloud; the Amazon Fire TV Stick 4K and the Google Chromebit and compared all of their pros, cons and super powers to give you a rounded view.
Amazon Fire TV Stick 4K
We wrote an in-depth guide here all about the Amazon Fire TV Stick 4K, what it is and how it works. An Amazon Fire TV Stick 4K is a small HDMI device which, when plugged into a TV or computer, makes the device smart by connecting it to the internet.
The Fire Stick can be bought for around $40 on sites such as Amazon (go figure) and in stores such as Target, Best Buy and Currys.
Google Chromebit
The Google Chromebit (in-depth version here) is a similar device that plugs into your TV or computer via a HDMI port. It's sometimes called a "PC stick" as it runs Chrome OS. It can be bought on Amazon for around $85.
Which is better for digital signage?
We like both devices here at ScreenCloud and if you've already purchased one, we can assure you that both the Chromebit and the Amazon Fire TV Stick work well with our software. However, although the Chromebit is a great device, it is not suitable for digital signage as it is reaching its end of life. This means that Google will no longer create updates for the device's firmware. This also means the device will be no longer compatible with Chrome's remote device management, a key part of using Chrome devices for digital signage management. Although the Chromebit works with our app now, there is concern that it may not in the future as the software will be outdated.
If you already have the Chromebit and are looking to purchase a new device like the Amazon Fire TV Stick 4K, here's a digital signage led comparison of the two:
Setup
Both devices are "plug and play" which means they're both pretty easy to install. To use, you'll need to plug the device into the HDMI port of your screen, plug in the power adaptor and connect to WiFi.
As you'd expect, you need an Amazon account to set up the Amazon Fire TV Stick 4K and a Google account to set up the Chromebit.
The Amazon TV Stick 4K also has Alexa built into its latest version so if you're into voice control, this can be a nice addition.
It's also worth noting that when the Amazon Fire TV Stick 4K launches or reboots the screen will always load the Amazon Home screen first with the other apps that are being featured by Amazon before automatically loading ScreenCloud. With the Chromebit, the load process is ChromeOS first then straight into ScreenCloud so it can make for a slightly faster setup if you've had to restart the screen.
Price
The TV stick is slightly cheaper than the Chromebit, so if you're budget conscious, or you need to buy multiple devices now or in the future, the TV stick is around $45 cheaper per device. If you wait until Prime Day, you can also get various discounts on the TV stick which makes bulk buying a dream.
Power
The Amazon Fire TV Stick 4K runs well with ScreenCloud but it isn't as powerful as the Chromebit. As you'll see below, the Chromebit has higher ram and double the storage of the Fire TV Stick, despite being of a similar physical size.
Although it is important to note that the Fire TV Stick has 4K resolution capabilities whereas the Chromebit only supports HD.
Tech spec of the Google Chromebit vs the Amazon Fire TV Stick*
*note this is based on the 2nd gen Amazon Fire TV Stick 4K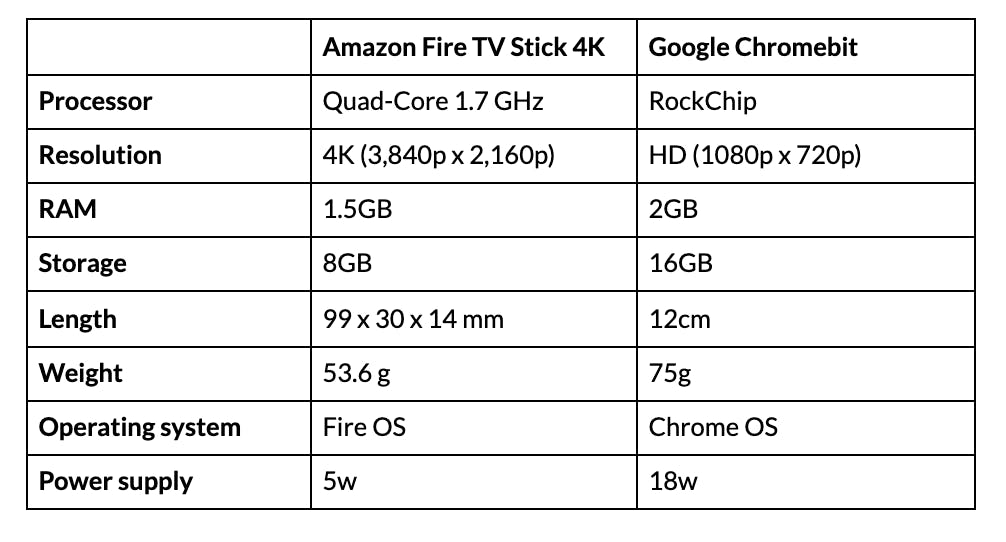 Usage
If you're using less than five screens in your digital signage strategy, the Amazon Fire TV Stick should be the ideal device for you. If you're running more than this, the Google Chromebit is better as it gives you access to Chrome Device Management.
Chrome Device Management (CDM) is a useful tool for managing multiple screens from one account and for managing screens remotely. Great if you're looking to set your screens up then control them from your vacation property (or you know, your home office).
It's also good to know that the Amazon Fire TV Stick does not support proxy networks, except via side loading which is not intuitive. If you're looking to apply custom network settings for your digital signage it's better to use the Chromebit, where you can setup your network settings under CDM. To find out how to do that, head here.
Connectivity
As the Chromebit can be managed remotely using CDM, it's a better device if you aren't going to be able to access your screens. If something does go wrong, you can log in and remotely manage or reboot the screens in question. With the Fire TV Stick, you'll need to be with the screen in order to reboot the device which is kinda tricky if, like some of our clients, your screens are out on a barge in the middle of the Ocean.
Summary - which device is for you?
To summarize, here are the key benefits of each device: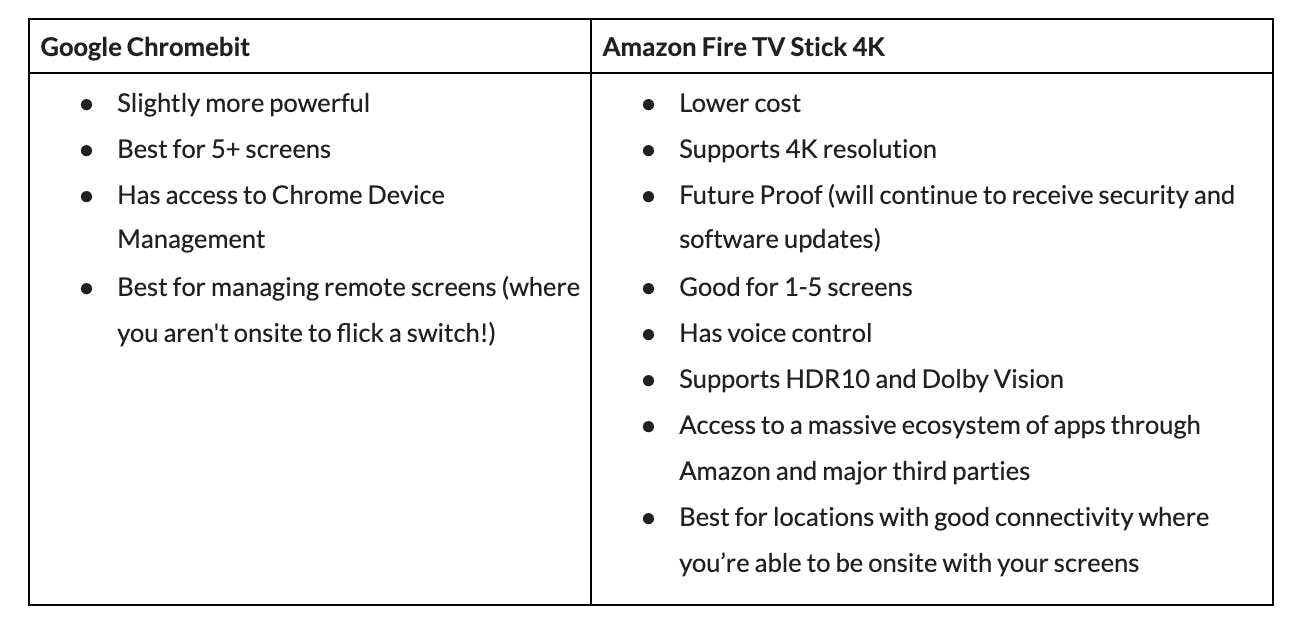 For further questions on the two devices, contact our knowledgeable team on support@screencloud.com.