Publish content to your screens directly from Microsoft Teams
Learn More


Product
How to Install ScreenCloud Digital Signage on your Android TV
Everything you need to know about setting up your Android TV with ScreenCloud digital signage!
Updated July 2023
Buying a new TV used to be an incredibly difficult decision, as you agonized over size, specs, and software to decide which screen would offer the best value. That was especially true when buying TVs for digital signage, where you need robust screens paired with powerful software to show the data your company needs, all day long, for years.
That's all simpler today. Most TVs today are smart TVs—and some of the best are running the very user-friendly Android TV. Buy a new TV, plug it in, connect to wifi, and it's ready to display anything you want with Android streaming and smart screen apps.
To build smart digital signage today, all you need is a smart TV running Android TV, paired with ScreenCloud's cloud digital signage software. That's it. No extra wires, cables, or expensive media players needed.
In this guide, we'll walk you through how to set up your Android TV and turn it into smart digital signage showcasing your company's apps and data in mere minutes.
Buying an Android TV for Digital Signage
If you haven't bought an Android TV yet and are looking for recommendations, we like and recommend the Sony Bravia Android TVs, especially their BZ Series, for digital signage. Sony's Android TVs offer some of the top perfomance from our testing, and are built for 24/7 operation.
They're far from the only reliable smart TV options, though. You can also check out our TV Buyer's Guide for digital signage and the buyer's guide to digital signage hardware to compare some of the top TVs from LG, Samsung, and more, along with media players to turn your traditional TV into a smart one.
When buying a new Android TV, we recommend purchasing screens that support at least Android 7.1.2 or newer versions of Android. The newer the version of Android, the longer your smart TV will be supported.
Let's get started turning your Android TV into smart digital signage.
How to setup ScreenCloud on your Android TV
1. Connect your Android TV to Wi-Fi
Load up your Android TV and connect it to Wi-Fi. It may already be connected, as your TV will walk you through the steps when you first power it up.
2. Download the ScreenCloud app
Open up the Google Play Store on your Android TV and download the ScreenCloud Player app for Android TV.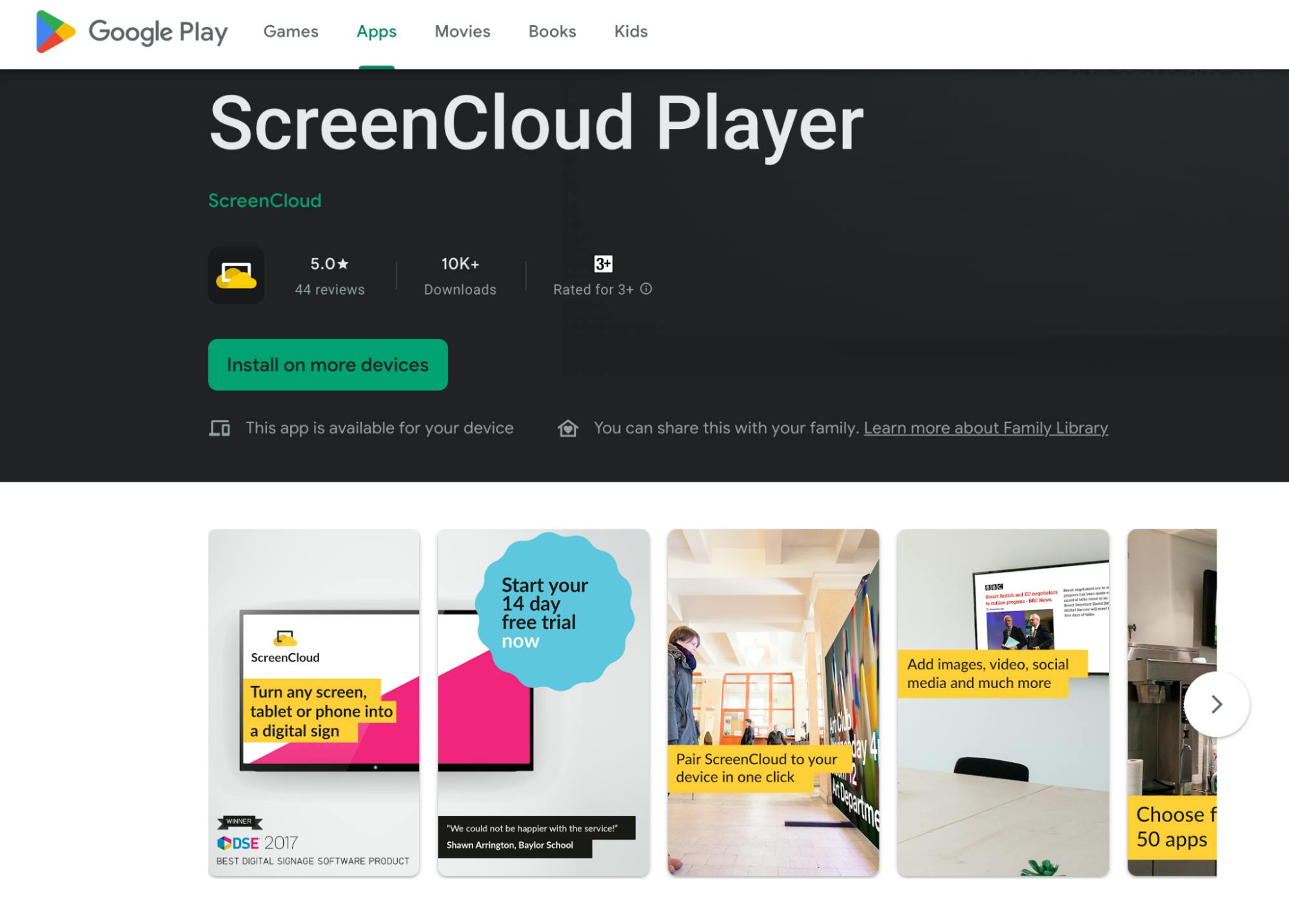 3. Pair your Android TV with ScreenCloud
Launch the app on your Android TV and make a note of the pairing code that comes up. This is what you'll use to match up your Android TV and your web based ScreenCloud account. 
You'll only need to do this once per screen and you can add as many TV monitors as you like to your one account. 
4. Set up your ScreenCloud account
Once you have your pairing code you're ready to go to ScreenCloud on your laptop or PC and sign up for a free trial. If you already have a ScreenCloud account you can log in now.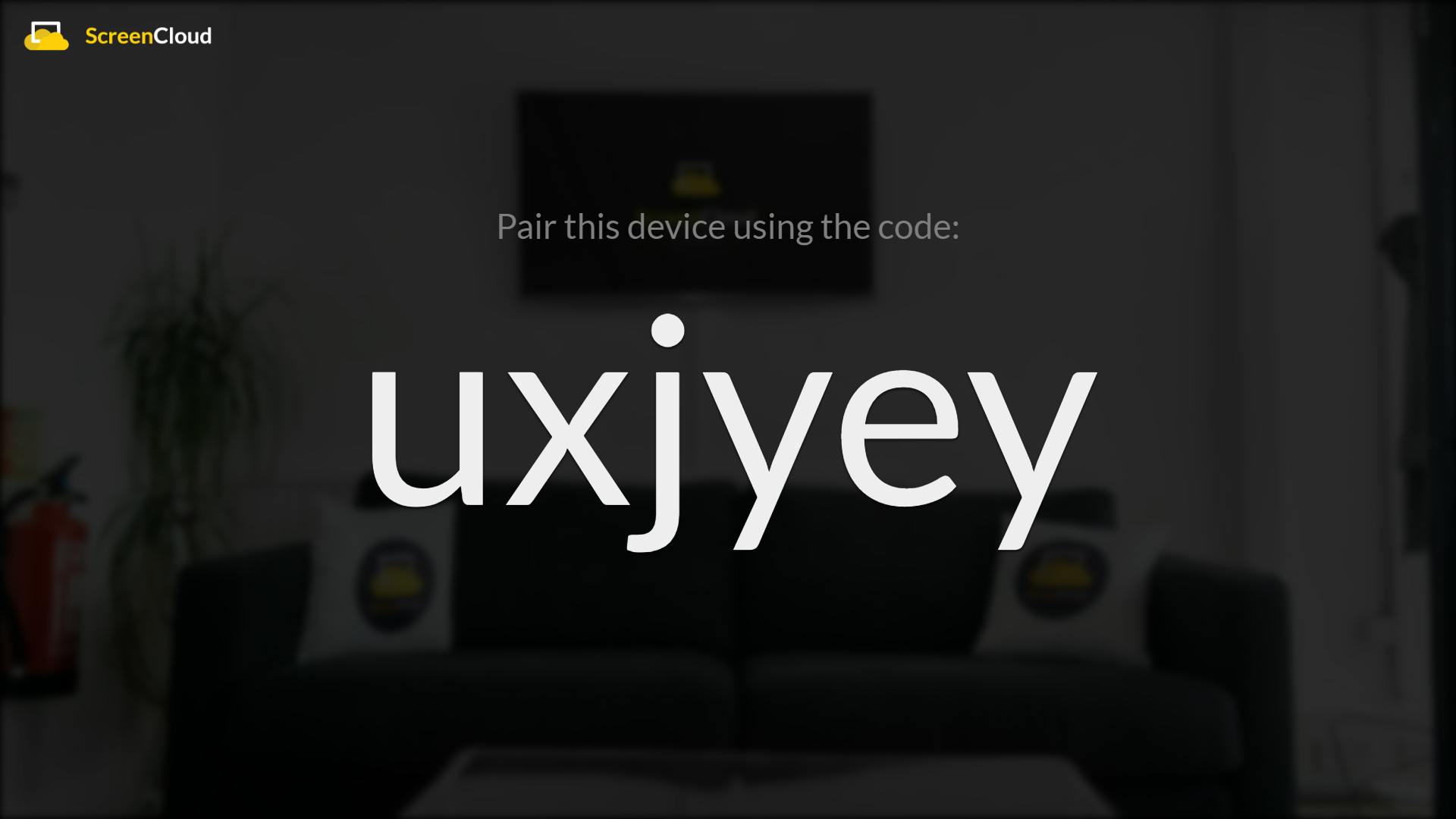 Next, click the "New Screen" box. This is where you'll enter the pairing code to connect your Android TV and the account where you'll manage your content.
After this has been entered that's it! You're synced up and able to control your Android TV from the laptop in front of you - regardless of where you are!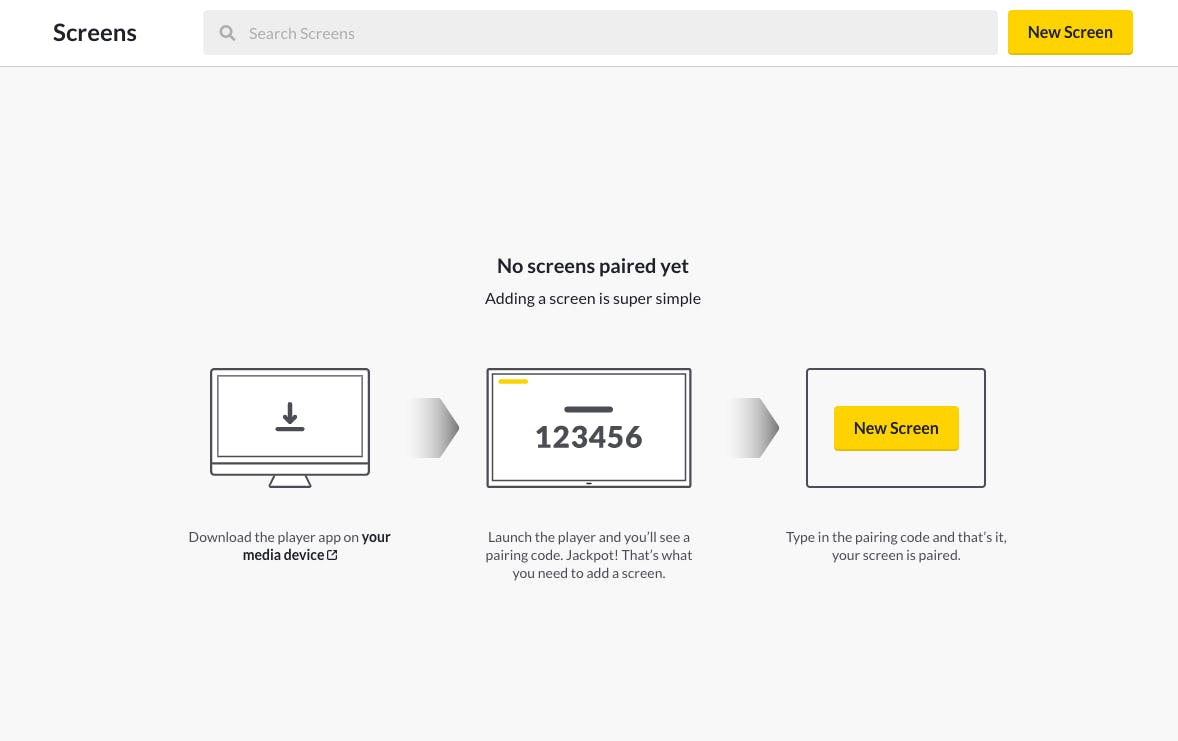 Digital signage and your Android TV = simple!
Has it ever been that simple to connect a TV to digital signage? We're not sure, but we know that it takes even the least technical of folks just minutes to connect ScreenCloud and begin showing their content onto an Android TV. 
If you're feeling like a pro (and you should be) here are a few additional steps and tips that may help:
Connecting multiple Android TVs to ScreenCloud
If you have more than one TV that you'd like to show digital signage on, you can follow exactly the same steps within the same ScreenCloud account. By naming each screen and adding them to groups, it's easy to segment different areas of screens and set Channels or Playlists to play on your screen.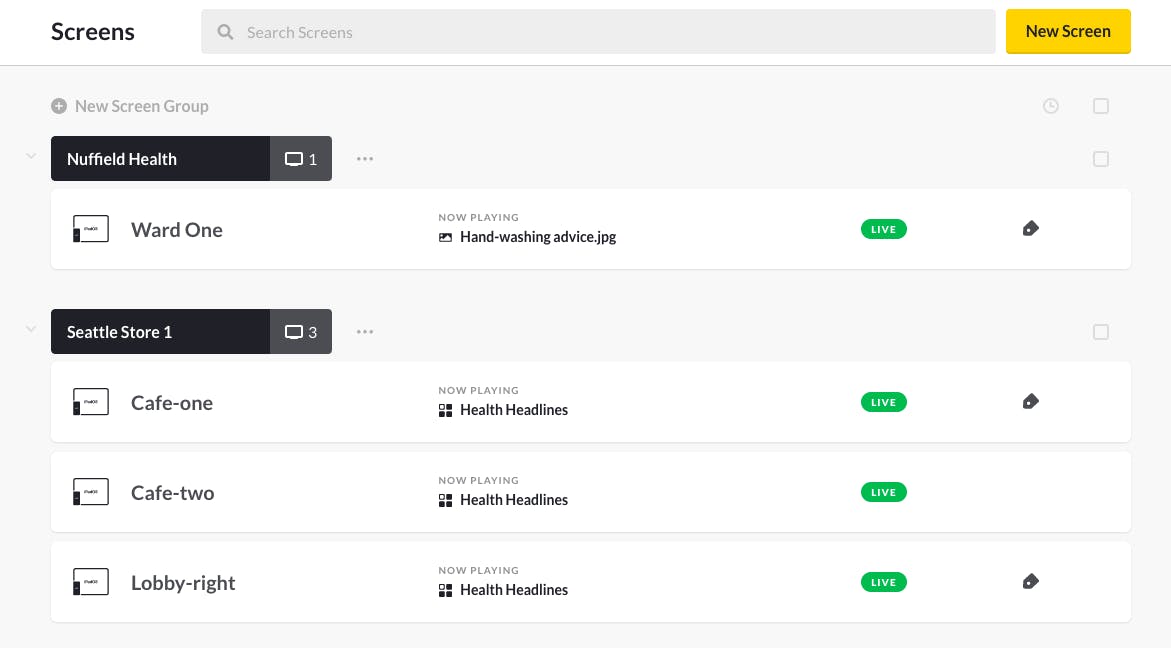 Selecting content
Now we move on to what many call the creative part. Making great content! Here, you have a ton of choices. ScreenCloud lets you connect content you already have.  You can upload your PDFs, images and videos, or you can choose from one of our many preset App Store integrations to build smart signage from as Twitter, Google Slides, Dropbox, and more. You can also create your own content using our Canvas design editor tool.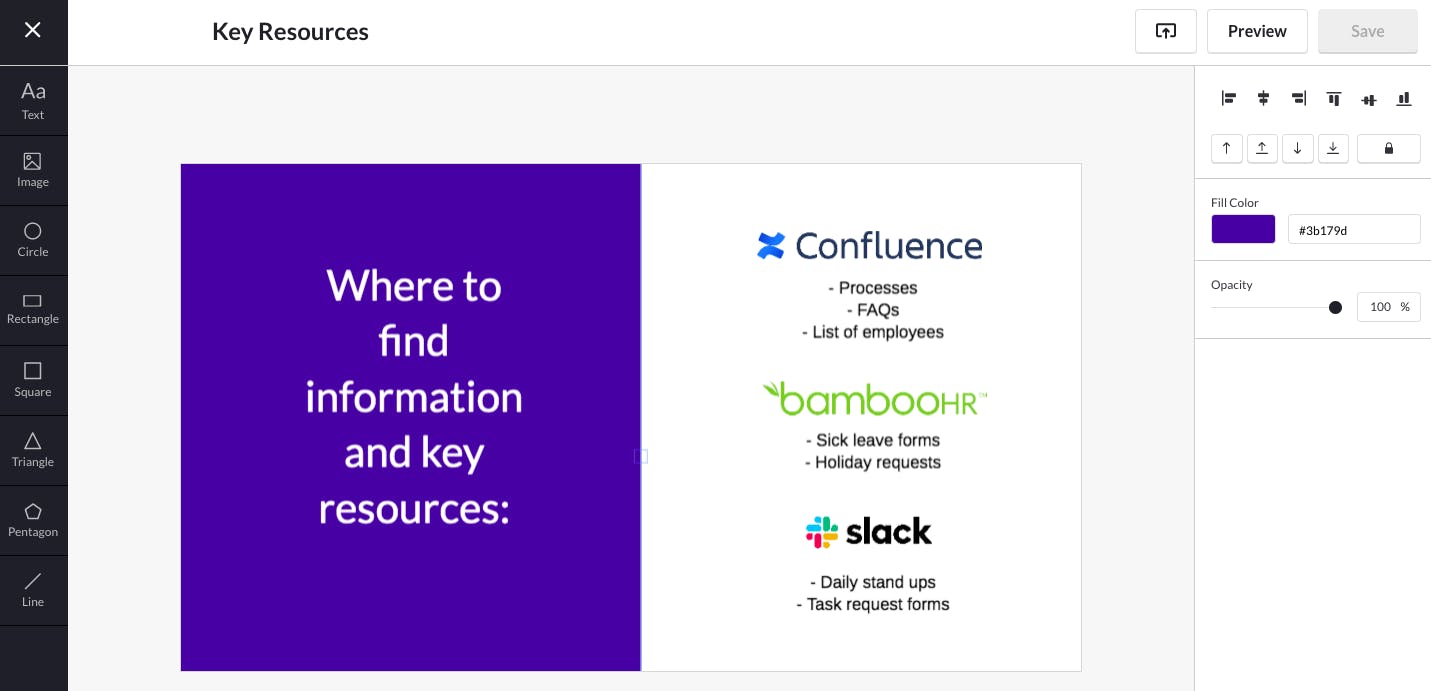 Canvas makes it easier than ever to create your own branded designs and create content inside ScreenCloud and best of all, it's in a screen-ready format perfect for digital signage. And if you want something more advanced, you can code your own digital signage with ScreenCloud Playgrounds, and even use Google Assistant to update your ScreenCloud digital signage with your voice.
Scheduling content
ScreenCloud's advanced scheduling tool lets you create and schedule content for future dates, and choose expiry dates. Once a piece of content has expired, it'll stop playing within your Channel or Playlist, ensuring that timely notices fulfill their purpose and then, well, expire. That's a great way for Marketing and HR teams to create content in advance ready for specific campaigns, announcements and seasonal activities.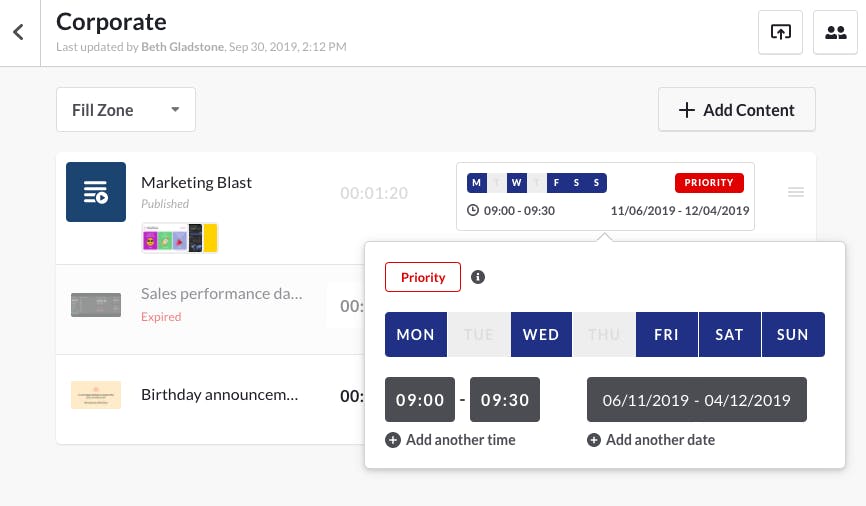 It really is that easy. Upload Content, organize it into a Channel or Playlist and schedule content to play at the right time, to the right people. Before you know it, you're powering up your Android TV as a powerful sales tool and digital sign, designed to promote your business. 
Ready to get started? Grab your Android TV remote and start your ScreenCloud trial to start building your company's first smart digital signage!  
Ready to get your organization connected?
Connect your first screen today with our 14-day free trial