NB: To reduce any confusion, we wanted to highlight that we don't recommend buying the Chromecast if you're looking for a digital signage device and this is why. There are plenty of devices out there which are a similar price to the Chromecast and do a better job like the Amazon Fire TV Stick 4K, the Chromecast with Google TV or the Station P1 Pro device, but if you're looking for an introduction into the Chromecast, its spec or uses, then by all means read ahead.
At just $35 the Chromecast by Google is one of the cheapest media devices on the market. In this guide we take you through what the Chromecast is, how to set it up and what you can do with it.
What is the Chromecast?
Chromecast is a line of media devices made by Google. The first-generation Chromecast was launched by Google in 2013 as a small dongle that could be plugged into the back of a TV screen using its USB cable.
The reason, was that a few years back, Smart TVs were not the norm. Most TVs couldn't be linked to the internet, or used to stream content through apps such as Netflix or YouTube.
The idea behind the Chromecast was that it made a "dumb" TV screen or PC monitor smart. Bridging the gap between smart TVs and dumb ones, by plugging the Chromecast into the back of a TV, the TV gained the ability to stream live content, videos and movies through apps. Unfortunately, media devices have come a long way since the Chromecast and as a result, we don't recommend it as the best device for digital signage. However, it does have other features, such as the ability to mirror anything playing in a Google Chrome web browser to a screen. For example, if you were looking at images on Dropbox on your laptop, you could hit a button to "cast" that screen to view on your TV instead, which makes it popular for consumers to use at home in order to fling content to their screen.
Specification of the Chromecast
The 1st Generation Chromecast was followed in 2015 by a 2nd Generation Chromecast, as well as the Chromecast Audio (2015) and Chromecast Ultra (2016).
The core difference is that the Chromecast Audio is specifically for audio streaming apps such as Spotify or Sonos. Then the Chromecast Ultra is an evolved version of the second-generation model, but features upgraded hardware that supports the streaming of 4K resolution content, hence the name "ultra" for "ultra-HD" viewing.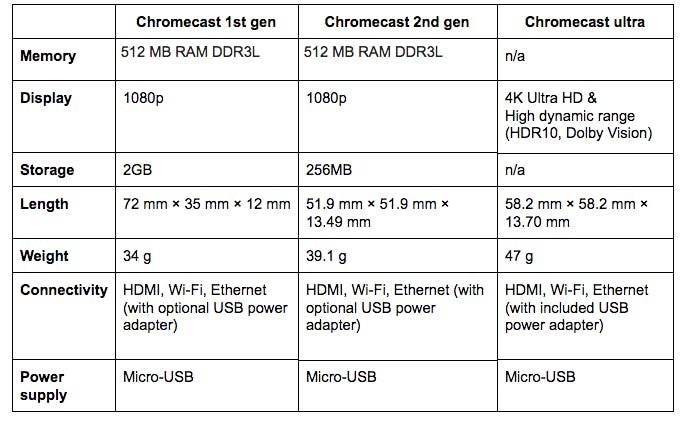 Uses for Chromecast
Watch Netflix on a non-smart TV
Listen to music through an app like Spotify
Share your desktop to a TV screen
Stream apps such as BBC iPlayer, YouTube and Facebook
Benefits of Chromecast
Some of the key benefits of the Google Chromecast over similar media devices include:
Super simple to set up. Other than the power supply, you don't need to plug anything in to make your Chromecast work. You simply download the Google Cast app and you're ready to go from your home Wi-Fi connection.
Cheap - Chromecast is probably the cheapest media device on the market right now.
The device remains "always on", so it's ready to go in an instance and it uses very little energy when not in use.
Guest Mode - if you have clients or friends who want to cast to your screen they can do so using the device's Guest Mode.
Any downsides?
The Chromecast isn't as powerful as other, similarly priced, media devices out there which means you can get more for your money when it comes to commercial use in an office, or for digital signage.
Chromecast doesn't have it's own screen interface so you do have to have your TV, plus a PC or mobile device to hand in order to control it.
Not very powerful for gaming.
No central playback controls.
How to set up a Google Chromecast
1. Plug your Chromecast into the TV
Use the HDMI lead from your Chromecast to plug it into the back of your TV. Then put the USB into either your TV as well, or into a power supply.
Ensure that both the Chromecast device and the PC or smartphone you'll use to set it up are connected to the same Wi-Fi network.
2. Set up your Chromecast
Follow this guide to set up your Chromecast, depending on whether you're using a smartphone or computer to pair your devices.
Please note: your Chromecast must be on the same Wi-Fi network as the device you are using to control it.
3. Download the Google Home app
Using your smartphone, you'll need to download the Google Home app. You can do this from either the Google Play Store or the Apple App Store. If you're using an Android device, this may already be installed.
If you're using Chromecast with a computer (rather than a mobile device), you don't need the Home app. Instead, ensure you have Google Chrome installed. Just head to Google Chromecast in your Chrome browser and follow the on-screen instructions.
What can you do with a Chromecast?
Need some inspiration on what to do with your Chromecast once setup? Here are a few ideas:
1. Share something from your computer to the big screen
If you want to showoff a photo album to family, the cast feature of Chromecast is a great way to put your content up on a bigger screen. This can be done directly from the Chrome browser on your computer by selecting "Cast".
2. Stream apps
Chromecast gives you access to apps such as Netflix, Spotify, HBO Now, Google Play Movies & TV, YouTube and Google Play Movies.
Just note that Chromecast doesn't give you automatic access to the content on apps such as Netflix, so you'll need to set up a Netflix account first.
3. Cast Facebook Live
Facebook Live is a great way to broadcast content in real time. But watching it on the big screen could be even better. Chromecast gives you the power to send a Facebook Live broadcast to a TV, as long as your device and the TV are on the same Wi-Fi network.
4. Give presentations
It's super simple to cast a presentation from Google Slides, Powerpoint or a PDF directly to screen using the Cast button and because the presentation is cast from a laptop or smart device, it's easy to control slides.
Google Chromecast question buster
What channels are available on Chromecast?
Some of the most popular content sources on Chromecast for the UK are BBC iPlayer, Netflix, YouTube and Google Play. Other channels for a US market include Pandora, Hulu Plus and HBO Go, the Washington Post's PostTV, Red Bull.TV and more.
For the full list of available channels visit: https://store.google.com/product/chromecast_2015_apps.
Can I watch live TV on Chromecast?
Chromecast gives you access to a variety of TV streaming apps. However, any paid channels such as Netflix require individual subscriptions.
Can you use Chromecast without any cables?
To use a Chromecast you'll need the Chromecast device itself, a TV with a HDMI port (which is most TVs), a Wi-Fi connection and a computer or mobile device.
Got a question to add? Email us: hello@screen.cloud.