Publish content to your screens directly from Microsoft Teams
Learn More


Product
ScreenCloud Awardco App Guide
Improve employee morale, boost productivity, and enhance the overall workplace experience by integrating Awardco with ScreenCloud.
With the ScreenCloud Awardco app, you can empower your organization by enhancing its culture of recognition and rewards by easily displaying shared words of praise and admiration clearly on your screens in your working areas. Once your account is connected to the app, your team's recognition posts are beautifully displayed on your screens.
With the ScreenCloud Awardco app, you can:
Praise employees within the Awardco platform while automatically announcing it on the big screen for the team to see.
Shine a spotlight on your hardest-working employees to show that their efforts are appreciated
Easily connect your Awardco account to ScreenCloud with a unique API key instead of login details
Here's how it works:
1. Collect your API key from Awardco
Your ScreenCloud connection to the Awardco app will not require your login details, but instead, an API key which is provided by Awardco.

To get your unique API key, please reach out to Awardco's support team, or by following the suggestion from their guide Displaying the Social Feed on a TV.
2. Select and install ScreenCloud's Awardco app
2.1. Get started by logging into your ScreenCloud account here, heading to the ScreenCloud App Store from the left-hand menu, searching for 'Awardco', and then selecting the Awardco app.

2.2. Choose the "Get" button to add the app to your account, and to add an app instance.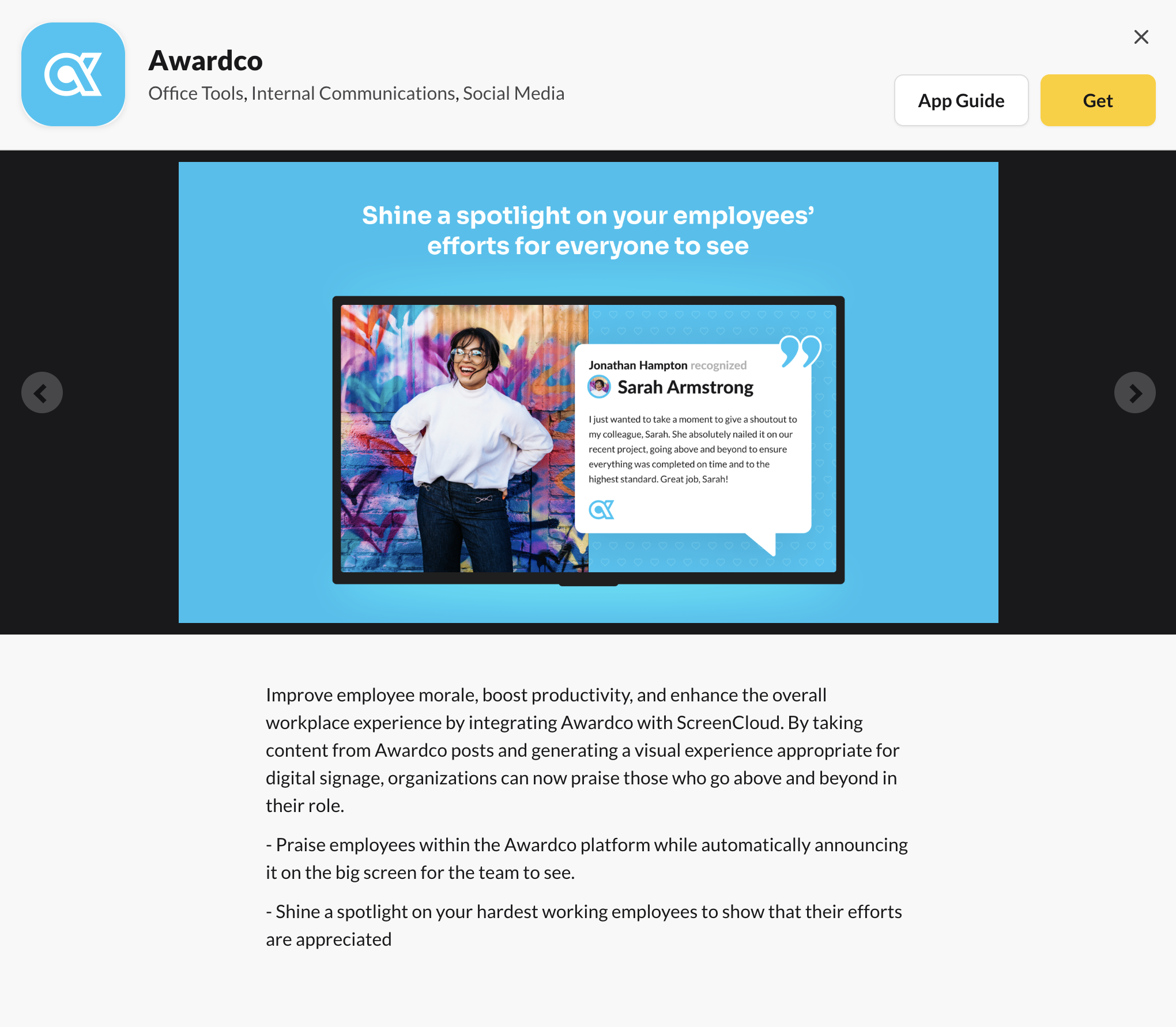 2.3. With your API key at hand, click the Connect an Awardco account button, and continue with the steps below.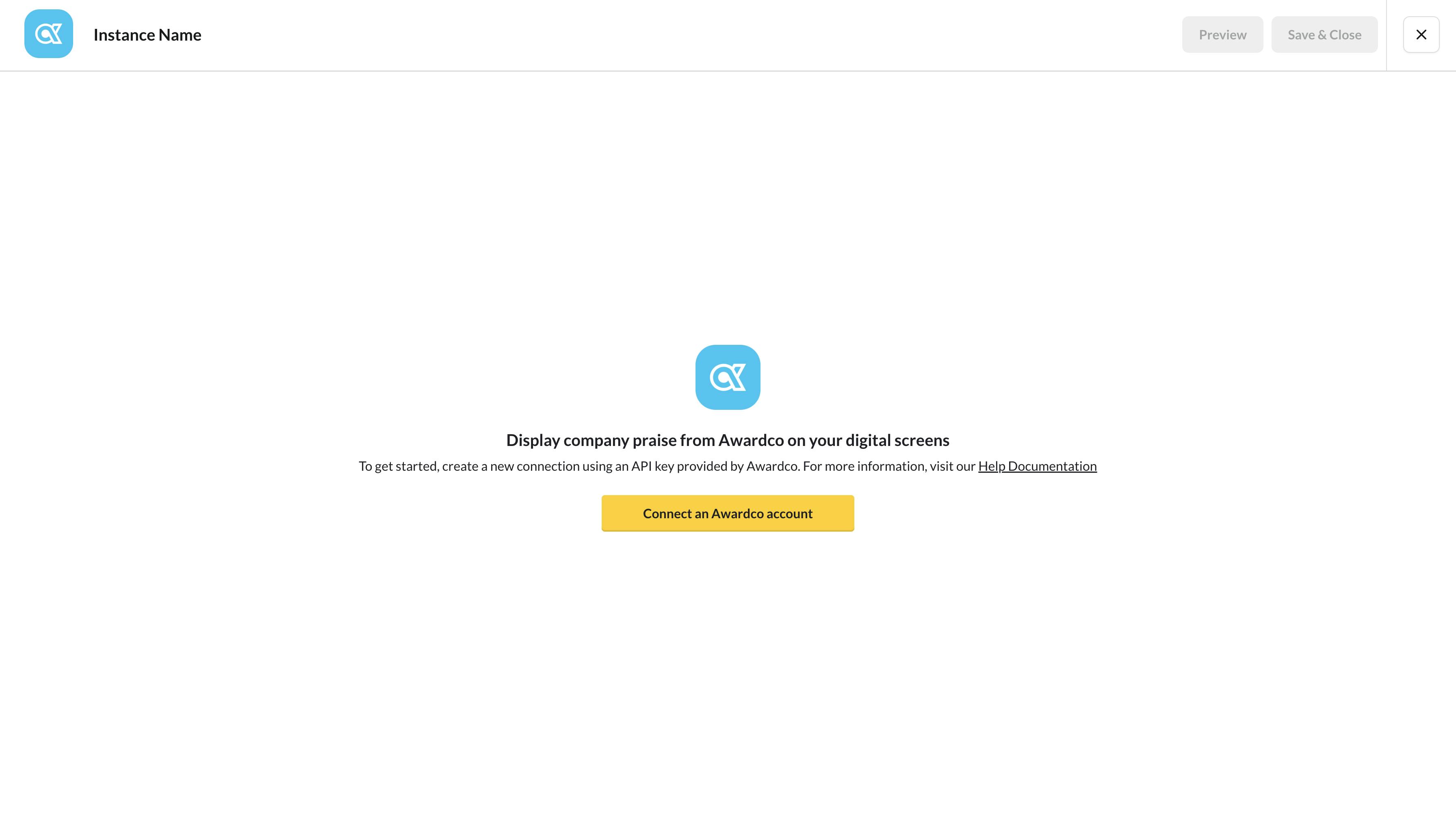 3. Connect your app with your Awardco account
3.1. Set in your API key from Awardco, and create a name for your connection.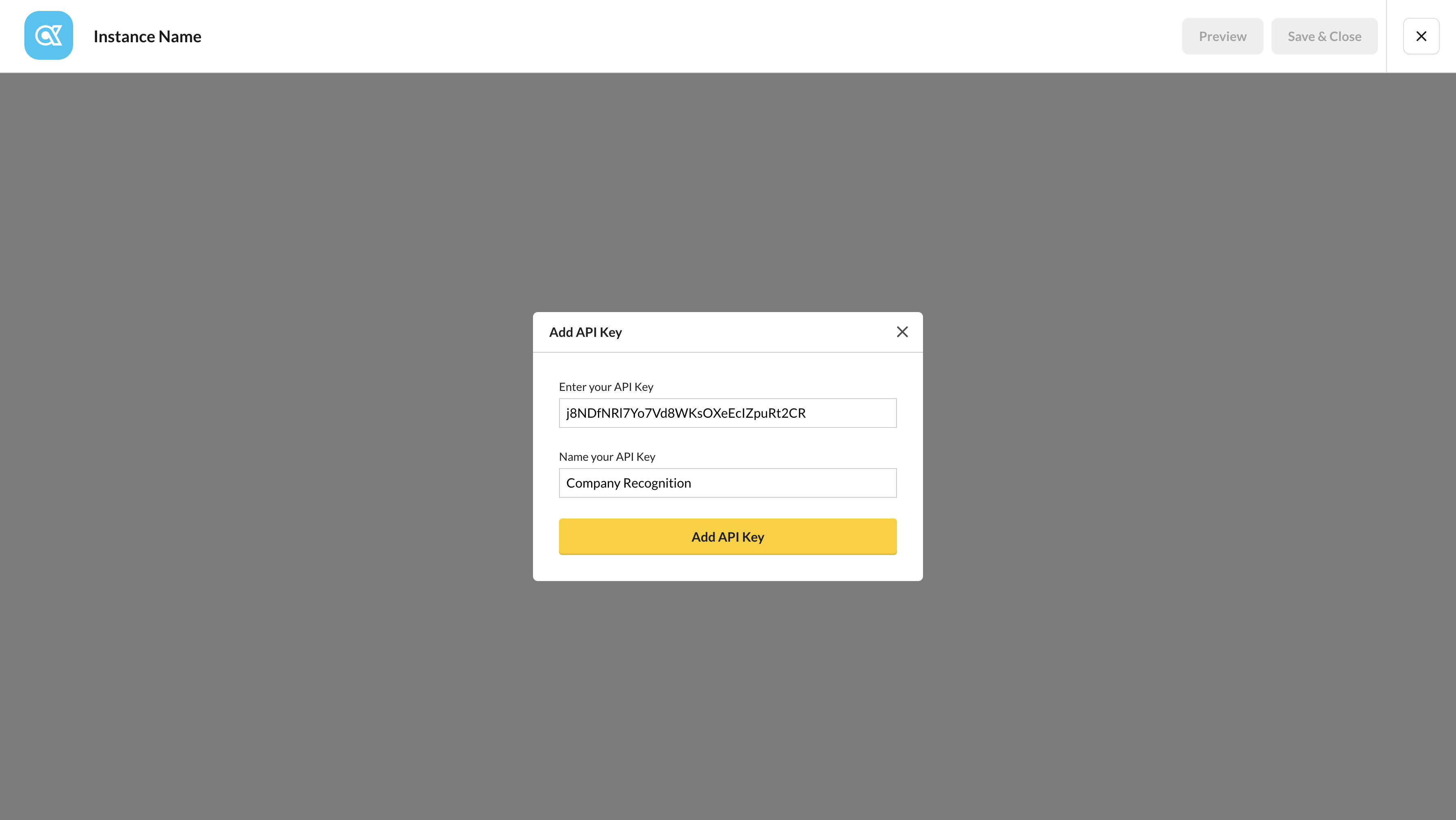 3.2. With your connection made, you'll notice the available toggle options and a notification message:

i) "To update your API key, please create a new app instance". If you wish to make a new connection to another Awardco account with another API key, you must create a new Awardco app instance in your ScreenCloud account, as the app's API key setup cannot be changed.

ii) Show logo allows you to either show or not show the Awardco logo and the Show QR code allows you to show or not show a QR code which, if scanned, leads to the recognition post in your Awardco account that is currently showing with the app.

3.5. When all is ready, click the Save & Close button to save your connection and settings.
3.6. If you already have recognition messages in your connected Awardco account, you can also instead just click Preview to see how your recognition posts appear in ScreenCloud.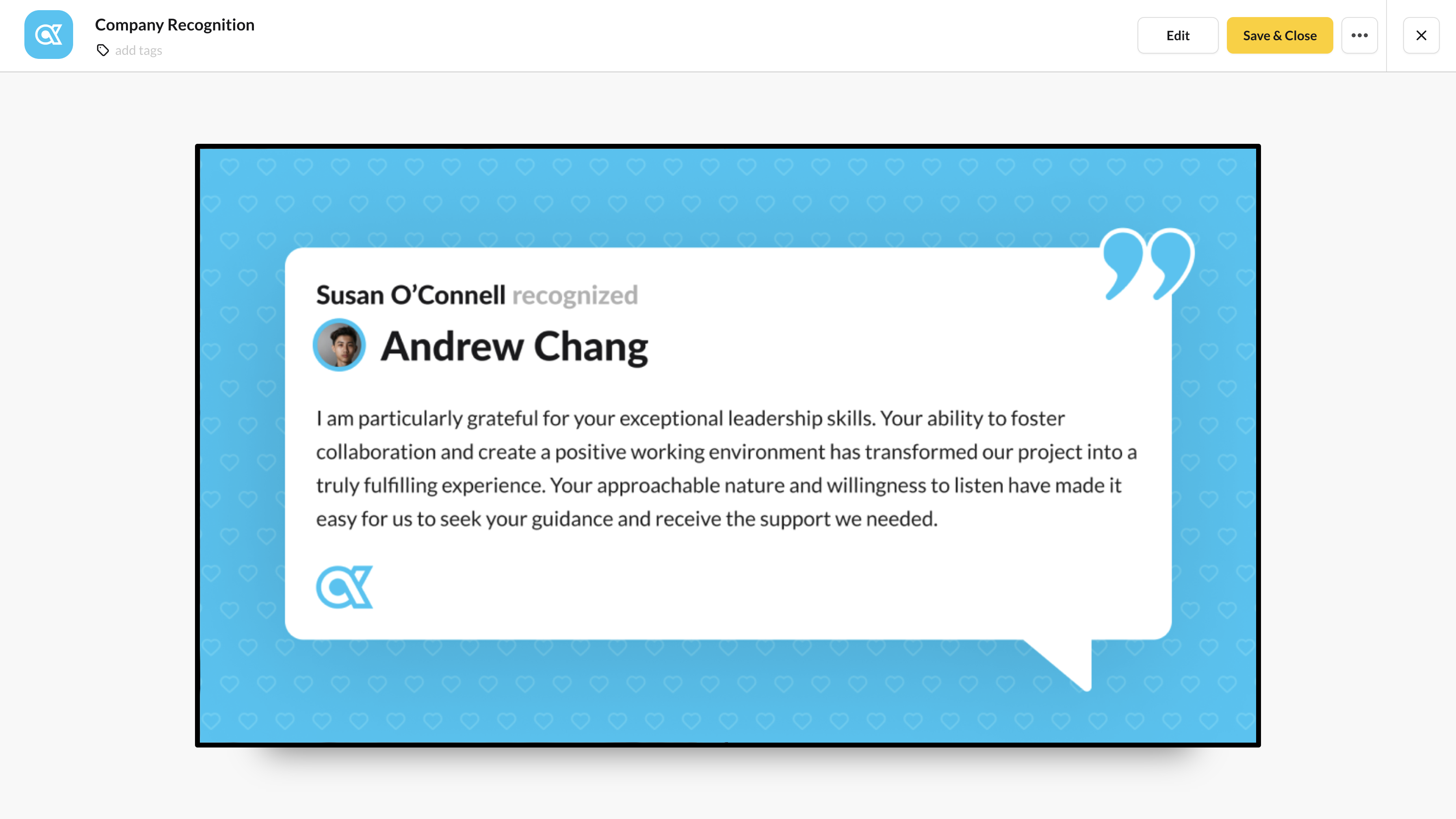 4. Create and display 'recognize' posts from your Awardco account
4.1. Creating a recognition post in Awardco simply requires that you click the Recognize button, and select the team member that you wish to praise.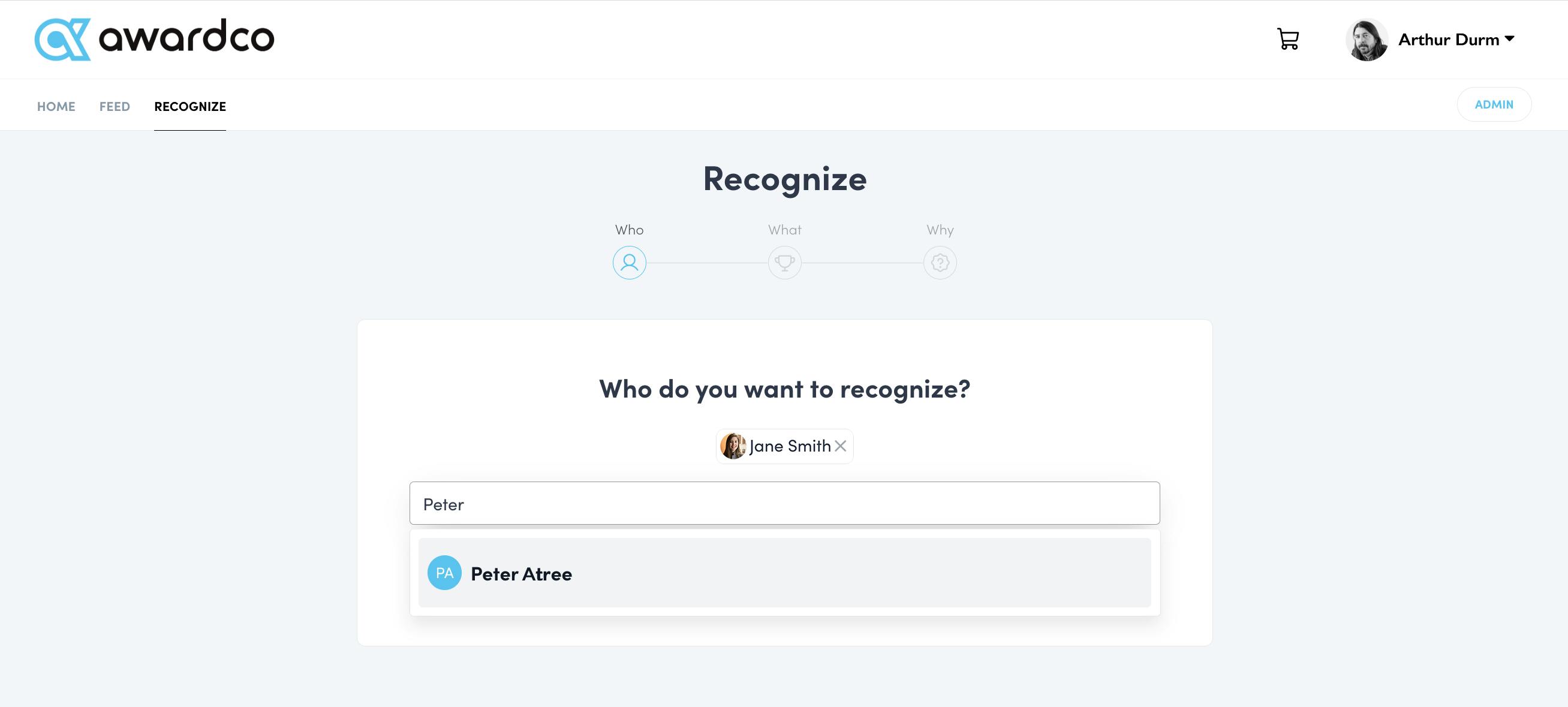 4.2. Next, select your program. ScreenCloud's Awardco app will not be able to show which program is selected for the recognition post, as well as the amount of points that are given to the recipient.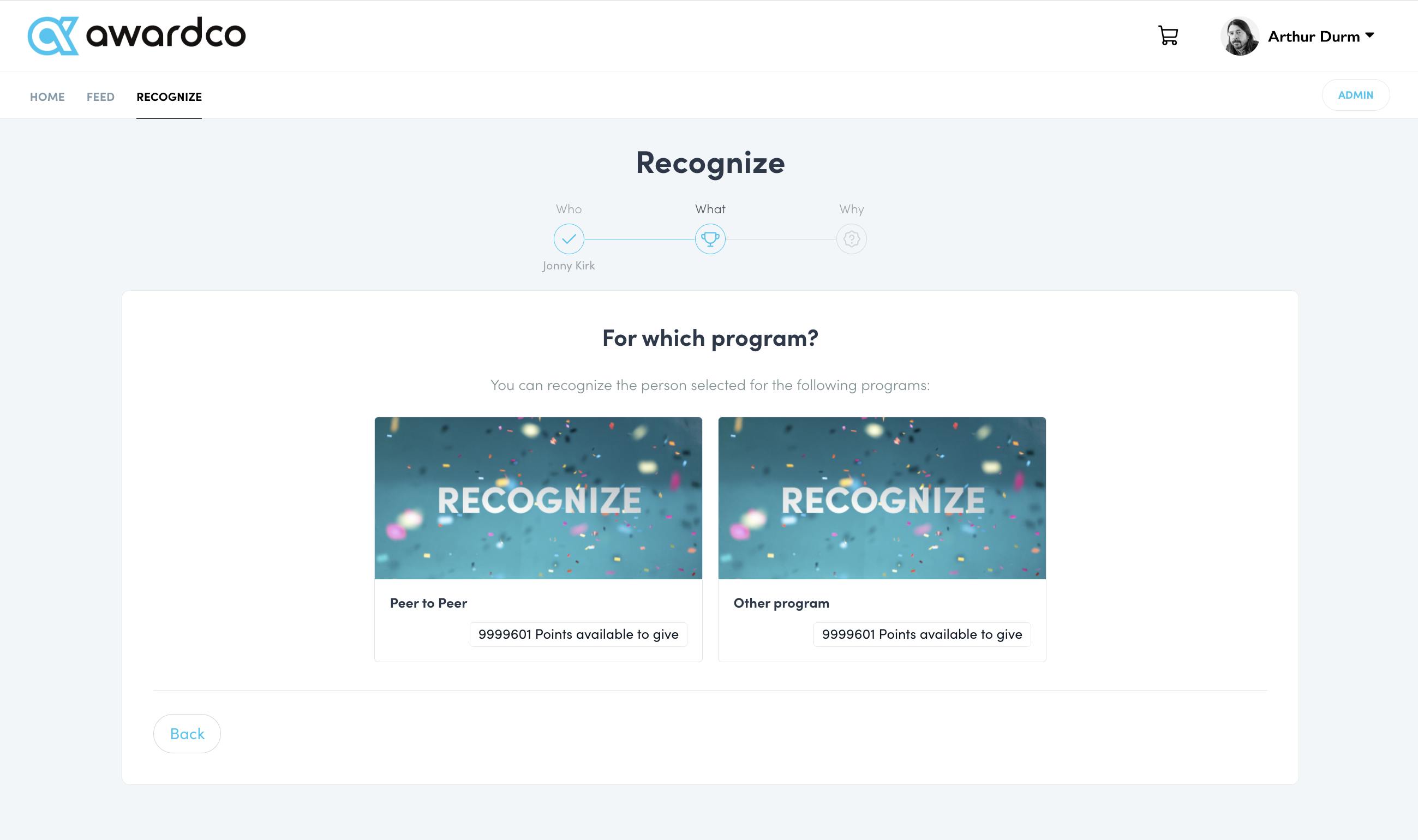 4.3. Create your post, and add an image if you like. Currently, only still images and GIFs are compatible with our Awardco app, but support for videos will be coming soon!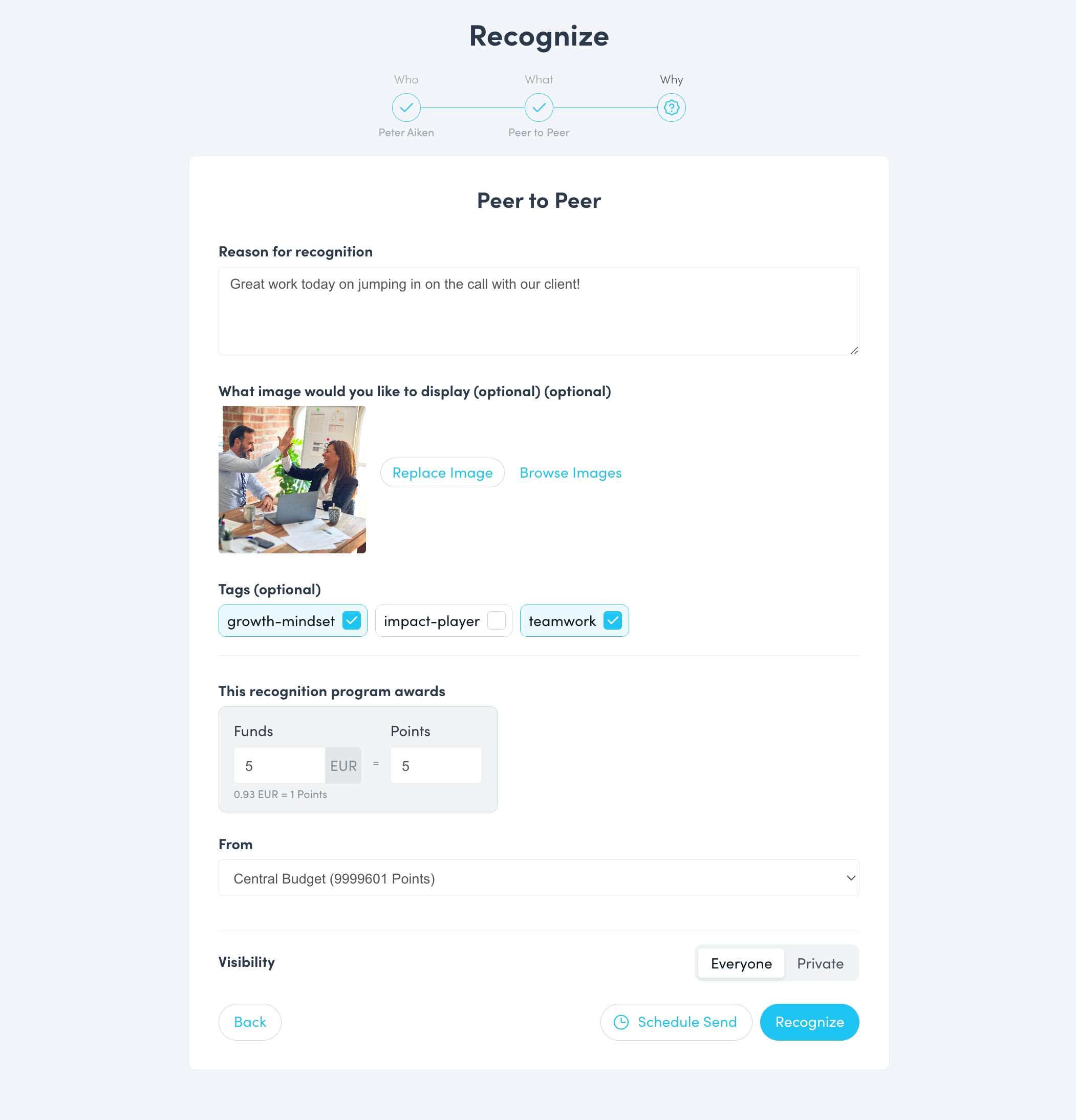 4.4. Ensure that Visibility is set to Everyone, as the Private setting will not allow the ScreenCloud Awardco app to display the posted message.

4.5. Once submitted (by clicking Recognize), you will soon be able to see your recognition post in your Awardco app! Below are a few samples of how your posts will appear in the app.


Please note that tags and emoji reactions are not carried over to the app's display of Awardco posts, but our team is working on making this a possibility.
5. Set your Awardco app to your screen
And finally, add your app to your screens by using a playlist or channel, or simply casting the app to a paired screen! You can learn all about setting your app to your digital signage by following the instructions from the helpful guide Ways to Set Content on Your Screens Using Digital Signage.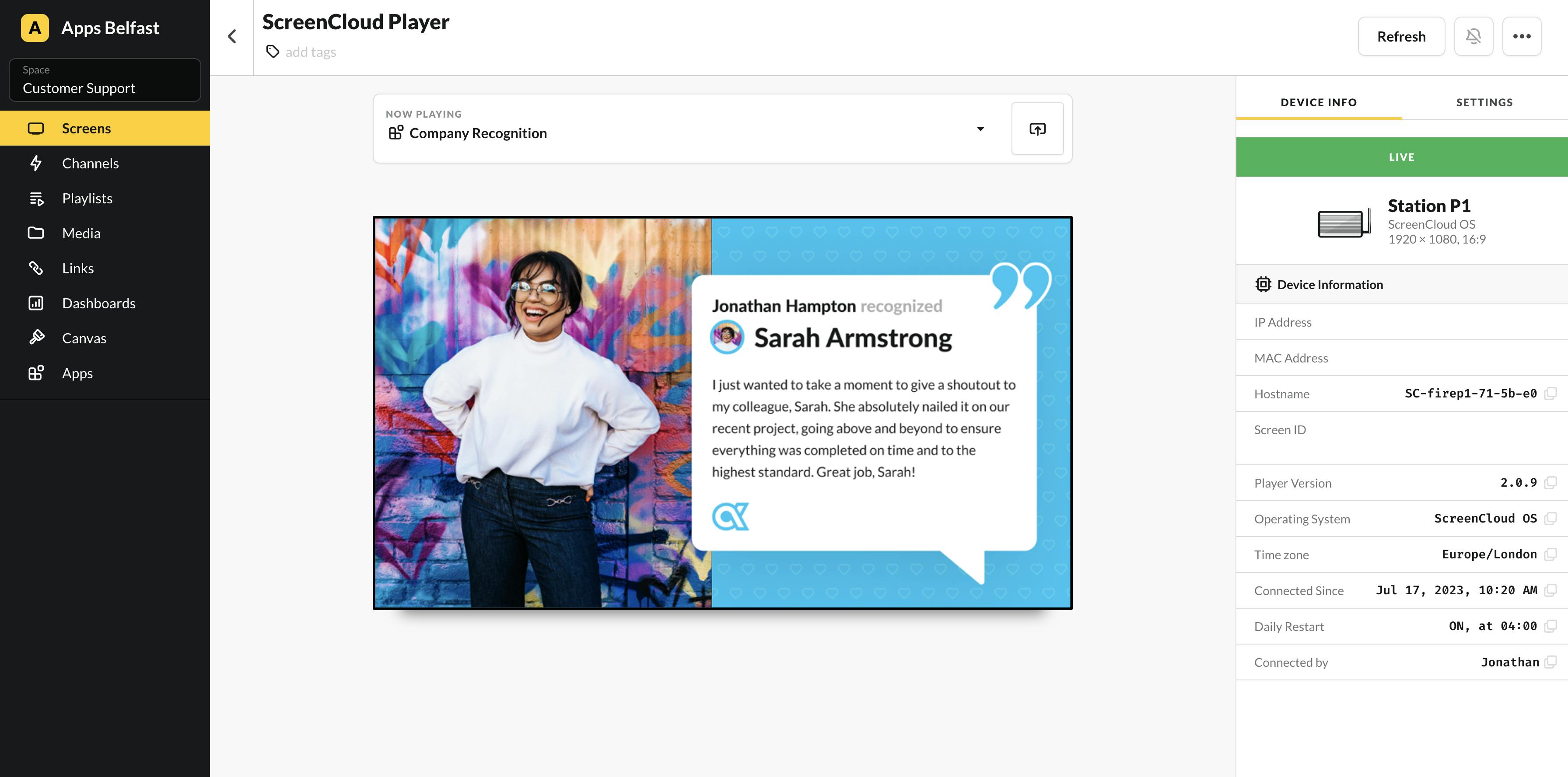 Frequently asked questions:
For how long does a post display?
Each post automatically displays for 10 seconds.
How often does the app refresh?
The app pulls in new posts every 6 minutes. However, you can push an instant refresh by recreating the app with the same API key.
When I select more than one person in my Awardco recognition post, why does only one person's profile show?
Currently, only the first person selected can be seen. However, our apps team is working on improving this, and posts will soon be able to display multiple profiles if selected.
For further questions, please reach out to support@screencloud.com.
Ready to get your organization connected?
Connect your first screen today with our 14-day free trial