Hands up who's got a tablet? Okay, maybe you're firmly in the iPad camp, but if not then an Android tablet is a great and affordable way to get your digital fix. With the Google Play Store and the Amazon AppStore available on nearly all Android devices, tablets have become big rivals for the traditional Apple iPad. 
Tablets can be picked up from as little as a few hundred dollars yet still have App Store features and a realm of possibility. In theory, most people and businesses could afford a tablet, which is what makes it a great device for creating digital signs around your work, store or school.
Android tablets and digital signage
Tablets are a great option for creating one-to-one digital signage experiences, such as in a showroom or warehouse setting. They allow viewers to get closer to information and to digest it in real time. This is a great option for displaying data to operatives, key sales information within showrooms and stores and even timetables or meeting room signage within an office or corporate setting.
Tablets have access to the same cloud-based digital signage control as screens, meaning you can preset content, create Channels and Playlists and have access to change content from wherever you are.
Although both Amazon and Android tablets are good options, we rank Android tablets slightly higher than Amazon and iOS tablets for digital signage purposes.
Amazon's Fire tablets run on Amazon's own "Fire OS" operating system, which is based on Android, but is very limited and does not have any of the Google Play Store services. Other Android tablets such as the Samsung Galaxy Tab A tablets run a more full featured version of Android with support for the Google Play Store, which supports more business apps like ones for remote device management, while on Amazon tablets, you are stuck with the standard grid of apps typically showing videos and music but that's about it.
ScreenCloud and Android Signage
Our ScreenCloud app allows you to turn your Android tablet into a beautiful digital sign. Bringing in powerful apps such as RSS feeds, social media displays and presentations, all with one thing in common: simplicity. 
Here are some of the tablets out there that can easily be turned into a digital signage display using ScreenCloud:
Samsung Galaxy Tab
Amazon Fire HD
Asus Google Nexus
Cube iWork 10 
Lenovo Yoga Tab
ACER Iconia
Sony Xperia tablet 
Android tablets are a slightly better option than iPads when it comes to using digital signage because iPads don't allow the ScreenCloud player app to have offline or media cache support, both of which are very useful when it comes to displaying content on a tablet within an office or store.
So which Android tablet do we recommend for your digital signage displays?
One Android tablet we highly recommend is the Fire 7 tablet. The Fire 7 tablet starts at $49.99 and is plenty capable for single use cases like displaying all types of content in ScreenCloud's app. However, we recommend only choosing this device if you're displaying a single zone of content as it may struggle if you try to display multiple zones of content at the same time. Given the small size of the tablet device, this is probably your best bet for user experience anyway. If the Fire 7 tablet isn't in stock and you're pushed for time (which does tend to happen), we recommend the Fire HD 8 tablet, which starts at $79.99 and has a slightly higher resolution screen and spec.
The Fire HD 10 is quite different to the Fire 7 and Fire HD 8 tablets. It's quite a bit more expensive at $164.99 but packs a higher resolution 1080p screen, as well as a much more powerful processor and bigger RAM. The bigger screen and higher performance level means you can display multiple zones of content at the same time and when you aren't using the tablet to display content it's a great device for personal use. For just $30 more, you can get the Fire HD 10 Plus which gives you 4GB of RAM which might be better for digital signage as it performs a tad smoother and faster especially if you are multitasking.
If you prefer an alternative Android device, ScreenCloud is available on the Google Play Store, the Amazon AppStore and the Chrome Web Store so there are plenty of Player options to help you get set up and get started.
Here's how to set up your Android tablet as a digital sign
1. Connect your Android device
Load up your Android tablet and connect it to Wi-Fi (unfortunately, ScreenCloud doesn't currently support streaming over your mobile phone data plan but keep an eye out for this in the future!).
2. Download the ScreenCloud app
Open up the App Store on your Android device and download the ScreenCloud Player app for Android.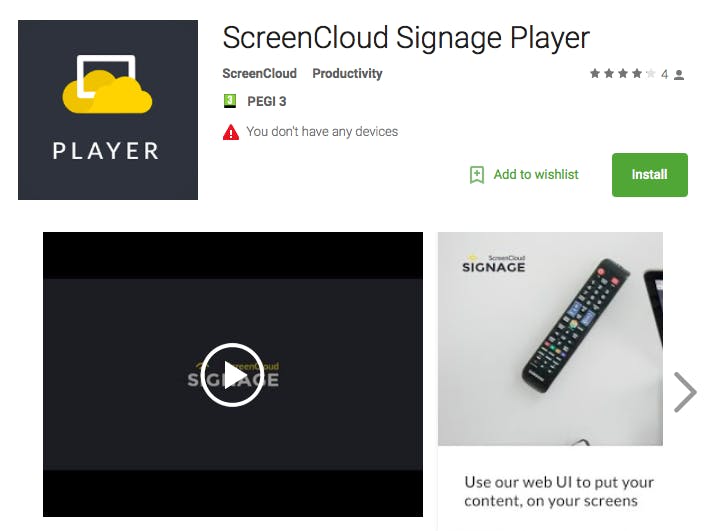 3. Pair your Android device and ScreenCloud
Launch the app on your Android tablet and make a note of the pairing code that comes up. This is what you'll use to connect your Android device with your ScreenCloud account.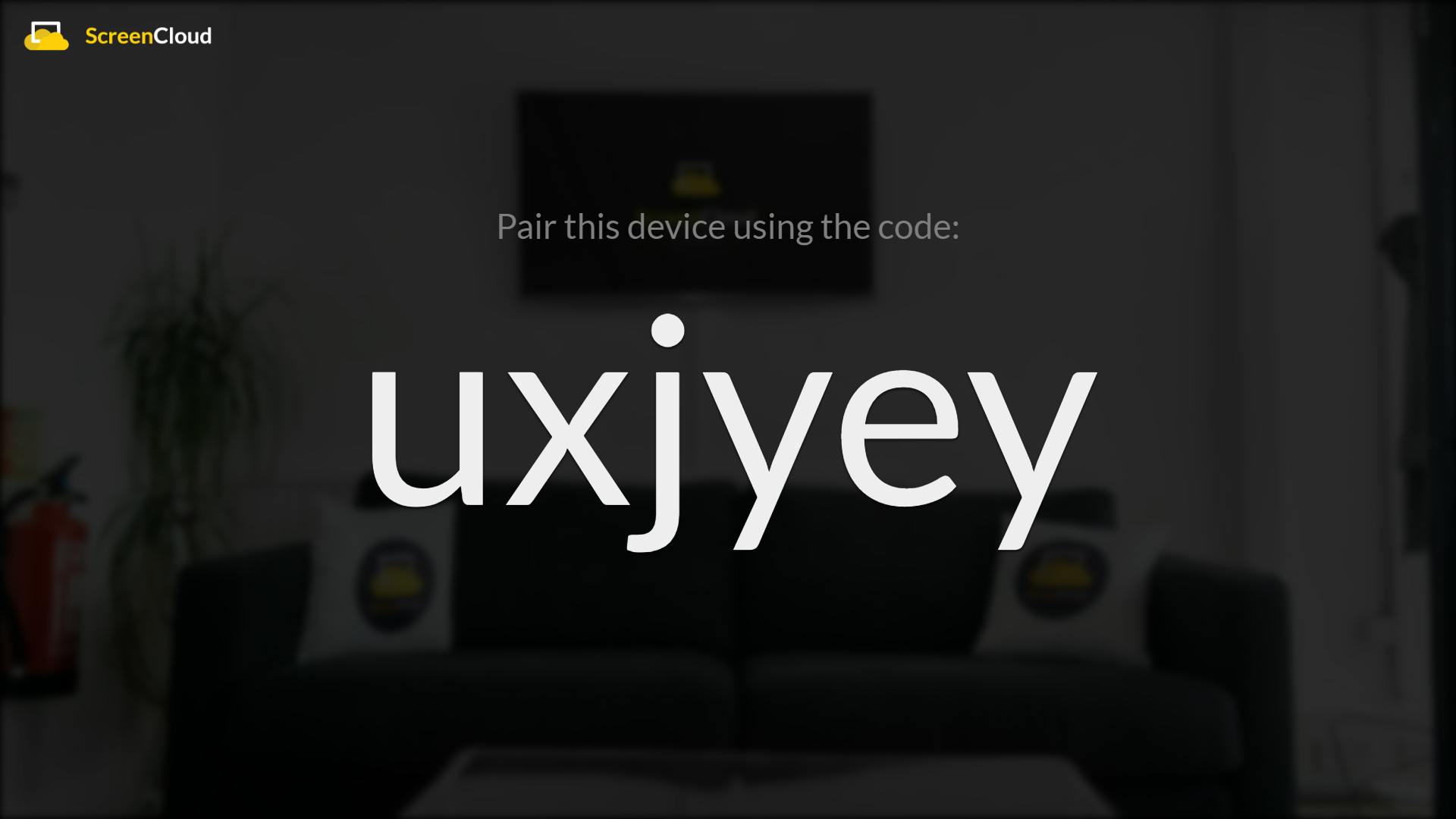 4. Lock your Android tablet to only show ScreenCloud
If you're using your Android in a public place, or even if you just want to ensure no one can interfere with what's playing, you may want to lock it to only show ScreenCloud. 
If your device is using Android 5.0 you can use a feature called Screen Pinning to ensure the tablet is locked to a specific application. Here is a guide for Screen Pinning in Android 5.0.
If you're using an Android 6.0 device or higher, you'll want to follow this guide instead. 
As well as Screen Pinning you could also consider mounting your Android tablets using a fixed holder, to ensure that they can't be removed or moved from the wall. You could use a tablet mount like those from Bouncepad, or buy a built in, all-in-one kiosk or mounted solution. 
5. Set up your ScreenCloud account
Once you have your pairing code you're ready to go to screencloud.com/getstarted on your laptop or PC and sign up for a free trial. If you already have a ScreenCloud account you can log in now.
Once you're in, you'll see the ability to add a new screen within the Screens panel.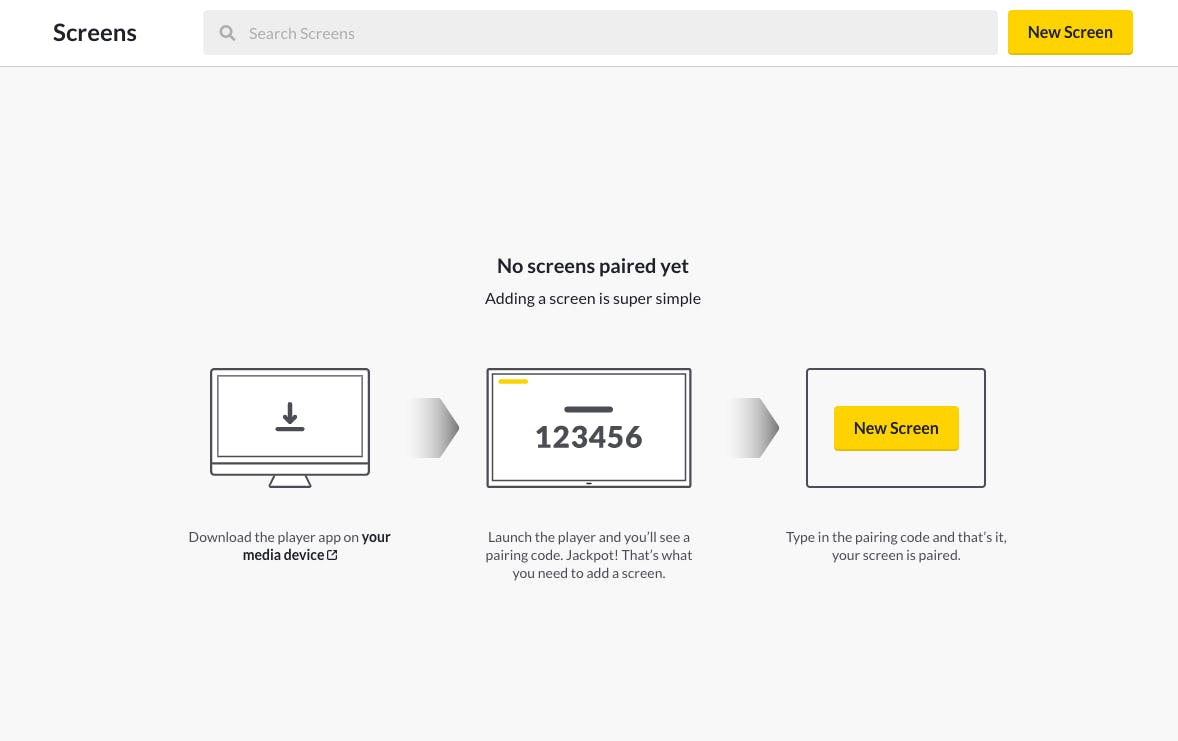 Once this has been entered that's it! You're synced up and able to control your Android TV, tablet or phone from your laptop. You can see within your Screens panel the make and type of device, for example "Fire Tablet" and its given name, helping you to distinguish your various devices from one area.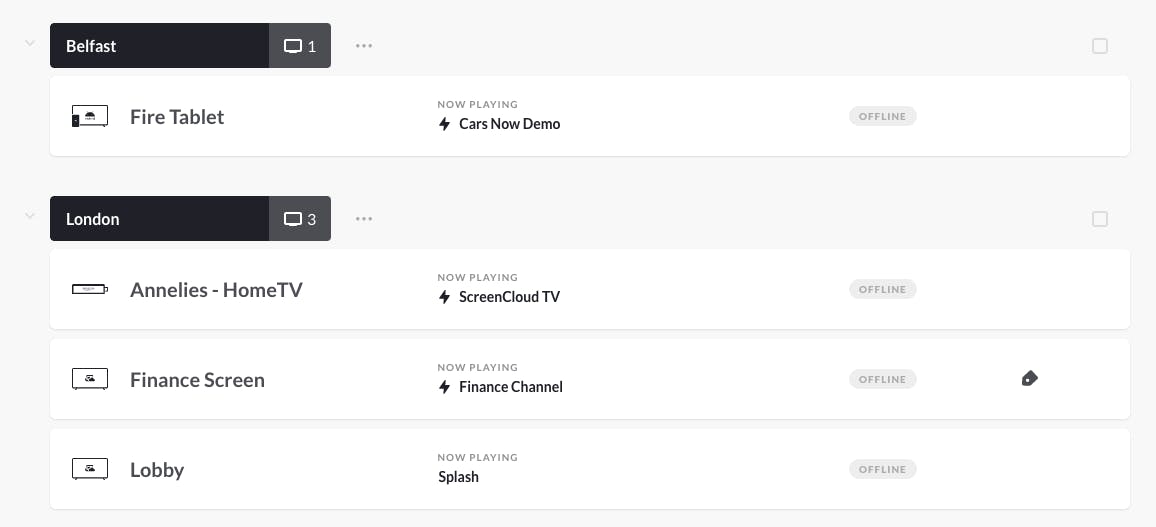 6. Add content to your Android tablet
Next is the fun part! Deciding what to show on your Android device. Here you have a selection of choices.
You can create content from your own sources, such as image or videos uploads, or you can connect one of 60+ free integrations from sources such as OneDrive, Dropbox, Twitter or Google Slides.
Lastly, you can also create your own content using our Canvas design editor tool.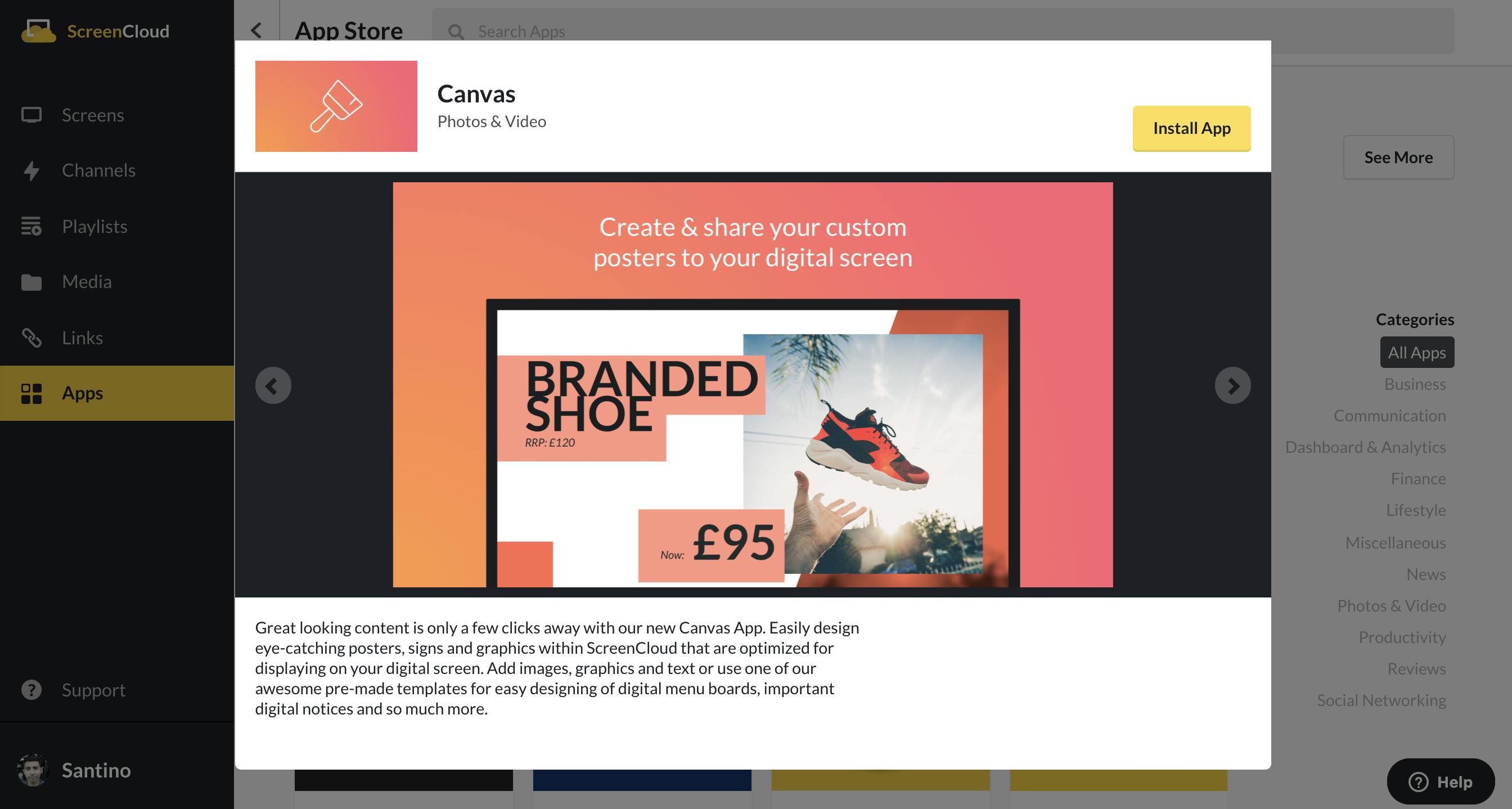 Canvas also provides the ability for you to save, reuse and share templates, ensuring that your content is always kept on brand.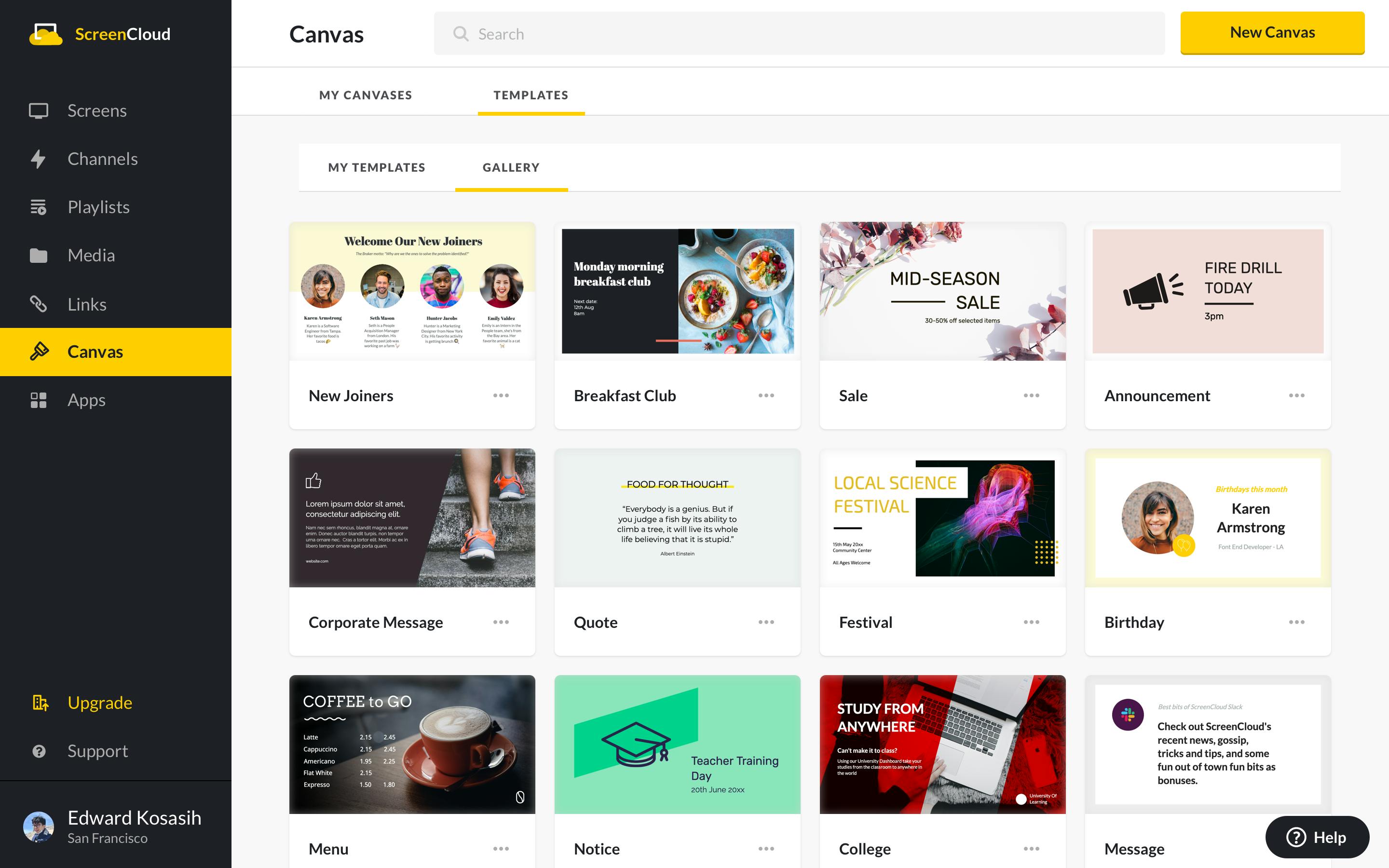 7. Schedule and play
ScreenCloud's new advanced scheduling tool lets you create and schedule content for future dates, and choose expiry dates. This allows you to set up content schedules to play on your tablets without you having to be near the devices in question. You can also view a live preview of your Android tablet from within the ScreenCloud panel, ensuring you always know the status of your digital signage tablets.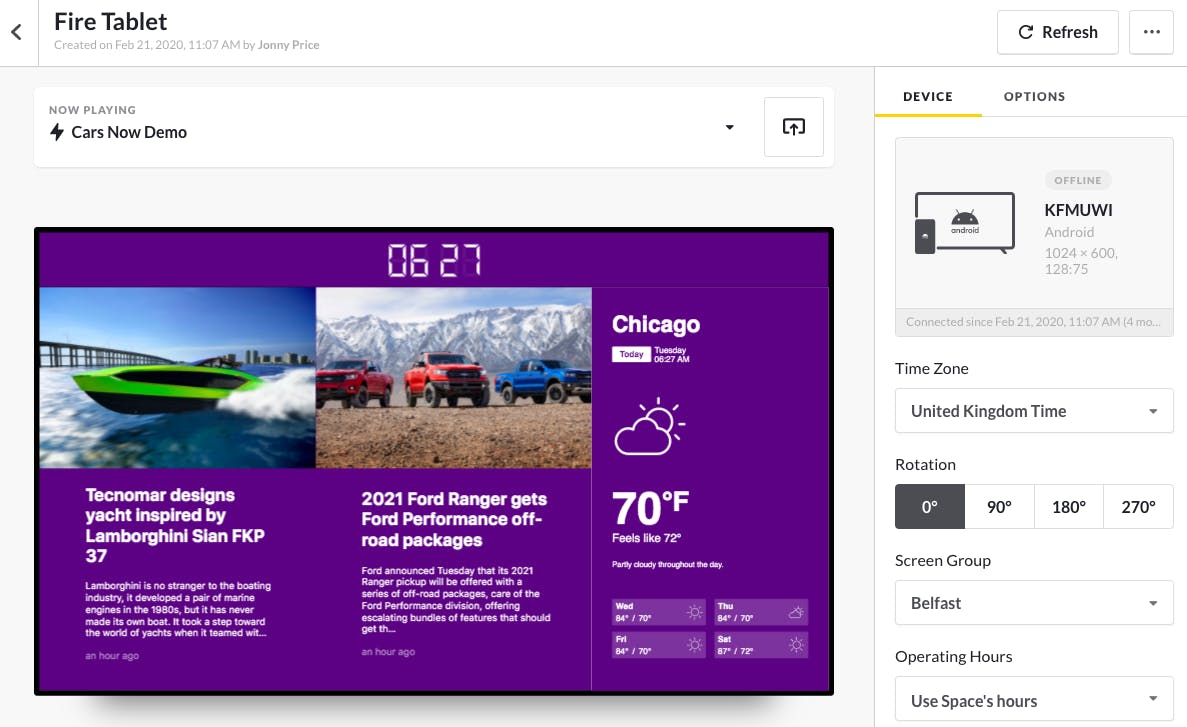 Once a piece of content has expired, it'll stop playing within your Channel or Playlist, ensuring that timely notices fulfil their purpose and then, well, expire. A great way for Marketing and HR teams to create content in advance ready for specific campaigns, announcements and seasonal activities.
Ready to get started? Grab your Android device and let's go!