During UNLEASH America — the international festival for HR — we proudly brought our inspiring Nebraska-based transportation client, Werner Enterprises. Through their presentation, Johnny Voruz (Product Owner) and Kathleen Thomas (Logistics Brand & Culture Manager) demonstrated how ScreenCloud's cutting-edge digital signage solution effectively engaged their frontline workforce of drivers. Read on for more details on how Werner Enterprises uses ScreenCloud to engage, retain and appreciate their deskless workforce.
Follow along with Werner Enterprise's presentation slides here.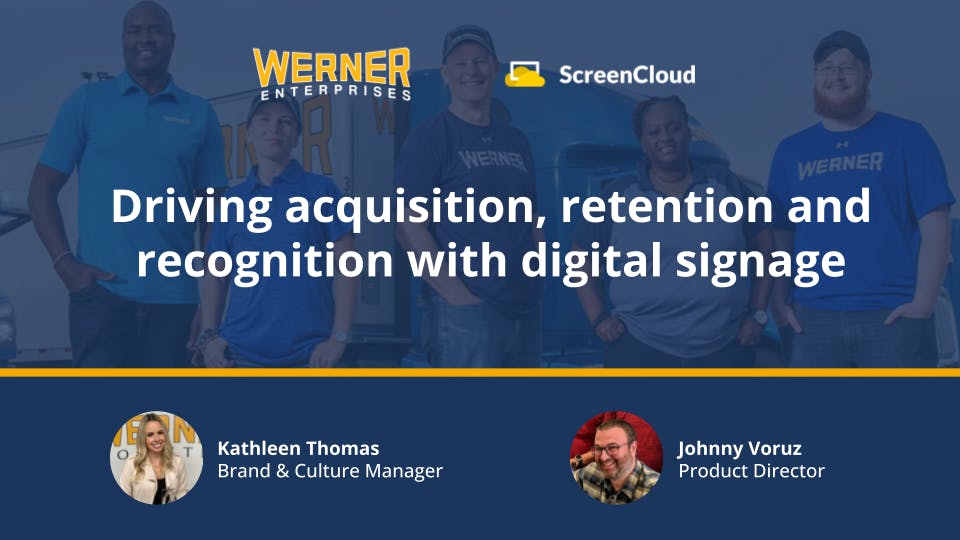 It started with one screen
When it comes to driving, digital signage is the communication method that most aligns with how a frontline worker can receive information. Due to the physical isolation, restrictive contact availability and safety of driving, employees needed a hands-off, fast-paced communication line.
"Many of us here are office employees. We're able to answer the phone or an email immediately. These drivers are in their truck all day, they can't look at their phone because it's a safety hazard. We have to take that into consideration when we communicate with them."
Kathleen Thomas
Logistics Brand & Culture Manager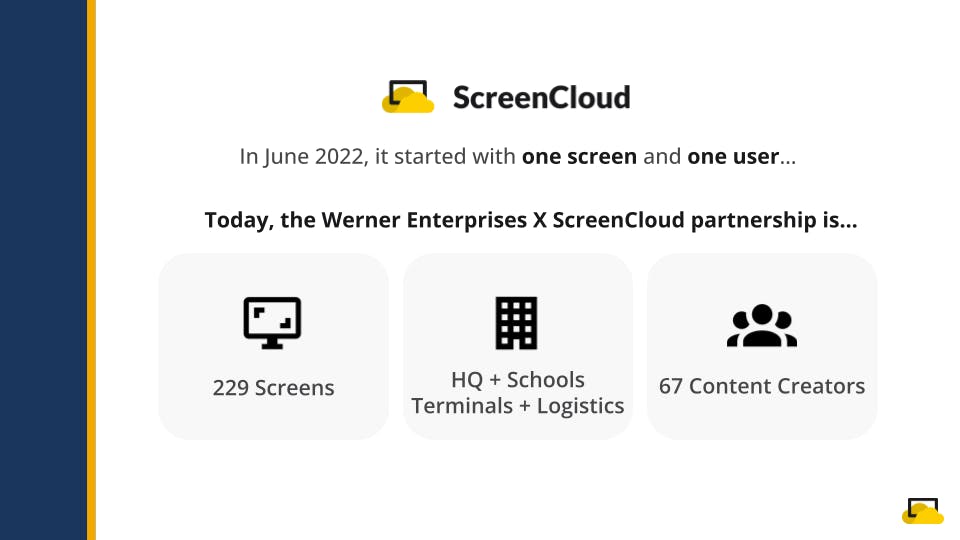 Werner Enterprises motivated their drivers by meeting them where they are: on the road. With ScreenCloud's digital signage, their team of 67 (yes, 67!) content creators are able to broadcast their messages in their headquarters and in hubs where drivers have a limited time to intake information before they're on the road again.
"Hopefully that number [of creators] tells you it's very easy. We picked a platform that's very easy to use and easy to scale."
Johnny Voruz
Product Owner
Driver-first thinking
Werner prides themselves on prioritizing their associates; therefore, they use ScreenCloud to implement "driver-first thinking."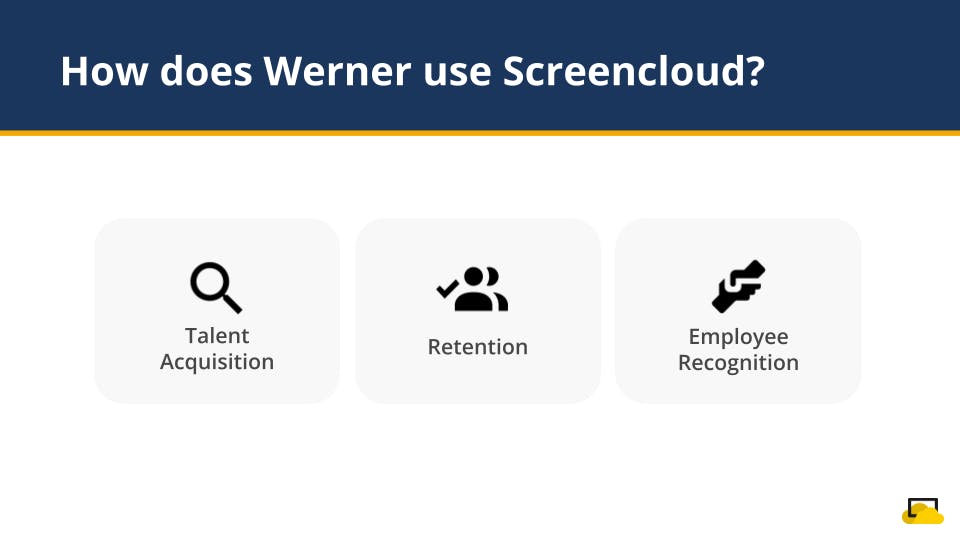 Industry-wide, the driver turnover rate is 100%, making it essential that Werner shows their appreciation for their drivers.
Digital signage is a crux in:
Cultivating a Werner welcome experience
Broadcasting benefits Werner offers their drivers
Celebrating what drivers have done for Werner
Notably, Werner has the Million Miler Program, which shines a spotlight on drivers who have driven a million miles without any safety incidents — an accolade that takes around seven years to gain.
"People in Atlanta know that she won an award, but we want to make sure that her peers in Toronto, Chicago, Mexico can see her accomplishments as well."
Kathleen Thomas
Logistics Brand & Culture Manager
Digital transformation: ups and downs
Change doesn't always come easy. Werner Enterprises told the story of how they were trying to switch from traditional phones to Zoom Phones, a cloud-based phone service. While employees were apprehensive at first, eventually Werner Enterprises was able to reach their employees with one of the most powerful communication methods of all: humor.
By advertising the Zoom Phones change in a James Bond, Agent 007 poster style on digital signage, where employees began jumping at the chance for change.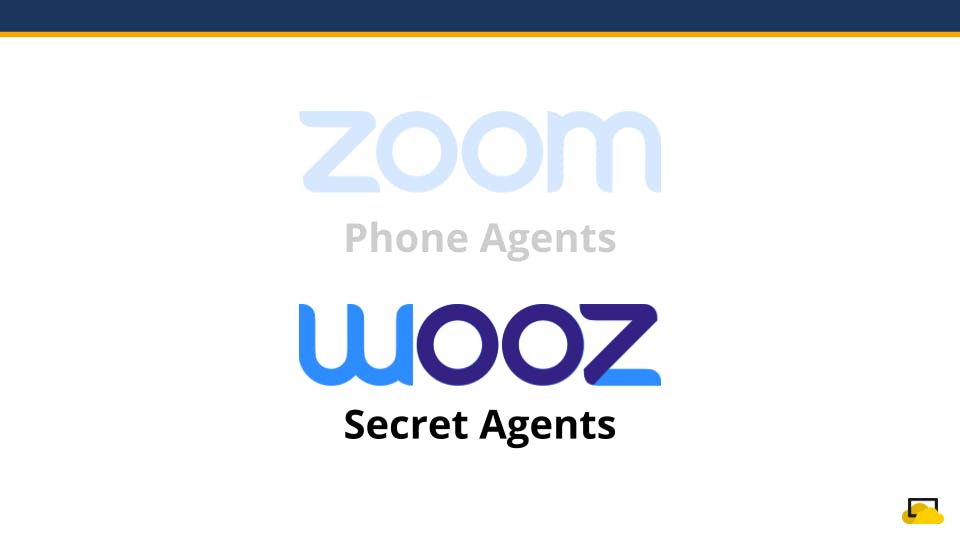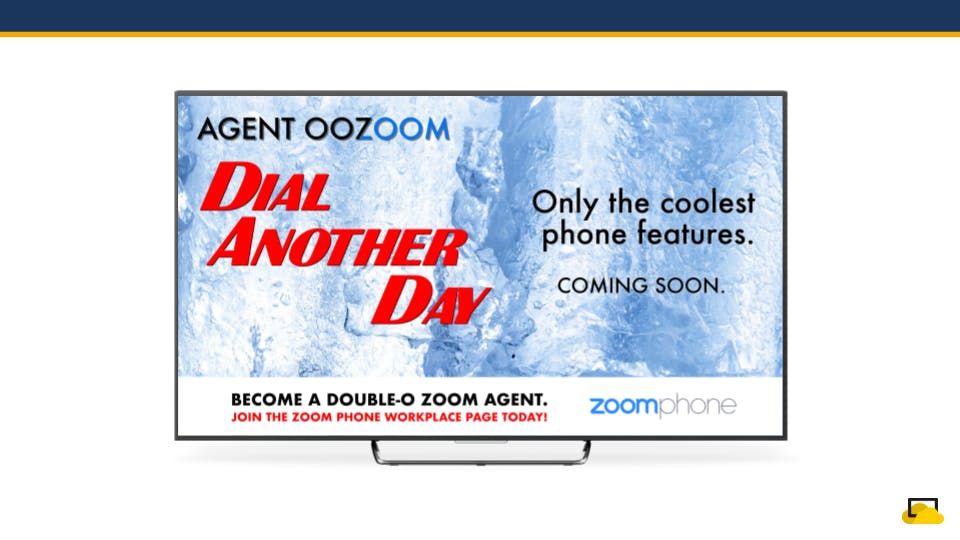 "The simple way is to just send out an email, but digital signage allows us to communicate in a fun, creative and effective way."
Kathleen Thomas
Logistics Brand & Culture Manager
Seeing how digital signage could engage employees, it was apparent that the team would measure the level of engagement. By using QR codes, digital posters and surveys requesting feedback, Thomas saw an ROI every 6-7 months for each initiative.
"Everyone at the company has a voice and that's really important to us."
Kathleen Thomas
Logistics Brand & Culture Manager
Revamp Your Internal Communications with ScreenCloud
The use of digital signage has proven to be one of the most effective ways to communicate quickly, effectively, and securely across your various locations. This is why 9,000+ businesses use ScreenCloud as their preferred digital signage provider.
ScreenCloud works with a wide range of customers in different industries that include: education, corporate, events, fitness, hospitality, retail, and more. 
To know if digital signage will work well for your business, start a free trial today. All you need to do is sign up with your email and get a 14-day free trial.
You may also book a demo where you'll see how to:
Manage multiple screens across multiple locations
Utilize ScreenCloud's content management system
Securely displaying business-critical information
Choose affordable and suitable hardware options
Create a business case to demonstrate the ROI of digital signage for your organization