Publish content to your screens directly from Microsoft Teams
Learn More


More stories
Recruitment Organization Red Commerce Ltd Switched From On-Premise Digital Signage to Cloud-Based Control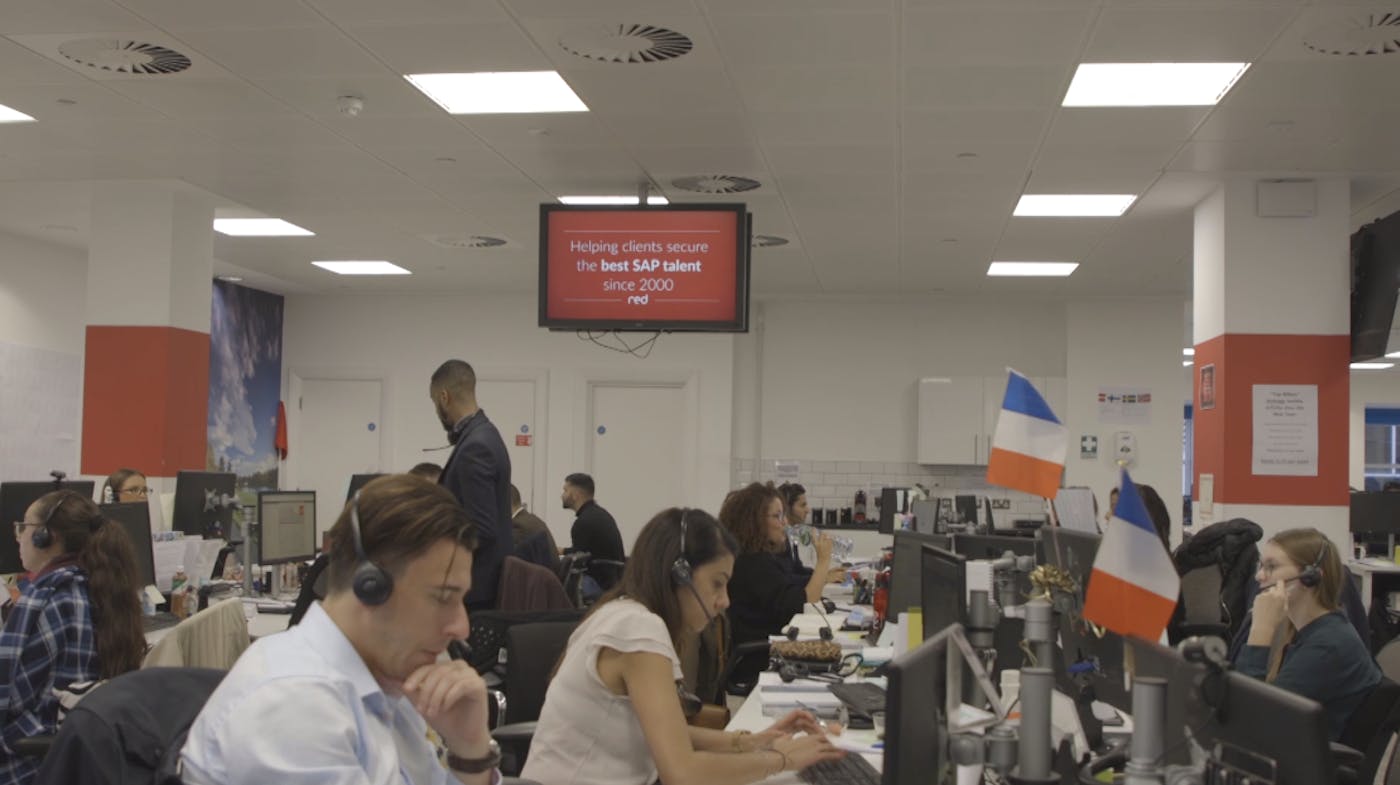 How Red Commerce Ltd uses ScreenCloud to keep everyone in the business informed, ensuring the connection between company and employees, in an immediate and friendly way. 
Red Commerce Ltd is an expert at sourcing and placing systems applications and products (SAP) professionals worldwide. The company has six offices globally and provides recruitment and advisory services, contract and freelance solutions. They needed a digital signage solution that would make it easy to get appealing content onto their digital signage screens. 
Initial digital signage aims:
Save time in the IT department by not having to manually update screens in different offices
Find a system that can be managed by different department heads
Make internal communication more friendly
Here, we speak to Wayne Evans, Service Desk Supervisor at Red Commerce Ltd, on his experience using ScreenCloud digital signage.
Digital signage journey
When I started working at Red Commerce Ltd, there was an on-premise digital signage system in place. This meant that every time we wanted to change anything on our display system, I had to go to each screen, log into the PC that powered it and manually drag and drop in the content that we needed. It was painfully time-consuming and difficult because I'd also be managing screens remotely for our overseas offices in languages that I don't speak! 
It became such a time drain that I started searching for a better digital signage solution to help me manage all of our screens.  
Digital signage used
Amongst all the different solutions that I found, ScreenCloud stood out as the most cost-effective and user friendly so I set up a trial, and I've never looked back. 
We now have 24 screens across our six offices and because ScreenCloud is web-based, I only need to log into one computer – my own, from the comfort of my desk to allow me to manage my screens and change content easily. 
The great thing about ScreenCloud is how easy it is to use. This means that the people creating the content can also put it onto the screens themselves, rather than having to send me content to upload. We have 11 users company-wide who can now access and manage their screens.
The digital signage solution has been particularly popular with the HR department and the Marketing team, who use the screens for their internal communications, for example to welcome new starters, or to announce new incentives. 
Because of its capabilities, ScreenCloud has also really opened up the possibilities for what we're able to put on our screens and ultimately, how we use our digital signage. We can now share things like JPEGs, videos and websites, which we couldn't do before and this has enhanced the content on display and made it more compelling and engaging. 
Results using ScreenCloud
ScreenCloud has made it possible for us to up our game in our internal communications strategy.
It's enabled us to have a more flashy, interactive, and user-friendly approach to keeping the whole company informed, meaning the interaction between the company and our employees is more immediate and friendly. 
I've found ScreenCloud to be a robust, simple, cost-effective, and innovative system. The decision to use it was a no-brainer. 
Ready to get your organization connected?
Connect your first screen today with our 14-day free trial