Publish content to your screens directly from Microsoft Teams
Learn More


More stories
How Fast-Growing Software Company Anaplan Turned Unused Screens into a Powerful Internal Communications Tool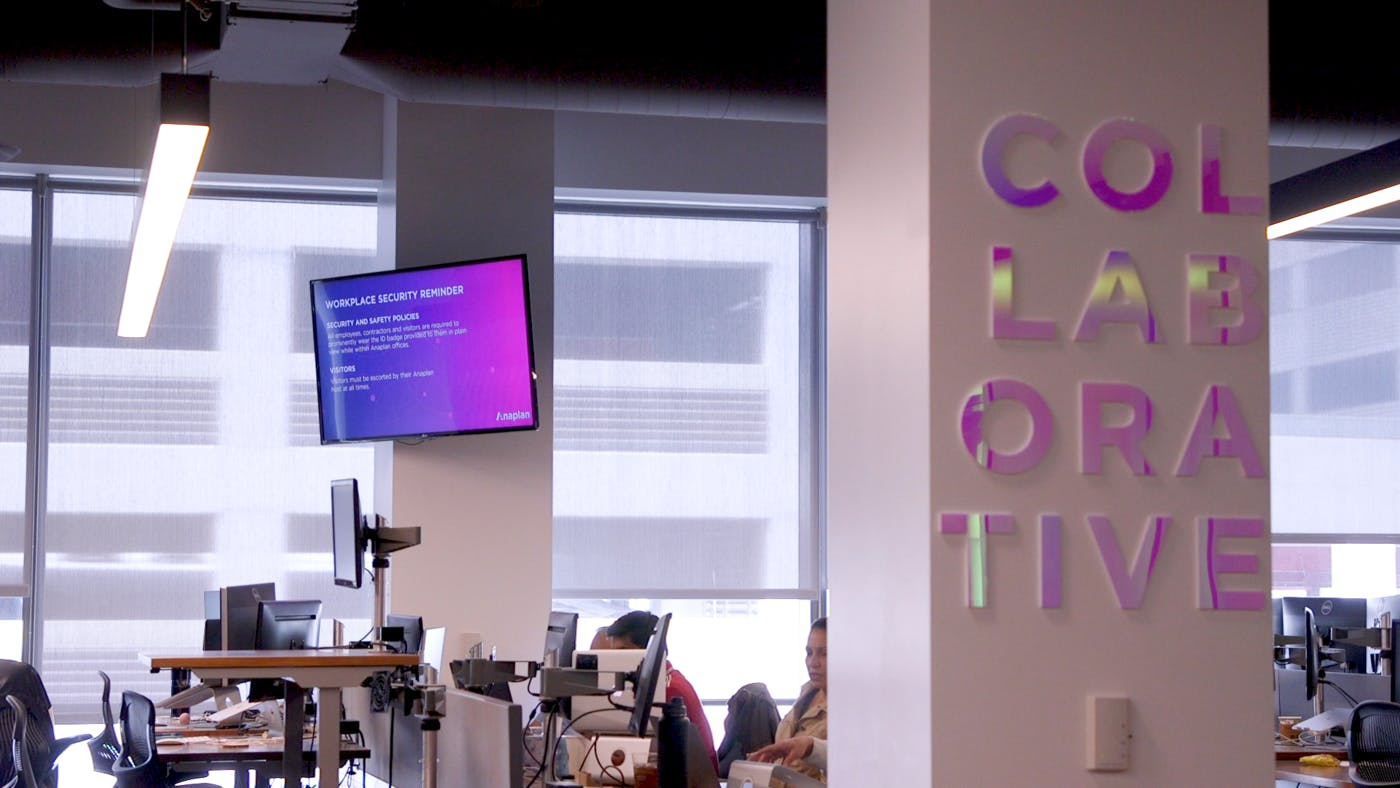 How Anaplan use ScreenCloud to power up their internal communications effectively, using existing screens.
Anaplan is a cloud-based planning software company that helps companies connect departments, to make internal planning more effective. They wanted to take advantage of all the unused screens left by the old tenants in their new office and turn them into digital signage.
Initial digital signage aims:
Turn unused screens into powerful digital signs
Improve and simplify internal communications 
Be able to easily manage multiple screens throughout an office, on multiple floors
Here, we speak to Manny Cabrera, IT Support Technician at Anaplan on his experience using ScreenCloud digital signage.
Digital signage journey
When we moved into our new office, the previous company had left lots of screens on the walls, probably assuming we'd get rid of them on their behalf. But instead, we thought we should use the TVs for something and a brainstorming session led us to the idea of digital signage. I then went away and researched digital signage options and ScreenCloud was the easiest to use.
Digital signage used
There are lots of small teams in the company doing lots of different things. Using ScreenCloud to manage our digital signs helps us to communicate the company messages with everyone easily. We use ScreenCloud to share branded security messages like 'Remember to change your password every 90 days!' or 'Don't forget to switch your computer off before you go home!'. ScreenCloud makes sure everyone sees them and they're easy to update and change when we need to.
Figuring out how to use ScreenCloud's cloud-based software was the simplest thing. You just choose a picture, upload it and set a schedule. It's intuitive and simple.
Results using ScreenCloud
ScreenCloud makes it very simple to push out digital messaging internally to end-users. It's a great way for us to make sure that all the different teams here see the same important information. It's completely solved our internal communication problem.
Ready to get your organization connected?
Connect your first screen today with our 14-day free trial