How Barnes Harley-Davidson delivers engaging promotional materials to a regular dealership community.
Barnes Harley-Davidson is a series of three Harley-Davidson dealerships located in Victoria, Langley and Kamloops BC, throughout Canada. Their aim is to make it as easy as possible for customers to live the Harley-Davidson lifestyle in a way that's personal and meaningful.
Initial digital signage aims
To have a digital signage solution that treats their business as one dealership with three locations, rather than three separate dealerships.
A system that can be controlled from head office, with the marketing team able to  easily change what's being shown on the screen.
Ability to change content easily, to ensure regular visitors to the dealership do not get content fatigue.
Here, we speak to Kiran Rancourt​, Marketing Manager at Barnes Harley-Davidson  on his experience using ScreenCloud to power their digital signage.
Digital signage journey
We were using a local company before and one day the screens just stopped working, so we freaked out - we had all of these huge TVs in all three stores and suddenly they're just blank.
We looked for something to replace it with and ending up trying ScreenCloud and another tool. ScreenCloud was the easiest for what we wanted.
We wanted a program that we could control from the head office, so our marketing team could easily change what's being shown on the screen. To change not only the large screens, but also all of the little ones throughout the entire dealership and for the different departments to change at the same time as well.
Digital signage used
We have three Harley-Davidson dealerships and we try to treat it as one dealership with three locations. So whatever we have in one we try to replicate that as best as possible in the other two.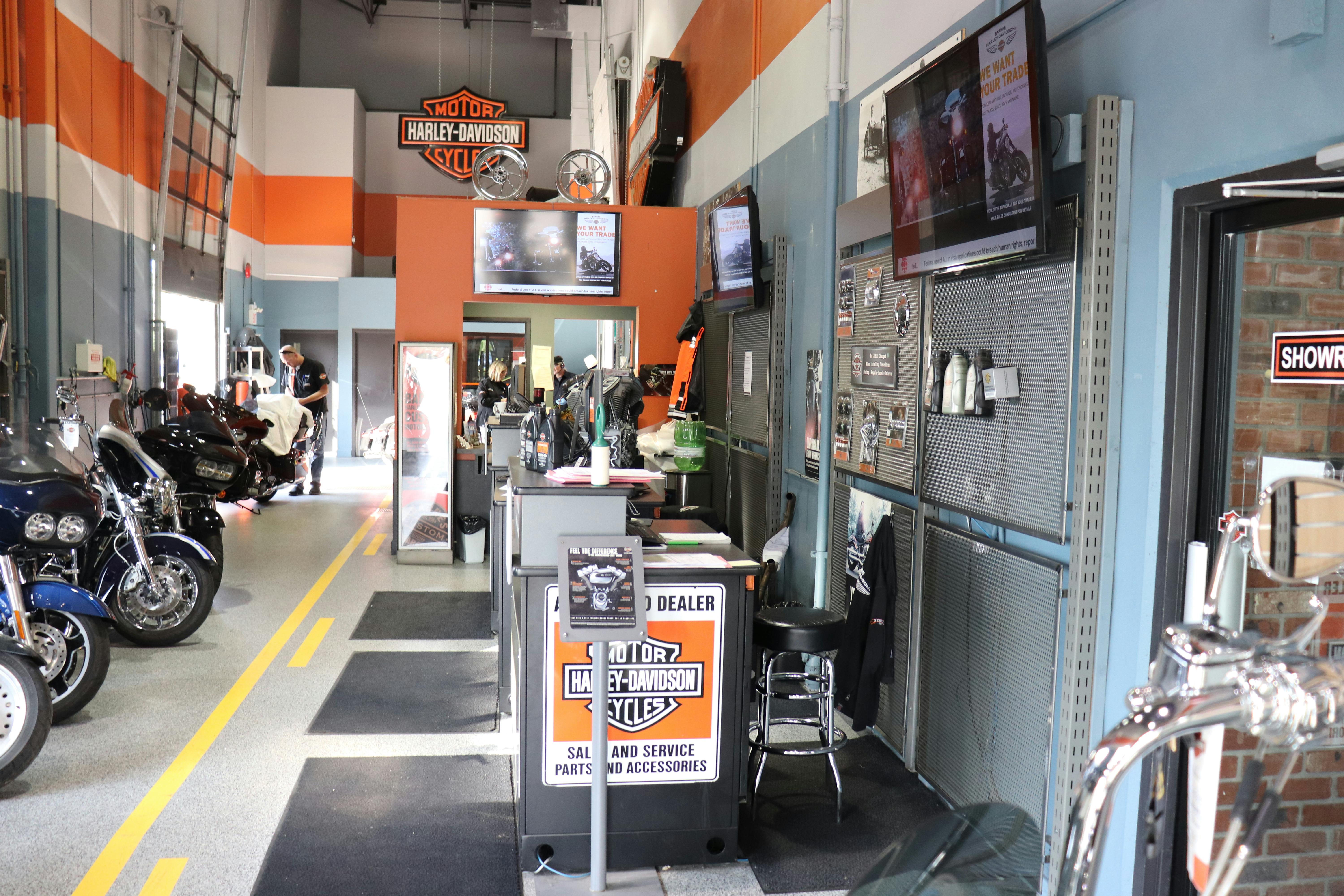 We have a large video wall that shows when customers walk into each dealership and because it's a Harley store, it's a different vibe from most automotive dealerships. We have loud music playing, free coffee and popcorn always freshly made. To match the exciting atmosphere, we use our TVs to show custom content. On each TV screen, some of the screen will be playing some kind of video, maybe riding or something cool, and then we'll have our different monthly promotions. Whether that's sales promotions or riding gear and also events. Then at the bottom we might have the news and weather in a ticker tape scrolling past.
That's when customers first walk in and then above each of the parts counters where people buy parts, which is a big thing in the Harley-Davidson community, there are more screens above them that mirror the same thing.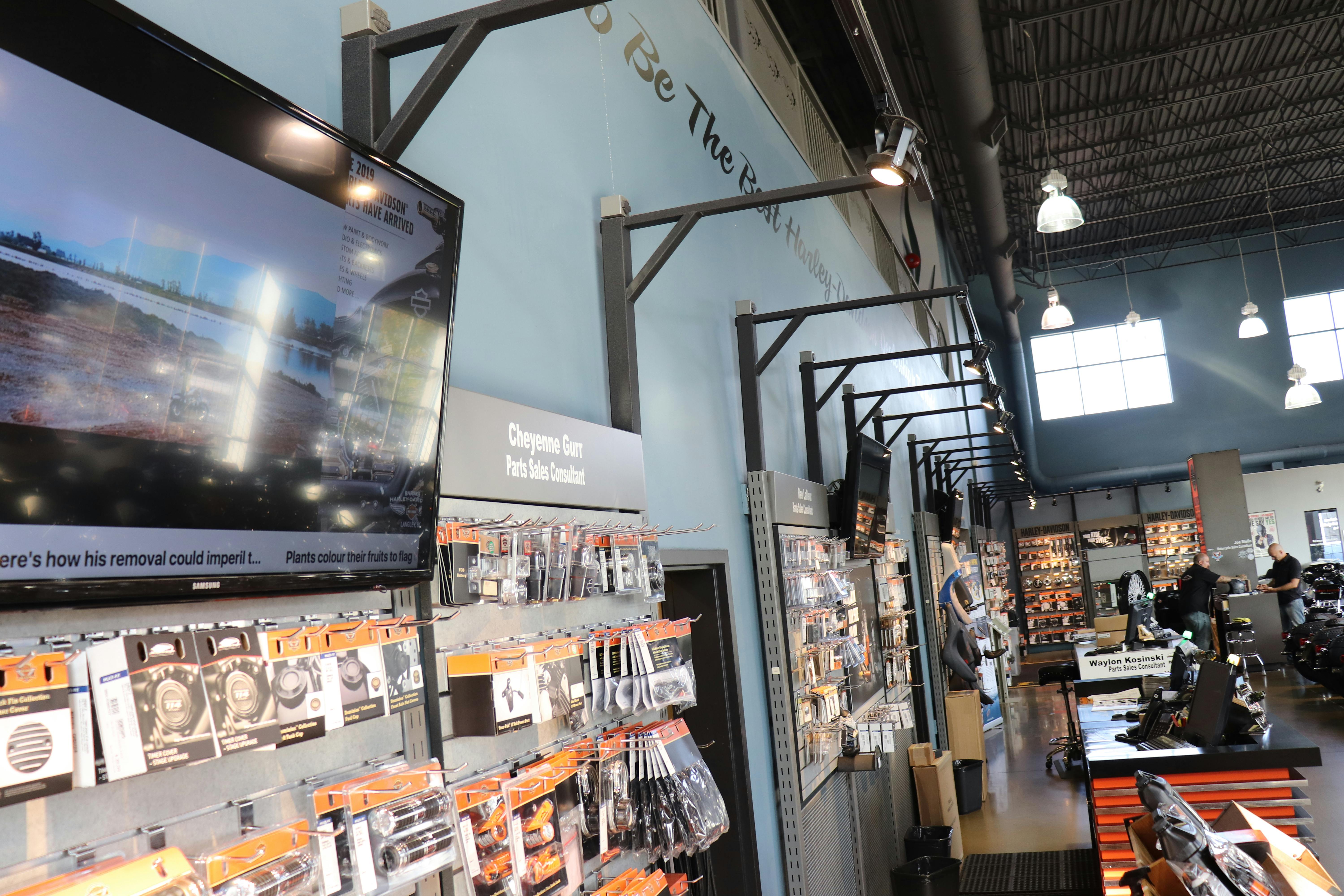 We use the YouTube app to pull our playlists, and images to show sales and events posters. The news ticker tape is an RSS feed from the local news in the dealership area. We have about 5-10 seconds between each poster and everything is scheduled in a playlist.
We update our content once a month and every now and then if we have a sudden flash sale. We change it so often because Harley-Davidson customers come back quite frequently. It's not like a car dealership where people buy a vehicle then only come back for servicing, Harley customers come to drink coffee and just hang out, it's more like a clubhouse. We have to change it more frequently, so that when they're getting coffee and they like to sit down and watch whatever we've got playing up there, they're not seeing the same thing.
Results using ScreenCloud
We have a great response because we display our own content so it's not the generic Harley corporate stuff or what other dealerships would use.
ScreenCloud is an easier program to use for sure, it's much easier to get the right content out there.
In our Auto Group we have other dealerships and the digital signage system there is very expensive and needs replacing every few years.
ScreenCloud is much more affordable and I prefer that we can control the setup on our site.
We also plan to use ScreenCloud for our trade show booth which has a TV wall. The tradeshow booth will be traveling all around British Columbia and we plan to show content based on the type of event and the location. This will help our marketing appeal to the local demographic.