Publish content to your screens directly from Microsoft Teams
Learn More


More stories
How Leading Online Automotive Marketplace Cars.com Empowers Their Dealerships with Performance Data Using ScreenCloud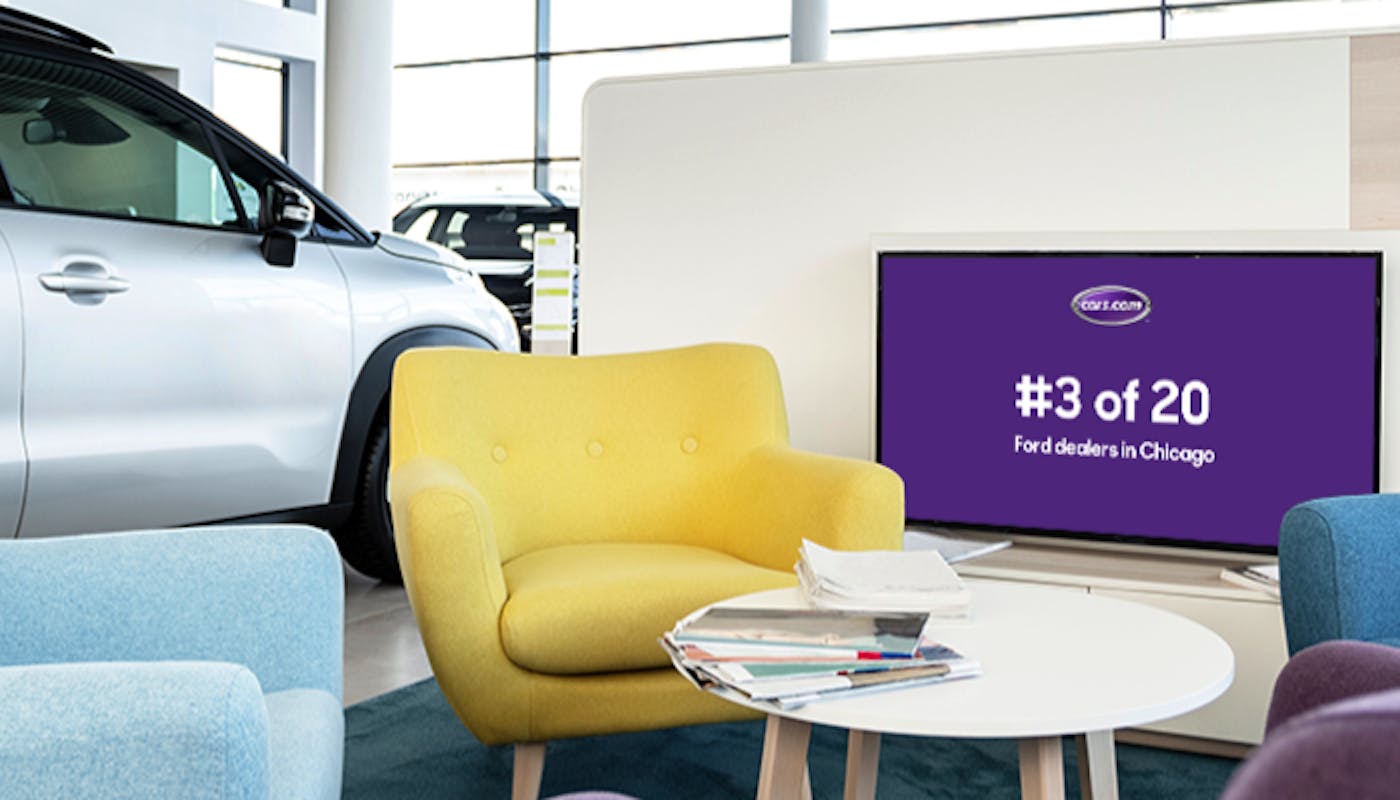 How Cars.com provides engaging, personalized data to supercharge their dealership community
Founded in 1998, Cars.com is one of the largest online shopping destinations for car buyers and sellers in the US. Their platform offers new and used vehicle listings, research tools, reviews, and other resources to help shoppers make well-informed decisions, connect with automotive retailers, and enable a smooth car buying experience. Cars.com also offers online subscription advertising products targeting car dealerships, empowering them with innovative solutions and data-driven intelligence to better reach and influence shoppers. 
Cars.com was looking for a new solution to help dealers increase inventory turnover, drive sales, and ultimately boost their market positions.         
Initial aims: 
To share relevant, useful performance information to their network of dealerships via tablets
To help individual dealerships have real-time access to their relative positions and sales information and to drive their productivity
To automatically update information without any human intervention   
Here, we speak to David Greene, Sr. Director, SEO & Retention at Cars.com and General Manager at NewCars.com on his experience working with ScreenCloud's Professional Services and development teams to create a new application for their network of dealerships. 
Digital signage journey
We've been a ScreenCloud user for a while and enjoyed using their product and services. We were exploring a new innovative solution to better serve our dealerships and equip them with useful information (i.e. merchandising scores, performance metrics, and inventory stats). We aimed to show them how well they're doing compared to other nearby showrooms offering the same brands of cars, and ultimately increase their engagement and drive their overall performance. We wanted to build a new application that dealers can easily use via tablets. Given our positive experience with ScreenCloud, it seemed natural to reach out to their team for help. 
Digital signage used      
We worked closely with ScreenCloud's development and Professional Services teams to build CarsNow, a custom application that can pull relevant, personalized data for each dealership location from our central database and display it. Each location has a unique Cars.com ID number, and CarsNow uses this to make sure that the data is secured and sent to the right location. The teams at ScreenCloud also created branded animations to help maintain a modern look and on-brand experience. CarsNow was then deployed privately to our ScreenCloud account.
Whenever there are new changes in the databases, the information on the users' screens will be updated automatically. This ensures that our dealerships have the latest metrics and information they need without the need for any human intervention.
Results using ScreenCloud
Version 1 of the application has been a success, and we're pleased with what we've achieved so far. We're currently working with ScreenCloud to add more functionality to CarsNow, and we're excited to introduce the app to our network of dealerships.
Ready to get your organization connected?
Connect your first screen today with our 14-day free trial