Publish content to your screens directly from Microsoft Teams
Learn More


More stories
How Pflugerville Community Church Increased Major Event Attendance by 75% Using ScreenCloud Digital Signage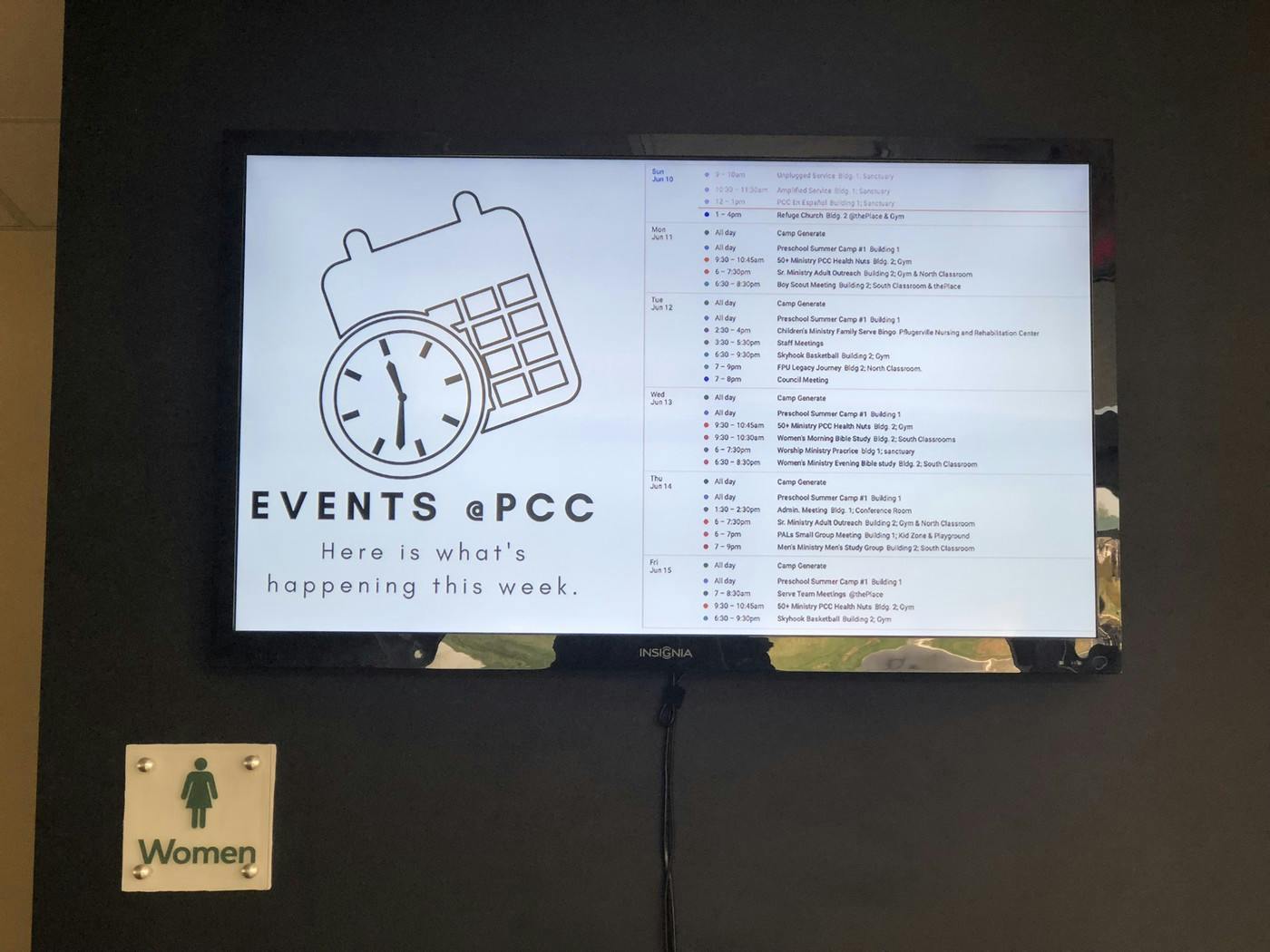 How one church increased major event attendance by 75% using ScreenCloud digital signage.
Pflugerville Community Church is a non-denominational church located in Pflugerville, Texas. It's aim is to invest in relationships with unconnected people and welcome those seeking God to a culturally relevant, quality worship service. It offers a series of progressive services, including an Unplugged Service of worship through meditation, a Spanish service and a Sunday school for babies through to 5th grade children.
Initial digital signage aims:
Promote church events to a wider audience
Share information that would usually only be seen by some
Push events and news to those using the community building
Here, we speak to Alisha M. Hall, PA for Pastor Steve Clem and Event Coordinator at Pflugerville Community Church on her experience using ScreenCloud and digital signage.
Digital signage journey
We're a fairly small church around 500-600 members and we realised that, while we do a lot of slide imagery on Sunday mornings and we put a lot of information into our bulletin, we have so many people who are using our community building during the week, some that attend the church and a lot who don't. It seemed like such a waste not to be advertising in this area as well.
We then started researching if, or how, there was even a way to do that and came across ScreenCloud.This system was the most intuitive, easiest system that we came across because it was one that I can manipulate from wherever I am. If I'm on vacation and I need to update a slide, as long as I'm connected to WiFi I can do that from anywhere. This is especially helpful as I don't office at the church, I work from home so being able to be off-site and still keep things updated was a huge draw for me.
Digital signage used
We have one screen in our community building. It sits right across from the main doors, so people see it as they walk in, powered by a Google Chromecast. Most of the time I use Canva or Powerpoint to create the content with an image from BigStock that I can then export as a jpeg.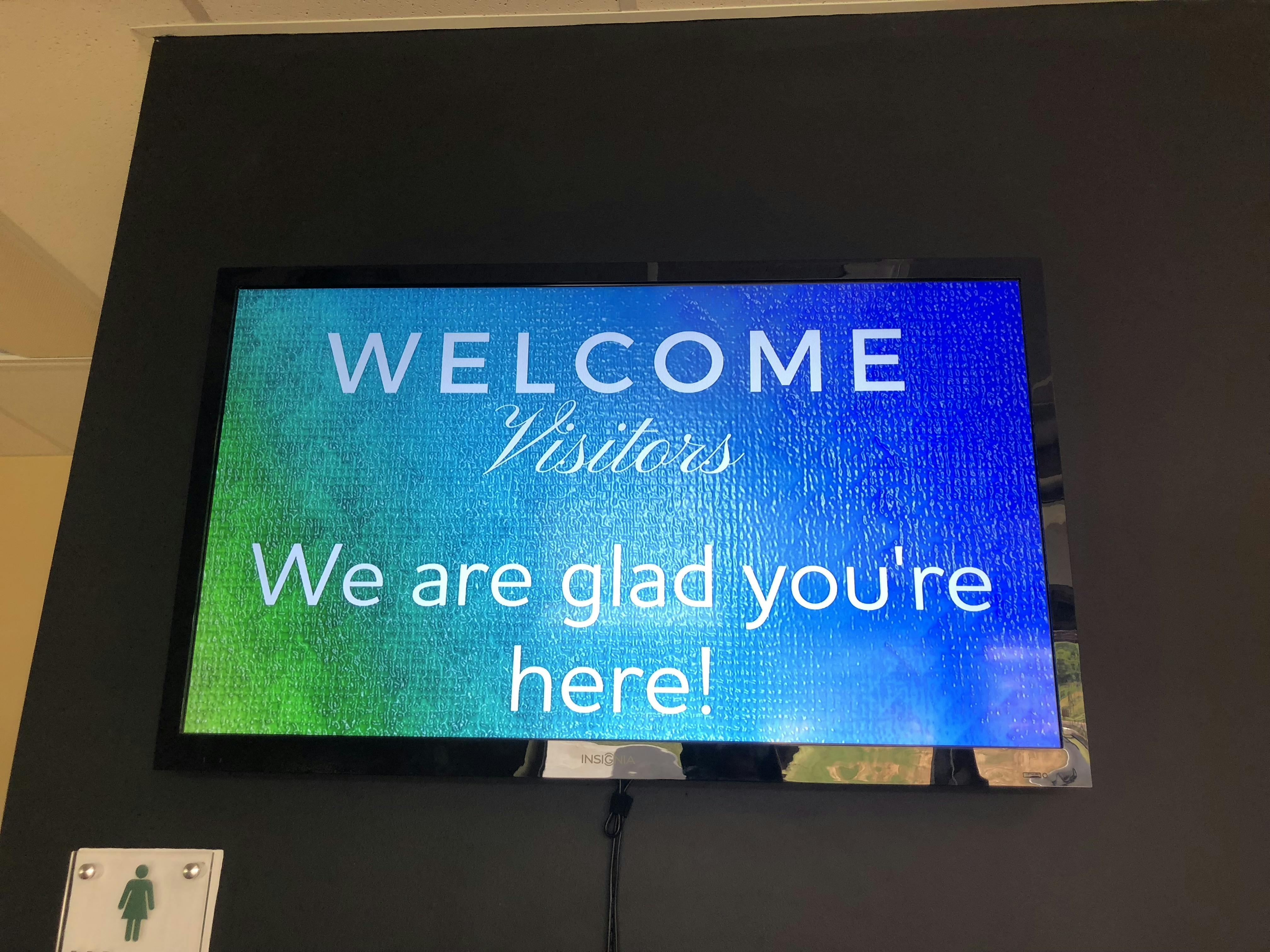 Results using ScreenCloud
One of the first big events we published on ScreenCloud was a One Church event. Our church has three services in two languages, two in English and one in Spanish. The first weekend in May we decided we wanted to get everybody together and do one huge outdoor service, to reinforce the idea that even though we may speak different languages or attend different services - we are ONE CHURCH.
Normally at a major event like this we can get somewhere in the neighborhood of 350-400 people to show up. At this event we had almost 700 people here. To have all of our services be so intent on making sure they were coming to an event, it made me ecstatic and when I asked most people how they heard or where they got their information from, overwhelmingly we had people saying they saw the new signage.
I was definitely sold at that point to make sure we were continuing to use it and at the price point we really can't complain. As a Non-profit, you gave us a great discount and because we paid yearly we got an extra discount on top of that so we can't praise it enough really. We were stoked with our turn out.
Ready to get your organization connected?
Connect your first screen today with our 14-day free trial