Publish content to your screens directly from Microsoft Teams
Learn More


More stories
Science Tech Conglomerate 3M Uses Digital Signage to Beam Important Internal Information Across Global Locations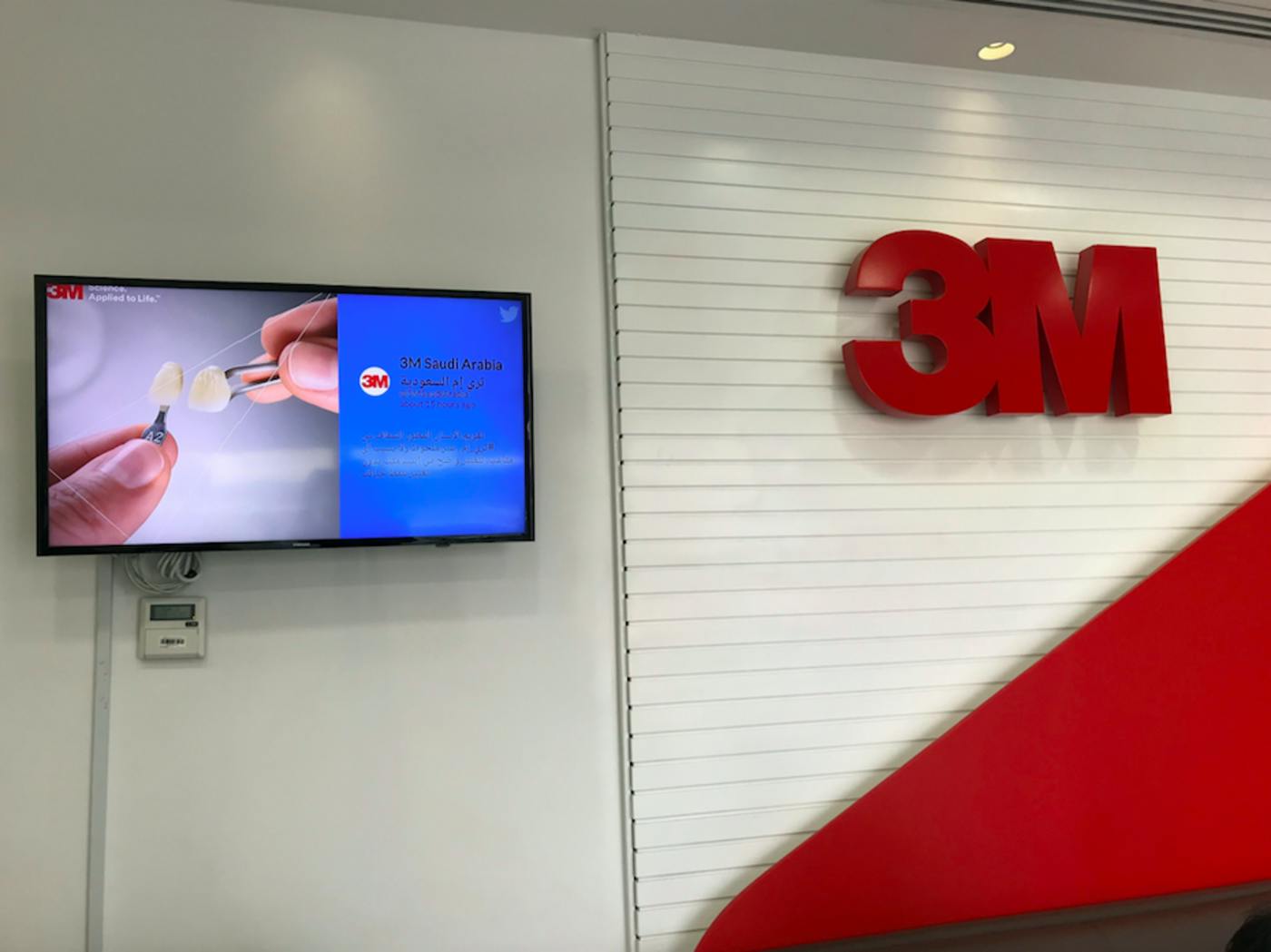 How 3M uses screens to release information simultaneously across multiple offices, ensuring information is seen rather than buried in emails.
3M is a science-based technology company creating products that advance the home, business and life. Everything 3M produces is powered by science and the company has more than 1000 scientists across the world, operating in more than 150 countries across the Middle East, Asia, America and Europe.
Initial digital signage aims
To find a vehicle for displaying information to hundreds of staff, in multiple offices located within different parts of Saudi Arabia
To find a system that would make sharing and uploading content easier and more automated than traditional methods, such as using a USB stick
To have a digital signage system where documents that were already being used (like Powerpoint slides) would automatically be repurposed for use on screen
Here, we speak to Ranim Amin, Digital Marketing Leader at 3M, on her experience using ScreenCloud to power their digital signage.
Digital signage journey
At 3M we have lots of updates happening internally all of the time and it's very difficult for us to conduct a meeting every time to announce something. Every 3Mer has a high workload and we want to make sure that messages from our top executives or any internal updates happening within the company are well heard and available to all of our employees.
3M in Saudi has three different offices across the country so we don't see all of our colleagues that often. Our idea was to find a system where we could publish a message and everyone at the same time would see that message. We thought about screens but wanted a different method to the old-fashioned version of using a USB.
We then found ScreenCloud. It had all of the features we wanted and was very easy to use.
Digital signage used
We currently have 11 screens setup using Smart TVs, across our three office locations with a focus on the major places within the company like the screens in the canteen and the reception.
The screens display our internal messages, I have access along with two other authorized people. It's going really well, we have all of the updates right away and everything's up and running.
We use a mix of the ScreenCloud apps and our own programmes. We use Weather app, social media and Clock app. When I check the App Store, there are so many new apps, they're being updated constantly.
We have simple templates for internal messages, we upload our own images and videos which helps provide employee education about 3M to promote knowledge, new product launches  and achievements.
The easiest thing is that I can upload my PPT document as it is and have it displayed as images, that's so useful.
Results using ScreenCloud
The staff really enjoy when we display their photos. In any small gathering we cover it and the photos are uploaded in the moment, which makes the team really excited as this makes it personal and touches base with their emotions. This makes the team excited about what's happening next on the screen and grabs their attention.
Everything from new products, to management changes and announcements, we can promote easily. We also plan the content, we have a committee with different people from different departments who assist with content direction.
Each month if there are no new announcements content is still being shown. We might share the major events happening in Saudi Arabia, which help our sales team, so our content is always being updated and refreshed.
ScreenCloud software is very easy to use and everyone can use it. It doesn't require any training, it's as simple as any other software we are using in our daily life both within and outside of 3M. It serves our purpose very well.
Ready to get your organization connected?
Connect your first screen today with our 14-day free trial