Publish content to your screens directly from Microsoft Teams
Learn More


More stories
How ScreenCloud Topped the Shortlist for U.S. Freight and Supply Chain Giant, Averitt Express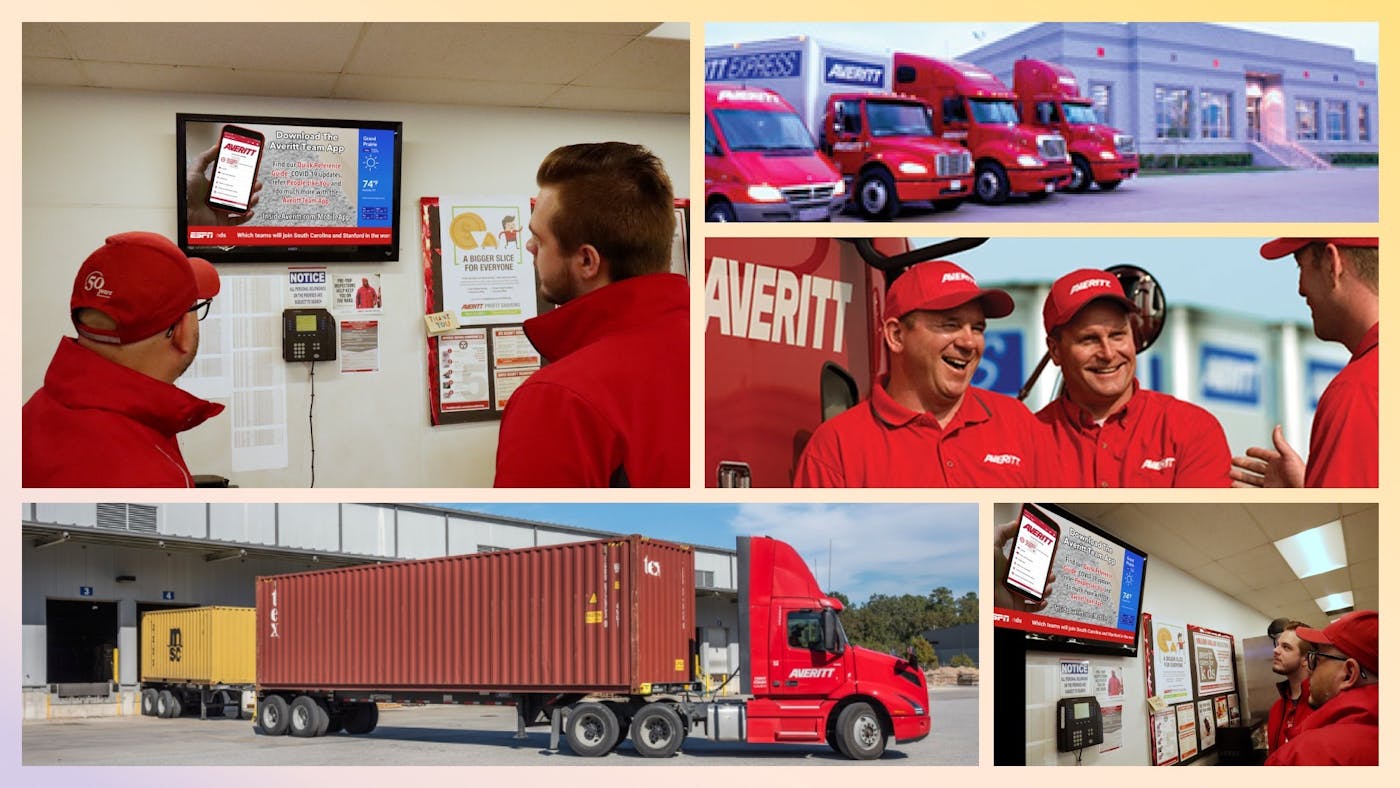 Introducing: Averitt Express
Averitt Express is one of the nation's leading freight transportation and supply chain management providers.
Team: over 9000 associates
Presence: Averitt reaches internationally to almost 100 countries from over 100 sites throughout the U.S. 
Together, Averitt provides supply chain management and international transportation services to over 300 destinations in over 100 countries.


Averitt's Biggest ScreenCloud Digital Signage Wins
With ongoing investment in a growing inventory of ScreenCloud workplace digital signage and hardware, there have been positive outcomes in:
Deskless workforce inclusivity
Employer brand strength
Invested team morale 
Talent retention and reduced turnover
The big win for Averitt has mainly come in nurturing positive company culture and inclusivity with ScreenCloud channels carrying culture incentives into countless hard-to-reach corners of their mobile workforce. 
What Was the Big Challenge Averitt Needed to Solve With ScreenCloud?
With a vast deskless workforce scattered across many locations, Averitt freight and supply chain teams lacked the kind of inclusion desk-based teams enjoy through office culture and email narratives.

Given the competitive nature of their industry, sustaining a strong employer brand to attract and retain in-demand talent was and is imperative to Averitt's continued success.

With this aim in mind, they sought to leverage ScreenCloud workplace digital signage to connect and better-include their deskless workforce into soft and operational company narratives.
How are they using ScreenCloud?
Initially Averitt purchased a single ScreenCloud screen for testing purposes before replacing their 20 existing digital signage boxes with ScreenCloud-compatible devices.

Having quickly qualified the benefits and opportunity, they decided to cost-effectively scale their ScreenCloud real estate to 96 screens and counting for purposes of:
Retaining their top employees
Showcasing new opportunities within the business
Promoting wellness benefits 
Celebrating standout individuals, and anniversaries
Highlighting health and safety risk
Was Averitt Express New to Workplace Digital Signage?
No. Though Averitt already had a digital signage system in place, it could only cater for basic slideshows and lacked the kind of capabilities that a cloud-based solution can offer.

Averitt approached ScreenCloud with the goal of upping those capabilities significantly to achieve greater impact and scalability of strategic employee engagement.

What they sought, specifically, was a stronger, simplified communication channel able to instantly filter from top-down through organizational layers to a deskless workforce.

What would eventually become a big plus is ScreenCloud's ability to create selective, localized communication networks curated around specific teams and locations.
What Else? How Has the Relationship Evolved?
With continual gains still being felt from their ScreenCloud setup, Averitt is working with ScreenCloud's Customer Success team on ongoing optimization via quarterly business reviews.

They're also considering app customizations to further personalize the utility of their ScreenCloud infrastructure.

Ready to get your organization connected?
Connect your first screen today with our 14-day free trial