Publish content to your screens directly from Microsoft Teams
Learn More


More stories
How Estate Coffee Increased Business Revenue by Advertising Products and Services Using ScreenCloud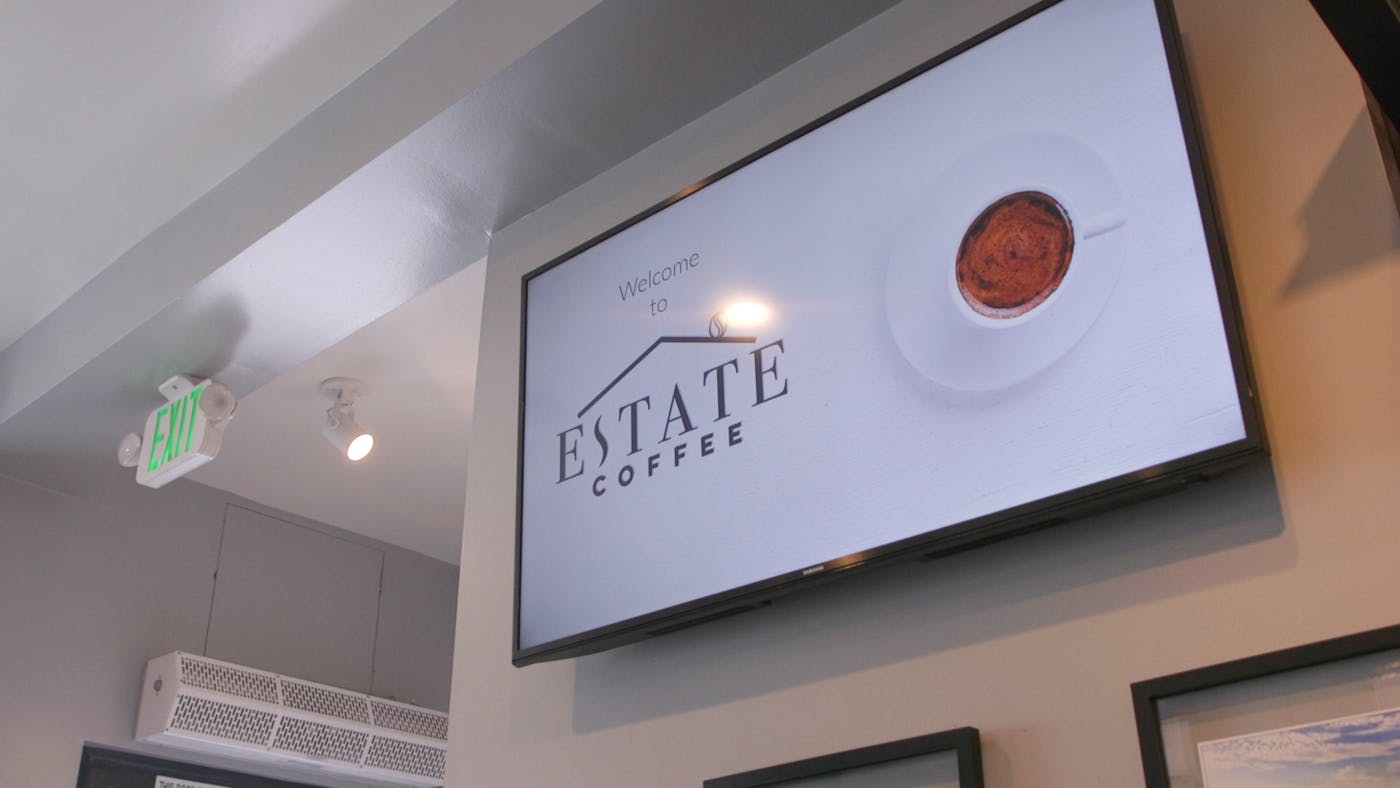 How Estate Coffee increased their business revenue using ScreenCloud's "one stop shop" digital signage solution. 
The very first Estate Coffee opened in Pacific Palisades in May 2018 as the in-house café of real estate franchise Keller Williams. It's the brainchild of entrepreneur and real estate expert Rick Cunningham and chef Jacob Spooner, who wanted to create a meeting place for professionals and the general community. This is the first of many coffee shops that will become available inside real estate offices all over California. 
Estate Coffee needed a one-stop shop digital signage solution to advertise the services of the real estate agency as well as promote local events and the products of the coffee shop, like its local bakery. 
Initial digital signage aims:
To promote the café's fresh products, which change seasonally
To advertise the services of the real estate agency seamlessly to visitors
To promote special events taking place in the coffee shop, in real time
Here, we speak to Jacob Spooner, Director of Cafés at Estate Coffee, about his experience using ScreenCloud digital signage.
Digital signage journey
We planned to use three screens in our the Estate Coffee café which were public facing, alongside agent-facing screens, which help to give the latest internal communications to our estate agents. We needed a digital signage solution which could let us manage both; advertising the products and services of the coffee shop and the real estate business to our visitors, and keeping our agents and employees informed with the latest real time information.
Digital signage used
We use ScreenCloud to advertise things like open houses, housing listings, mortgages, and insurance. Our content is created using a mixture of Photoshop and Canva, which lets our partners and agents develop content for their own playlists and screens. For the coffee shop, we promote upcoming events and show Instagram ads for our coffee and bakery vendors. We have a live feed of Yelp reviews and the weather, and in the future we want to add live cams of the nearby beaches for our visitors to get a real time view of what's happening near them.
Results using ScreenCloud
We're a meeting place where members of the local community come for both business and pleasure, and ScreenCloud allows us to communicate effectively with both those audiences. We get to promote the products in the coffee shop and the services of the real estate business. ScreenCloud's a one stop shop tool that's generating additional business revenue for us. I'm already planning to set up four screens in the new coffee shop that's opening in the fall.
Ready to get your organization connected?
Connect your first screen today with our 14-day free trial