Publish content to your screens directly from Microsoft Teams
Learn More


More stories
How Music Venue Trix Moved from a Complicated and Rigid Digital Signage Setup of DVD Loops to the Simplicity of ScreenCloud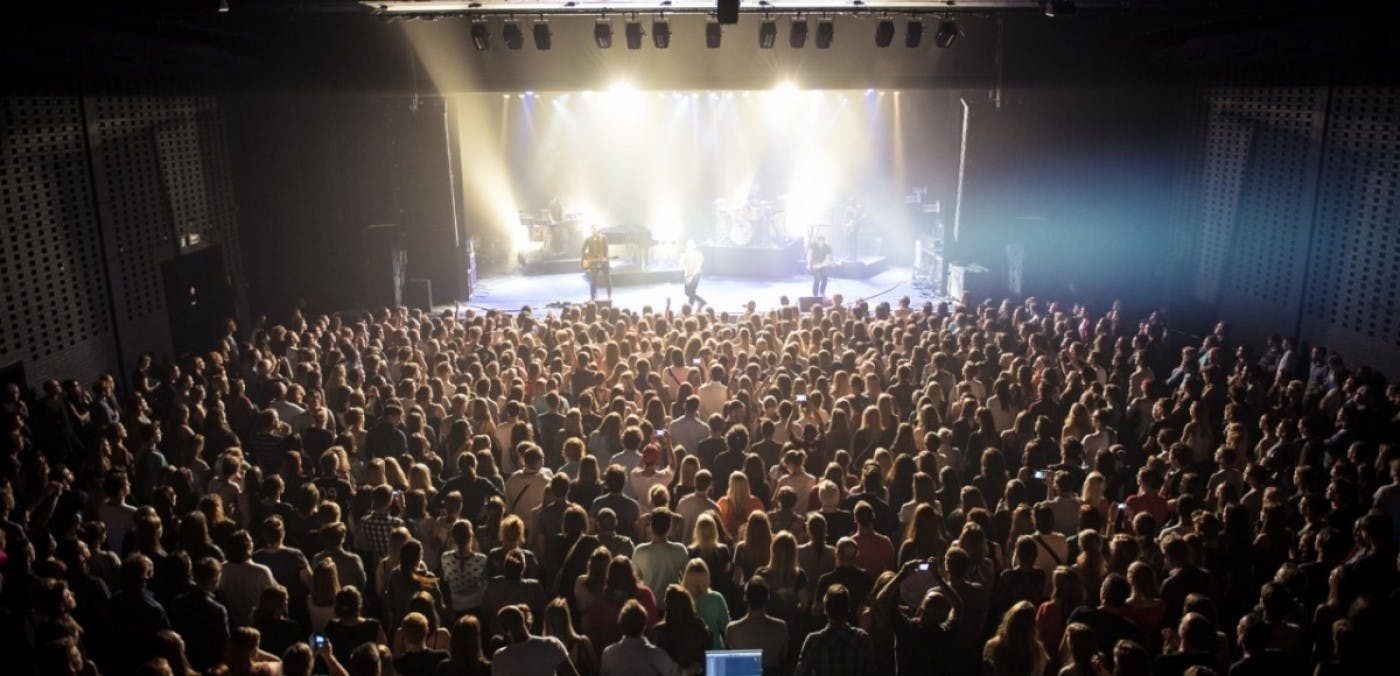 How this venue replaced a complicated digital signage system by using ScreenCloud.
Trix is a non profit organisation that revolves around music. A venue where musicians and fans meet and feel at home, offering live concerts as well as courses and workshops. The space holds four different stages with varying capacities, rehearsal spaces, a recording studio and a course room for electronic music. Receiving 110,000 visitors each year, the venue hosts local, upcoming bands and international established acts like Queens Of The Stone Age, Snoop Dogg and Years & Years. Trix also holds an Artist In Residence program to support the (semi) professional music scene in Antwerp.
Initial digital signage aims:
A simple platform to manage digital signage.
To be able to change content every night, to suit different audiences.
The ability to create personalised playlists and schedules for each room and date.
Here, we speak to Kurt Marx in Design on his experience using ScreenCloud and digital signage.
Digital signage journey
In Trix, we needed a screen platform that was intuitive and simple to work with, affordable and flexible. Our audience differs every night so making it possible to serve our visitors custom information and promotions is a must. Being able to program personalised playlists for each room and schedule ahead was a feature that would make a difference to our communications.
Before ScreenCloud, we had just invested in a professional Wi-Fi environment with a 10 Gigabit ethernet backbone throughout the site so it would make sense to use a flexible Wi-Fi based platform.
Digital signage used
The reason we chose ScreenCloud was the simplicity. Most signage applications are too complicated for daily use and too complex with a steep learning curve. Before ScreenCloud we were stuck in a workflow that was based on DVD-loops.  Every other month a slideshow of our programme was burned onto DVDs - making them out of date from day two and they were a pain to create. Creating a new infoloop for a certain event meant an afternoon of waiting and rendering video. The new signage solution being webbased was never a priority but is certainly a plus. The ability to make a new slide and drop it into a playlist or change a schedule from wherever you are is great.
Using ScreenCloud also means that when we move a screen into another room it basically just needs to be plugged in again for it to work.
Results using ScreenCloud
As a graphic designer a new tool (think camera, computer) or new software (plug-ins, new fonts) feels like getting a new toy when it's executed right. ScreenCloud felt like that, making a former struggle into a joy. The features are limited but that makes ScreenCloud easily manageable and clarifying -  too many options make it easier to make mistakes. I understand that ScreenCloud are always working to optimise the software, so we're looking forward to new functionalities in the near future.
Our next aim is to implement real time train and bus schedules so visitors are informed when to leave the venue. Another thing we are looking into is showing Instagram or Twitter feeds from the backstage areas so there is interaction between artists and their public.
Ready to get your organization connected?
Connect your first screen today with our 14-day free trial