Publish content to your screens directly from Microsoft Teams
Learn More


More stories
How Lycée Français de San Francisco Uses ScreenCloud to Democratize the Flow of Information Across Three Campuses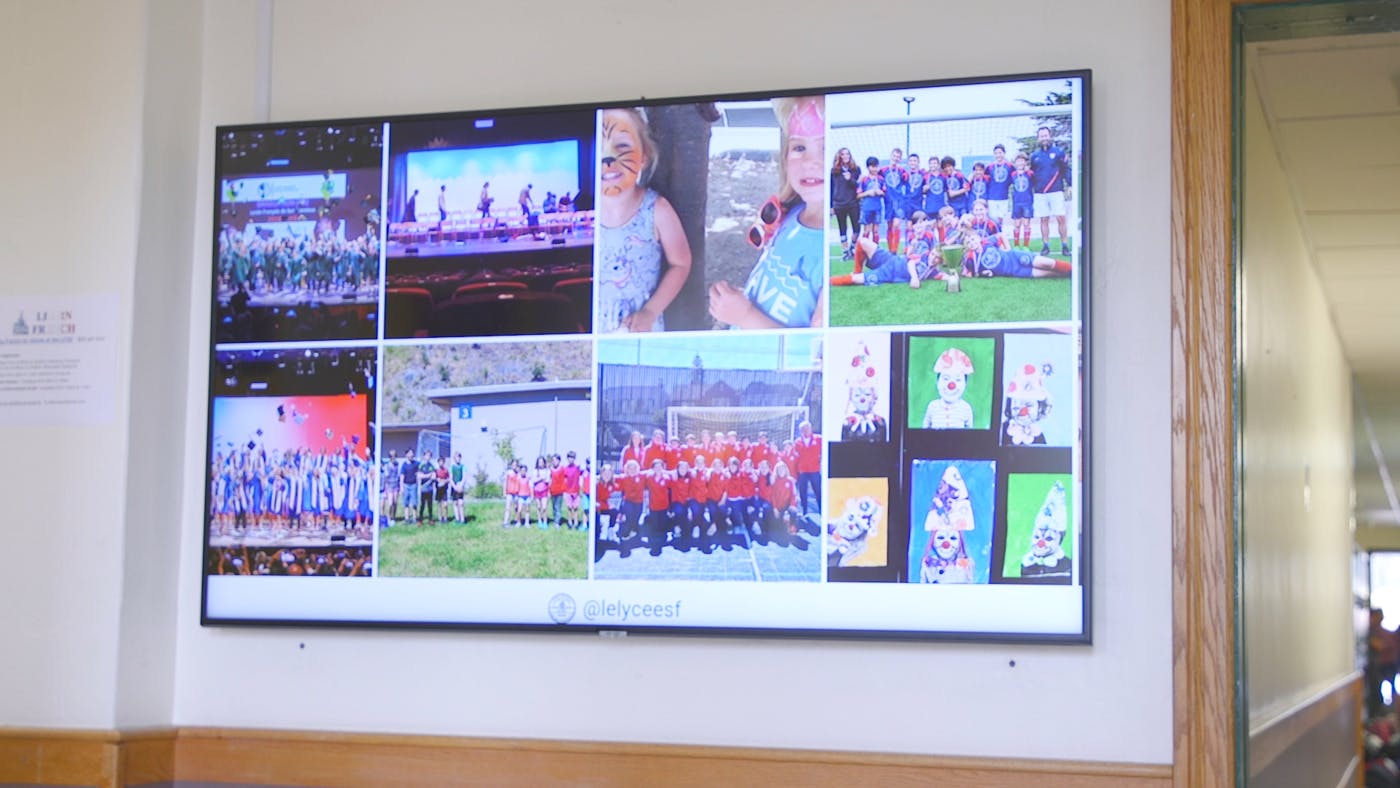 How Lycée Français de San Francisco school use ScreenCloud to communicate internally with staff, students and parents. Digital signage allows them to democratize communication and empower the end-user with digital content on screens.
Lycée Français is a French school located in San Francisco, part of a network of 500 schools worldwide. The San Francisco branch has one centralized marketing department that looks after three different campuses. They needed a digital signage solution to effectively communicate with staff, students, and parents.
Initial digital signage aims:
Save time in the marketing department by not having to filter incoming information but instead have a direct output channel via digital signage
Ability to use live feeds from events, and social media channels
Find a system that can be managed easily from any location
Here, we speak to Fabian Mach, Marketing and Communications Manager at Lycée Français de San Francisco on his experience using ScreenCloud digital signage.
Digital signage journey
Our marketing department is responsible for communicating with three campuses here in the San Francisco area. That's 1000 students, their parents, and all of our staff. I wanted a digital signage solution that would allow me to create different feeds relevant to each campus and easily display that information via digital screens. I liked ScreenCloud because it didn't have the usual cheesy branding used in most products aimed at an educational market.
Digital signage used
Each department here has its own Twitter account. Before ScreenCloud, the communications department would receive the information, sort through it, then choose what to output meaning a lot of repeated and manual work. This took up a lot of time but also made us the gatekeepers of information. I believe in empowering people at the school to determine for themselves what is being communicated. Now, with ScreenCloud, the Twitter feeds connect directly to our digital signage screens and we can manage all of our content seamlessly. We let our 6-12th grade students create their own content and load it up to ScreenCloud to play on the screen. The children like seeing their photos on the screen, and the parents also see these when they visit. Every time we make a change, or upload an image, it's instantly shown on screen in real time.
Because ScreenCloud is web-based, I can take my laptop anywhere and change feeds anytime. I wanted to customize one of the applications and found the support team incredibly responsive and helpful. That, to me, is priceless.
Results using ScreenCloud
ScreenCloud has empowered people at the school to determine themselves what is being shared and to give real-time feedback on what they see. Instead of the communications department slowing down the flow of information, we can now make improvements instantly based on everyone's feedback. It's revolutionized the way we communicate at the school.
Ready to get your organization connected?
Connect your first screen today with our 14-day free trial