Publish content to your screens directly from Microsoft Teams
Learn More


More stories
ScreenCloud Enables Connecticut Public Learning to Easily Showcase Student Work While Meeting High Visual Standards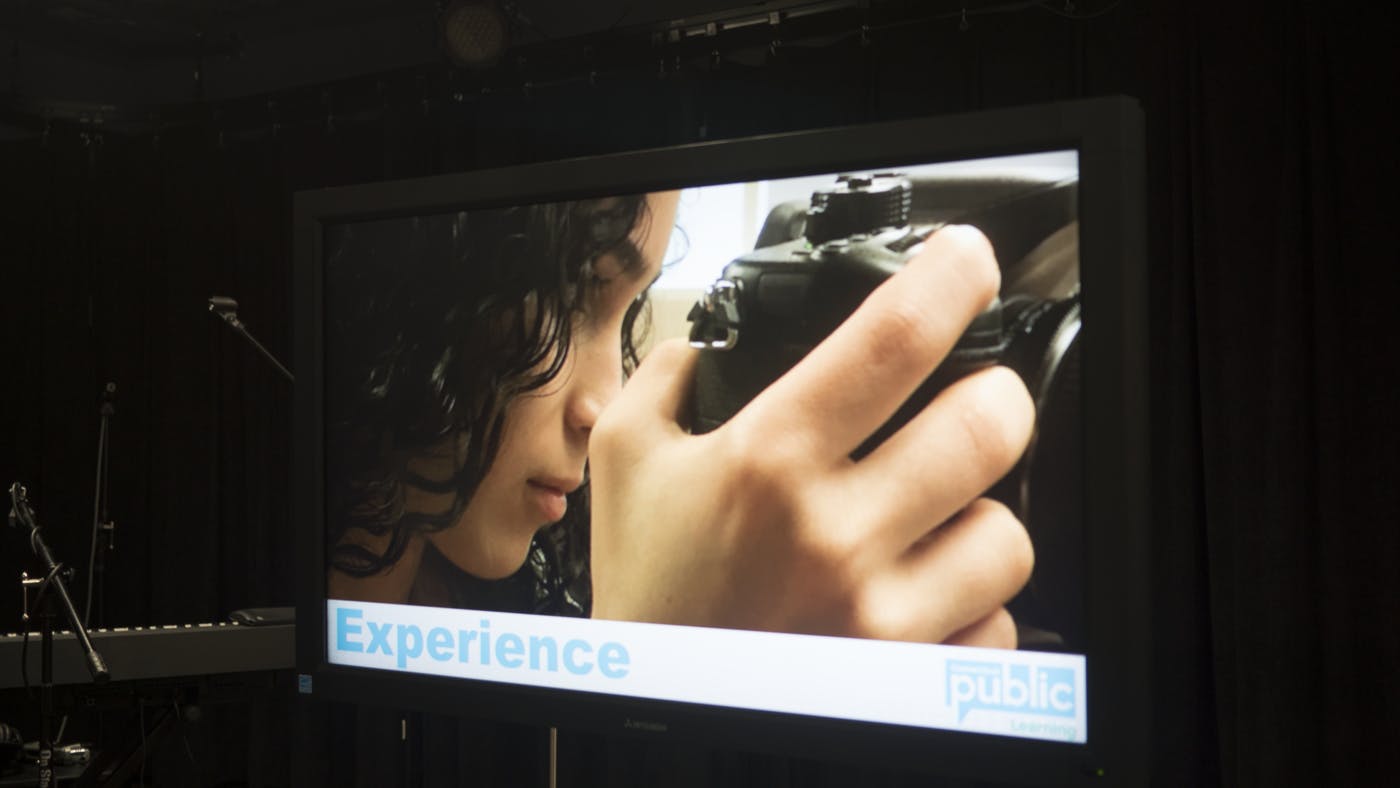 How Connecticut Public Learning implemented digital signage to share examples of student work in the real world and engage visitors at its media broadcast center.
Connecticut Public is a public media company, producing award winning local and national television and radio programs and distributing PBS and NPR programs to Connecticut and surrounding communities. Connecticut Public also hosts a "Learning Lab" that delivers hands-on media education to students in middle school, high school, college, and offers unique educational opportunities for veterans and adult students.
Initial digital signage aims
Find an easy and visually sophisticated system to display student work on the walls
Ability to easily change content for different audiences and times of day
Find a cost-effective digital signage network that could work long-term
We spoke to to Paul Pfeffer, Director of Education at Connecticut Public Learning, on his experience using ScreenCloud to power their digital signage.
Digital signage journey
Displaying student work in the digital age was a challenge at Connecticut Public Learning. Traditional signage systems are difficult to set-up, maintain, and update - not to mention the equipment you need to purchase, along with the cost of an ongoing service contract.
When we first turned 20,000 square feet of our corporate HQ into a school, now known as the "Learning Lab," we purchased a traditional digital signage system. We wanted a way to display the work our students were doing as part of our partnership with Hartford's Journalism & Media Academy high school and our own Institute for Advanced Media for veterans and adult learners.
With the system we purchased, even something really simple, like accurately displaying pictures, was difficult. The digital signage system would arbitrarily change image dimensions. Working with the interface was very much like being in a time capsule back to an early period of computer programming. We're a cutting edge, innovative and entrepreneurial public media company, and we needed a simple, dynamic, digital signage system.
Then we found ScreenCloud.
The more we used it, the more it kept getting better. Every time we wanted to do something new, it was like, "oh you've got that covered." It solved all of the problems we'd previously faced with other digital signage systems. We could easily ask new users to add or change the signage because ScreenCloud is so intuitive. Our staff can now change what is on our system so easily, without much time dedicated to training.
Digital signage used
At the Learning Lab, we have 13 monitors set up to display, all using the Chrome browser to power the screens. When we display their work, our students have a sense of ownership of the Lab. It's an open acknowledgement that we approve of their work and recognize their effort.
In addition to students and families, the Connecticut Public staff and visitors are also inspired by the displays of student achievement. The Governor, Senate and Congressional representatives, Mayor, civic, community and artistic leadership, and industry professionals have all seen the work our students have done.
ScreenCloud allows us to demonstrate to our students that we think so highly of their work that we will actually promote it and be proud of it. I guess it's the digital equivalent of sticking your child's work up on the refrigerator at home.
Results using ScreenCloud
We love ScreenCloud. Because the signal is cloud-based, anyone you share login credentials with can upload student work, leaving whoever you have in charge to add student work to a playlist and schedule it, which can also happen from anywhere, from any computer.
Scheduling is user-friendly, not the industry standard version that's user hostile, making it possible to make both instant and long-term adjustments.
If we want to include a new graphic, it's not a problem. I'll open Illustrator on my desktop to first create and then upload the graphic. Because ScreenCloud is web-based, the change to the display is immediate. Before I can take two steps out of my office to see the closest monitor, the graphic is already live. Awesome.
For our students, we've created templates in our graphic art classes which the students use to prepare their work for the monitors. Their teacher is able to take all of those finished works and drop them right into the content folder on ScreenCloud to instantly publish them online. Within seconds, students start to see their artwork throughout the Lab.
The real benefit of having our digital signage system with ScreenCloud is the important link between our role as public media company and as a school. As Connecticut's PBS and NPR member stations, Connecticut Public Television and Connecticut Public Radio have very high visual standards. From the start, those standards are the benchmarks for inclusion on our internal monitors. Our students produce professional quality work, and it's nestled in alongside staff content. Fo us, the only standard is broadcast standard, not the completion of an academic assignment. If the work is exceptional, we can actually do something really special - and put it out on the air.
Students stop in the hall to engage with the screens, waiting to see their work. The screens can even be scheduled to combine the work of our veterans and adult learners along with the high school students, reinforcing the reality that the Learning Lab is a learning community.
I look forward to incorporating new ScreenCloud features to continue to serve our students and public media community when they visit Connecticut Public and the Learning Lab.
Update: This school year, our high school partner, the Journalism & Media Academy | Culinary Arts Academy | High School Inc., also transitioned from a legacy digital signage system to ScreenCloud. The reviews are very favorable.
Ready to get your organization connected?
Connect your first screen today with our 14-day free trial