Publish content to your screens directly from Microsoft Teams
Learn More


More stories
Nobel Prize Winning Berkeley National Lab Uses Digital Signage to Keep Staff Up-To-Date on Important Internal News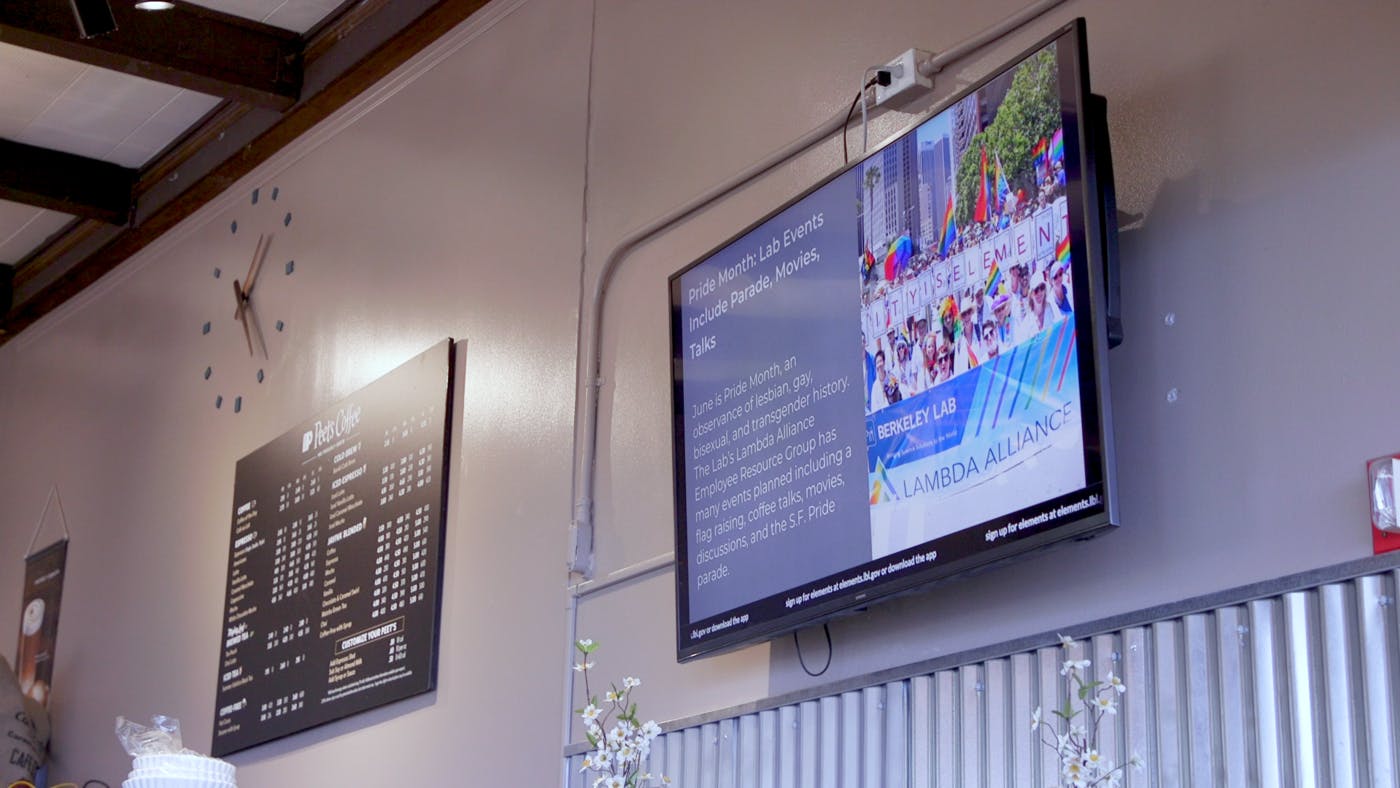 How Berkeley National Lab use ScreenCloud as a cost-effective way to communicate important internal information to employees.
Berkeley National Lab is a DOE funded national laboratory doing basic energy research. They wanted a digital signage solution to help their staff keep up-to-date on company news.
Initial digital signage aims:
Make sure staff see important internal communications 
Easily empower the communications team to share digital messages
Find a system that doesn't require expensive hardware
Here, we speak to Kryshna Aviña, Web Program Manager at Berkeley National Lab on his experience using ScreenCloud digital signage.
Digital signage journey
Our strategic comms department are responsible for pushing out communications to all the employees at the lab. They were looking for a digital signage solution that was simple to use and didn't involve expensive hardware. We had tried a few different systems throughout the Lab, but when I found ScreenCloud it was the easiest and most intuitive interface to use and allowed us to set screens up with cheap and easily accessible hardware.
Digital signage used
The messages from Strategic Comms are mainly logistical in nature such as telling employees about upcoming events. ScreenCloud lets us share these messages easily by embedding our regular internal communications platform. We can also use the screens to share social media feeds, and we have different content spread across different screens throughout the lab, the hallways and the café areas. ScreenCloud gives us a great platform for sharing good news, like when researchers win safety awards and Nobel prizes and ensures that everyone sees these important messages.
Setting up ScreenCloud couldn't have been easier – you just attach any high-definition screen to inexpensive hardware and you're ready to go.
Results using ScreenCloud
ScreenCloud has enabled us to keep our staff regularly informed on internal news. The ability to easily beam out important content has been a game-changer for us.
Ready to get your organization connected?
Connect your first screen today with our 14-day free trial