Publish content to your screens directly from Microsoft Teams
Learn More


Choate Construction x ScreenCloud: Streamlining Site Communications with Easy-to-Use Digital Signage
ScreenCloud's digital signage system is easily deployable, cost-efficient, modern and adaptable. We spoke to Choate Construction about how digital signage has helped their communication across their locations nation-wide.
About Choate Construction
Choate Construction is a 100% employee-owned general contractor with over thirty years of experience in providing exterior and interior construction and renovation services to an array of market sectors. With more than 530 employees and six regional offices located in Southeast America, Choate leads their projects with innovation, technology-forward practices, and an emphasis on fostering impactful relationships with its clients, trade partners, and employee-owners. Most importantly, Choate aims "to forge lasting relationships by creating construction solutions that result in exceptional outcomes."
Jon Micheletto, Internal Communications Specialist at Choate, sat down with us to share how ScreenCloud's digital signage has helped their various project sites – and the organization as a whole – feel more connected.
Challenges 
The previous digital signage hardware and technology Choate used was expensive and difficult for users and content creators to navigate. The system was unable to adapt to various internet connectivity scenarios located near televisions in their other offices. In addition, Choate has many projects with field teams who may never go to the office and can feel isolated from the rest of the company. Many of these locations are rural with internet access only available through mobile hotspots.
Micheletto's biggest challenge, though, was time. Overseeing the internal communications strategy for the company, it was important for him to find a platform that would help him communicate across multiple offices and jobsites quickly, while also being cost-effective. That was when a simple Google search for "digital signage" took him to ScreenCloud.
"It was as easy as just dragging and dropping content; it seemed like a smart decision. Uploading content, creating playlists, pushing out said content – it was all super easy to accomplish. It really can't get any simpler." 
Jon Micheletto
Internal Communications Specialist, Choate Construction
Solution
ScreenCloud Studio has an easy-to-use interface – and Micheletto concluded that choosing ScreenCloud was an equally easy decision.
ScreenCloud makes it easy to upload and manage the flow of content at the click of a button and in real-time, for example, quickly fixing a typo and having it go live immediately. Alongside this, the entire infrastructure and setup is seamless.
"Dozens of different devices support ScreenCloud, and having that flexibility was helpful because I wasn't going to need to be in-person to help our teams set up the hardware."
Jon Micheletto
Internal Communications Specialist, Choate Construction
Starting off on the Right Foot
Getting everyone onboard and understanding, using, and advocating for new technology is a challenge many organizations face.
Luckily, ScreenCloud has an array of resources for clients and potential clients to lean on as they navigate the CMS, Studio. From guides and masterclasses to other training tutorials (and ScreenCloud University), ScreenCloud's Customer Support teams were well-equipped to ensure an easy transition and rapid pick up – the first steps to realizing value and ROI.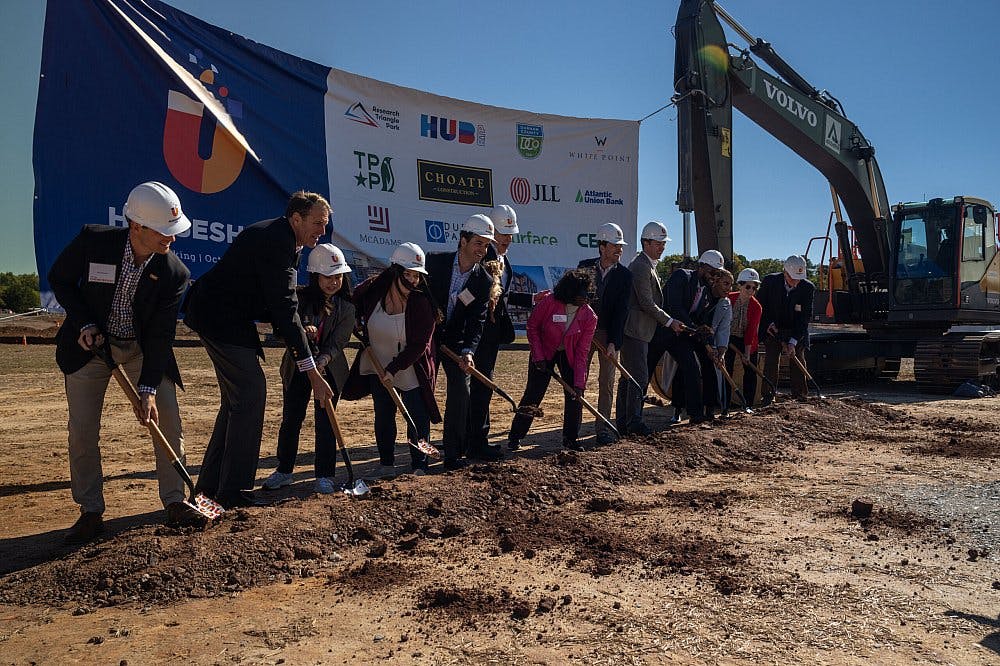 Four Key Benefits for Choate Construction
While requiring only minimal equipment, ScreenCloud has the perks of being:
Easily deployable
Cost-efficient
Modern
Adaptable to each company's needs
The key benefits Micheletto experienced include:
Time-saving
Through the Canvas app, Choate can design content for their streams quickly. There are over 140 templates and the process is smooth and intuitive. They don't need to pay or take the time learning design techniques from third party providers. They can also delegate designs and save company-branded templates, making the process even more streamlined.
Accessing hard-to-reach employees
Through shared playlists that ScreenCloud offers and the shared information that the system encourages, Micheletto realized early on that ScreenCloud offered a connection across coworkers by being able to reach them where they are and keep them in-the-know on company matters.
"This is a great way to reach our employee-owners who spend their days on the jobsite and never come into the office. I can reach those remote workers fairly easy. [ScreenCloud is] helping me help our teams feel like they're more connected, they're more informed, and we're providing transparency. Folks truly feel like they're up to date as to what's going on."
Jon Micheletto
Internal Communications Specialist, Choate Construction
Employee engagement
Relationships are an integral part of Choate Construction's core values. ScreenCloud helps foster employee relationships as employees were taking lead on what content they wanted to share on screen.
"They were sharing photos of jobsite updates and some of the fun, cool things that go on around Choate, showing our culture, that family vibe we have here."
Jon Micheletto
Internal Communications Specialist, Choate Construction
Choate uses its own mobile app that gives employee-owners a platform to post photos and videos and connect with each other. The company thought it would be amazing to be able to stream this user-generated content directly into their digital signage. ScreenCloud has the downloadable Engage app, which allows employees to take photos and add captions in real-time to help elevate and build a sense of community.
"One way to encourage that culture was to share with everybody what's going on in the company, showing the good work we're doing, the diversity of our employee-owners and the jobs that we work on, etc."
Jon Micheletto
Internal Communications Specialist, Choate Construction
Passive advertising
Digital signage also serves to captivate potential clients who stop by and see the various projects Choate's project teams are working on across the Southeast. Additionally, current clients can see real-time updates of their projects as they make office or jobsite visits right there on a television screen.
"It's become a sales tool for us as well. We have all this content streaming on our signage and [clients] go, 'Wow! I know you build warehouses because you're building my warehouse space, but I didn't know you build senior living facilities,' or, 'I didn't know you build manufacturing facilities, that's fascinating.'"
Jon Micheletto
Internal Communications Specialist, Choate Construction
Choate also takes advantage of ScreenCloud's ability to have in-the-moment broadcasting by welcoming new clients to meetings with welcoming messages displayed for all to see.
"We've found our digital signage has more applications than just employee-owner communications; it's also for building our business and relationships."
Jon Micheletto
Internal Communications Specialist, Choate Construction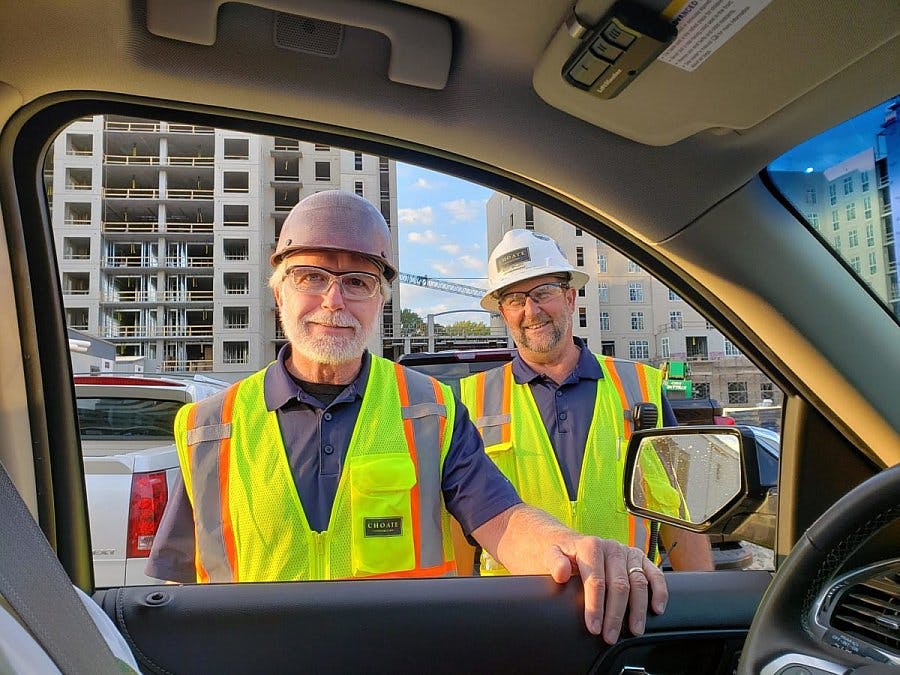 Revamp Your Internal Communications with ScreenCloud
The use of digital signage has proven to be one of the most effective ways to communicate quickly, effectively, and securely across your various locations. This is why 9,000+ businesses use ScreenCloud as their preferred digital signage provider.
ScreenCloud works with a wide range of customers in different industries that include: education, corporate, events, fitness, hospitality, retail, and more. 
To know if digital signage will work well for your business, start a free trial today. All you need to do is sign up with your email and get a 14-day free trial.
You may also book a demo where you'll see how to:
Manage multiple screens across multiple locations
Utilize ScreenCloud's content management system
Securely displaying business-critical information
Choose affordable and suitable hardware options
Create a business case to demonstrate the ROI of digital signage for your organization
Ready to get your organization connected?
Connect your first screen today with our 14-day free trial
customers