In September the ScreenCloud team rolled out our most requested feature yet — content zoning. We've also been talking a lot about our vision, designing great digital signage content and our favourite subject — food! Dig in below.
Highlights
September passed in a blur! But a very good blur. Here's a little of what's been on our radar this month.
Zoning. As we mentioned above, a big update this month was zoning for screens. Zoning is where a digital signage display is divided into multiple sections all showing different types of content. This could be a weather display in one corner of the screen, a news feed in another, with a Twitter feed running as ticker tape along the bottom. While our customers are super happy, we did have some reservations about launching it which you can read about here.
Metrics. This month our metrics are looking suave. By that we mean the summer lull has come to an end, with conversion and sign-up rates both on the rise, as well as improved MRR growth. Churn is still below target too. All in all, a great month!
Restaurant Tech Live. September saw our first trade show at London's ExCel for Restaurant Technology Live which was a great success speaking to restaurant and hospitality business owners. You can see CEO Mark in action below where he shared insight on the power of using content and audience personalization for even better digital signage displays. If you'd like to see the presentation in action watch it here.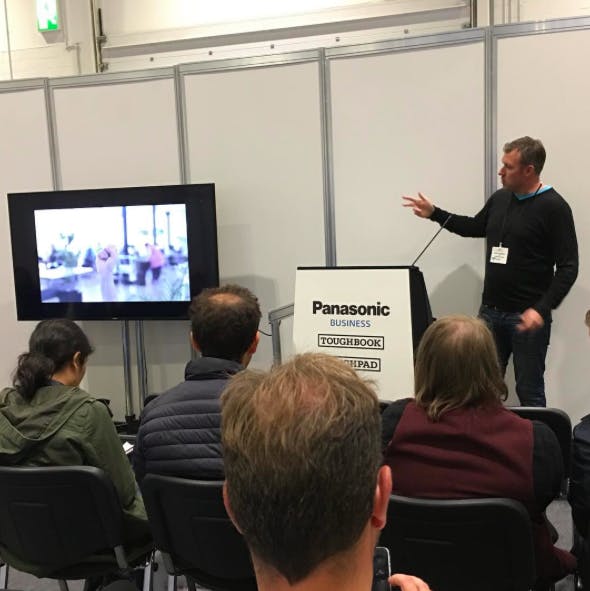 Resellers. This month we were super excited to launch our reseller program for partners. We have two great options and have already been welcoming new partners on board. If you're interested, you can read all about it at https://resellers.screen.cloud
Content creation. Part of our mission at ScreenCloud is to make content creation and digital signage design easy enough that it can be placed into anyone's hands. To this end, we provide weekly content on the ScreenCloud blog, on everything from effective calls-to-action, to examples of good content, and even tools you can use to make better design decisions. If you're more of a visual learner, we also have this video demo which is rather excellent.
The vision. Like any startup, we have trouble fitting ourselves into the commercial sectors already defined. 'Digital signage' is the closest thing to what we're doing but it's narrow and it doesn't always give an indication of where the industry is heading. So we wrote here about where ScreenCloud is destined. Please do have a read and leave us your thoughts!
Lowlights
In the interest of balance, here are some of the areas we've been working to improve.
Quality vs quantity. Our feat each month is to balance the demand for new and exciting apps for the ScreenCloud App Store, along with the time and effort needed to get them right. Many of our team come from a design and UX background, so it's crucial for us that the product is beautiful and easy to use. However, it can be easy to get into the mindset of ship, ship, ship which can mean cutting corners. To keep on top of this, we've taken a step back and have decided to dedicate more of our time to polishing what we already have and making it the very best it can be.
Funding. Much of our time has been spent dedicated to funding and (as inevitable) when some of the opportunities don't come to full fruition this can be very frustrating. However, we're still making traction and have learned more than a thing or two along the way!
What's next?
October signals a website relaunch which we're all very excited about, the joining of new partners and collaborations to support more hardware systems.
We also want to hear from you. Any burning startup questions you'd like us to answer? Or digital signage questions come to that. We'd love to hear from you! Tweet us at ScreenCloud and let us know!
You can also start your 14-day free trial of ScreenCloud at https://screencloud.com.