Publish content to your screens directly from Microsoft Teams
Learn More


Culture
ScreenCloud November 2019 Update
We like transparency at ScreenCloud and try to keep the lines of communication open between our investors, team and customers. Each month, we share highlights from our monthly investor updates, plus the daily life of our company, product and team.
PRODUCT
Brand new ScreenHack Friday episodes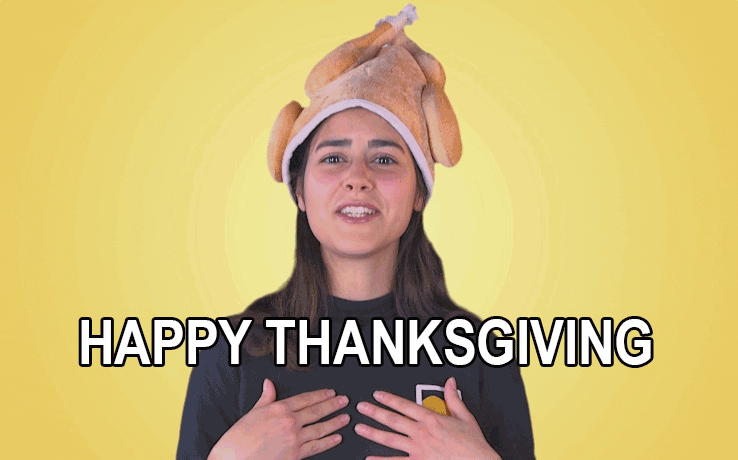 Screen Hack Friday returned with brand new episodes just in time for the festive season. We love to help our users get the most out of ScreenCloud, so our in-house talent, the delightful Markella, channelled her inner turkey (even though she's Greek) in order to deliver some top digital signage product tips for Thanksgiving and Black Friday.
We also put together some free seasonal digital signage templates to make life easier for anyone needing to spruce up their digital signage screens with minimum hassle this holiday season.
And there will be more ScreenHack Friday episodes for Christmas and New Year.
UK's 70 fastest growing tech companies
Tech group Silicon Valley Comes to the UK (SVC2UK) revealed the 70 most promising high-growth tech companies in the UK and named ScreenCloud one of them — yay!
Chosen to join the 2019 SVC2UK Scale Up Club, we're being invited to a VIP summit in London to take advantage of mentoring and support from both sides of the Atlantic.
TEAM
ScreenCloud Together 2.0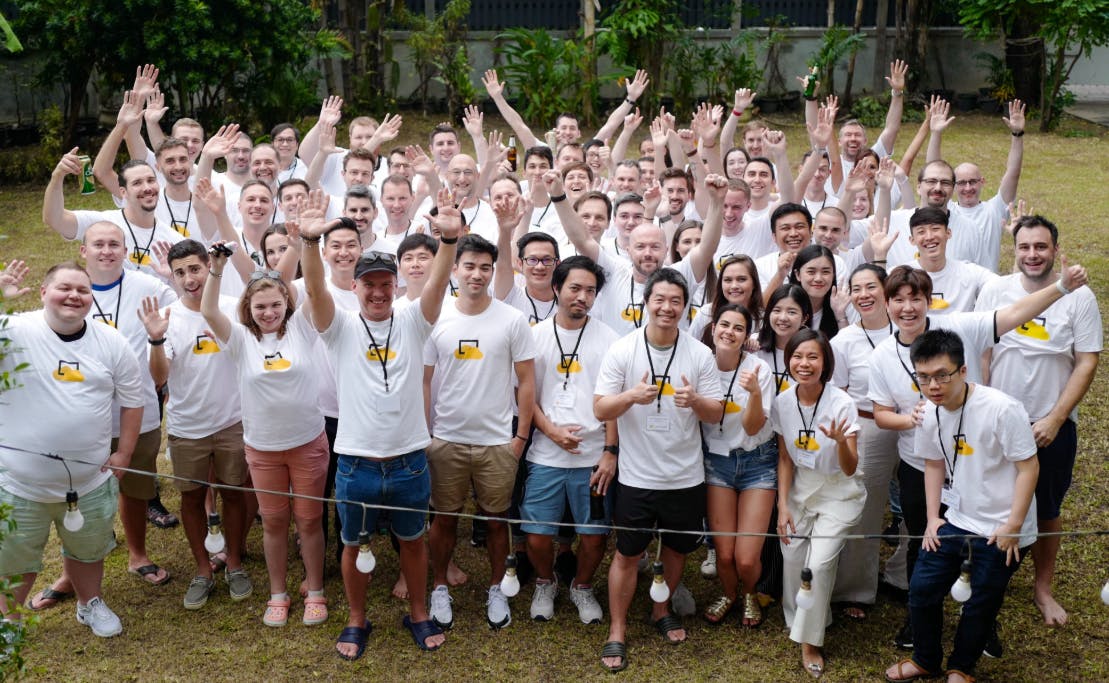 With the ScreenCloud team being distributed across four continents and many more time zones, we don't get to hang out much outside of Slack. That's why, once a year, we make the effort to get some facetime with the whole team.
Last year, for our first ever ScreenCloud Together, this meant getting 35 people to the mountains in Zakopane, Poland. This year, we decided to host the team meetup at our Bangkok HQ, but we've now grown to 70 people so it was a whole new logistical challenge.
But thanks to some serious organizational skills by a whole load of people, the ScreenCloud team had a fun and action-packed week in Thailand, getting to know each other better and enjoying everything from hackathons and waterfall hikes to crazy tuk-tuk rides and an epic boat party.
A special shout-out to all the ScreenClouders who couldn't make it this year but stayed behind and held the fort instead. You're all heroes.
Making memories
With the team off-site behind us, COO David reflected on why it's important to have these company-wide gatherings.
He suggests that it's not for the conventional reasons of team-building, improved communication or lateral problem-solving — although those are an added bonus. It's about creating memories that become part of the company's folklore and experiences that ultimately help shape a company.
On the importance of company storytelling
Want to join us?
We're always looking for new and awesome people to join the growing team at ScreenCloud. Would you like to become part of our journey? We're currently hiring in L.A., Belfast, London and Bangkok.
Have a look at our open positions
THINKING
P9's London SaaS meet-up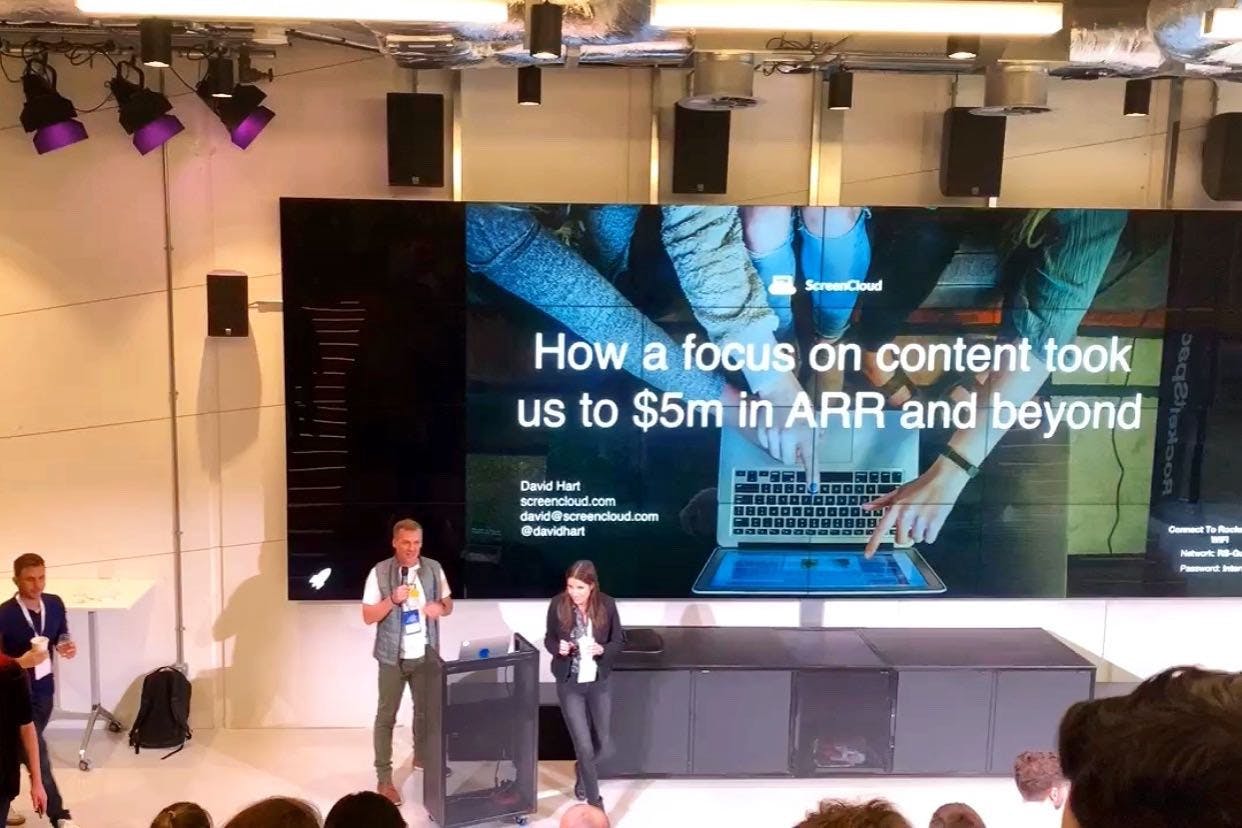 At ScreenCloud, we decided early on to invest in content marketing and today, organic content is a significant contributor to our customer acquisition. But content marketing is a bit of a long game, so it took perseverance, tactics and a little bit of luck to show a return.
COO David gave a talk at P9's London SaaS meet-up for the benefit of other SaaS companies trying to figure out how to replicate the same success. The talk covered ScreenCloud's use of content in the past, the pitfalls that B2B companies often fall into, and an overview of the changes we're making today as the content climate is evolving.
After the talk, the audience had a lot of questions and David, alongside Beth, our Head of Content, were on hand to provide detailed answers.
Digital transformation at work
This month in our podcast, Behind the Screens, Mark and David talked about digital transformation in the workplace, a subject very close to our hearts here at ScreenCloud.
The question we're asking is: Does digital transformation help boost productivity or is it just one massive distraction?
We think that digital signage can play a key role in reducing information overload by allowing people to pick up and absorb information in a more ambient way.
‍
If you have questions, requests or ideas we'd love to hear from you — get in touch at hello@screencloud.com or on Twitter at @ScreenCloud.
Tried ScreenCloud yet? Get your 14-day free trial at screencloud.com/getstarted.
Ready to get your organization connected?
Connect your first screen today with our 14-day free trial