It's been all change for ScreenCloud since we last wrote. What's new we hear you ask? An App Store, some nice growth metrics, a Church and a tradeshow to skim but the surface….
Highlights
The last month has seen us achieve some of our fundamental goals, with a huge effort from our team to get product updates across the line.
App store
May saw our launch of the ScreenCloud App Store! With customers now able to access RSS feeds, news and social media apps such as Twitter and YouTube, the response has been superb. We've also launched our first App Store partnership with a company called TINT, which allows customers to create beautiful social media dashboards.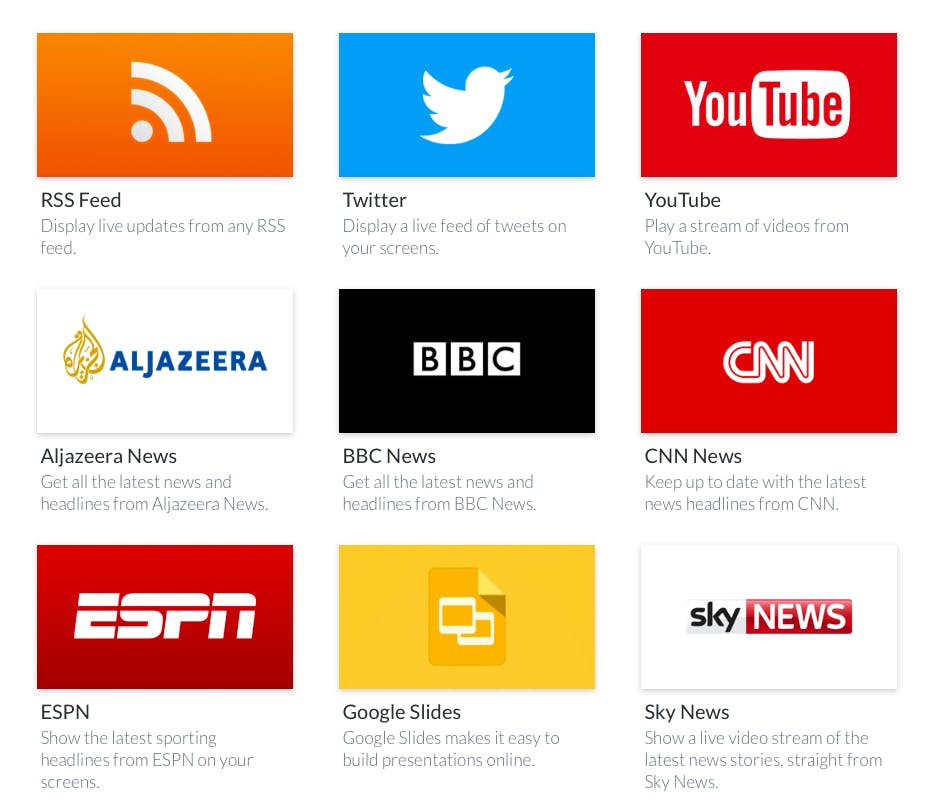 The App Store has been a huge differentiator for us and growth has picked up exponentially as a result. This has helped prove our hypothesis that the future of digital signage isn't just about controlling screens. Companies need help getting content onto screens and when they can do this without a designer, the value is huge.
Our team are busy shipping more apps and we predict that by the end of the Summer we will have an even bigger range to choose from.
Vertical
Our customers spoke, we listened. As well as horizontal we now support vertically orientated screens, something we've seen more and more demand for.
Churn rate
With churn at less than 1%, it seems that once our customers are in, they're in!
New clients
We've had the pleasure of building relationships with new clients from all over the world during the last few months. From Feilo Sylvania who used ScreenCloud to power up an interactive booth experience at trade show Light + Building, to Faith Community Bible Church who are keeping congregations engaged with beautiful screen content.
There's lots more in the pipeline too, from retail and hospitality as well as some truly fascinating use cases that we didn't even know existed!
Investor follow on
All of our existing investors are involved in the next round which makes us happy as it shows confidence in our product.
Seed Round
The last few months have given us the metrics to show that we've proven our hypothesis and have reached product market fit. We understand our customers and as a result, our growth rates are extraordinarily high and our churn rates are extraordinarily low. As we go into raising our Seed Round (which we're looking to close by the end of September), the next steps will be to scale our core offering while retaining simplicity and ease of use and entice others to want to come and work with us. Now we've proven that we can do it, we need to prove that we can switch our mindset to scaling and that we can bring in talented people to believe in us, work with us and take on the roles to do as well, if not better, than we have been.
Lowlights
What's been keeping us up at night…
Admin
This month we've been digging deep to make updates to our payment platform in order to make the billing process easier and more streamlined. This hasn't been helped by a pesky thing called VAT moss. If you're a startup working within EU regulations you've probably felt this pain. It seems crazy to spend thousands of pounds of our Angel investment just on overly complex VAT compliance, but that's bureaucracy for you! It will be interesting to see how these types of issues affect the EU referendum later this month…
Team stretch
ScreenCloud has certainly been operating as minimally as possible with just two full-time developers since our commercial launch in November. While the traction we've been able to make from this has been excellent, it does mean that we're becoming dangerously close to an inevitable burnout from our small team attempting to do everything.
Looking ahead…
The month ahead sees us dive into raising our Seed Round, spreading the ScreenCloud word across our newly updated blog and guest articles such as this one for Sixteen:Nine and adding to our brimming App Store. Look out for July's update to find out more.