This month the ScreenCloud team have been almost as busy as Team GB ;-) from fundraising, to mapping out the company vision and contributing to publications such as TechCrunch and CNBC. Read on to find out more…
Highlights
If last month was infrastructure then this month was growth based on that infrastructure. Plus a little strategy! Here's what that looked like:
G-Cloud. This month we found out that ScreenCloud has been included on the UK Government's G-Cloud 8 digital roster for SaaS services. This is an initiative targeted at easing procurement within public-sector bodies in the UK and allows us to partner more easily with schools, government services and the like. Woop!
Strategy and roadmapping. CEO Mark spent just over a week in Bangkok this month, working with the team to develop the company strategy and roadmap. We have a full article on that coming this way soon so stay tuned!
Partnerships and apps. We've been working hard this month to progress our partnerships and add new apps to the ScreenCloud App Store. We're now ahead of the pack on what we can offer and plenty more are coming too!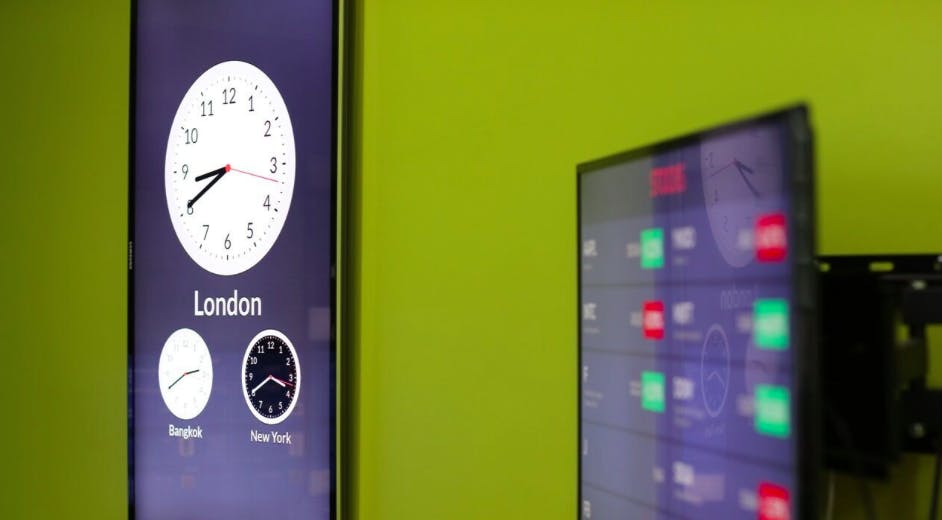 Lowlights
What's been keeping us up at night…
Summertime sadness. Not that we begrudge our customers their holidays but it's clear this month that summertime does means out-of-offices and therefore slightly slower growth! Saying that, our wintery Australian friends are keeping us busy in the meantime, so every cloud.
Investment distractions. As many startups will emphasize, raising funds is a job in itself! Raising our next round has kept our founders super busy this month as they continue to keep all balls in the air, so the rest of the team are very much looking forward to getting them back again once it's complete.
Who we are. As we've dipped further into our customers, the market and our proposition, it's become clear that ScreenCloud is not always a straightforward proposition for those who haven't dealt in screen technology before. This is both good and bad news; it allows us to educate and help to redefine a growing market (which is simply labelled 'digital signage' at current) but it does mean that we have to continually simplify what we do, in order for it to communicate well. Our work in August on redefining our vision will hopefully help do this.
A new school year…
As we go into September we're continually expanding our apps and partnerships, bringing exciting new team members into the fold and getting ready for the launch of the brand new ScreenCloud website. What a time to be alive. We'll see you in September to discuss more!
In the meantime, make sure you give our free trial a go at https://screencloud.com.
‍