Winning awards, multi-user teams, Slack app and a look at producing real business results for a Deli customer. Here's what's new with ScreenCloud this month.
ScreenCloud and Mitchell's Deli
There's nothing we love more than hearing from businesses who are fighting real customer pain points using digital signage. Mitchell's Delicatessen is a deli located in Nashville who began using ScreenCloud a couple of months ago.
They started with a few videos of underperforming menu items. One was this delicious smoked chicken that their customers just weren't connecting with. I know — we don't get it either.
Here's the thing, a month on and they're having to make sold out signs for the chicken counter. Here's what they said:
"Just wanted to update you with some results from the in-store signage at the deli. You may remember that we originally created a smoked chicken video. This was because the deli was having trouble selling the chickens and wanted to pull them from the specials menu. The deli usually has 12 smoked chicken meals on offer. Pre-signage the most they'd ever sold was 4 out of 12 of those chickens.
I went in last Friday to pick up a chicken for myself and they were sold out. This had never happened before. Now they are regularly selling out and have even had to make a "sold out" sign for the chicken hot case.
This increase in sales can be directly linked to promotion on the digital sign."
Start using digital signage to achieve similar results for your small business using this guide.
Slack App is Here!
Remember last month when we said we were close to launching Slack app for your digital screens? Well guess what, it's here!
Slack App allows you to share the pulse of your company comms more easily.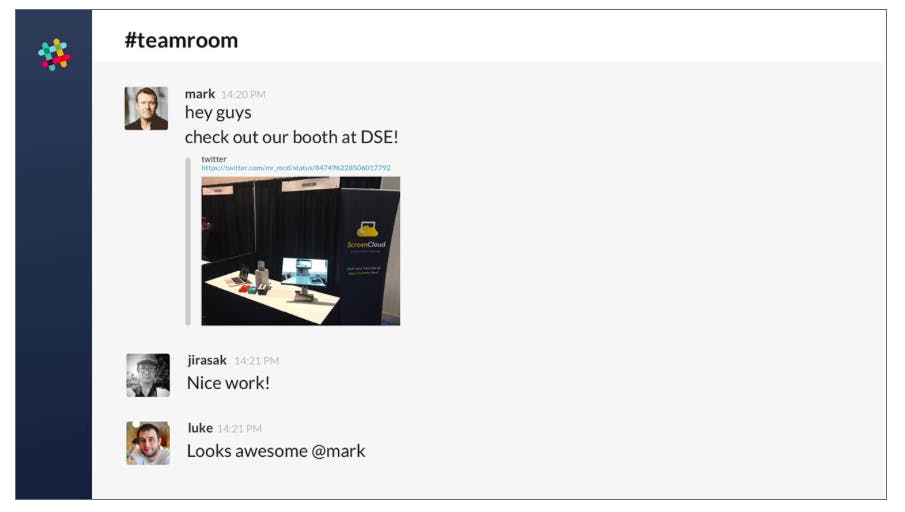 Select single messages or chat logs, then see messages appear on screen in real time. Filter content to show by selected channels, show just your pinned messages and auto play YouTube videos added to rooms.
We'd love to know your feedback — let us know what you think on hello@screen.cloud.
Best Digital Signage Software Product at DSE 2017
Last week we were super excited to learn that we'd been named joint Best Digital Signage Software Product at the Best of DSE 2017 Awards.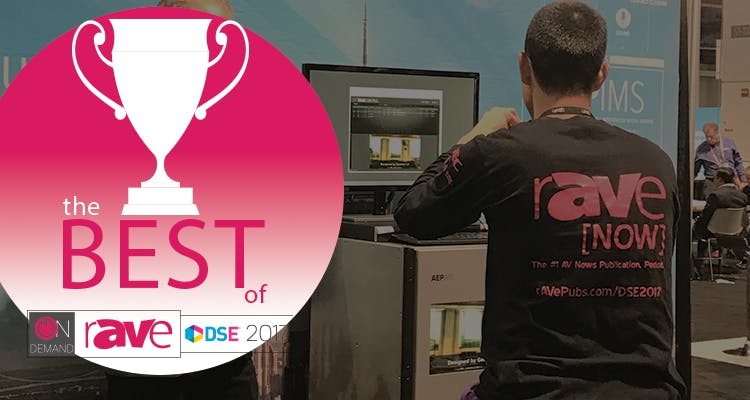 These awards are chosen at Digital Signage Expo in Vegas where we'd made our debut a few weeks previous. The top reporters from rAVe Publications go round at the show and review every single booth and stand before selecting their top products in every possible category.
You can view the full list here — thanks guys!
Reading corner
A couple of posts we think you might like this month…
Next stop…
In the coming weeks we're going to be launching multi-user teams which will allow your team to collaborate more easily on your digital signage displays. Watch this space! If you have any questions, let us know over on Twitter at @ScreenCloud.
Did you pick up your free trial of ScreenCloud yet? We have one ready and waiting for you at https://screencloud.com.