Back in 2017 just as we were closing our seed round, I found myself on stage at Startup Grind in San Francisco doing a 60-second pitch about ScreenCloud.

I was there with my Co-Founder Luke and afterwards Bernard (VP Product at PandaDoc) approached our small demo booth keen to introduce us to an investor he thought would be a good fit for us, our story and our company.

That person was Rodrigo Martinez, Venture Partner at Point Nine Capital.

Point Nine (also known as 'P9') wasn't a new name to me. Mainly thanks to blogs by Partner Christoph Janz, which were infamous in the startup, and particularly SaaS, world, around metrics, tracking, how to figure out different go to market strategies, and all manner of other things. 

It was too late for our current round but we stayed in touch. I knew they had a good portfolio and safe to say, we were interested. 

Fast forward to 2018 and we ended up raising a 'Super-Seed' round, led by Point Nine Capital. Until now we've been relatively quiet about being a Point Nine portfolio company and it's certainly not because we weren't proud to be affiliated with them. If anything, the opposite is true. P9 are experts in the best way to build a good SaaS company and they have proven knowledge on how to help European SaaS companies break into the US, which was exactly what we were trying to do. 

But sometimes no press is good press, and it's not always about being the startup that shouts the loudest about your investment. Here's why. 

The anti funding announcement

At the time of raising, Christoph from P9 asked us: what would be the major benefit in publicising your investment right now? The benefit I suppose, was lodged in ego and hype. When you've just joined forces with a company like P9, who you're proud to be a part of and who are proud to have invested in you, it's hard not to get carried away with wanting to tell the world. 

But in reality, most of those announcements just mean your company starts to get a lot of attention, from investors, the community and naturally, sales and recruitment types.

For us, it was a bit of a tricky time to suddenly shine a bright light on what we were doing. You see, we were about to embark on an enormous project to rebuild our entire product from scratch and we were still a long way from having that ready. 
Given that, Christoph was right to point out; is that attention something we actually need right now? 
We had a good growth rate, we were moving across different customer cohorts and we had an enormous project ahead of us that needed focus and time. 
It's very easy to be drawn in by the hype of being connected to a big investor and using that to rocketfuel press and stories around your startup. But shining a spotlight on our company right then wasn't correct or attractive. The money was crucial, we needed to grow the team and recruit heavily that year, and P9's expertise and advice guiding us through the process was going to be invaluable. 

But actually, there wasn't a need to say to the world, "Hey, look at us". We had work to do behind the scenes.  

So saying that, why have we chosen now to make our anti-announcement about being a P9 portfolio company? 

A new era for ScreenCloud

As I write this, in early 2020, the new ScreenCloud has been live for a few months. We're starting to onboard the types of customers this product was built for, those who have more complex needs than getting a few images, videos or tweets up on a screen alone. Increasingly, these types of customers are those in global companies with thousands of employees, where sharing information at the right time, to the right people, is key but this of course, comes with other considerations. It's one of the reasons we've doubled down on security, granular user permissions, easier ways to keep content "on brand" at a global scale, and the importance of securely sharing dashboards via screens. From an internal perspective, we've also started to recruit more Senior people in certain areas and are building out our profile as a company and employer. 

We're still not perfect, but it feels like a good, or at least better, time to show our new positioning to the wider world and get some feedback. 

Breaking our silence is a way to say "ScreenCloud's grown up" if you like. 

Being part of P9 has been invaluable, we've had access to a wider Founder community who are searingly honest about challenges, and how they've overcome them. We've been able to attend the Point Nine conference, which has extremely high quality content and lets us hear from very successful P9 portfolio companies, like Zendesk.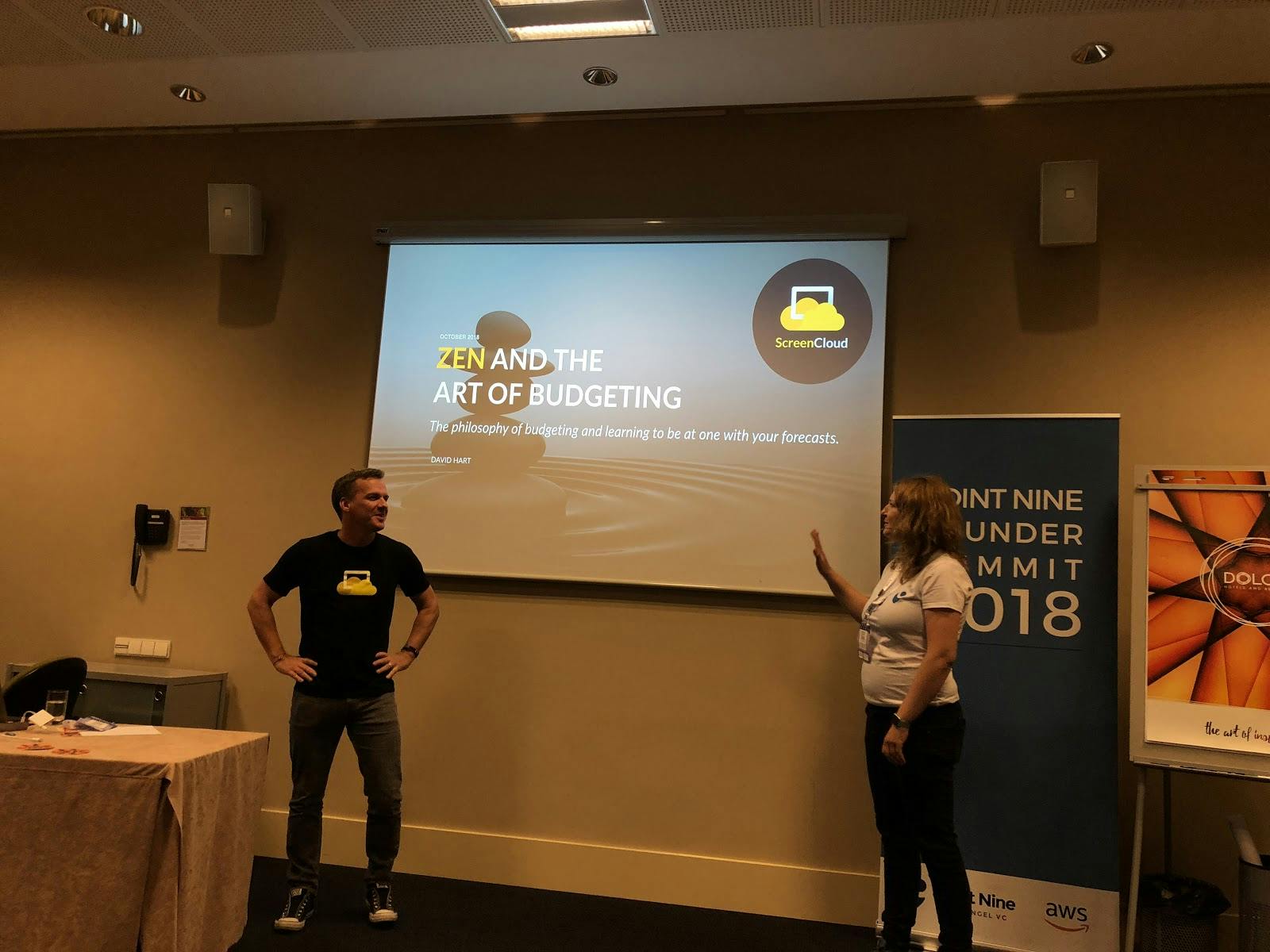 ScreenCloud Co-Founder David giving a talk at a recent P9 conference on the art of budgeting
Of course, a lot of the benefit of having an investor like Point Nine is the people you have access to. We've built strong and valuable relationships with many, and especially Christoph and Rodrigo. They challenge us and make us dig into what's really happening. For example, if we think we've had a good run, they'll ask; is it genuinely going as well as you think or is that just lucky numbers? This helps us to ensure sustainability in the long term. 
No one else is really going to do that for you on your journey, and that's the value that a good investor adds, as well as helping to shine a light on the best way through any challenges, or how others have done it before you.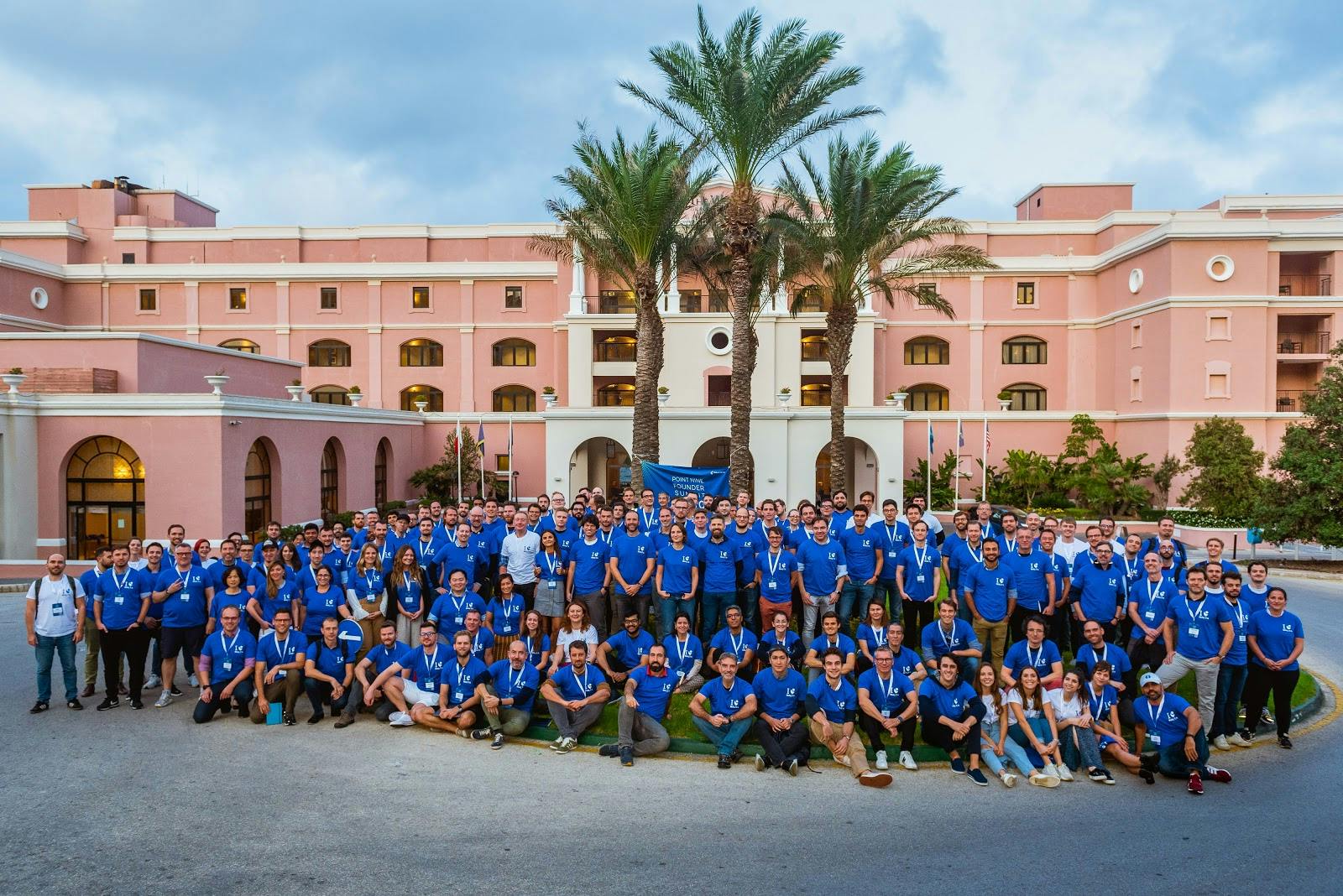 The P9 community at the annual P9 conference
At the end of the day, raising money isn't about being able to go out and make a funding announcement or to say look who believes in us. It's about the relationship you can build with your investors, based on faith and mutual trust and what we all, our customers included, ultimately gain from that.