Publish content to your screens directly from Microsoft Teams
Learn More


Culture
How We Use ScreenCloud Broadcast In Our All Hands
Discover how ScreenCloud Broadcast changed our All Hands game. Inside ScreenCloud takes a deep dive into how to create a more connected meeting environment.
All Hands meetings can be difficult, particularly when working from home; everyone logging in, blips in Wi-Fi, the decks, and all the other nuances that can make fully remote All Hands meetings all the more tough in 2020. 

When the potential of an All Hands meeting is fully met, it can be an excellent opportunity to share vital information, keep your team informed of progress and take the temperature of how everyone is feeling. But it goes beyond the basics of the C-suite sharing information, it can be engaging, interactive, and immersive for your staff whether they are based in your local hub, at home or across the globe. 

At ScreenCloud, we're continually looking at ways to step up our game when it comes to internal communications and providing an interesting and engaging experience for our teams, which is why we're utilizing our new Broadcast tool for our All Hands meetings. 
What is ScreenCloud Broadcast
Fresh off the press, ScreenCloud Broadcast is in the very early stages of innovation. From chatting with customers, one of the most requested features has been the ability to stream live video content to screens no matter the device or location. 
Let's talk specifically about zoom, it can be very tough to organize if you wish to stream your meetings to multiple screens around your office, especially with public screens. For a public screen this would mean connecting the screen to a computer and logging onto Zoom. At scale this becomes more cumbersome still, since Zoom places a limit on the number of concurrent viewers. It's clear that there was something missing to enable Broadcasters to stream onto multiple screens with a simple and efficient set up, not to mention a heightened user experience. 
Forward-thinking organizations want content that transcends office screens at corporate and bring the content to their staff wherever they are. With ScreenCloud Broadcast, you can stream from a laptop, mobile or tablet to screens in offices or around the globe. You can even share a unique link for teams to enjoy the content wherever they are - on their chosen device, like their phone or TV (when compatible).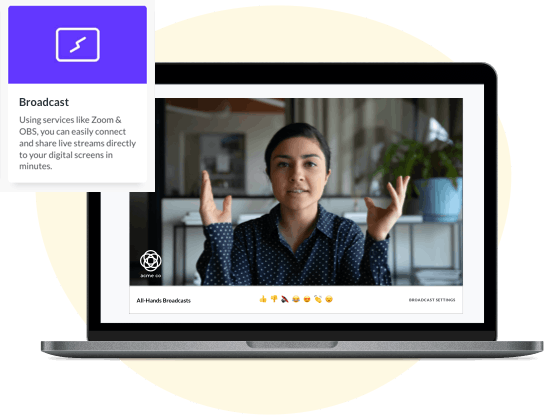 How does ScreenCloud Broadcast work
Stream meetings, webinars, and events to both large screens in their offices and mobile devices while teams are on the move. Part of the objective is to make the content more accessible to remote and deskless/frontline workers. When you're using it with Zoom, you can stream your Zoom call into ScreenCloud Broadcast, which then enables you to cast it to your ScreenCloud screens. When you're using it with OBS, you can stream any content from your laptop to your screens or devices. It's easy to see how this would elevate your All Hands meetings, online events and global office get-togethers, right?  

Our developers here at ScreenCloud wanted to make the process as simple as possible. We're excited to be able to deliver this functionality to our customers in a user-friendly and straightforward way. 
What does an All Hands meeting look like for ScreenCloud?

It's important that we caveat this by expanding a little on our company culture, which helps drive the way we do our All Hands. We employ engaged, ambitious grown-ups with a talent for what they do and who care deeply about their work and how we grow as a company. We are big supporters of remote work; but with diversity and people across continents, there's a high bar for making our All Hands engaging and accessible which is why Broadcast is a valuable tool for us as well.

A brief outline of how our meetings normally run:

Prep
So much preparation thought, and consideration goes into the organisation of these meetings. There is a team of people contributing, a group setting up and plenty of support, but this might well be the most intrinsic part of the process. We've generally already had the chance to submit questions at this point too. 

Introduction & Opening Presentation
We are all welcomed in, and we launch into a speech from one of our founders, typically our COO, David Hart. David is a numbers man; he loves to take data, make sense of it and then make projections. That's why it's an excellent way to kick off, discussing what's working, what's not, and what we can expect. 

CEO's Presentation
Now we hear from Mark our CEO; this is where ScreenCloud Broadcast really comes in too! Mark launches right in by celebrating anniversaries with staff, announcing achievements and wins, all the while we can interact with emojis via ScreenCloud Broadcast. Mark then talks about the business needs, plans for the future, and critical developments.

Questions & Close
By this point, any questions that have been raised prior will be answered, and people also have a chance to proffer questions (people can submit questions prior to the event with Slido) and when they come up. Then we can close the page on another informative All Hands. All the conversations give us plenty of food for thought, with many takeaways to consider implementing within your team, it's a great way to spark inspiration to help drive the company in the right direction.

How has Broadcast elevated our All Hands
ScreenCloud Broadcast offered us the chance to engage in real-time with All Hands attendees. It's made a difference in how we interact during these sessions, which can be long and sometimes difficult.  When delivering events, webinars or All Hands meetings to multiple devices, we can seamlessly take over public screens around the world without any local intervention. Our teams in Thailand, Belfast and beyond can tune in and be a part of our London based All Hands in real time. For distributed teams, it's the next best thing to being physically in the same room as the presenters.
People love the emoji reactions, especially during the segment where we celebrate anniversaries. For people who've been committed to the company for a long time, cheering for their achievements is a great way to celebrate. It creates a genuine connection, and the broadcasters get a real sense for how people are responding to the information. It brings us closer together while adding another element of depth and interactivity to our All Hands. What's next for ScreenCloud Broadcast?

So what's next? Well, given that we're in the very early days, rest assured the best is yet to come. You can look forward to more tools to interact and connect with your audience as a broadcaster, such as the ability to do polls in real-time, ask questions, and a drop in a chat box to allow people to get involved more viscerally. 

Until then, ScreenCloud Broadcast will bring you closer to your teams during meetings, webinars, events, and other media and help shape an environment of open communication and connection. That's all for now, until next time...

Interested to learn more about ScreenCloud Broadcast? Click here to explore. 

If you're looking for some tips on how to run a fully remote All Hands, head over to our friends at Slido for more. 
Alternatively, our pals at Buffer also have plenty of practical tips on how to increase engagement with an All Hands.
Ready to get your organization connected?
Connect your first screen today with our 14-day free trial