Publish content to your screens directly from Microsoft Teams
Learn More


Culture
Free COVID-19 Advice Digital Signage Templates
Need a quick way to share advice around COVID-19 to your employees? Feel free to dip in and use some of these free templates.
One of the ways our People team at ScreenCloud have been keeping us updated during the COVID-19 outbreak is by sharing best practice information and advice. From how best to set up a "home workstation", to recommendations from the World Health Organization (WHO) around caring for ourselves and others. Naturally, in our hubs where offices aren't yet on lockdown we've been using screens to show this information. Many of our remote employees have also been able to play this content on their screens at home to help them stay in the know, without having to search for new information.
Here, we're sharing with you 20 free templates made in Google Slides that you're welcome to add and use on your company digital signage screens.
These templates include:
Work from home wellbeing tips
A collection of tips from our People team at ScreenCloud to help your teams stay well, both mentally and physically, whilst working from home.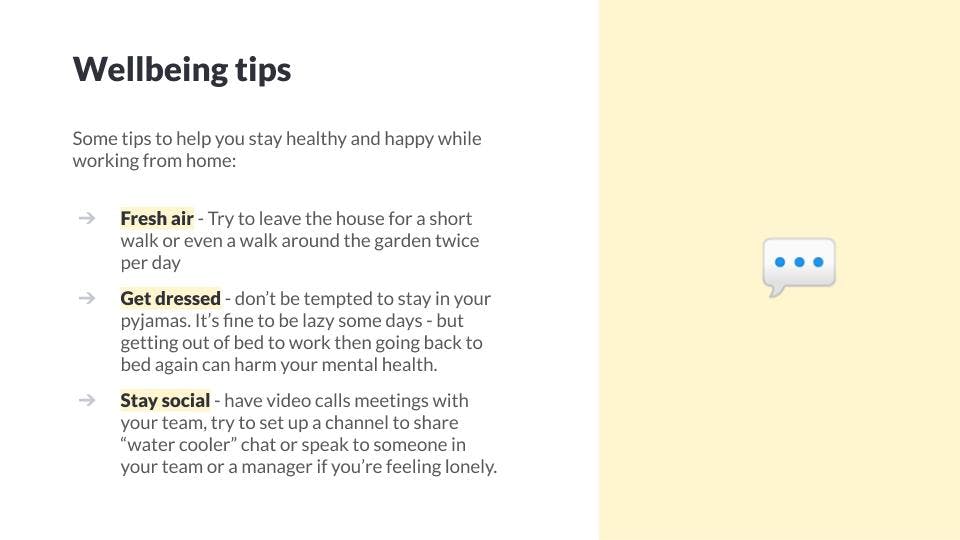 Public advice from the World Health Organization
In order to try and share advice that's universally useful, we've taken COVID-19 content from the World Health Organization's website under "Public Advice" and have simply disseminated this content into a format we know works well for screens where people may be viewing things from a distance or at a glance. Plus, we included a few emojis and images to keep things viewer-friendly.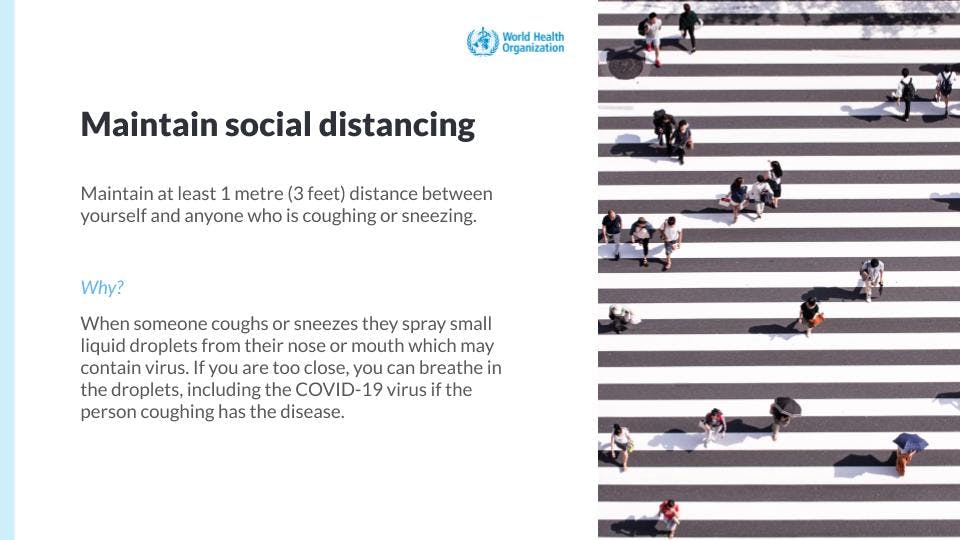 Adding the templates to your digital signage screens
You can access all of the free COVID-19 Advice templates in this Google Slides file.
To edit the templates with your own information or brand colors, open the file and select File > Make a Copy. This will create your own copy of the templates where you can edit the design and remove or add any other slides you need.
Once you're happy with the templates you can add them to your ScreenCloud account using the Google Slides app.
If you prefer, you can also download a Powerpoint version of the slides from this link.
We hope you find these useful and if you are using them on your screens we'd love to hear about it! You can join our ScreenCloud Slack community here or chat to us on Twitter @screencloud.
‍All of the images used in these templates are freely usable images sourced from Unsplash - we love your work!
Ready to get your organization connected?
Connect your first screen today with our 14-day free trial