Publish content to your screens directly from Microsoft Teams
Learn More


Culture
Help Your Employees Stay Connected at Home With Embedded Channels
Struggling to keep your employees connected to what's important while WFH? Soon you'll be able to embed your ScreenCloud Channel in your browser or intranet.
For many of you, we know that this may be the first time either part, or all, of your workforce is working remotely. This poses a huge disruption to day-to-day work and can seriously up the amount of "noise" your main communication platforms are exposed to as people struggle to replicate their real life meetings or in-person chats, virtually.
There's only so much content we can consume on Slack, email or Microsoft Teams. When we're in the office, digital signage poses a great way for organizations to surface what's important in an ambient way. 
But now we're "out of office", how can People and HR teams still share what's important?
Well, with the latest project we're building to help fight this challenge: Embedded Channels. Here's a quick video overview of what that will look like:
Right now, Channels in ScreenCloud let you compile content by theme, department or location to surface what's important. These Channels get played on screens around the workplace, so everyone gets the same, sentient exposure to your company content. 
While discussing remote work, many of our customers asked how they could share these Channels with employees while they were working remotely. Of course, if an employee has a TV or monitor at home they can easily connect ScreenCloud and get the same experience they'd usually get in the office.
But some employees won't have a second screen available, or even if they do, they might not have a media device available to help them connect it to the internet.
That's why we're quickly rolling out Embeddable Channels: a way for employees everywhere to gain access to the same content in your organization's Channels, but in a browser, or embedded in your intranet or other employee communication channel.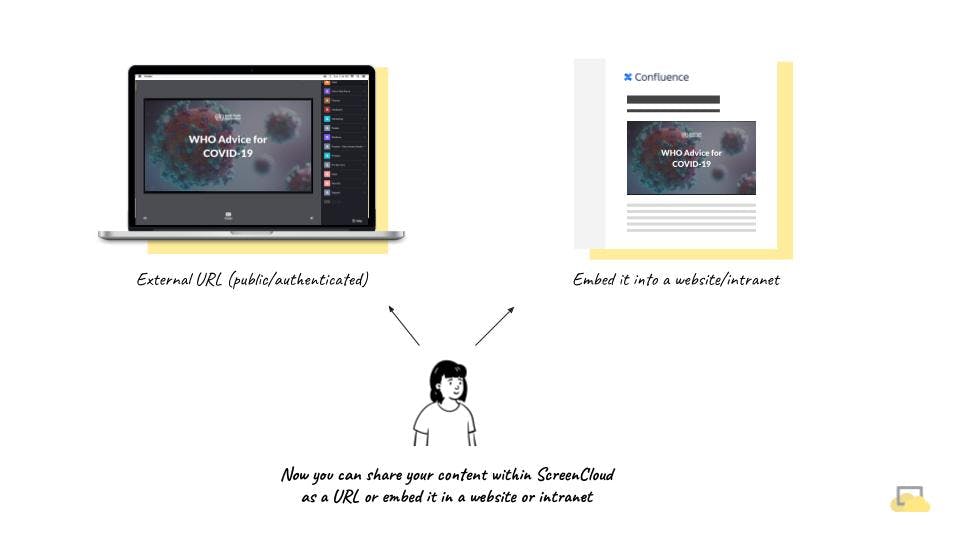 Below is a preview of how the embed feature will work, allowing you to share a link to the Channel, or get the embed code in order to add it to your intranet or network: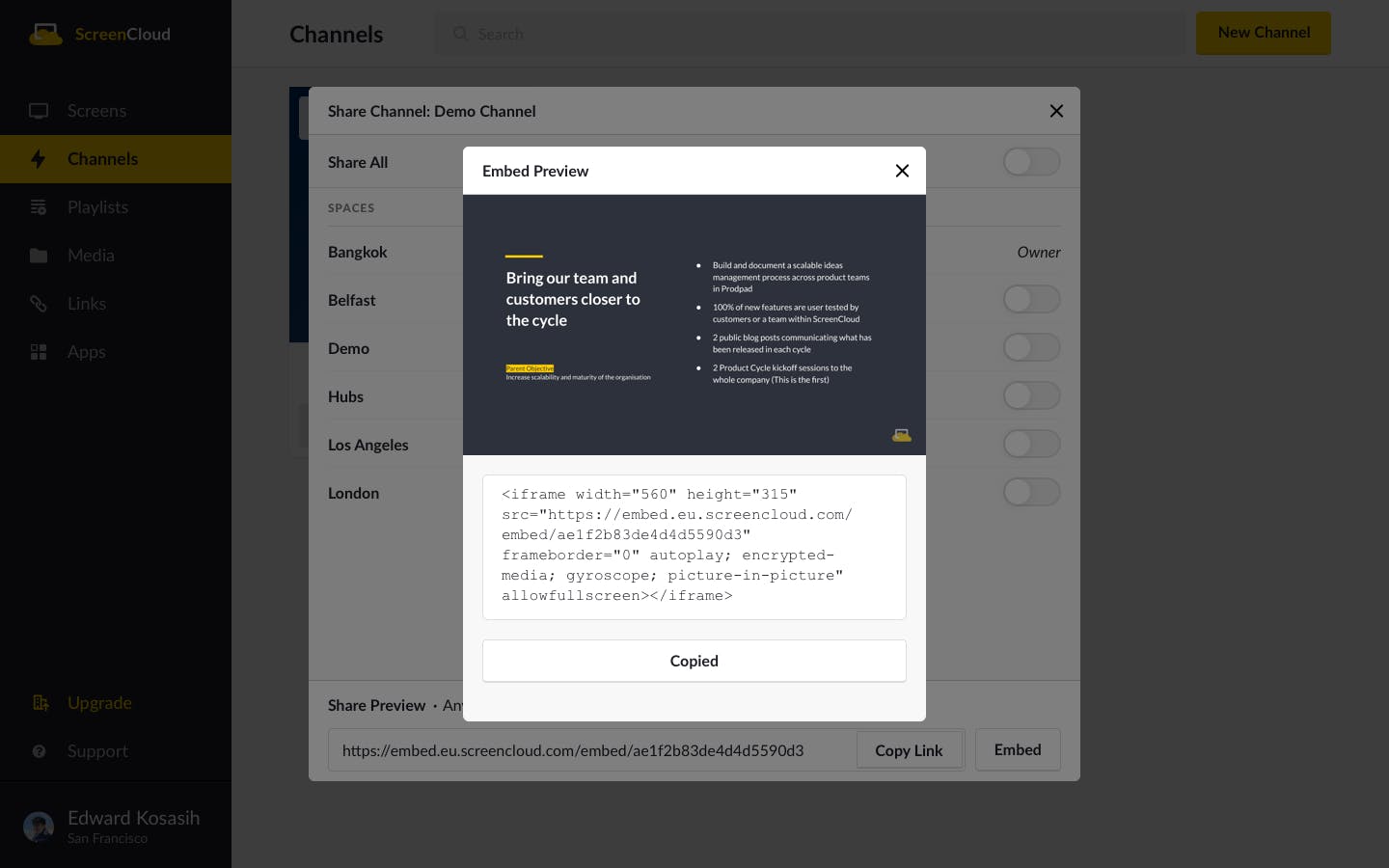 Does this seem like a feature that your organization could use? Join our Slack community to be the first to hear. We'll also be notifying our customers as soon as this is available in the coming week.
Please note - Channels is only currently available as a feature for our customers using the newer Studio version of ScreenCloud (those who signed up after December 2019). For those of you who are using our older Signage version of ScreenCloud, we're also researching a way we can make it possible for you to embed your content, or how we can help migrate you over to Studio, and we'll share more updates as soon as they're available. 
Ready to get your organization connected?
Connect your first screen today with our 14-day free trial