You know what's awesome? Social media. It's one of the best and most direct ways of talking to - and hearing from - your customers. However, social media isn't just for your marketing team: what people are saying about your company out there is relevant to everyone, from the sales team, via the executive suite, to your product development teams. 
So - you have digital signage running on your wall, but how do you show off what is being said out there?
Enter Zoomph. The company creates a ridiculously powerful solution for analysing and showing off who your customers are and what they're doing, including an analysis of their age, physical location, gender, and a comprehensive sentiment analysis - in other words, do they like your brand or product, or are you taking a thrashing in social media? 
Analytics are only part of the story, though: Social media is much more important than that, and putting what people are saying front and centre is crucial - which is where Zoomph's signage solutions come in. And it couldn't be easier either - it took us all of 3 minutes to set up Zoomph to start displaying a wall of interesting information. It looks bloody brilliant, too - check out this sign they put together for Tigi, for example: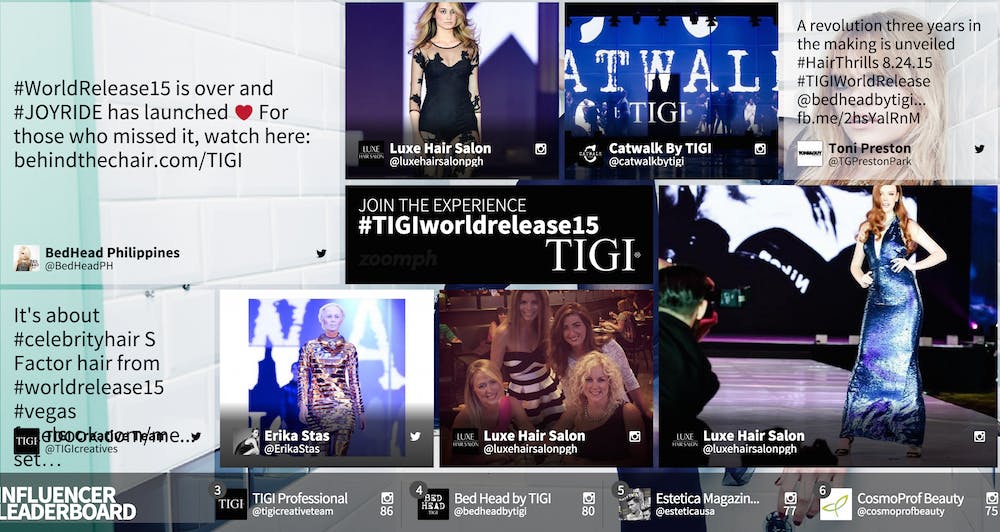 The screenshot doesn't do it justice: the leaderboard along the bottom is super useful, and every couple of seconds, one of the tiles changes, to really bring you the full picture of what's going on out there in the social media world. 
Of course, there's tons of uses for this: It's great for events, fantastic to keep a finger on the pulse in the office, and a great way of keeping a sneaky eye on the competition as well. We wouldn't be without Zoomph in the ScreenCloud office, for sure - and once you've given them a whirl, neither will you :) 
Best of all, it's super easy to get your Zoomph boards up on your ScreenCloud Digital Signage - just grab the top secret URL that Zoomph gives you as soon as you create a display collage, pop it in as a content source in your ScreenCloud Signage content section, and boom - you're good to go. Simples.