Ricoh has been a trailblazer in the field of workplace connection since getting its start nearly 100 years ago.  As the needs of employers and their teams change - particularly in recent trying times - companies like Ricoh are helping make the transition less daunting. Efficiency, comfort, collaboration and information management are vital for growth and having addressed the key needs of the industry, Ricoh are finding new and innovative ways to combat problems and provide remarkable solutions. 
We were delighted to be given the chance to work with Ricoh. Working alongside  ScreenCloud's Professional Services team, it has helped open up the opportunity to offer a more sophisticated and intricate experience to their clients too. They chose ScreenCloud as a partner for the RICOH Spaces platform to integrate digital signage functionality to offer a user experience-driven connected workplace.
Working with Ricoh continues to be educational, giving us a chance to look into what makes a truly connected workplace.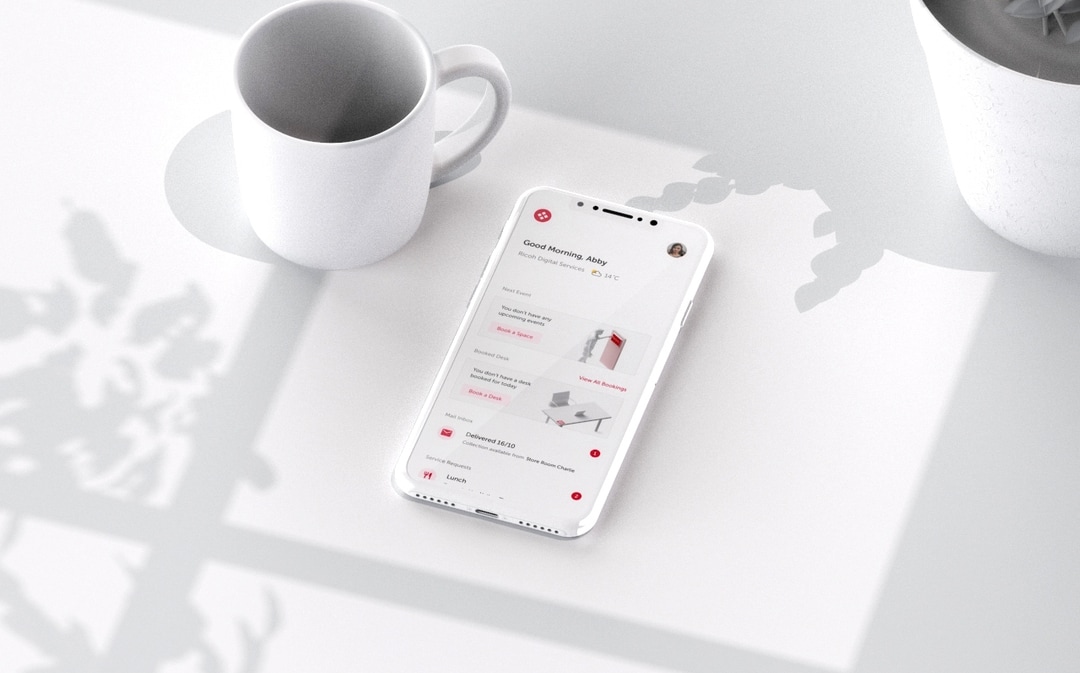 Ricoh's role in workplace solutions
Ricoh provides a wide range of digital workplace solutions that empower people, boost collaboration and propel workplaces into the future. Their solutions include office equipment, document workflow, and IT communication services, to make businesses more productive, effective, and agile. 
RICOH Spaces is a cloud-hosted workplace enhancement platform that has been seamlessly designed to optimize your business. The smart platform focuses on desk bookings, space bookings, wayfinding, workplace insights and more, making it a perfect match for a collaboration with a leader in digital signage. 
Meet Nathan from Ricoh
We spoke to Nathan Thomas, Head of Software Engineering & Design at Ricoh to talk about how we can work collaboratively and explore workplace innovation in the most meaningful way.  
Let's unwrap this further and dive into what Nathan had to say about workplace enhancement and enablement. Grab a cup of coffee and discover more.
"So I'm Nathan, I head up our software engineering in the design team. In Ricoh, it really means our software engineering is our SaaS section of the business. We are focusing on software as a service more and more with the ever-changing needs of our customers. It's a weird situation for us as we started off as a core print manufacturing, additive printing kind of organisation; For us, there's a sweeping change in how people work and what people's needs are. It's really making sure that we can adapt and transform."
How Ricoh has adapted to a changing landscape
"RICOH Spaces is our workplace enhancement platform. Ricoh, we've been in the workplace industry since the start, 1936 off the top of my head around that time frame, because I know we're almost 100 years old. Ricoh has always been in this office print, office services line of business. Since then our customers have kind of been asking, What else can you do? Can you help us with this? Can you help us with that? And with that comes technology, innovation and change. 
To make sure that we can adapt to that change, we decided to build a platform, the platform allows us to interface with multiple third party vendors, IoT providers,  people like you guys with ScreenCloud technology, and really make it easy for our customers. 
But the ever changing trends in the workplace, especially now just proves the point even more, you always need to bring on something new, something different or change what you're doing. Smartspace for us, is a way of being able to provide the platform for customers for safety, speed, efficiency and cost. 
With the Ricoh element, we're able to take our existing business lines like communication services, AV specialists, managed service providers, the hardware manufacturing, layer those services, and wrap around the software,  offer an end to end single place to be able to go and get the latest stuff."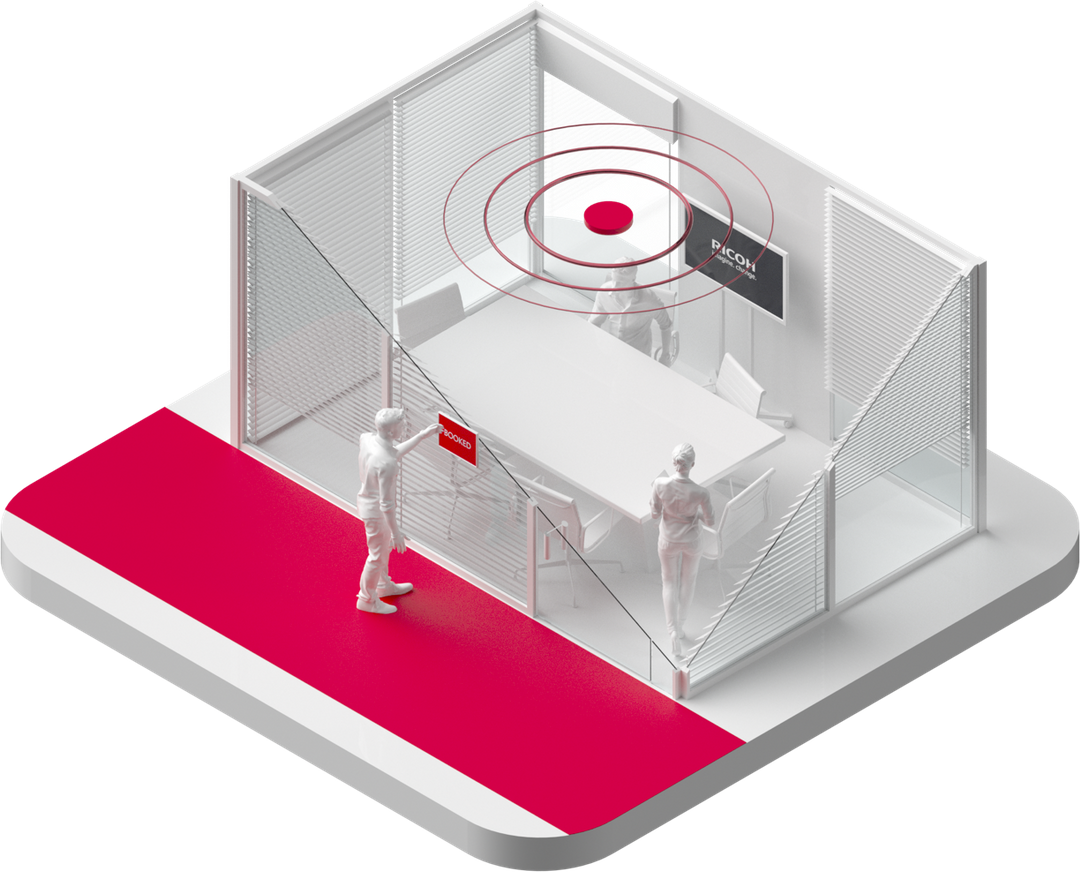 What were their digital signage challenges?
"We had this challenge of, "we're great software developers, we've done this for ages, we're quite a small team and even smaller back then; we really wanted to make sure we could leverage screens in the right way, customers would want more than just wayfinding". I was struggling to try and find someone who had the same kind of vision, this 2030 vision. I want to make a true impact, not just sell the idea of change, but truly deliver.
"We've thoroughly enjoyed working with ScreenCloud as they share our same passion for design and development, along with the thirst to create truly innovative products pushing the boundaries from the status quo."
I remember coming across ScreenCloud, then I just thought I'd reach out and send a message and I didn't expect a response from the first time we met, it was clear that you guys would clearly move into a direction that was outside of the arena of digital signage. It  wasn't just about sticking something  on a screen, it was about something more than that. It was about office communication. It was about the future of digital signage. 
It was quickly apparent that there's a shared value proposition between us. 
We know that screens are getting cheaper. They're getting more prevalent across the workplace, even outside the workplace. In the future screens will be everywhere. You guys are already on top of that. So it was perfect and it was a great start."
RICOH Spaces & ScreenCloud collaborating for success
The RICOH Spaces and ScreenCloud collaboration got off to a strong start, enabling enhanced collaboration and opening up a space for innovation and creativity, with the customer needs in mind. It's been a perfect demonstration of how companies can come together with outside-the-box thinking to expand their product offering. 
If you would like to open up a conversation with us then please feel free to email pros[at]screencloud.com. 
You can also read more about how Ricoh uses ScreenCloud to improve efficiency and enable a well-informed and connected workforce by heading to our Ricoh customer page. 
Stay tuned for more! Next week we'll dissect the RICOH Spaces and ScreenCloud hackathon!