Publish content to your screens directly from Microsoft Teams
Learn More


Editor's note: Updated May 2021
Traditional marketing went out the window with the advent of social media. You could say social media is that window: your very own digital storefront. 
Some of the best social media campaigns in recent years have been created by retailers, utilizing every inch of platforms like Pinterest, Facebook, Instagram and Snapchat to build awareness and promote campaigns.
User-generated content has also opened up a whole new world of sales x marketing: using data analytics and CRM systems, it is easier than ever for retailers to spot trends and capitalize on them. But that's another story.
Social Media Walls and Retail
According to a study by DataTrend.com, digital displays increase purchase amount by 29.5% and make customers spend 30% more time in the store. Not bad. Pair this with social media, where 44% of shoppers admit to it influencing their purchasing decisions, and you have a much better chance to increase customer purchase rates. 
Social media walls can be anything from a Tweet wall, through to a complete live social dashboard that aggregates Facebook, Instagram and any other channel where your customers are having conversations. Couple this user-generated content with your own posts to push promotions and encourage follows and likes.
Benefits of a social media wall within retail
Low cost
Gone are the days of 'free' social reach across media platforms. Brands are pooling huge marketing budgets (and experiences) into getting their customers to talk on social. But in store when your customers are already there, creating an incentive for them to share on social media is relatively easy. All you need is a screen, ScreenCloud and a call to action and maybe some great content ideas for digital signage in retail).
User-generated content is also free marketing because that content is being generated and shared by your customers; apps like Taggbox and Walls.io integrate with ScreenCloud to easily create and curate social media walls and pull in this UGC content to show in store.
Cross-promotion of content
You probably spend hours angling for customer reviews, inventing Facebook updates and making beautiful Instagram content. Social media walls in-store allow you to pull this all together into one visual display, making your content's shelf life longer and reach a wider audience. 
*Top tip:
Include your social icons and handles in store and you'll also increase exposure to your online channels. Drive your customers to specific social pages or profiles by including QR codes on your screens, or highlight your social media handles. 
Higher conversion rates
According to a Cisco IBSG study, over 40% of shoppers say that digital displays can change what they buy because relevant information is served close to the point of purchase. Position a screen showing brand influencers wearing your latest jacket right next to the jacket in store. Genius. 
A two-way conversation
Customers who champion your brand online are an untapped goldmine of free marketing. In traditional advertising, retailers speak solely to the customer. With social media, the customers speak back. This creates opportunity for a two-way conversation where your replies are as good as any standalone advertising. Your replies could even end up being a campaign in themselves. Show them in store and encourage customers to interact. 
Real-time support
In-store social media walls are often moderated through a mobile or desktop app, allowing you to control what gets seen and what doesn't. While this helps filter the great tweets that you want your customers to read, it could also be a way to provide real-time support while the customer is still in the store. According to Brandwatch, customers who use social media as a form of customer support while in store expect a response within a window of two or three minutes. Respond within this time and you'll have the customer's full attention.
How To Set Up an In Store Social Media Wall
To set up a social media wall in store you need three things:
1. A smart TV with access to the Google Play Store, or regular "non-smart" TV (Click here to see our top recommendations for Consumer TVs and Professional TVs)
2. Paired with a media player like the Amazon Fire TV Stick 4K, Chromecast with Google TV, or Station P1 Pro are popular options. If you would like a more commercial grade media player made to handle extensive use, then our ScreenCloud OS device or any Intel NUC is a good option.
3. Great content to share!
Here's how it works:
To set up your social media wall you'll need a screen and a way to get your screen online. If you already have an Android TV then you're good to go. All you need to do is navigate to the Google Play Store, search ' ScreenCloud' and download our app which looks like the below.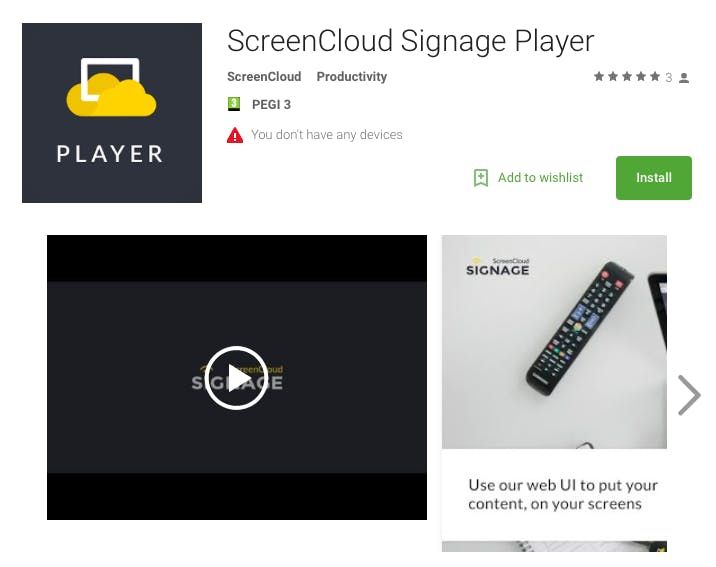 If you don't have an Android TV then you can use a media player such as the Amazon Fire TV Stick 4K (which costs around $40) or the Chromecast with Google TV (around $50), both of which will help turn your dumb screen smart. 
Once you have the ScreenCloud app downloaded on your device of choice, simply take the pairing code (which looks like the below) and head to https://studio.screencloud.com/ to set up your ScreenCloud account.
Select 'add screen' and enter the pairing code and that's it - Boom, Voilà, Salut! You're installed, paired and ready to begin creating.
Social media wall apps
In the ScreenCloud App Store you'll see that you have a wealth of options when it comes to creating social media walls, depending on how much or what channels you want to show. Here are a few of the apps already live in the ScreenCloud App Store:

Walls.io
Walls.io lets you collect and showcase the best posts, photos or videos from multiple social platforms using hashtags, keywords, and profiles. Adapt the look and feel of your social media wall with their easy-to-use style editor. No matter what size or resolution your device or embed is, the Walls.io widget always looks great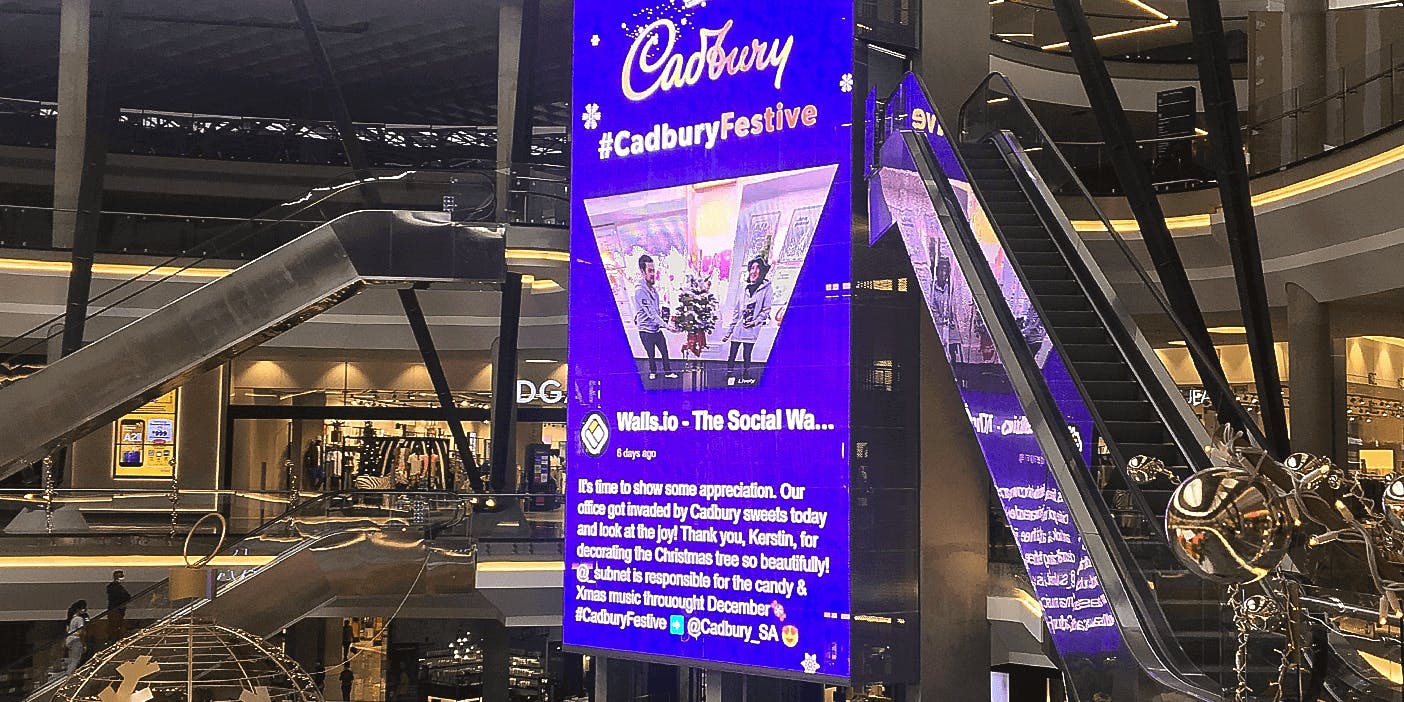 Gallery for Instagram
Create live scrolling social media walls of your latest Instagram posts through gallery for Instagram, filtered through a campaign hashtag or specific user account. Choose from light or dark themes and set up beautiful, image-based displays.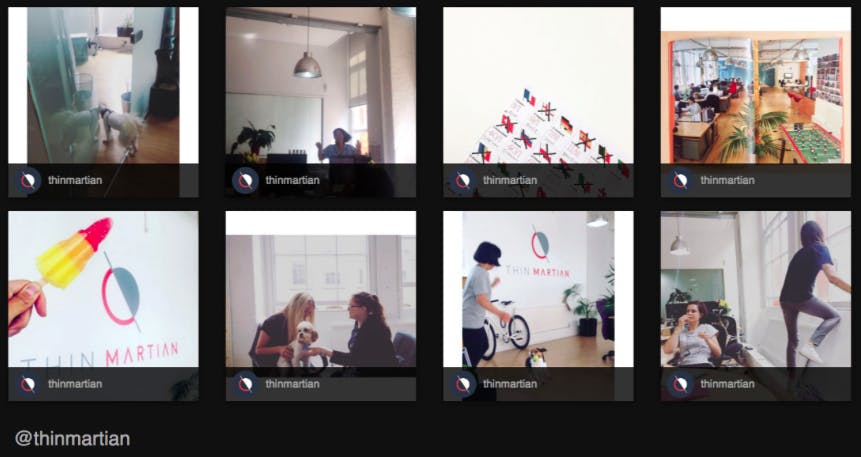 Social feed for Facebook
If Facebook is where your customers are at, share their thoughts, feedback and your beautiful updates through social feed for Facebook. The beautiful interface clears away the noise, so that only the posts you want to see are shown to an in store audience. Ideal for running campaigns and building interest across channels.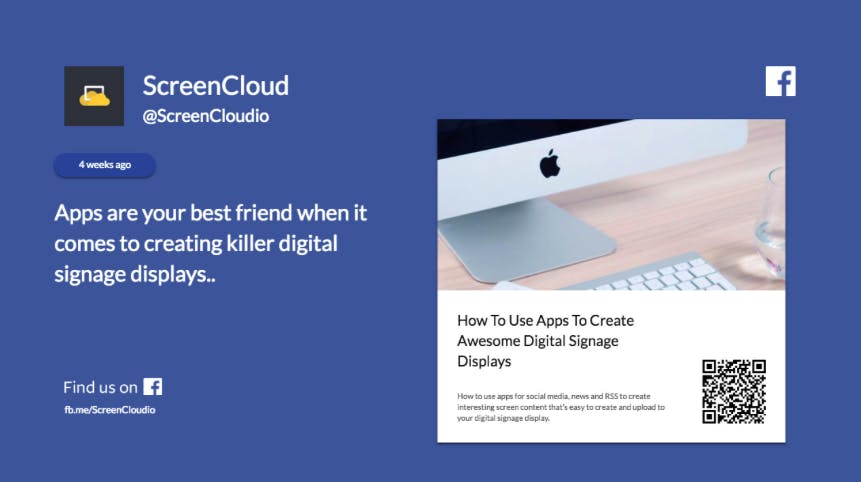 SocialWall Pro
The ScreenCloud SocialWall Pro app is designed to help take your SocialWall Pro display and share it to your digital signage screen. Ideal for live events, or digital signage displays where you want to share user generated content from channels such as Instagram, Facebook and LinkedIn.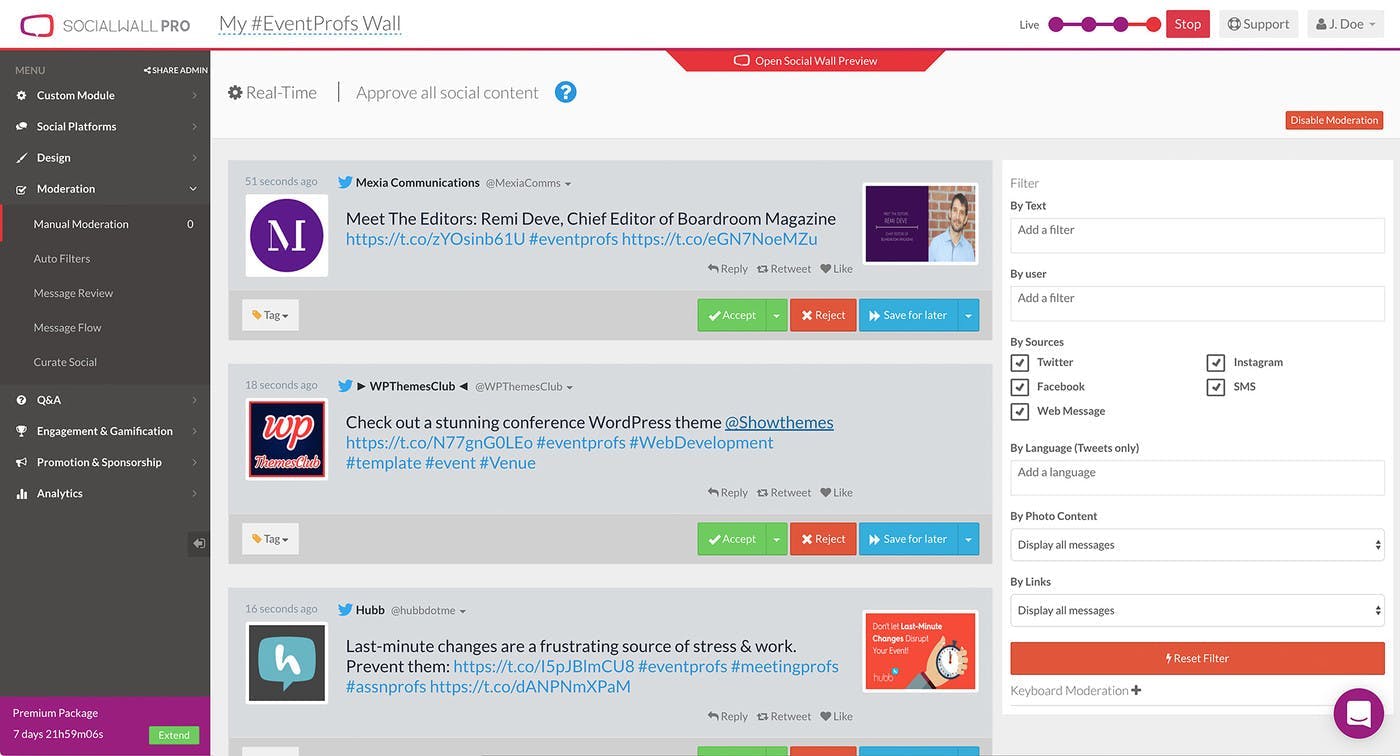 A few last things 
Pace the channel updates
Social media walls are only as good as the content you feed on them. If you're set up to showcase a hashtag make sure there are already tweets using that hashtag before you get started
Know your timings
By selecting content for specific times (morning, evening, holidays, weekends) you create a higher level of engagement as audiences are enthralled by content they actually want to see. 
Keep it relevant
Every social media channel has its own core demographic. Understanding who your audience is, why they use the channel and when they use it will improve engagement with your screens
Try it for free
Enjoy a 14-day free trial with ScreenCloud today or request a demo.
Ready to get your organization connected?
Connect your first screen today with our 14-day free trial
innovation