We live in a world where it's easy to get whatever you need at the click of a button. With Amazon Direct, eBay and other ecommerce stores offering next-day delivery for little or no cost, it makes it difficult for even the most loyal customers not to be tempted away from brick and mortar stores. So what if your store could become more than just a place to do your shopping? Experience is key to creating value and community-driven experiences are even better. 
Assuming you have the right products, the pricing nailed and a store full of delightful sales staff, all of the basic tick boxes are checked. So how do you get to the next level and make happy customers ecstatic-tell-their-friends-spend-more customers?
Without further ado, here are the easiest methods to begin building community with your store's customers.
Using digital signage
It all begins with the power of the digital screen. Call us bias, but the power of using digital screens to amplify your store's message and community has proven success. 
Take a customer we spoke to a few weeks back who wanted to use digital signage to sell more smoked chickens in their deli. They created a video on the smoking process, rolled it out across a few cheap digital screens and four weeks later they're having to make "sold out" signs for the chicken counter.
True story.
If you don't believe us, check the facts - over 40% of shoppers say that digital displays can change what they buy because relevant information is served close to the point of purchase. 80% of shoppers confirm entering a store because of a digital sign catching their interest.
Digital screens are super easy to deploy and as you've seen above, they have big business results. Particularly when it comes to building community and providing value through that community. Here are a few ways you could use them to build community with your store's customers.
Reward schemes
With so many stores and shopping mediums available, customer experience is the most important differentiator for stores looking to remain front of mind. Reward schemes build loyalty through the accumulation of points, or free gifts, based on spend.
Think a free cup of coffee after your fifth cup, a members club with exclusive access to launches or money-off coupons that can be spent in store. 
Digital screens are a great way to share reward schemes and to incentivize customers to take part. Use shortlinks to sign-up forms or web pages which give customers an easy way to get on board. You could also use gamification to create a scoring and leaderboard system to raise the stakes between shoppers!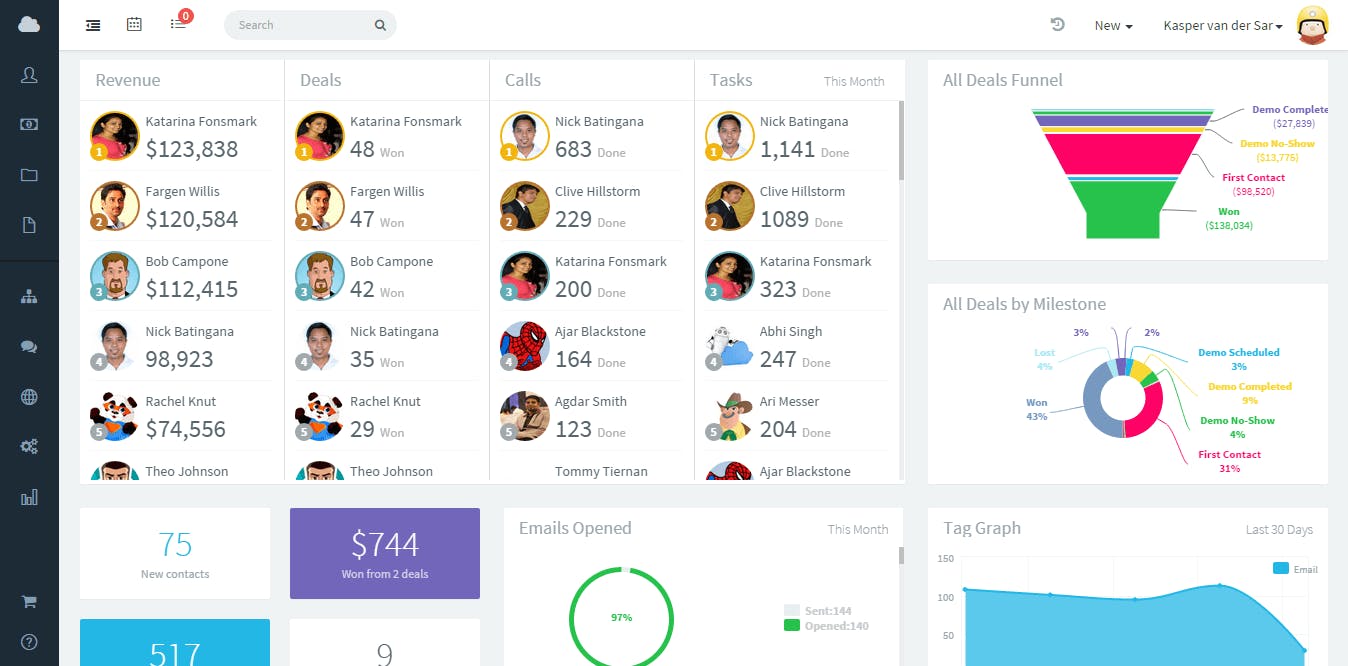 A great example is McDonald's' Monopoly scheme where customers gain stickers each time they purchase a product. Some stickers lead to free food, others to money or larger prizes and there's a collector's element which inspires loyal customers to try and complete the Monopoly board. 
Remember how much time you invested in creating the perfect social media strategy for your store? Make it work twice as hard by transferring your social feeds up onto your digital screens.
This provides return on interest from your investment and boosts following as more customers are exposed to your digital screens. Moreso, customers who tweet, Instagram or share your store on social media get to see the fruit of their labor up on the big screen!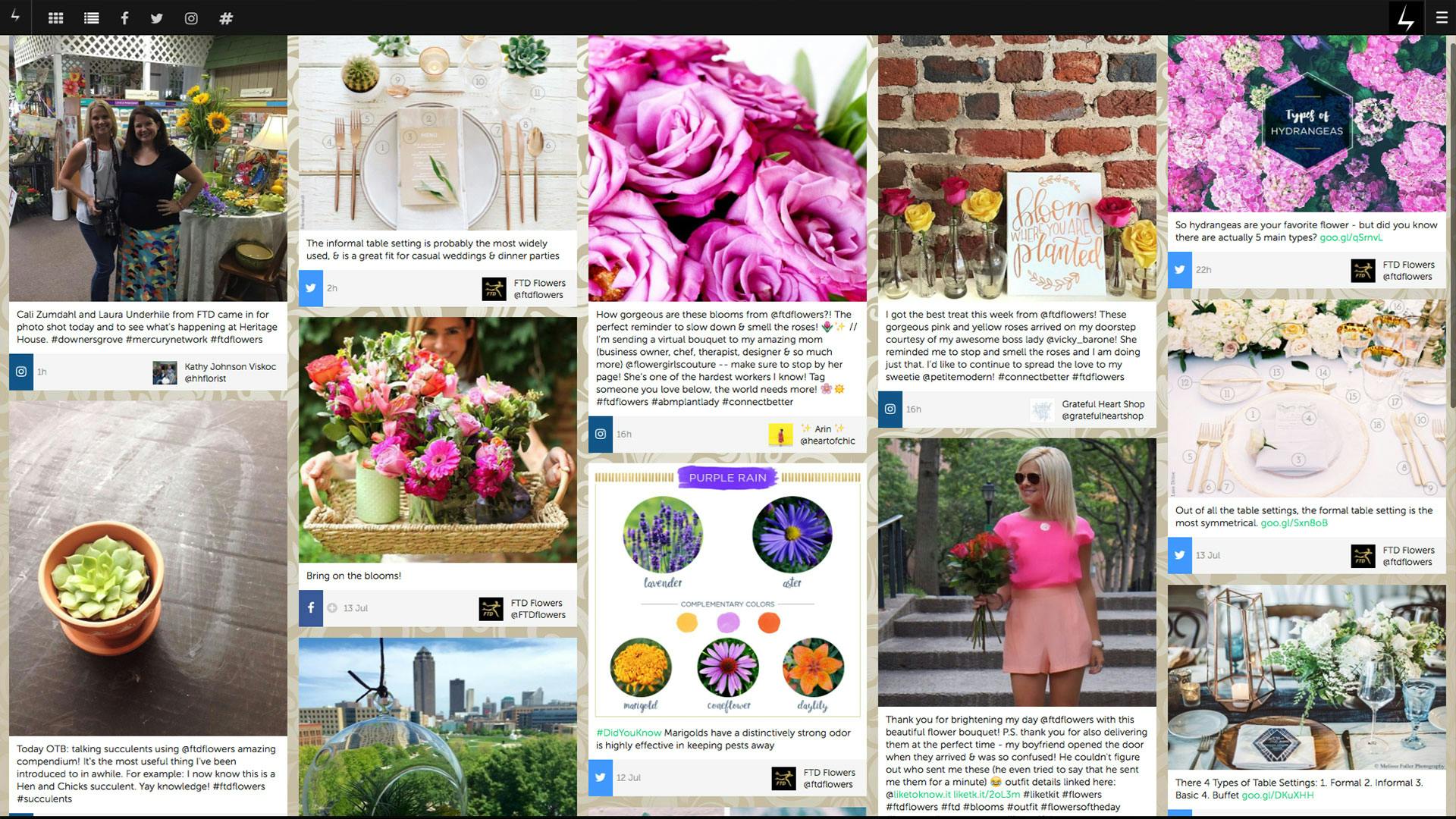 Social media walls can pull in a dashboard of Instagram posts or hashtags, a wall of tweets or your latest Facebook posts. You can also combine different feeds to create a social media dashboard that shares multiple different methods of communication.
When you have great visual social media walls, customers are bound to share more of what they've bought. This opens the lines of communication between you and your customers! Stores, restaurants, boutiques, studios - all have the power to build community both on and offline using digital signage and simple social media displays. 
Entertainment
What are we programmed to remember above all else? Stories. 
Entertainment is so enticing because it provides us with a story. Some form of narrative that we can remember and pull out later that night while we eat dinner with friends. 
Transcribe the fun side of your business by creating digital signage or store front signage displays which entertain. Want to know a super easy way? If your internal team use Slack, create a channel titled "random" or "fun" and add it to your digital screens using the Slack digital signage app.
Now you have a place where staff members can add memes or funny quotes in for shoppers to enjoy. Think about Twitter's trending topics - could you check them and share the best highlights to your digital screens? Real time trends are a great way to build entertainment around topics your customers are likely to be interested in!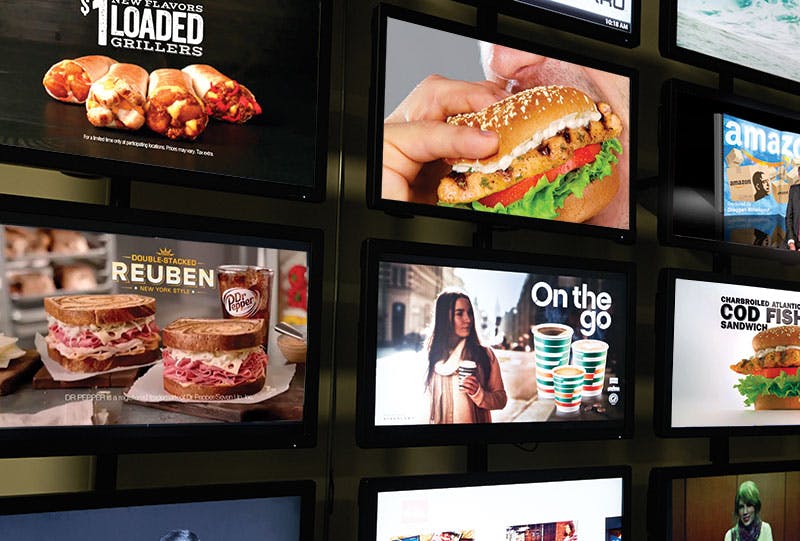 Customers also love to see the people behind the store. Use your digital screens to capture videos from your kitchen, the prep that goes into your best meals and the team days out that make your staff so great. 
Chances are, they'll want to get to know them a lot better!
Notices and news 
Paper notices and digital screens to an effect, can become "part of the wallpaper". Fading into the background without doing your store any justice. You wouldn't leave the same product display up all year, so don't let your digital screens become stale either.
They should be the number one advocate for sharing your store's goals, mission, and other culture components. Add news to a simple noticeboard, share live news from your top daily source or feed in your store's blog to ensure customers are on the pulse of your company.

If a customer enters your store and sees a blank screen, or the same content showing month after month, they'll zone out. Your future chance to entertain and capture attention will be gone.
Keep your displays up to date with the latest notices and news and you'll build a better community with customers who always know what's going on. 

It's not always easy to build community with customers in a physical store, as opposed to online, but digital signage is an easy way to start. It's as agile as you need it to be, can change at the click of a button and has a wealth of options available for how you communicate with your audience.
Ready to give it a go? Our trial awaits you.