Publish content to your screens directly from Microsoft Teams
Learn More


What attracts you to a shopping mall? Is it the stores that reside there? The restaurant joints? The experience you get? The ease of parking?
Most likely, it's a combination of all.
Yet most modern malls today have the basics nailed. It's not that difficult for them to create a great experience that makes you want to shop there. So many malls, or at least the ones who want to get ahead, are looking beyond these basic assets. They're looking towards technology and digitization of their stores to not only improve the experience, but to also appeal to generations of shoppers who were quite literally, born digital.
Enter digital signage
You know all of those screens you see in store windows and on store walls, with fast-moving, enticing content? They have a collective: it's digital signage.
Digital signage is one of the easiest, fastest and most effective ways to get people through the doors of your store, to upsell more products and to create an environment they want to shop in.
According to studies, 8/10 customers have entered a store because of a digital sign catching their interest. Over 40% of shoppers say that digital displays can change what they buy because relevant information is served close to the point of purchase and retail is also seen to be the fastest growing area of digital signage networks.
Stores such as Burberry, are great examples of retailers who have embraced digital signage in store. Their flagship London store features mirrors that double as video digital signage displays, staff armed with iPads and even RFID-enabled screens that trigger related catwalk footage when products are taken into a fitting room, or near a screen.
So how easy is it to set up?
Creating a digital signage network for the modern mall
Here are three steps to creating a digital signage system for your shopping centre.
1. Grab your digital signage hardware
To set up a digital signage wall that shares information within a mall setting you need just two things:
An Android TV, or a regular TV and media player device such as an Amazon Fire TV Stick 4K or Chromecast with Google TV. If you want a more digital signage ready device that can handle the demand to ensure your device does not deteriorate after time after extensive use, we recommend getting started with our ScreenCloud OS device, the Station P1 Pro. The Station P1 Pro solves a pain point for customers as deploying and setting up many screens can be challenging. It makes the process easier as you only need one ScreenCloud OS provisioning USB flash drive to configure your device. Simply configure your USB flash drive, and insert it into as many devices as you like.
Content such as social media, images, videos, news feeds and more
2. Get the app
Next, you'll want to download the ScreenCloud app from one of the App Stores below so that you become connected to what's playing on your screen.
3. Pair your hardware with your app
Once your app is downloaded, launch it up on screen. The first thing you'll see is a pairing code which looks like this:
Head to ScreenCloud and set up, or log in, to your account. Click "Screens" followed by "Add Screen" and enter this pairing code along with a name for your screen.
That's it! You're set up and ready to begin sharing (or selling) content space across your network.
Digital signage content ideas for the modern mall
Of course it's all very well setting up screens but what if you don't have anything to show on them? Luckily, ScreenCloud comes to your rescue with a wealth of options.
Social media displays
If you already use social media feeds for your shopping mall, such as Facebook and Instagram, why not share these to your digital screens too?
Social media is a great way to bring customer feedback, ideas, campaigns and news into the physical location. And it'll remind people to follow you too, therefore increasing your online footprint.
Digital signage that takes advantage of social media is guaranteed to help improve your following and get more people invested in your community. Setting it up is simple.
Some of the social media apps we offer in the ScreenCloud App Store include:
There are also social media dashboards, which help create beautiful social media walls with no design skills needed.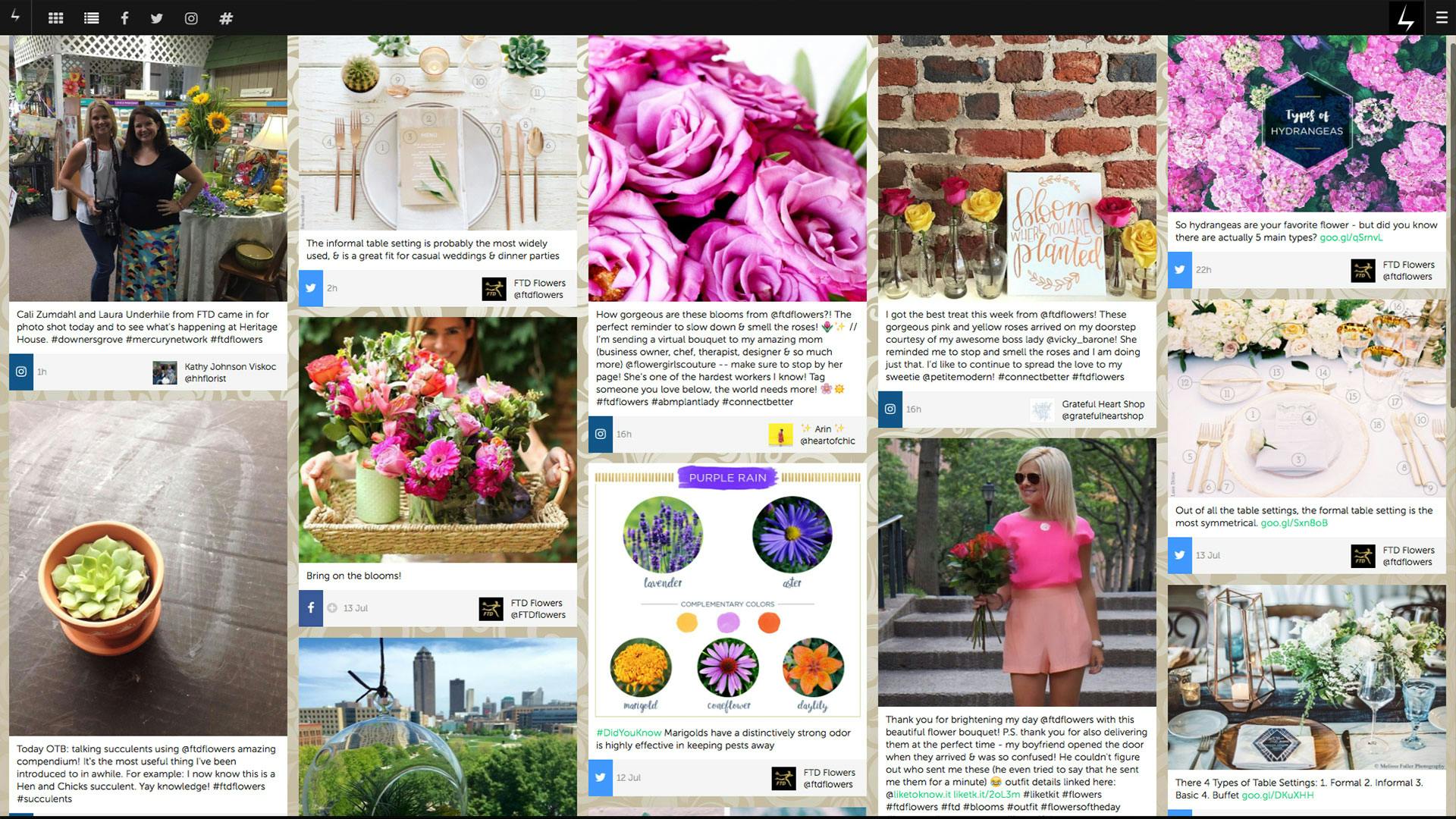 Read this for more ideas how to create social media walls in retail environments.
Your website
You can show your website (or any URL in fact) on your digital signage displays, to save time on content creation. If you have a great landing page, campaign or product page going live, add the URL with one click and instantly you have great, immediate content to share.
Image galleries
One of the fastest ways to communicate visually is through images. If you only have a second or two to grab attention, this is a great way to do it. Image galleries allow you to share your own images but also those of advertisers or sponsors.
You can upload various image formats to ScreenCloud including JPEG, PNG and GIF formats or you can use Dropbox Gallery app, to pull image folders straight from albums to your digital screens. A huge benefit of Dropbox is that when you want to update your images on screen, you simply add them to your Dropbox folder and that's it, ScreenCloud takes care of the rest.
The playlist function of ScreenCloud also means you can create your own image showreel, simply by uploading the images, setting the duration of each one and then leaving them to play.
Notices and health and safety information
How quickly do your static signs date? Truth is, way too quickly.
With digital signage you can update your notices any time you like. So a new store launch, parking hours or even health and safety announcements can all be updated in seconds.
To create notices, you could use an app like Noticeboard, where text and images are created in a display for you, or you can upload your own.
If you want to keep customers informed of traffic and travel conditions, try an app like Google Traffic or TransitScreen.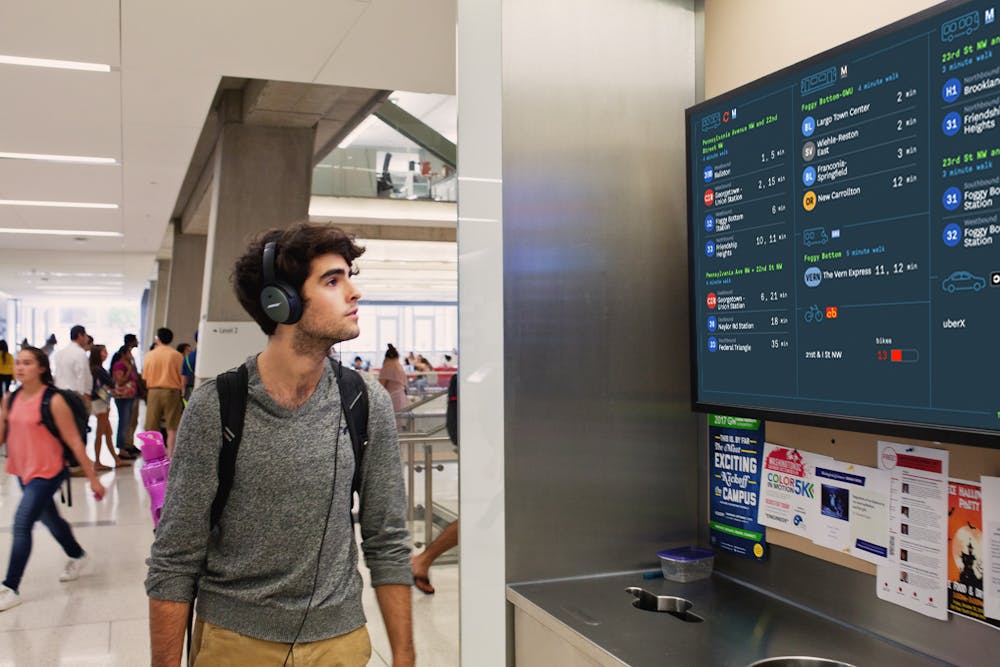 Both will help your customers to feel informed and relaxed while they shop, knowing that their arrangements are in your safe hands.
Digital signs to make your modern mall, ready to get started?
Truth is, this guide has barely skimmed the surface. When it comes to digital signage, there are hundreds of options and content types which can be used to craft your perfect message. We'd love you to get started and see for yourself.
Begin playing with content and ideas today with a 14-day free trial of ScreenCloud.
Ready to get your organization connected?
Connect your first screen today with our 14-day free trial
ideas