Publish content to your screens directly from Microsoft Teams
Learn More


The retail industry is often first on the scene of innovative technology. Fashion changes every season, store displays every month and stock inventory can be just as fluid. For that reason, the technology in store has to work just as hard and be just as interchangeable.
In bricks-and-mortar the medium is the message. Everything that goes into the store setup, from the point of sale display, through to the digital channels and the shop staff, has to make an impression.
Enter digital signage.
Digital screens are a key way for brands and stores to communicate with customers. You can't always have a one-to-one conversation or do a direct deal with every customer but they can always see your digital screen. Moreso, it's not just a "stick a screen up on the wall and be done with it" strategy. There are many different ways to hang a screen as it were, from using digital signage throughout pop-ups, permanent point of sale features, showrooms and more.
In this article we look at four key digital signage retail case studies, what the application was and why it worked, as a result.
Digital signage at the point of sale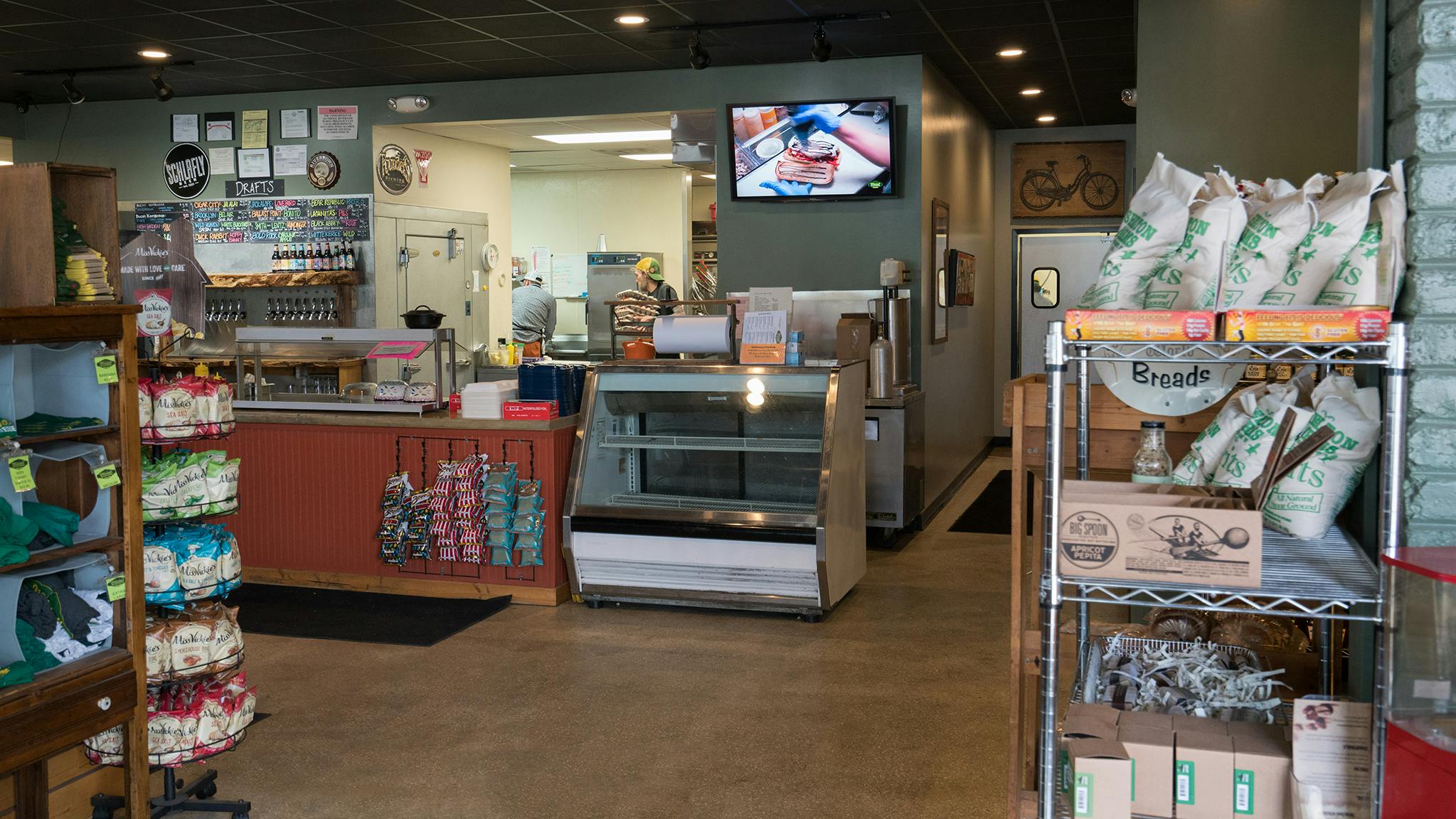 Application:
Mitchell's Delicatessen is a deli located in Nashville that specializes in fresh artisan sandwiches using high quality ingredients with a focus on supporting the local economy. Their messaging is pretty special, so when they decided to implement digital signage, we knew it was going to be something equally awesome. The restaurant, like all retailers, had pain points. The queues were long and customers were getting bored. The speciality items they were creating were often being overlooked.
With some standard Sony TVs, ScreenCloud Signage and some clever video content created by a local photographer, they completely changed their business model. Delicatessen speciality chickens, which were being thrown away, were suddenly highest in demand.
Why it worked:
In retail there's a lot going on. Customers can get blindsided or even confused about what they need and why. Digital signage is like a visual signpost, guiding them towards specific departments, offers or items. When things are easy to navigate, decisions are easier. When customers can see the best, or most popular products, it becomes a no brainer what to choose and stores can become better at anticipating needs, just as Mitchell's Deli did here.
Digital signage in pop-up stores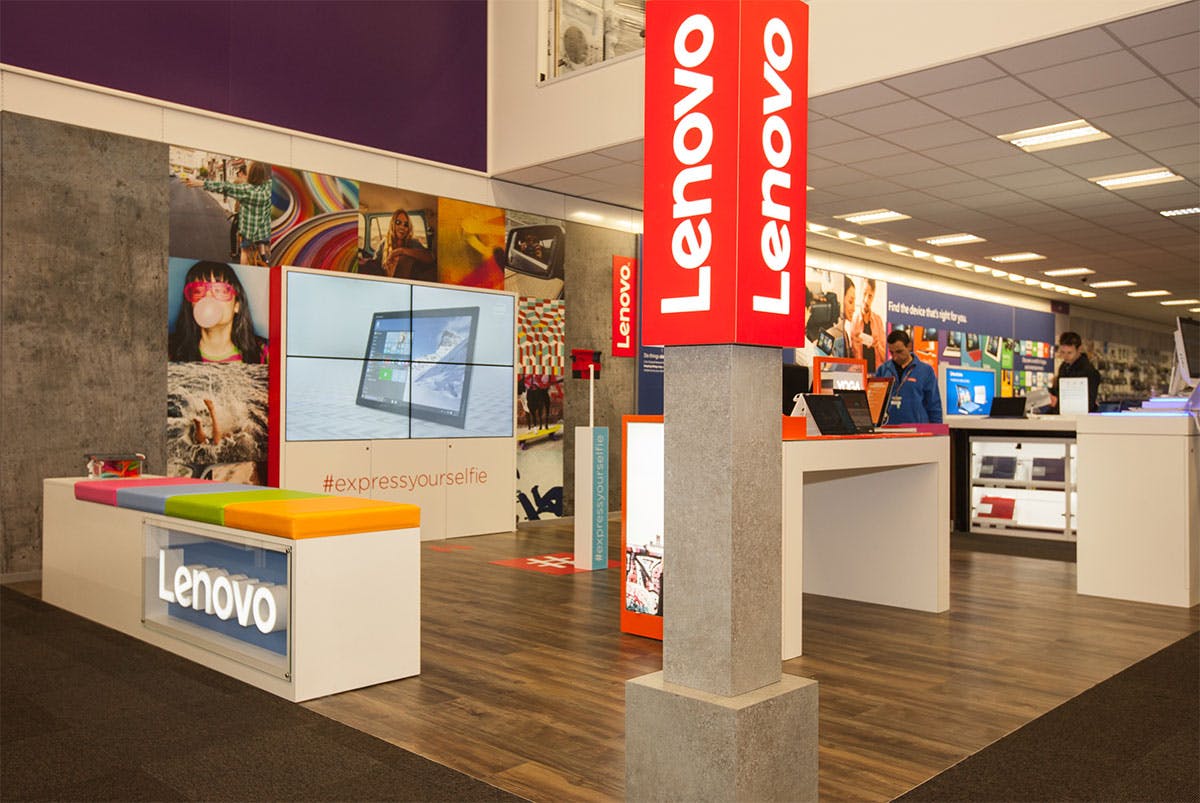 Application:
Lenovo is a PC and tablet manufacturer primarily stocked through retail partners such as Currys, PC World, John Lewis and Very.co.uk. One of Lenovo's challenges is that they don't own any physical stores. This makes them heavily reliant on store marketing from retail partners.
One of the ways Lenovo combats this is through "pop up" stores, essentially a store within a store at one of their retail partners' holdings.
Lenovo also wanted people to interact with their tablets - not just look at them. Using ScreenCloud they created a live selfie wall, where images could be taken on a tablet, sent to Twitter and Instagram to extend the footprint and then shown on a digital screen.
Why it worked:
Screens are a huge campaign connector. In this sense, without the screen, Lenovo may have found it hard to see and share the results of its pop-up store. The digital signage element brought together both the campaign happening in store and the one going out online, for the audience to enjoy. The real time element also meant the visitors could stay for longer and see their efforts up on a big screen, resulting in a truly fun and personal retail experience.
Digital signage joining online and offline retail
Application:
Soletrader, a premium high-street shoe retailer, has been around for over 50 years offering superior shoe collections for men and women. Despite having such a strong physical retail presence, Soletrader has also worked hard to establish a presence on social media. Using ScreenCloud, they brought their online efforts in store, to join up the experience for customers and make one, seamless brand story.
Why it worked:
We've all heard of "omnichannel" marketing in retail and while the term may be slightly overused, the meaning is actually pretty relevant. Consumers aren't separating their online and offline retails experiences any more. They expect things to be joined up and for younger generations in particular, to have a connected experience wherever they shop. Adding social media in store and using digital signage campaigns, is a clever and yet really simple way to do this.
Then you have the added benefit of repurposing content. Any retail brand who's spent time and effort creating amazing social content should see the fruits of their labor shared as often as possible. Taking social media and plugging it into your digital screens is a great way to double down on great content you already have, particularly in retail, where things change fast.
Digital signage and the retail showroom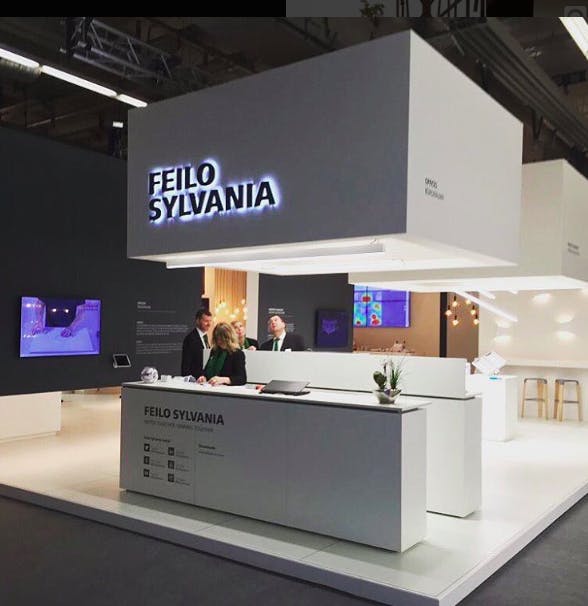 Application:
Feilo Sylvania is a leading provider of professional and architectural lighting solutions for both the public and private sectors. At a key industry exhibition, the brand used ScreenCloud to run content across four digital screens, that each related to a different division of the company.
This was a hugely effective way to share lots of different information simultaneously, without giving visitors overload or tons of printed brochures and information packs.
Why it worked:
The solution worked in an exhibition environment because of its ability to streamline different information and put it in a simple medium for passing visitors. To take that one step further, Feilo Sylvania also then used the application to roll out across physical showrooms throughout the UK and Europe.
This allowed them to re-use their content and to create personalized welcome messages for customers and show off presentations, brochures, videos and anything else that has been prepared for a particular showroom or event.
The ability with digital signage to change, re-use and repeat content is key to creating a truly relevant feed that's easy to set up. Making digital signage a great medium for retail companies looking to share news, products and updates regularly while in-store.
If you're looking to use digital signage for your next retail campaign, get started with ScreenCloud with our 14-day free trial or speak to our team on hello@screen.cloud.
Ready to get your organization connected?
Connect your first screen today with our 14-day free trial
ideas