Publish content to your screens directly from Microsoft Teams
Learn More


How to Use Digital Signage in Real Estate
Still using static signs to market your real estate business? Let's help you to go digital!
Many real estate agencies are still doing the hard graft of marketing through static signs and paper printouts. This means a whole load of exertion each time properties change hands, or prices, or even when the season changes and the leaf-strewn lawn pics no longer work.
If you're a real estate agency managing thousands of properties then we're here to guide you into the light. A light that looks a little like a digital sign. No not those neon ones outside the takeaway joint, nor the 'For Sale' signs stuck into lawns that may grate on your visceral nerve. We're talking about digital signs in the way of screens that allow you to showcase rapidly-changing sophisticated digital content. Whether that's property adverts, area guides, wayfinding, social media feeds, promotions or general news. 
Ready to give your signs (plus your office and marketing communications) a strategy upgrade? I thought you were. 
Digital signage in your real estate office
Digital signage in your real estate office and storefront as a marketing tactic, has numerous benefits over traditional static paper signs. 
1. Flexible showcasing of properties
Digital signs are as interchangeable as the weather! This means when a property's off the market, it's off your screens. 
With our digital signage software CMS at ScreenCloud, removing an image of a property from your showreel of content is as easy as clicking the little trash icon.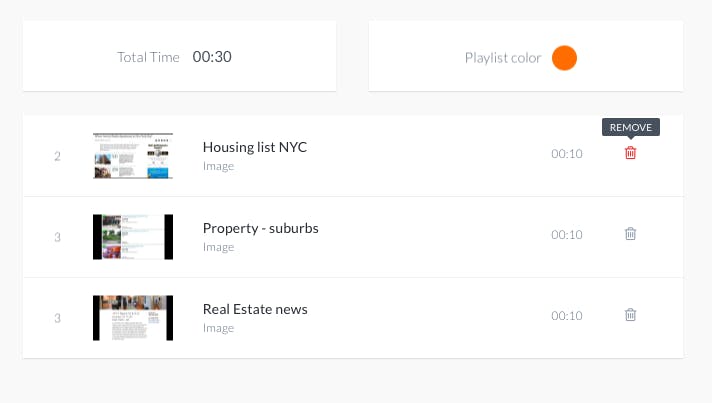 A digital sign setup in your firm's office has no space or size limit. It can act as a virtual directory of hundreds or even thousands, of rapidly changing properties. This can be set up from your own dashboard, a website, an image file, a video or even a presentation such as Google Slides. 
2. Different content for different audiences
Real estate is all about location right? Well so should your digital signage be.
If you have offices in multiple locations, you're going to have clientele approaching from all different walks of life. Some may want a two-bed apartment in Downtown, others a family home in the suburbs. 
The digital screens used in your shop windows are only as good as the content they show. But you know your audience right? So depending on your locations, your peak periods and your customer clientele,  you can tailor your content. Using playlists and schedules to choose content down to the minute it becomes relevant.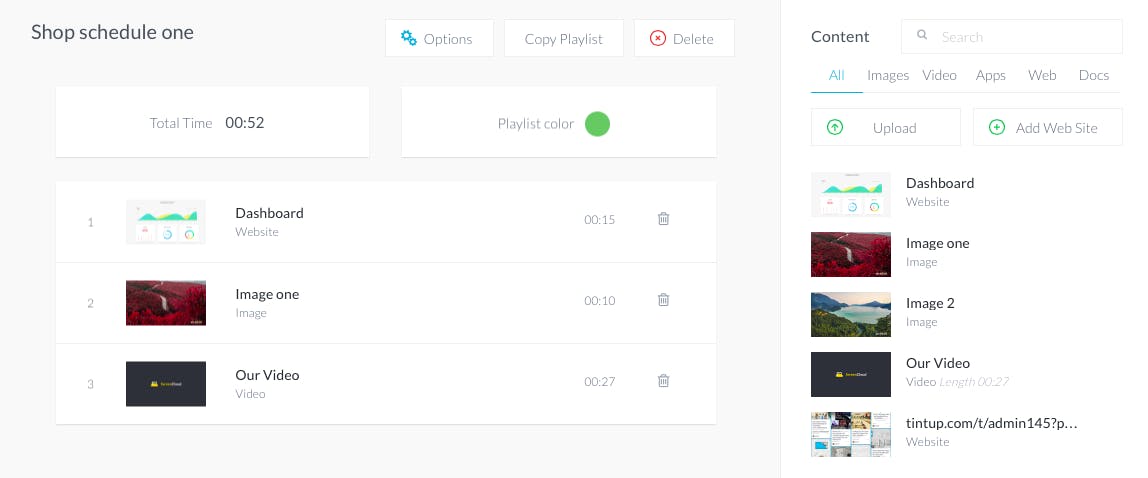 Setting up a schedule in ScreenCloud is easy!
Have a cohort of customers who browse on their way to work? Perhaps you make the image flow faster, so they can view more properties. At 10am maybe you have people on their way to the Yoga studio next door. So you select family properties to advertize that include - yep you guessed it - their very own yoga studio space. 
The more you optimize content based on who's walking by and when, the more appeal your business will have to it's customers. This is all information you already know! So using it to do what not many other agencies are doing, tailoring the digital content to individual visitors, should be easy. 
3. Merging physical and digital 
Digital signage in your real estate building pulls together your location-based marketing, your physical storefront and your digital marketing too. Digital signage apps allow you to create on-screen feeds of social media channels, TripAdvisor area reviews, weather updates and even news headlines from sources such as CNN, Sky News and the Financial Times. 
With Instagram, your realtors can snap and create images while out-and-about, add them to your Instagram feed and hey look - it's up on the screen outside your offices. 

No need to update the screen or hit refresh - everything is done for you. 
When your customers are creating powerful user-generated-content for your real estate company, from images of their property, to tweets and customer testimonials, you need to display them for the world to see. Digital signs in your shopfront are the easiest way to do that.
4. Internal and external comms
Digital signs allow you control over the content being displayed, right down to individual screens within the same office. This makes them ideal for both external and internal communications.
Communicating with internal staff can be done from anywhere, with content that can be changed from your laptop regardless of whether you're near the screen or not.
You can also add different content for different locations  - if you're sponsoring a local event, or holding an open day why not use your digital signs to tell everyone about it?
Commercial and residential real estate 
Here's where it gets interesting. Say you own some commercial or residential real estate, you want it to look as enticing as possible right? Today's property market is competitive. Many want their apartment buildings to have the edge over their friend's apartment buildings, or their offices to look better than their competitor's. Younger digital natives are also beginning to join the group and you better believe they're going to expect digital.
To compete in today's market, traditional buildings need to adapt. This is why digital signage is being employed to charge-up windows, lobbies and reception areas of commercial and residential real estate.
Here are some of the ways they're doing it:
1. Share information
One of the easiest ways to start your content flow (even when you don't have any) is to share important information.

Maybe the weather (better take that umbrella guys!), stocks and shares for those in the financial district, news feeds or even currency updates.
Top tip: did you know we have apps to do all of those things in the ScreenCloud App Store? And every one of them is included in your monthly package.
2. Automated digital advertising processes
Large, high-resolution images and videos attract attention. According to studies, digital media in public venues reaches more customers than videos on the Internet or Facebook. More importantly, 8/10 customers have entered a store because of a digital sign catching their interest.
This is a powerful reason to use digital signage to setup automated digital advertising systems that allow you to earn back, while relevant ads reach your customers. 
3. Directories and wayfinding
In commercial real estate especially, directories and wayfinding can be a key use of digital signage displays. Helping shoppers to find stores, or tourists to view important information. A funny graphic like this one below makes the area seem relatable and will likely get a few laughs from your audience, when displayed digitally for all to see.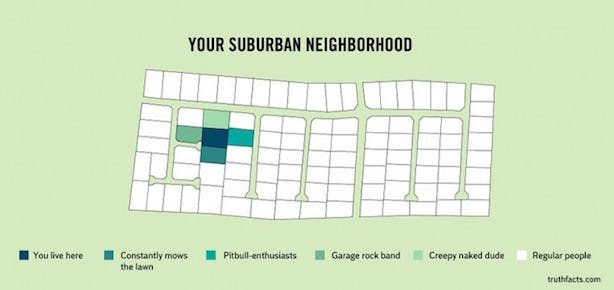 The best thing about digital signage in commercial and residential real estate is that you only need to invest once. Set up your screens, choose your content or your digital signage apps and that's it. Your content plays and you can adapt it and optimize (and you should too), but with little else needed in the way of maintenance.
Meanwhile, your tenants get a rich, visual experience that connects them back to your brand and the information they want to see, time and time again. 
How to set up a digital signage display in your office lobby or reception
So once you have all of your content, you get the theory behind the strategy and you've optimized each piece of content to within an inch of its life how do you actually get set up? 
Let's take you on a quick spin through the three principles of setting up an easy-to-use cloud based digital signage display.
1. Choosing hardware in real estate
You have a few options here. If you have an Android TV you can download the ScreenCloud app right from the off from the Android App Store. Or, you can take any regular TV screen and grab yourself an Amazon Fire TV Stick 4K or a Chromecast with Google TV to connect and download your ScreenCloud app.
When choosing your hardware, it's important to consider how long you want to display your content. If you only plan to show your content for a few hours out of the day, the Fire TV Stick or Chromecast with Google TV should do just fine. But, if you want to use your devices for more than 8 hours or perhaps even 24 hours a day seven days a week - for example showing promotional content in a window display - you may want to purchase a more commercial grade device that can handle extensive use.
Commercial grade devices like our Station P1 Pro device are built to run difficult content for extensive periods, and typically have metal casings to dissipate heat and have minimized security risk compared to your average consumer devices. 
Top tip: In real estate your digital signs are likely going to be out there in your windows so you're going to want a slick finish. For that reason, perhaps go for the Amazon Fire TV Stick 4K - this sits neatly in the side of your screen so there are no wires or leads on show. Watch this video to find out more:
2. Digital signage software for real estate
Once you have your hardware setup, downloading your software is easy. Head to one of the App Stores below and search 'ScreenCloud' - the rest it up to you! 
3. Apps and choosing content for your digital signs
As mentioned earlier, ScreenCloud has two primary options for setting up content. Firstly, you can use content you already have and love. This could be videos, images, presentations and reports. 
ScreenCloud supports file types such as jpeg, gif and pngs as well as Office and iWorks formats so you won't need to do anything other than click 'upload'.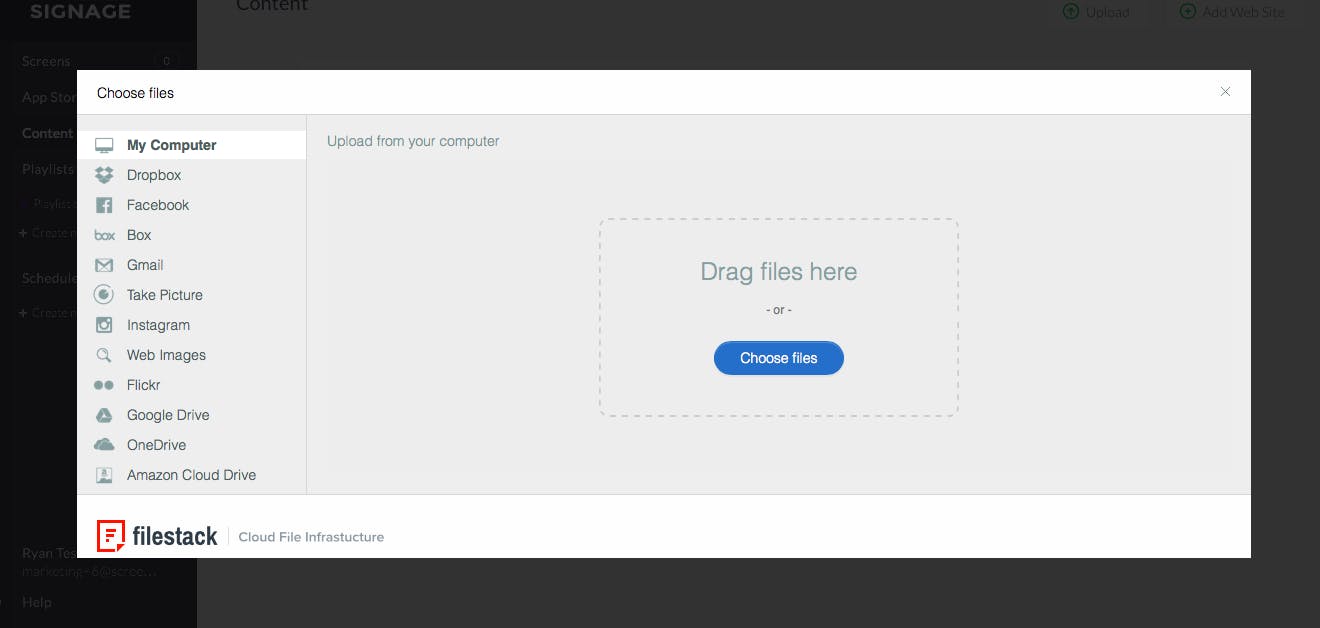 Secondly, you can use one of the many apps we have available in the ScreenCloud App Store. We already have social media feeds and dashboards, news, weather and stocks apps, Google Slides, Microsoft Power Bi and more - and we're adding new ones all the time!

Many real estate agencies and individuals missed the online boat that changed the way traditional agencies function forever. By adopting digital signage, you may just captialize on the next 'big' thing to disrupt your industry.
We'll be ready and waiting to help when you do. Grab your free trial of digital signage software ScreenCloud at https://screencloud.com
Ready to get your organization connected?
Connect your first screen today with our 14-day free trial
ideas