There are more officeless companies than ever as people adapt to remote and, increasingly flexible, working. Which means that coworking and members' clubs are in more demand than ever. After all, if I could choose between a stuffy office block and a cool lounge space where the coffee's better and champagne gets opened come 5pm, I know which I'd choose.
Members' clubs service customers for a variety of reasons, they provide somewhere to work and relax, they often fill in many lifestyle aspects like a gym, swimming pool, spa and socializing space and they're just pretty nice to be a part of.
If you run a members' club you may have felt the heat to compete. There are hundreds of members' clubs in London alone and the list is only growing. Digital signage (TV screens that radiate important information, events and offers) is a great way to impress and retain existing members, plus attract new ones. Digital signage is a proven message of advertising. It's shown to have an 83% recall rate, and 8/10 people have entered a store because of digital signage catching their attention. Can you say the same for your other marketing ploys, like email or social media?
Now's the time to get started with your digital transformation.
8 Uses of Digital Signage For Members' Clubs
1. Promote upcoming events
What's your content funnel when it comes to promoting member events? Do you send an email? Post it on your private Instagram page? These are all great ways of communicating but trying to reach everyone can often feel like trying to swim against the tide. That's why we love digital screens that you can use to promote upcoming events to members. While they grab a coffee, or sit in reception, you can use your well-positioned digital screens to tell them exactly what's coming up, the time, the number of tickets left and how they secure them.
This increases ticket sales and ensures your members are always up to date with what's happening.
2. Share leaderboards, scoring systems and membership details
The huge benefit of digital screens positioned within a members' club, is that they're only seen by members and staff. This gives you a big advantage as you can program content that would otherwise be too sensitive to share. For example, sharing leaderboards of your most active members, or the longest standing. In this sense, digital screens become the digital campfire around which your most important discussions happen.
3. Increase social media activations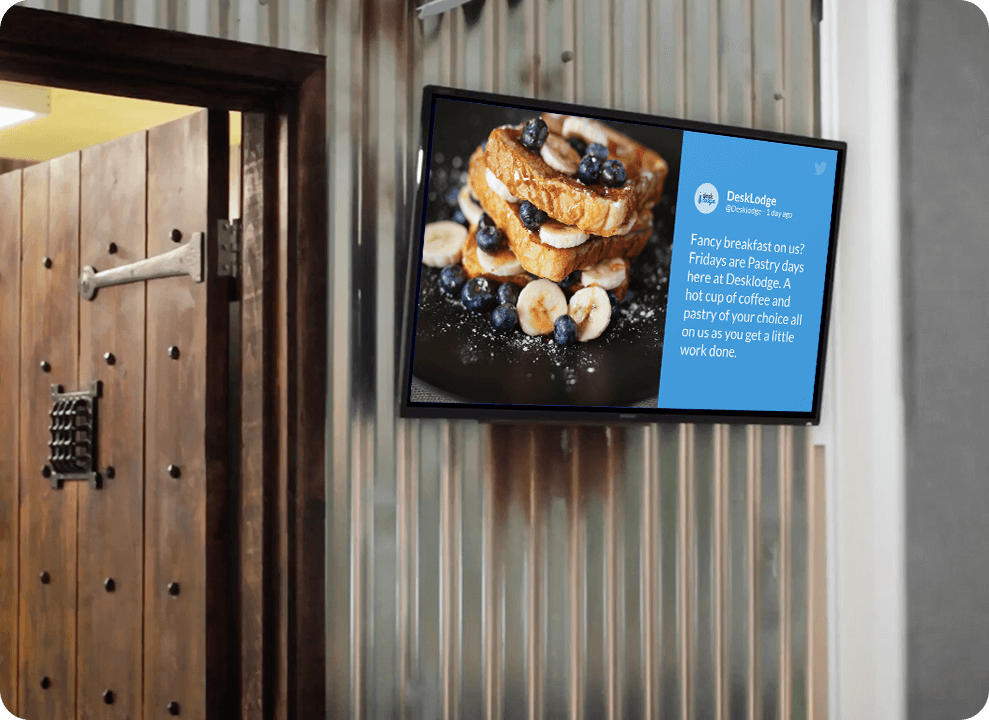 It's one thing to retain existing members but what about attracting new ones? If you're working on a membership activation strategy, digital signage could be the way to go. This is two-fold, any prospective members can see exactly what you offer and will see how often you keep in touch with your members. At the same time, you have the ability to share your public social media feeds. Sharing Instagram galleries, tweets and Facebook posts on your digital screens reminds people to follow you. As your following rises, you get more shares and recommendations and being to reach a wider audience.
4. Build members community
A members' club without members is a pretty poor club indeed. This is why community building has become a cornerstone of what the member club experience is all about. So where do you start? Community comes when a group of people have a shared interest, and are given the opportunity to facilitate that interest. This could be via events, by sharing photos from a past event, or by using an app like Meet the Team to share details of your members (with permission) so that other members can see exactly who else is there.
5. Welcome visitors
Personalization helps members to feel like an experience was made just for them. Which is why we love the way some of our customers have developed ScreenCloud, so that as a membership badge is tapped, the visitor receives a welcome message on screen.
6. Create local advertising
Members' clubs build community but they're also often part of one. That's why some people prefer to commit to Soho and others Uptown, because everyone is looking for something different and within an area of their choosing. Digital signage provides a great opportunity for you to sell advertising space for local hospitality businesses. This puts them in front of your customers but remains on brand; it's likely your customers will want to know the coolest places to eat, drink or visit. Digital signage gives you the ability to create posters, ad slots and offers that you can share on screen.
7. Show relevant real time information
While members are relaxing or working in your space, ambient content can be a welcome source of entertainment. Some of the apps that can fuel your content strategy include News feeds, World Clocks to show the time around the world and Currency feeds of the latest exchange rates.
8. Connect members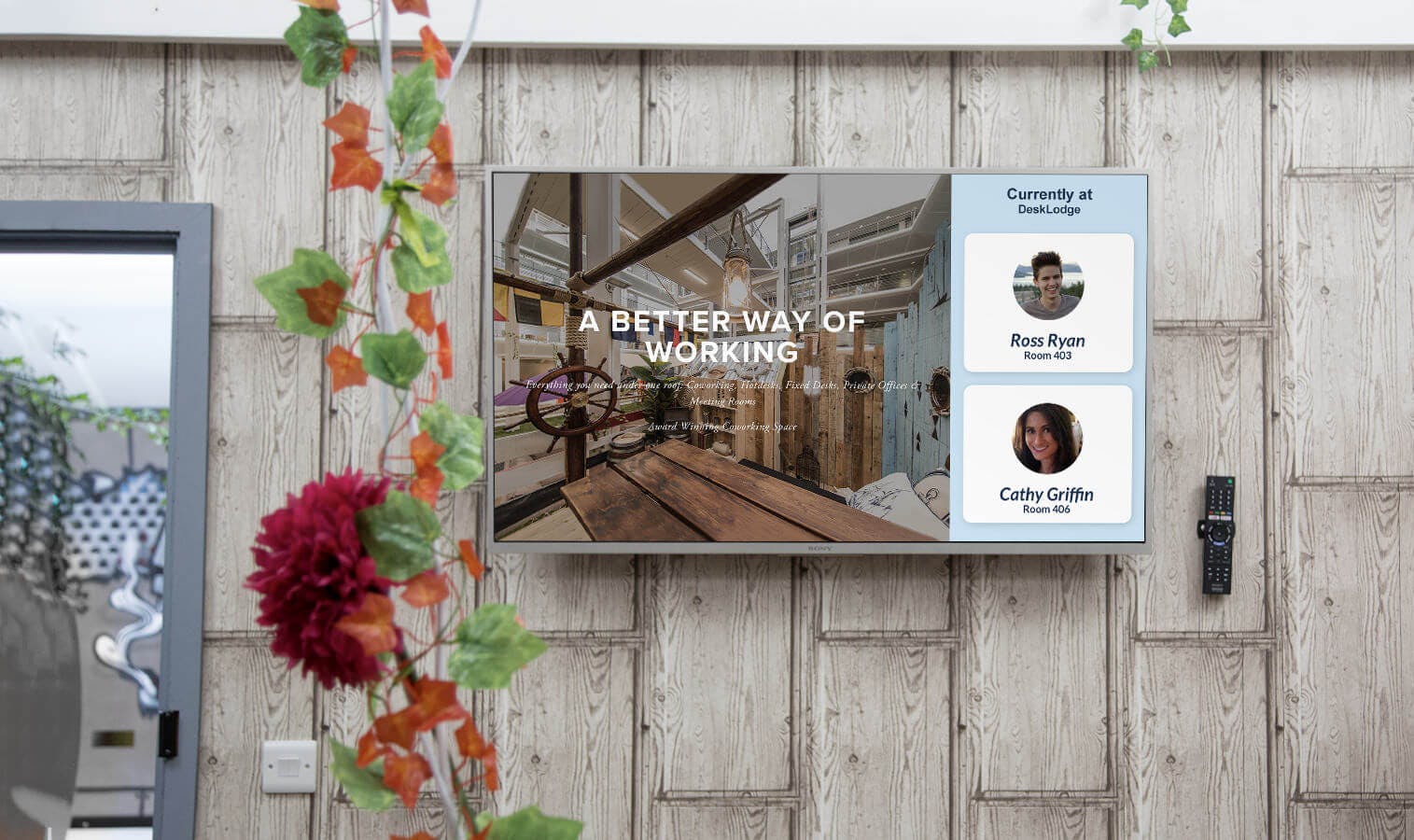 When one of our customers, Desklodge, created digital signage in their coworking space they didn't realize it would be the missing key to members getting to know each other. Their members are able to show that they're in the building, just by checking in, and with a little help from the screens, conversation begins to flow and connections are made. As Founder Tom Ball explains, it makes connection, easy:
"I think the most popular screens that we have are the ones above the kettle. People are stood there waiting and they're hanging around for a couple of minutes - having the screen right there engages people.
They'll say "oh look there's you, I didn't know you were doing that". So people within the coworking spaces will end up meeting each other. I don't think they'll ever realise that it was through the screens that they met but it helps people to naturally know what's going on without having to interrupt them.
Of all the ways we connect people it's by far the simplest and the most successful that we've tried so far."
Get started today
Looking to set up digital signage for your members' club? Try our 14-day trial of ScreenCloud at screencloud.com/getstarted. It couldn't be simpler.