Being the only voice publishing content to your digital signage network is a little old school. If you look at the internet as an example, at first it was all about what content websites and wikis could create. Nowadays, it's all about the content the user creates. Digital signage is following the same trend.
When we allow our audience to become an active part of the conversation everyone wins because it creates a systematic way of deepening relationships through authentic two way communication.
Successful user generated content displays:
Gain more attention as employees and customers feel more seen
Allow you to champion behaviors, staff or influencers you want to hear more from
Help you to receive important insights which otherwise, wouldn't be collected
In this post we're going to look at user generated content, why it's effective and how to use it on your digital signage screen. Hint: if you'd rather watch videos on the same topic, head here.
Why is user generated content (UGC) important?
User-generated content is a goldmine of information. It can be a direct line to your customers. And it can benefit everyone within your business. Most importantly of all, it's also free marketing.
UGC can also be considered a source of truth as it is not being produced by the organization in question, and can therefore be considered as relatively unbiased. By placing a focus on your UGC, this can drive home brand values such as trust and transparency.
Social media and user generated content - what's most effective?
One of the easiest forms of user generated content comes from social media.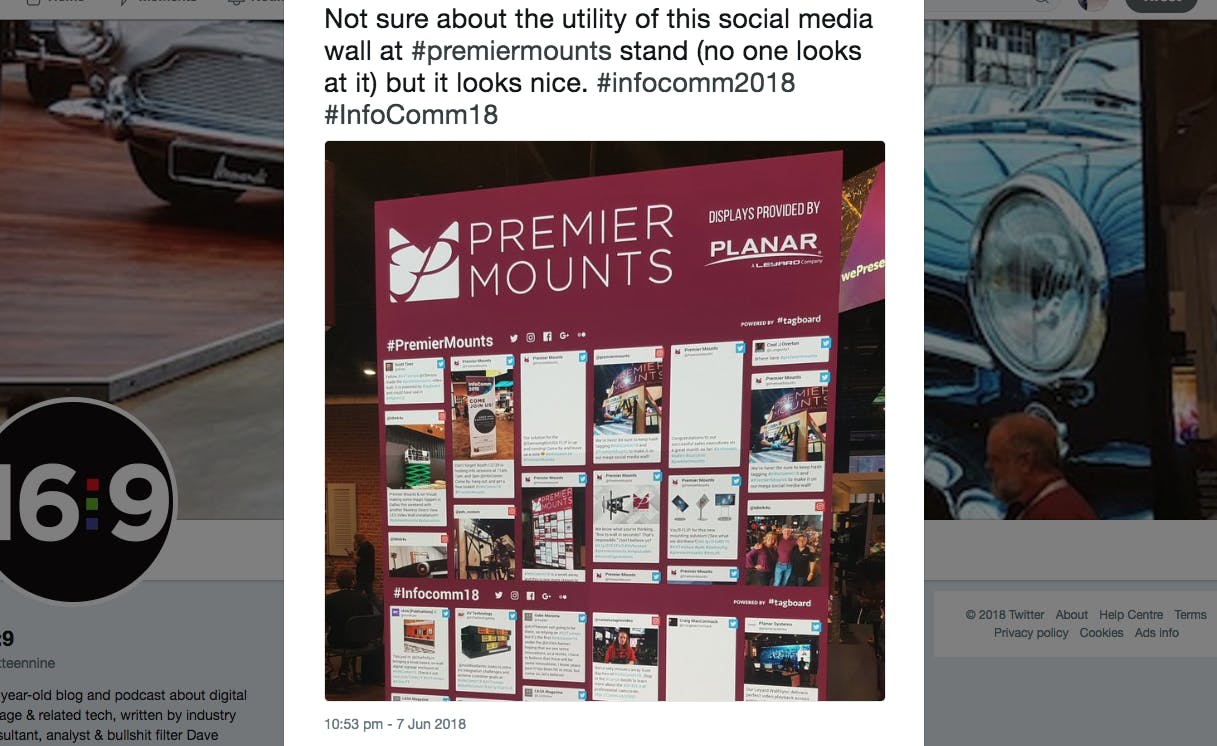 "Not sure about the utility of this social media wall at #premiermounts stand (no one looks at it) but it looks nice." Source.
The easiest way to incorporate UGC is through the creation of a social media wall. But it's not enough to just have a bunch of random photos on the screen. As this tweet shows, it needs to be tied to something deeper in order to inspire someone to take action and get involved.
A social media wall is a highly effective sales and marketing digital signage strategy. It can be a constant – and free – stream of highly-curated content.
Couple that with a data-driven and analytical approach and you can start to build a picture of customer behavior, brand sentiment and even measure the success of your own campaigns; this is a great element to add to your digital transformation strategy. 
User-generated content and digital signage
Digital signage and UGC is a powerful marketing tool, especially when coupled with an app like Taggbox. As Taggbox themselves say, they provide a "simple and easy process for creating UGC campaigns and experiences.... [with] solutions that convert users' content into brand trust and success."
There are also other social media dashboard apps like TINT, SocialWall Pro and SocialHUB that help you visualize - and analyze - the most important data on screen. You can also share user generated content like images, without even having to make them public. Just setup a Dropbox folder and have your customers or employees upload images, using the ScreenCloud Dropbox app to see them appear on screen.
One of the most important ways for humans to bond is by having shared experiences and understanding. Polls on screens are one of the tools that can be used to foster this conversation.
One tool that helps to do this is called PollEverywhere. This tool allows your audience to see answers being visualized on a giant screen, or your digital signage network.
When it comes to putting a question on a screen here are four tips which really help to fuel more user generated content to come your way.
1. Use open ended questions
Avoid questions that would result in a Yes or No to ensure you can keep the conversation going. It's easy for someone to tap "yes" or "no" but when they have to think about an answer, that's when you start to get the good stuff.
2. Switch up your question format often
Particularly in an office environment, when your audience is always infont of the screen, you may want to change questions as often as every week. This gives employees time to see and engage with the question, but doesn't allow for the poll go stale.
3. Want real answers? Ask hard hitting questions
You can make poll responses anonymous, but if you are going to go down that route you should always use this option. If you don't it will just seem like you are looking for who said what.
4. Find a fun way to measure difficult things
Rather than asking employees how their day was or about their job satisfaction, try to make it fun. A great example from Brad, our Head of Content Strategy, was using a character and clip from the film Big Hero Six, to rate employee "pain level". Taking a page from the movie Brad would ask people to click on how they felt that day. The element of fun made people more likely to click on it, but being a sensitive subject, the information could still be kept private or just for management.

We hope that this deep dive into user generated content has helped spark some ideas in how you can get more people interacting with, and championing, your digital signage screens and your company. If you have a question about anything we've covered, we'd love to hear from you - hello@screen.cloud