If there's a time of year for retailers, cafes, restaurant and hotels to put a little extra sparkle into their campaigns, it's got to be Christmas. The holidays are a great time of year to think about making the most of your marketing and physical displays to attract and engage.
Luckily, you're in the perfect period to begin planning ahead for those all important holiday campaigns. Whether you're getting into the Christmas spirit with a festive pop up, or are sharing thoughts for Thanksgiving, here are seven key ideas that will help.
1. A Christmas themed pop-up
A great marketing idea for the festive season is to create events and pop up areas of your store, hotel or restaurant where you can invite people in. This gets them to visit and ensures they linger longer, while also seeing all of your great Christmas and New Year campaigns.
There are plenty of pop up ideas worth looking at; from Santa's workshop, to a gift-wrapping station and even an exclusive shopping session. If you have new products launching, or great gift ideas, why not invite a select number of customers down before the store opens, or after it has closed, and host a private shopping session? This gives you a floor through which you can tell customers about your best products and offers, while having fun along the way.
You could even host a practical pop up. Why not fire up the ovens and teach customers how to cook the perfect Christmas turkey? From wreath-making, to Christmas wrapping, there are lots of ways you can get people through the doors and give them something valuable to take away with them.
Ensuring that next time they need holiday help, they'll know where to turn.
2. Digital signs to attract and engage
The trouble with the holidays is, we spend so long building everything up, for it to be over in a flash. This can make marketing a costly exercise. One way to gear your business up for the festive season, without breaking the bank, is to create all of your campaigns digitally.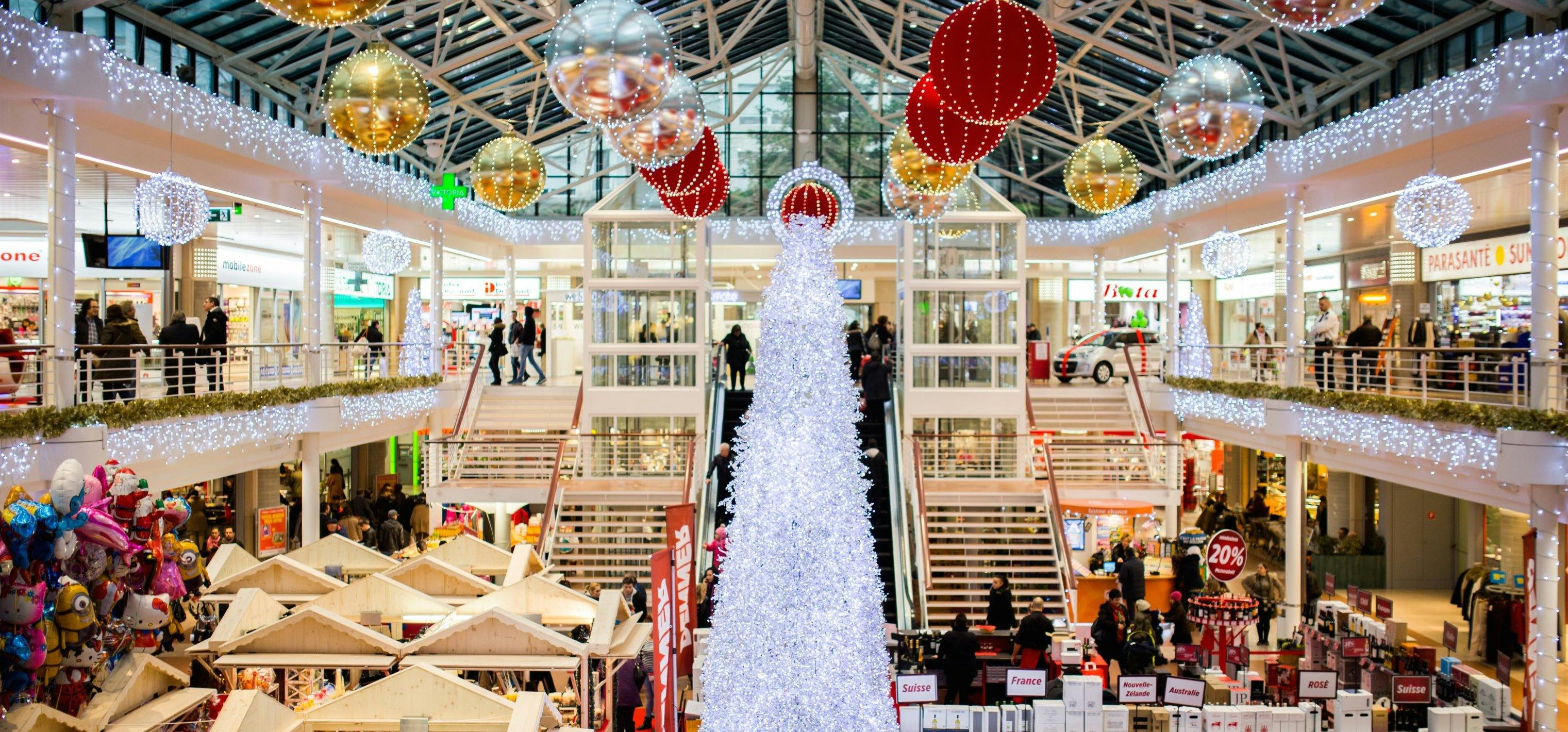 Digital signage (that's the art of putting great content up onto TV screens around your store floor or restaurant windows) is a great way to attract attention fast. You can use a variety of means to create your festive-themed content, from Google Slides, to uploading your own images, importing social media feeds or creating notices. Then, with a few clicks, you can connect your screen to the Cloud and upload your content using a CMS like ScreenCloud.
Once your content is live, you can promote holiday ideas, branding and promotions from the comfort of your own store windows and flick the switch to turn it off again as soon as Christmas is over.
This reduces paper waste, allows you to adapt campaigns in the moment, as they happen, and ensures you make the most of the opportunity to upsell and connect.
For more Christmas-themed digital signage ideas, check out our guide.
3. End of year reviews
Companies such as Facebook, Google and Spotify all promote great End of Year Review content for users in the lead up to the holiday season. Timely updates are a great way to attract attention and can spark a bunch of ideas for campaigns you can run in the lead up to Christmas.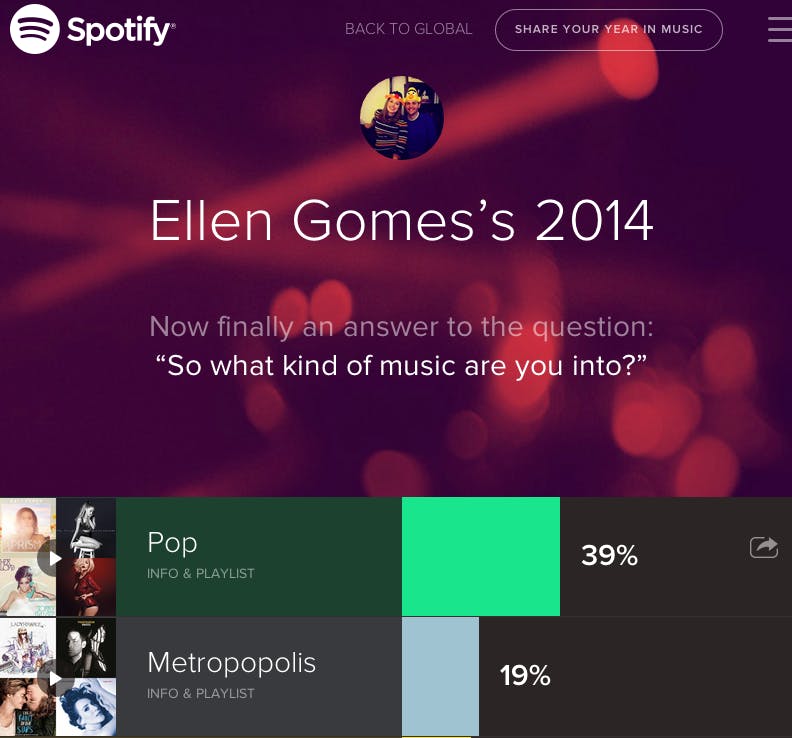 But they're not the only ones who can do it.
It's likely you've hit key milestones over the past year alone. So why not shout about it?
Using window graphics, a point of sale display, a paper leaflet or even an online campaign, you can tell your customers what you've done that's made a difference.
This could be formal, like company figures, charity initiatives and sales, or fun, with updates on number of coffees sold and pairs of shoes that walked through the door. With permission, you could also get your customers involved. Who was your most loyal patron? Did someone visit 230 days out of 365?
The closing of the year is a great time to sit back and take stock of achievement, so why not let your company share in a little of the glory too?
These types of reviews are more relevant at this time of year than ever, making them excellent marketing content.
4. Bring in the Christmas branding
You know how many realize the festive season has started? The Starbucks Christmas cup. That's right, the sign of a Christmas-themed cup has become so iconic to the holiday season, that they are long-awaited by coffee drinkers everywhere.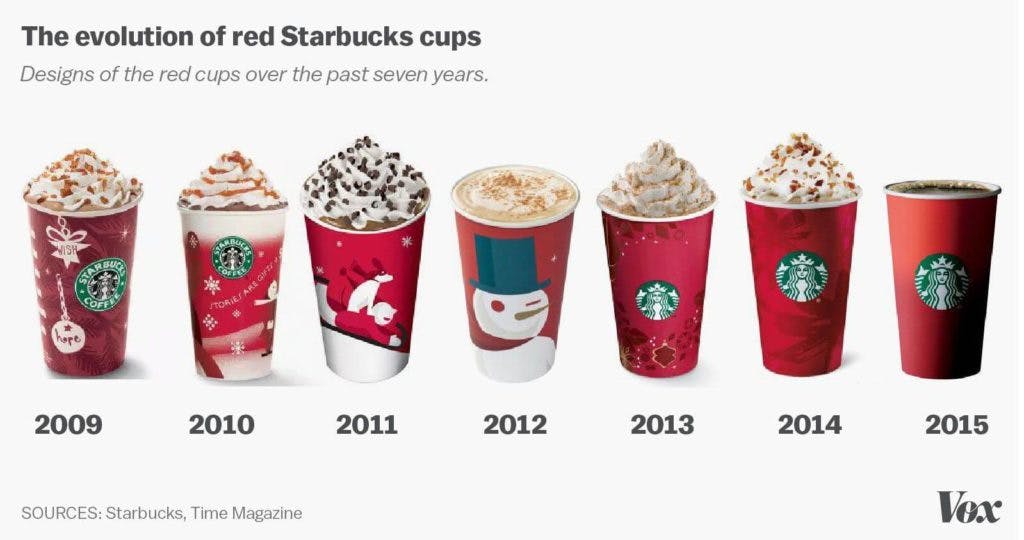 Images Source: Vox
Not only are these sought out, but they also end up in a ton of user-generated content as customers Instagram and tweet to say they've had their first one.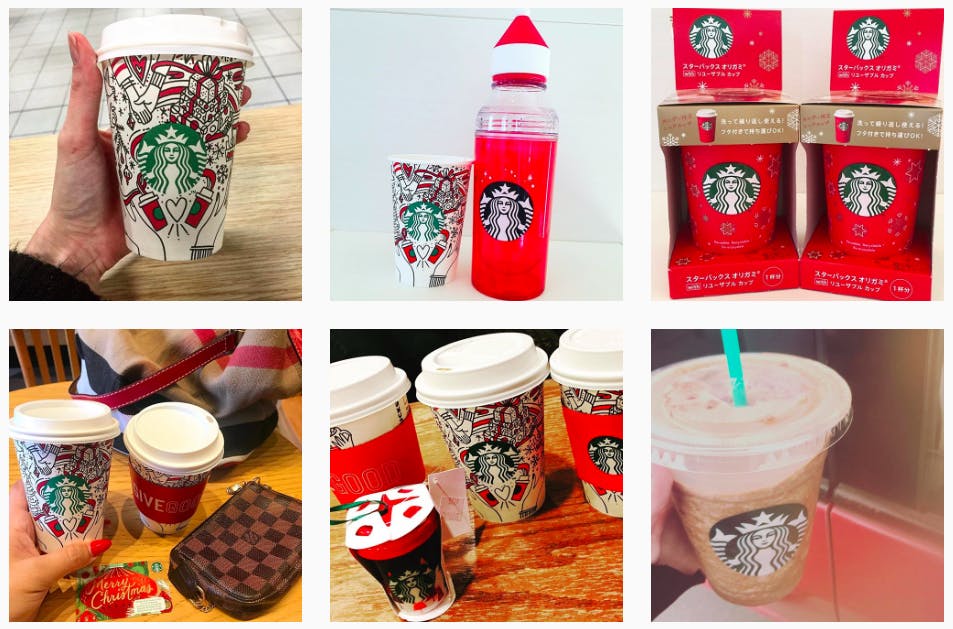 Think about how you can add a festive flair to your physical branding. It could be in the form of branded bags, gift cards, or even in the way your store is decorated and how you create window displays.
If you can't do anything in store why not look towards online? Updating a social header with a holiday-themed feel will help refresh your look and will attract attention.
5. A charity initiative
When it comes to the holiday season we all feel a little more charitable. This makes it a great time of year to host a charity initiative in your store or restaurant, where you can bring together customers while helping a great cause at the same time.
Begin by finding a cause that's relevant to your business and that aligns with your key values, or charities that you already support throughout the year. Then think, or discuss with them, what you can specifically do to better help out this holiday season. This could be anything from running a soup kitchen, to hosting a food bank donation centre or being a drop-off point for Christmas shoeboxes.
Once you have your idea, make sure your customers know about it. Advertise it on your digital signage displays, or in your store windows and get staff to talk to customers who can sign-up if they're interested.
If you don't have enough space to host something physical, you could also integrate a Christmas idea with a charitable initiative. For example, donating to a cause for every "Letter to Santa" a customer's child brings in. Or allowing staff to dress up in a festive theme, to help raise money for your charity of choice.
6. Escape the holidays campaigns
Okay, most of us love and embrace the holiday season. But even those with the most festive cheer could occasionally use a break.
HotelTonight are a brand who recognized this and used it to create a successful marketing campaign around holiday traditions that we don't always enjoy, like staying with family members.
In their campaign, which was seeded across social media, as well as physical ads, they used stories from member's holiday trips that had ended in disaster. Finishing with the tagline "Visit, don't stay" they encouraged customers to book a hotel room with them to avoid Christmas mishaps like blow-up mattresses and charades tournaments.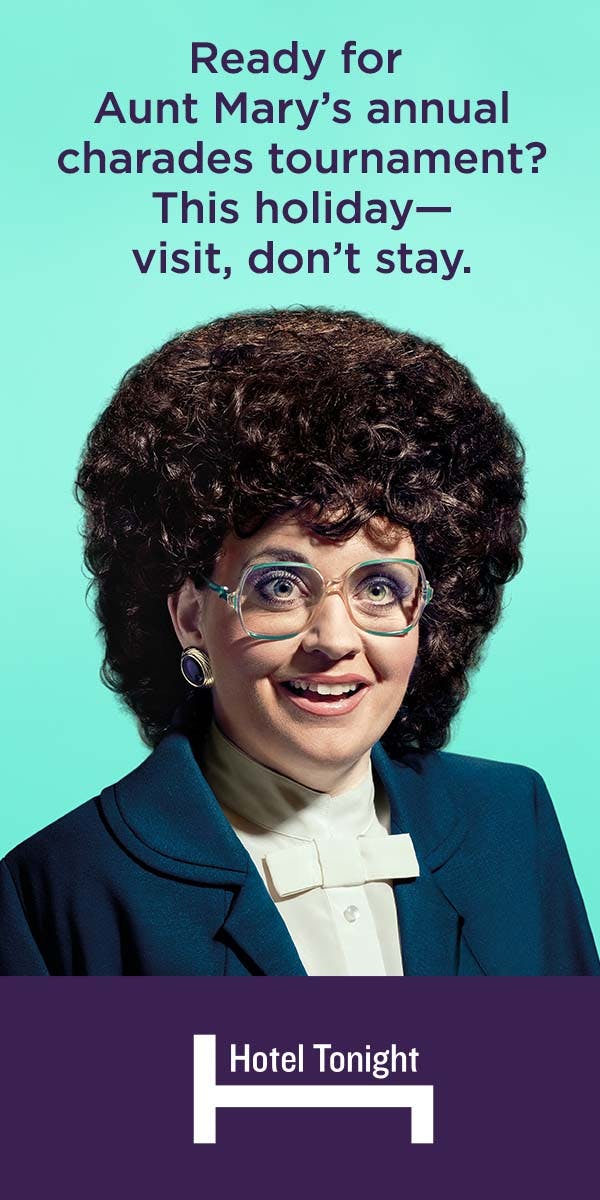 Image source Hotel Tonight.
Humor is a great way to engage with customers and to get them to share your campaign on social media, therefore extending your reach beyond your physical business.
In a restaurant, cafe or shop you could even set up a "no holiday" zone where customers could take a break from the hustle and bustle of the festive season with a cup of coffee and strictly no Christmas music or decorations.
7. Themed holiday events
How well do you know your customers? The holidays are a great time to stop and get to know them better. Think about all of the Christmas activities you enjoyed in school, from Thanksgiving services, to Christmas lunches. Think about creating your own event. This could be limited to your most loyal customers, or open to all who sign-up.
To increase demand, limit the places and get together a goody bag and other treats for customers to take home with them. You could even put on a Christmas market and allow customers or other local business owners to take part in sharing their products and services.
Not only does this give you a great opportunity to drum up new business, but it allows you to connect with existing customers at a crucial time of year, too.
The holidays are coming
Now that you have all of the ideas for great promotions and incentives, it's time to begin planning. Set up your campaign, invite customers and watch how your festive sales go through the roof as you approach that all important holiday season.
We can't wait to see what you come up with.
Let us know your ideas or share this post with friends, tagging us @screencloud.