When you tell anyone not working in the industry that you work in 'digital signage', you're usually faced with one of two responses. "Oh that's nice" (translation: I have no idea what you're talking about) or, "that's like advertising right?". To an extent, this is on the right track but we don't blame people for not always understanding what the term 'digital signage' really implies.
Digital signage, traditionally, is the method of displaying adverts on giant screens in notable locations such as Times Square as well as on subways and taxi-tops. But as we've mentioned before, digital signage is such a narrow description for an industry that's incredibly progressive. One that's branching out of any one definition into a myriad of options.
The future of advertising.
The new social media.
The only way to gain eyeball space away from mobile.
The only advertising platform that can be useful and engaging while still attracting ad views. 
A way to improve internal communications.
A way to increase retail sales. 
We believe in its power to do all of those things, for three core reasons:
1. Our platforms are saturated and our ads are blocked
Each time you interrupt a user's experience on their mobile or desktop you're doing exactly that; interrupting. No one asks to see an ad alongside their best friend's Facebook status or within an article. The rise of advertorials, influencer marketing and of course, ad blocking, have made this slightly more tolerable. Yet many marketers and advertisers still hunger for a medium where the viewer actually wants to see what's going on, from within a screen space. 
2. Content is relevant when it's useful
Following the same trajectory, as consumers we're more savvy than ever and for that reason, publishers and advertisers need content to be genuinely useful if it's to get a glance. Digital signage has this benefit. Thanks to TV viewing, visitors are much more aligned to seeing adverts peppering their TV screen content then they perhaps are within an online space that was once add free.
With playlists and scheduling, plus split zoning on screens, you can be showing travel information on one side, adverts on the other. Social media dashboards for one minute, your latest products for the next.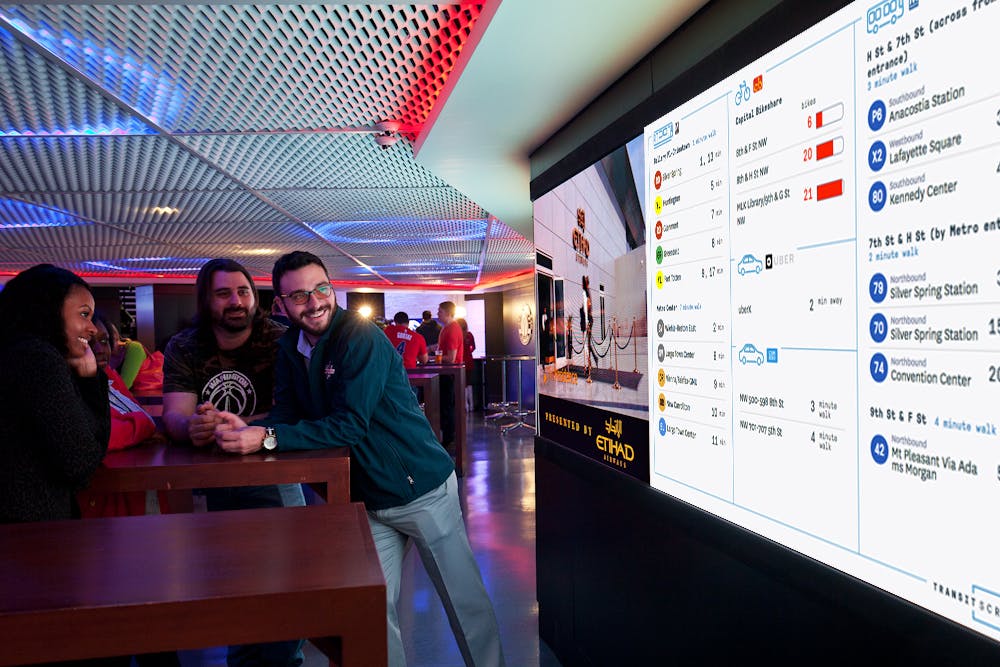 3. It's a consumable medium
As this great post on digital signage viewing time discusses, digital signage "is a glance medium". You're not asking for five minutes of a viewer's attention, you want a few seconds. In an internal-facing environment, digital signage can be used to facilitate action (sprint meetings which happen against digital project tracking boards) or to be viewed while making a coffee. This is much less intrusive than interrupting social media, asking a viewer to put time aside to read a newspaper or sending mail directly to their door.
Like the magazine before it, content has to be consumable if it's to be enjoyed, or even given a look in.
With that in mind, we see a forward curve in the digital signage world, one which ties into the very architecture of the buildings it inhabits. 
Reimagining how we use digital screens
In the documentary WORKPLACE; past, present, and future of the office, CEO Bob Greenberg of agency R/GA, envisions a new workplace where 'blank space' is used to create a digital vision board that stays on the pulse of the company.
Most of us have a screen somewhere in the office, but as offices become smarter, connected spaces, this got us thinking about how we can and should, reimagine the advertising space available to us.
Rather than dedicating an entire wall, or area to your digital screens, why not make them part of the very structure of your building. Doorways are a focal point where not much else is going on. We often linger outside meeting rooms, office spaces and lounge areas. 
Thinking about where you position your screens should be thought about in the journey of employees. Where do they walk, where do they hang out? Which areas (like doorways) can be easily utilized without having to resort to an unattainable level of focus? Doorways are perhaps just the beginning. 
Then you have the option of screens up in the air (think train station) rather than pinned to the walls. This adds height to the room, attracts the eye and creates a narrative around the room. 
The source of this narrative, due to the power of digital content, can always be different. It can share the organization's values, the latest products and offers or a live news source from around the world. 
The activity from sky-flown digital billboards also create activity as a distant landscape. It can be viewed when the audience is ready, but doesn't have to consume what they do. Within an office, reception, store or even restaurant, this creates a backdrop from which content can be consumed without encroaching on the physical experience. 
Unlike wall art and paint, digital signage can also be given a digital shutdown as and when required. Yes, we're used to seeing screens turn black but by creating a simple 'vacant' screen display or by using sophisticated technology like projection, digital signage can appear to dissolve into the wall when required. 
The number of digital screens will increase significantly over the next few years, due to lower cost and the flexibility of cloud-controlled software systems. As a result, it won't be long before we get digital screen fatigue. As a result, building a digital signage network that also offers a digital detox when required, could be high in demand. 
Lastly, is the effect on the perspective of our physical spaces when we reimagine them as digital networks. Look around at your nearby shopping precincts, often the bubbly billboards you once saw have been entirely replaced with digital signage. Even without being conscious of it, this says premium to each and every visitor. 
The opportunity to turn this into a revenue opportunity is huge. Yet, traditional advertising is not the way to go. Instead, the opportunity to create a reactive, changing digital ecosystem that provides opportunity for brands, employees, offices, hospitals and schools is present. The technology is there, the software easier than ever to use.
How we decide to use it is up to us. 
For a free trial of ScreenCloud - the easiest cloud-based software system to get content up onto screens - sign up here https://screencloud.com.